This crumb-topped apple galette tastes just like an apple pie but is so much easier to make. It's great served with whipped cream or vanilla ice cream. Add a drizzle of caramel sauce for an extra-special touch.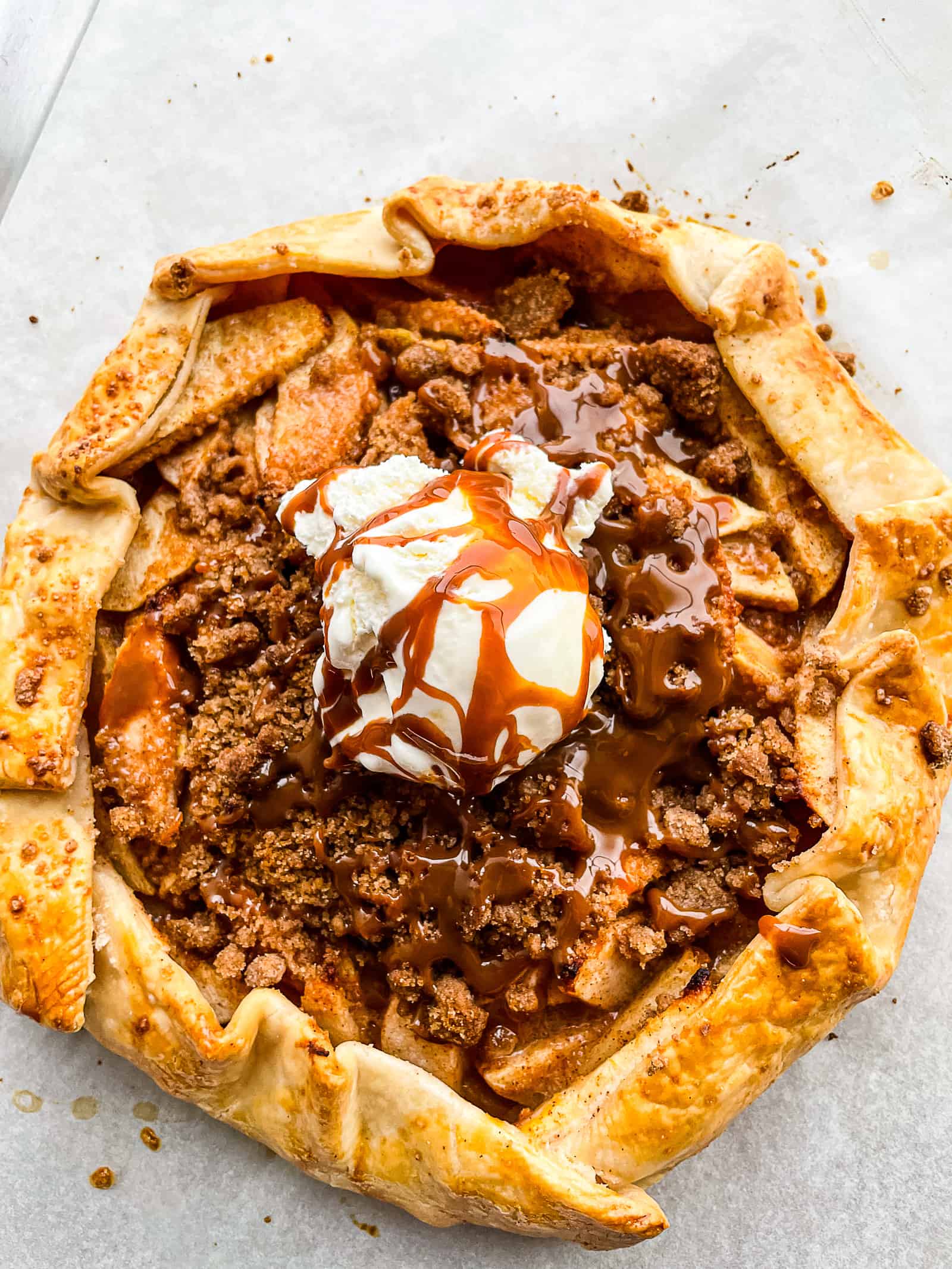 Let's talk about an apple galette! When I'm in the mood for a slice of homemade apple pie, I often make a galette instead. It's the perfect size for two people and it tastes just as good. Plus I can get on into the oven in less than an hour. Wins all around.
Why You'll Love an Apple Galette
All the flavor of an apple pie, none of the hard work.
No pie pan required! (You do need a sheet pan.)
Flaky crust. The filling to crust ratio means that the pie crust bakes perfectly, giving you a flaky crust.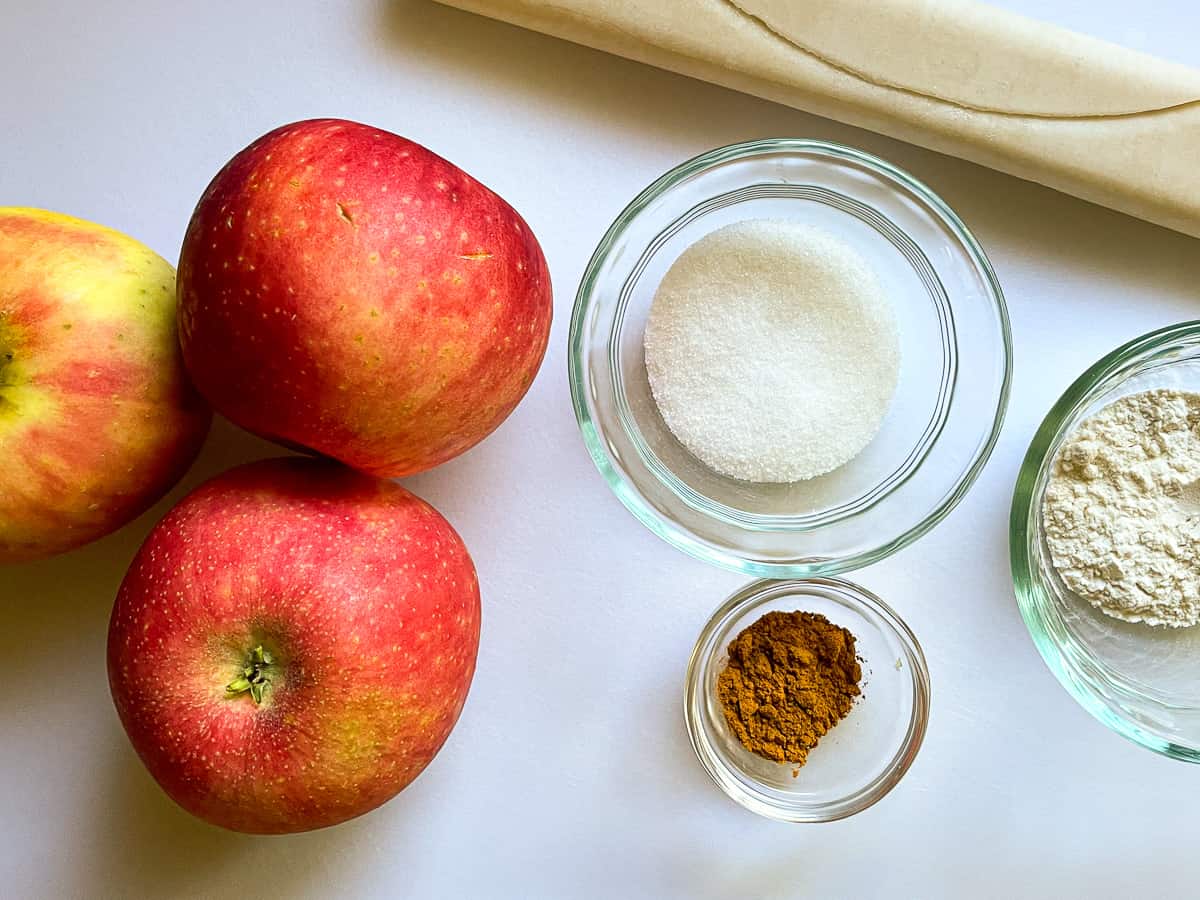 You Only Need Five Ingredients to Make an Apple Galette.
Pie Dough

. One 9-inch round of pie dough. Use store-bought or homemade. Either work really well.

Apples.

The nice thing about an apple galette is that you can use any apple for the filling. If you like your pie filling tart and crisp, use a granny smith or Pink Lady. If you prefer a filling that's soft and sweet, grab MacIntosh or fuji apple.

Flour.

A little all-purpose flour helps thicken the filling

Sugar

. How much sugar you use is up to you. For most folks, two tablespoons of sugar adds a pleasant sweetness to the galette but doesn't make it too sweet. Granulated sugar works best. It dissolves easily and enhances the natural sweetness of the apples.

Cinnamon.

Gives you that classic apple pie flavor. Apple pie spice also works well.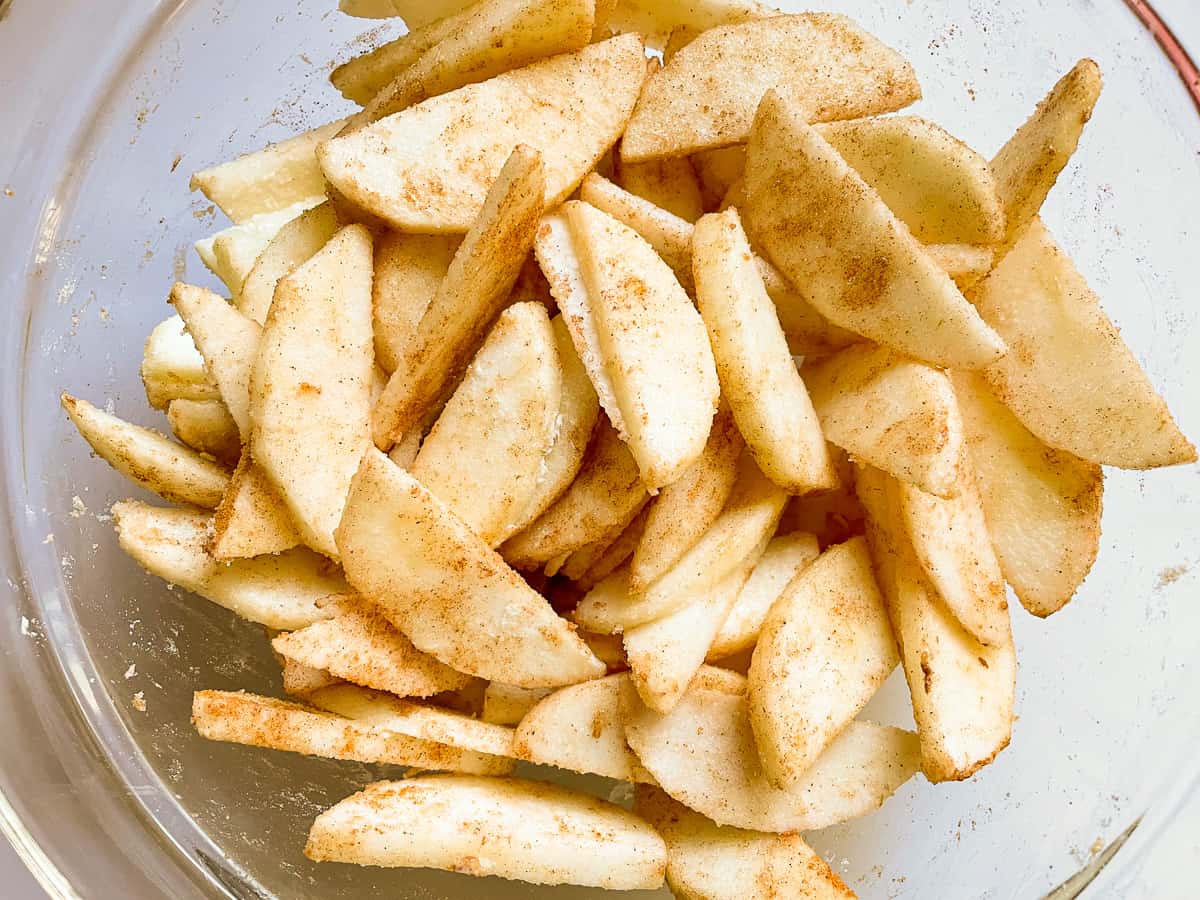 What's the Best Apple to Use for an Apple Galette?
The best apple to use for an apple galette is one that's sweet and firm, like Honeycrisp or Zestar. If you prefer a tart apple, use granny smith. And if you like a texture more like applesauce, the classic McIntosh apple is what you want.
The Most Important Tool for Making an Apple Galette
To make an apple galette, you need some basic kitchen tools: a way to peel and slice apples, a mixing bowl, and a sheet pan. But there's one thing that's really important: parchment paper. Placing a sheet of parchment paper onto the baking sheet keeps the galette from sticking to the pan. And it makes cleanup a snap!
But what if you don't have parchment paper? Grease the baking sheet very lightly with cooking spray before placing the dough onto the baking sheet.
How to Assemble and Bake an Apple Galette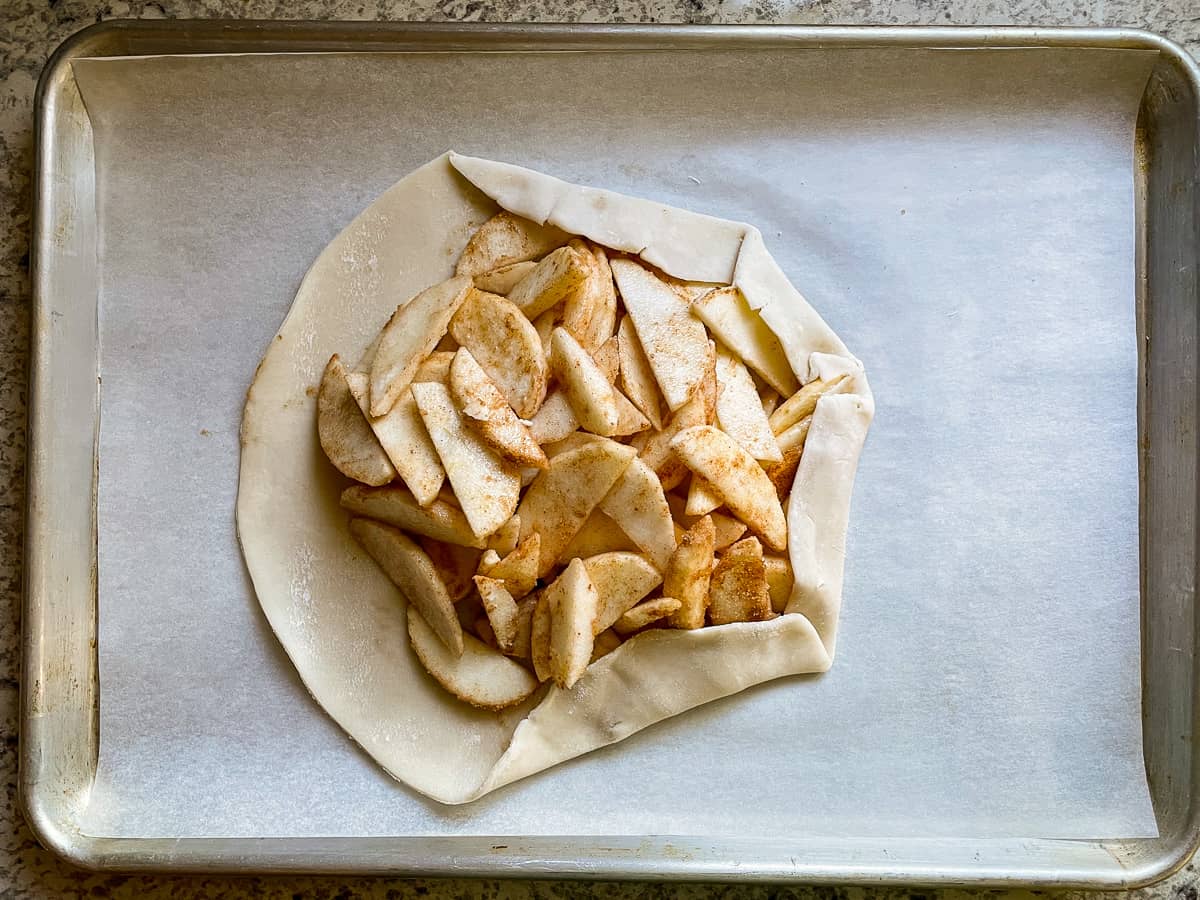 Preheat the oven. Baking a galette in a preheated (hot) oven gives you the best results. The crust comes out nice and flaky. If a galette is started in a cold oven, the fat can leak from the pastry as the oven heats up. Most ovens take about 15 minutes to heat. So I suggest turning your oven on right before you begin preparing the filling.
Place the dough on a baking sheet. Line a baking sheet with parchment paper and then place the dough on the pan. Do this before you fill the dough. It's hard to move a galette once it's filled. So you want to do it on the pan.
Make the filling. This filling is so easy. Stir together apple slices with flour, sugar, and cinnamon. (And if you happen to have a lemon in the house, a little freshly squeezed lemon juice or zest is lovely.)
Fill the Galette. Place the filling into the center of the pie dough and leave about a 1-inch border around the edge. Fold the dough over the apples, pleating as you go. If the pie dough cracks as you fold it, simply pinch it back together.
Bake the Galette. Bake the galette for about an hour. Look for the pie dough to be golden brown and the apples to have cooked down. Depending on the variety of apple you used, you might see some bubbles in the filling.
How to Handle Galette Crust. Tips for Success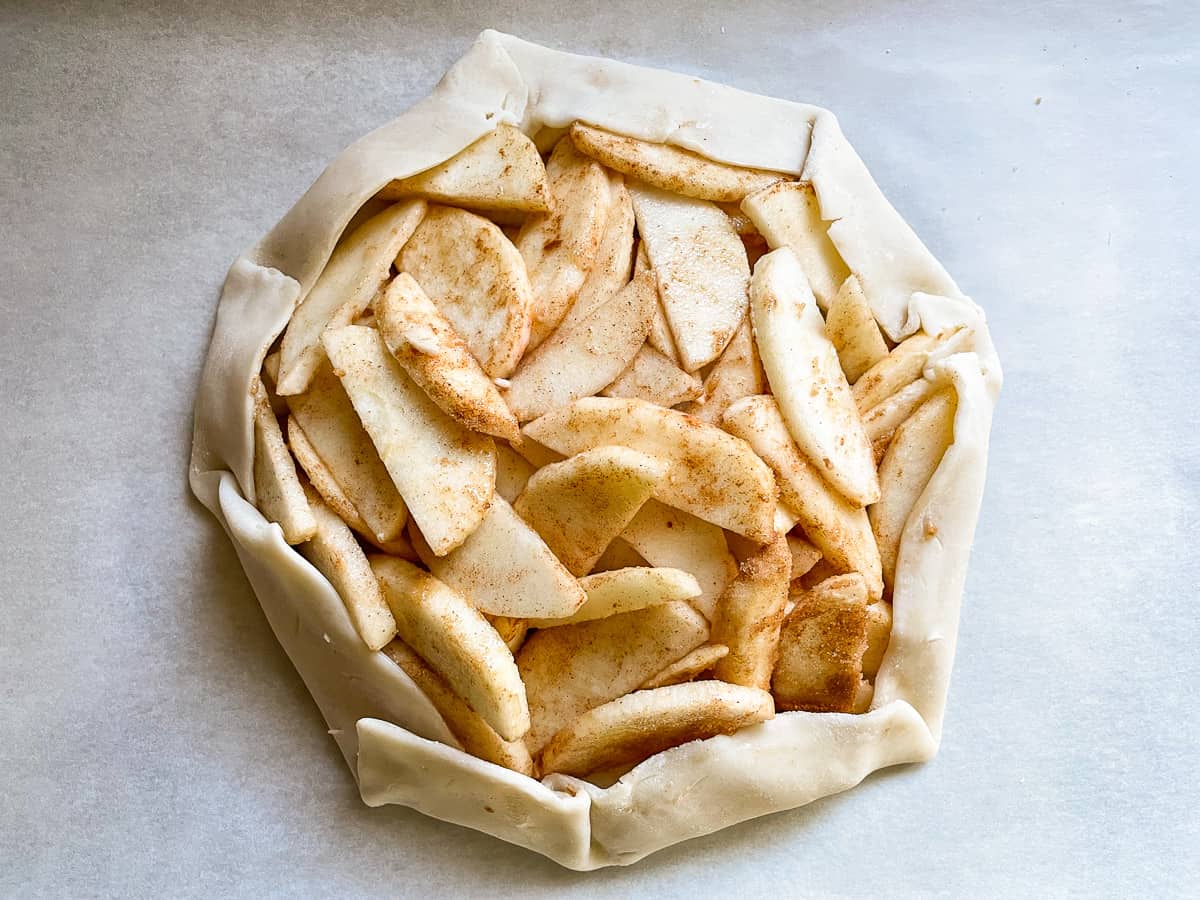 You can use either homemade pie dough or store-bought pie dough for this galette. Whichever you use, here are some tips for working with the dough.
Keep Pie Dough Cool. It's important to keep your dough cool. Warm pie dough can get greasy and heavy when baked. Take your dough out of the refrigerator about ten minutes before filling. This way it'll be cool but not cold. When pie dough is cold, it can crack when you try to roll or fold it.
Pleat the Dough. After filling the galette, fold the dough over the apples. The border won't cover much of the apples. As you do this, pleat the dough, pressing it gently together as you fold it.
Brush with an Egg and Sprinkle with Sugar. (Or not!) If you want the crust to have a little shine and sweetness, whisk an egg and brush it onto the crust. (You'll have leftover egg) Then sprinkle granulated or turbinado sugar over the crust. This step is totally optional. To be honest, I usually skip this step.
What to Serve with an Apple Galette
Many times, I've simply cut myself a slice of warm galette and eaten it standing up in the kitchen. It's that good. But if you prefer to add a little somethin' somethin' to your galette, I get that!
The classics combinations are a dollop of whipped cream or a scoop or vanilla or caramel ice cream. However, there's no need to stop there. You could top a slice with a little creme fraiche. It's rich and creamy and pairs really well with the flavors of apple galette. Or drizzle a little caramel sauce over the slice and call it day.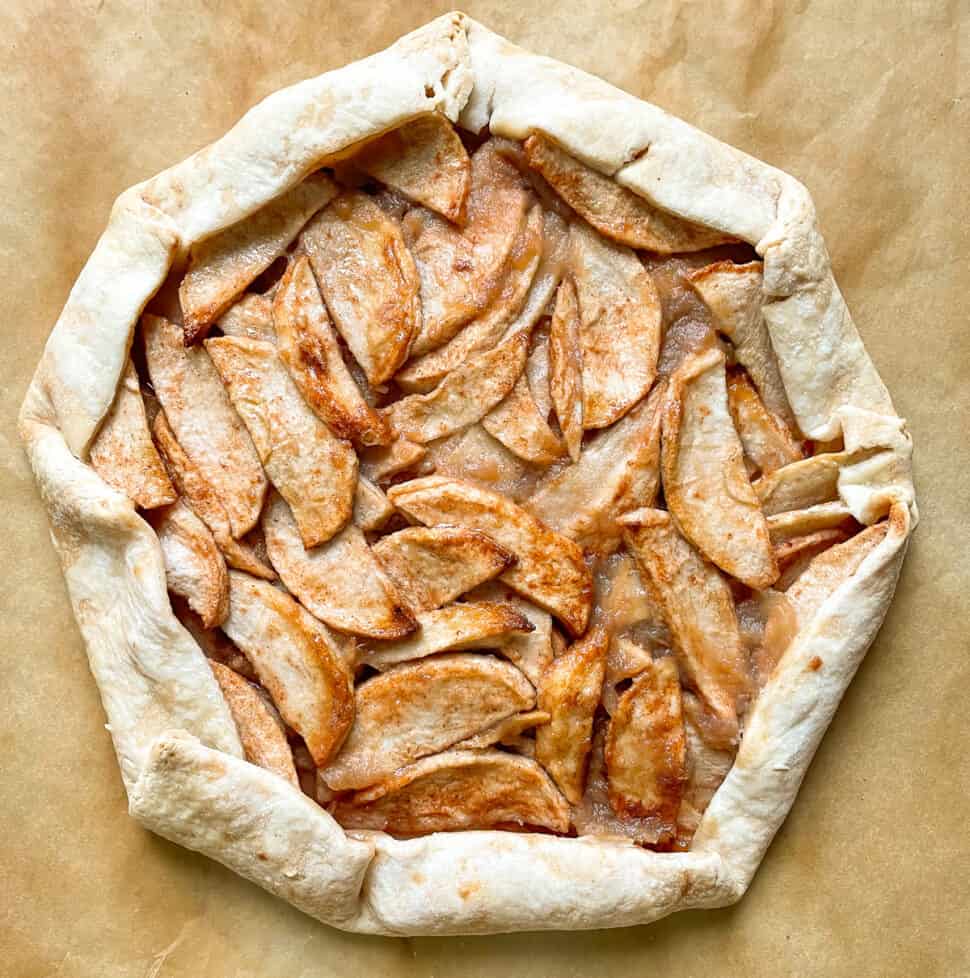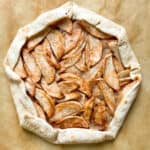 Easy Apple Galette
Easy apple galette made with pie dough, sliced apples, cinnamon, and sugar. It tastes just like an apple pie but is so much easier to make! Great served with whipped cream or vanilla ice cream. 
Ingredients
1

9-inch

pie dough, homemade or store bought

3

large

apples, peeled, cored, and thinly sliced

(about one pound)

1

teaspoon

lemon zest

2

tablespoons

lemon juice

2

tablespoons

granulated sugar, see note

1

teaspoon

ground cinnamon

1

tablespoon

all-purpose flour
For the Topping
¼

cup

all-purpose flour

3

tablespoons

brown sugar

1

teaspoon

ground cinnamon

2

tablespoons

butter, melted
Instructions
Stir together apples, lemon zest, lemon juice, sugar, and cinnamon. Add flour. Stir to combine. Set aside.

Make the Topping: Stir together flour, brown sugar, and cinnamon. Add the melted butter. Stir until the mixture is crumbly.

Place the apples onto the pie dough, leaving about a one-inch border around the edge.

Fold edge of dough over the apples, pleating as needed. If the dough tears, pinch it back together. If desired, brush the crust with the whisked egg and sprinkle the sugar over the dough.

Bake until the crust is golden brown, about 50 minutes. Allow the galette to cool for about 15 minutes before serving.

Store the galette in the refrigerator for up to three days.
Recipe Notes
Notes
Sugar. Two tablespoons of sugar gives you a pleasantly sweet apple galette. If your apples are very tart, increase the sugar by one tablespoon. For very sweet apples, decrease the sugar by a tablespoon.
Lemon. Adding a tablespoon of lemon juice or the zest of one small lemon adds a nice flavor to the galette. 
Pie Spice. If you keep "pie spice" in the house, you can use it in this recipe. Replace the teaspoon of cinnamon with one teaspoon of pie spice.