Easy French Toast Casserole is the perfect breakfast for cozy weekend mornings. Sweetened with brown sugar and topped with an oat streusel, this is one recipe you'll make again and again.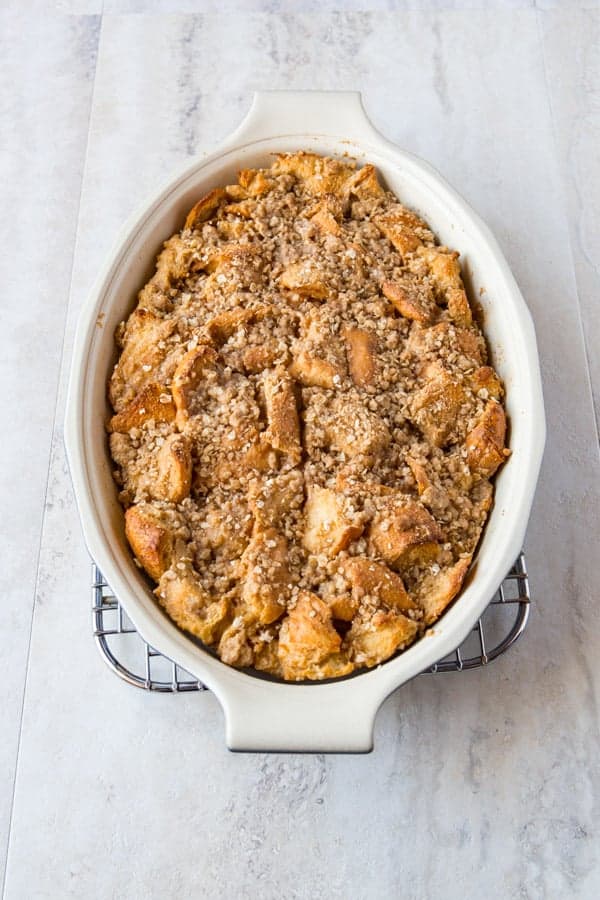 A few months ago, my friend Leah texted me. She and her husband were going to be driving through town on their way to Maine and wanted to stop by the house. I gave a little hoot when I read the text.  Leah and Rob had done the unthinkable and moved out of town several years ago. We went from seeing each other several times a week to seeing each other several times a year.
I quickly replied: Yay! What time?
Leah: 8:30ish.

Wait. What? That couldn't be correct, right?
Narrator's voice: Elizabeth is not a morning person.
It was correct. My fit and fabulous friends decided to leave their area at 5:00 am, stop at our place around 8:30 and then motor up to Maine. Truth be told, I get it. I hate getting out of bed early with one exception: vacation. If I'm going on vacation, I'll get up at 2:30 in the fricken morning.
I texted back right away: "Can't wait to see you! Come hungry. I'll make breakfast!"
The second I hit enter on that text, I thought, "What the hell am I going to serve?!?!"
Here's the thing, I don't host friends for breakfast. Like, ever. That doesn't mean I don't make breakfast on the weekends. I do. Pancakes, waffles, eggs, and bacon are a normal part of my weekend breakfast routine. But I only make breakfast  for my husband and myself. And, if I'm honest, I always make breakfast while still wearing my pajamas.
As much as I love my friends, there's no way I was making them breakfast while wearing my pajamas. It's just not me. If it's you, great. I love it. And I love that I have friends who make me breakfast in their pajamas. It's not a judgment-thing. It's a comfort-thing.
So off to google I went. I wanted to find some recipes that didn't require me to stand at the stove cooking while my friends visited. My goal was to have breakfast hit the table soon after they arrived. You know how it is when you're on the road, a break is fine; a loooong break is annoying.
First I watched several videos of Ina Garten, aka The Barefoot Contessa,  making breakfast. She's so soothing, isn't she? I think watching her videos counted as that day's meditation.
In the last one I watched, she said, "I love entertaining early in the day. Breakfast and brunch are my favorites." Okay. I love Ina but she and I don't see eye to eye here.
Next!
I wondered what The Pioneer Woman, Ree Drummond, did for breakfast. Thankfully, she didn't talk about loving to host breakfast. Although she lives on a ranch, so I'm guessing early mornings are the norm for her. Poor thing.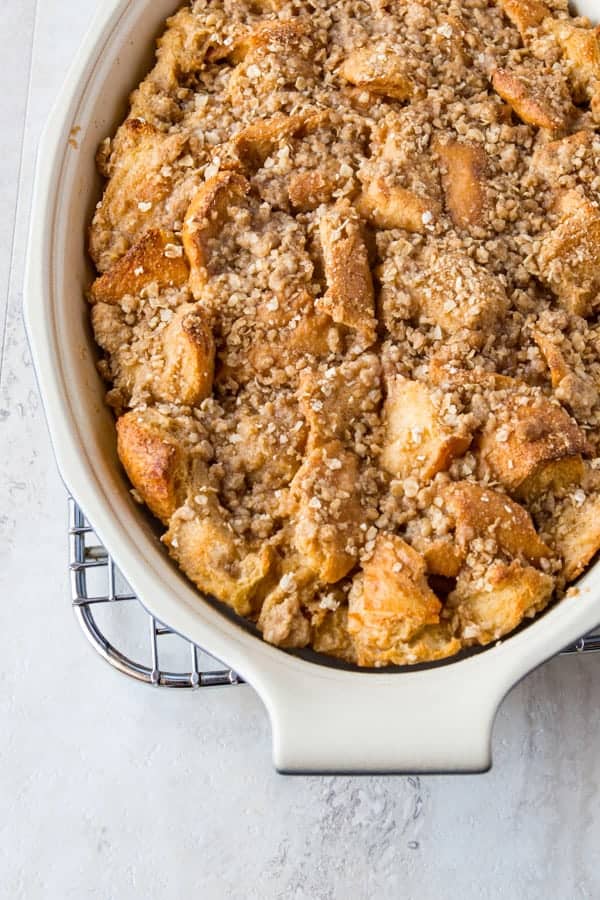 Ree made a French toast casserole. Now we were talking! The casserole looked good. Made with brown sugar, eggs, and lots of vanilla, Ree topped the casserole with a crunchy streusel topping. It was like a coffee cake and French toast rolled into one. As Ina would say, "What's not to love?"
I pulled up the recipe and…well, there were some things I didn't love. As written, the casserole contained one cup of sugar. Then, it was topped with another 1/2 cup of brown sugar. Yikes. That sounded more like a bread pudding than a breakfast casserole.
Here's the thing, I don't mind sweets. (That's a lie. I LOVE them.) But I don't like serving overly sweet things for breakfast.
Then there were the eggs and dairy. The recipe called for eight eggs to two and half  cups of milk and heavy cream.
First of all, that's a lot of eggs. A standard custard uses two eggs per cup of milk. (Fun fact! You can set 3/4 cup of liquid with one egg.) I went with my gut, and culinary training, and reduced the eggs from eight to six.
Then I booted the heavy cream out of the recipe because whole milk makes a rich enough custard for something like this. And I reduced the vanilla from two tablespoons to two teaspoons.
My tinkering didn't stop there. Next up, I set my sights on the topping. I didn't want to use a full stick of butter; so I used half a stick. Turns out, I could have even reduced further. Then I cut back the sugar from 1/2 cup to 2 tablespoons. And for some crunch, I added oats. Finally I was done.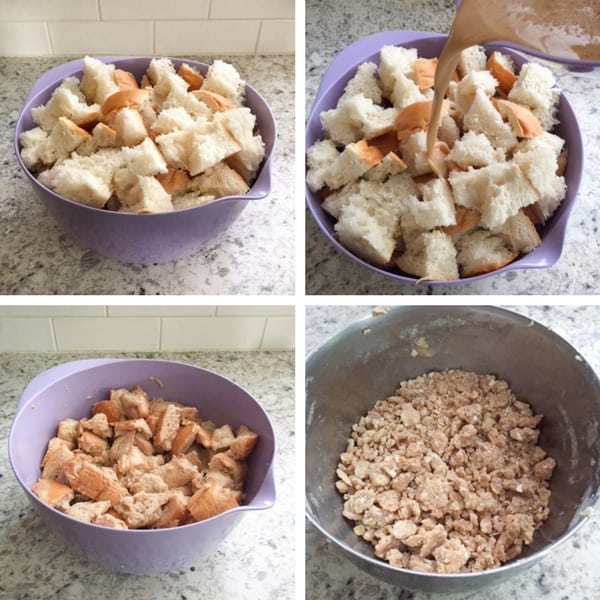 The recipe came together easily. As I put it in the fridge to sit overnight, I prayed to the gods of food science that all my tinkering resulted in a tasty casserole for my friends.
To go with the French toast, I made a batch of "egg cupcakes" (basically a frittata mixture baked in cupcake cups) and a winter fruit salad.
The only thing I'd have to do in the morning was bake the French toast and some bacon. Oh, and get dressed. (Are you wondering about the coffee? Because I would be. My friends don't drink it! I made myself a Nespresso and my mother a cup of tea. Greg was at work. So who knows what he did for breakfast.)
Breakfast turned out great. The French toast casserole was a huge hit. My tweaks worked after all. The French toast bake tasted like French toast. The bread was soaked–but not soggy–with a lovely egg custard. The brown sugar and cinnamon brought enough sweetness and flavor that I couldn't imagine having more of either. Simply put: this was my ideal version of French toast. I just happened to bake it in the oven instead of cooking it on the stove. 
Early breakfast still might not be my favorite meal to host. But, even I have to admit, if you do some easy prep the night before, it's a fun meal to make. Especially when your friends are as awesome as mine.
Recipe Notes: The Bread
Confession time: I always use cheap bread when I make this recipe. No crusty French bread or $5.00 loaf of perfect Challah. Nope! I head straight to the grocery store bakery and pick up one of those $1.00 loaves of soft French bread. You know the ones, right? They don't look like French bread. The loaf is fat and squishy. It makes a *perfect* French bread casserole.
The best part? Sometimes it's on the day-old rack for $.50. If it's a little dry, no problem. There's enough custard to overcome stale bread.
Look for a loaf that weighs between 13 to 15 ounces. To prep the bread, grab it and tear it into small pieces.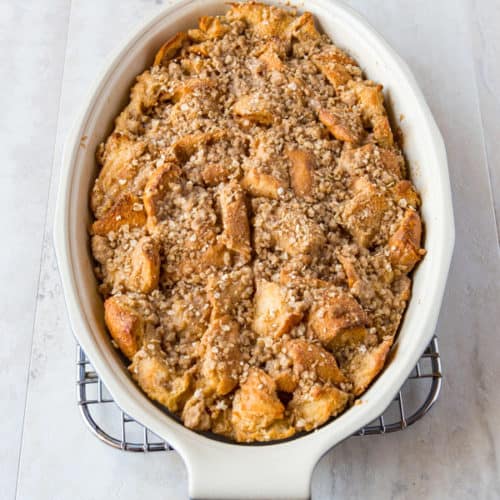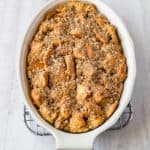 Baked French Toast
Easy baked French toast topped with a crunchy oat and brown sugar topping.
Ingredients
nonstick cooking spray or softened butter for greasing the pan

2

cups

whole milk

6

large

eggs, whisked

½

cup

lightly packed dark brown sugar

1

teaspoon

ground cinnamon

¼

teaspoon

salt

1

loaf (13-16 ounces)

soft French bread, cut or torn into chunks
Topping
4

tablespoons

butter, melted

⅓

cup

flour

⅓

cup

oatmeal

¼

cup

brown sugar

1

teaspoon

ground cinnamon
Instructions
Preheat oven to 350 degrees F. Grease a 9x13-inch pan with nonstick cooking spray or brush lightly with softened butter.

Whisk together the milk, eggs, brown sugar, cinnamon and salt.

Place the bread cubes in a large bowl. Pour the brown sugar-egg mixture evenly over the bread. Stir gently to combine. Allow the bread to sit for five minutes to absorb the egg mixture.

While the bread soaks up the liquid, prepare the topping. Stir together the brown sugar, flour, oatmeal, and cinnamon in a small bowl. Add the melted butter. Stir until combined. The mixture should look crumbly.

Place the bread evenly into the prepared pan. Sprinkle the topping evenly over the top.

Bake until set, about 45 minutes. Remove from the oven and allow to cool for five minutes. Serve with maple syrup, bacon, and fresh fruit.
For Overnight French Toast
Skip preheating the oven. Place the soaked bread cubes into the pan. Cover with plastic wrap. Store the prepared topping in a small zippered plastic bag. In the morning, preheat oven to 350 degrees F. Remove the plastic wrap from the French toast casserole. Sprinkle prepared topping evenly over the casserole. Bake as directed.