The irresistible flavor of chocolate-covered pretzels in one easy-to-make bark.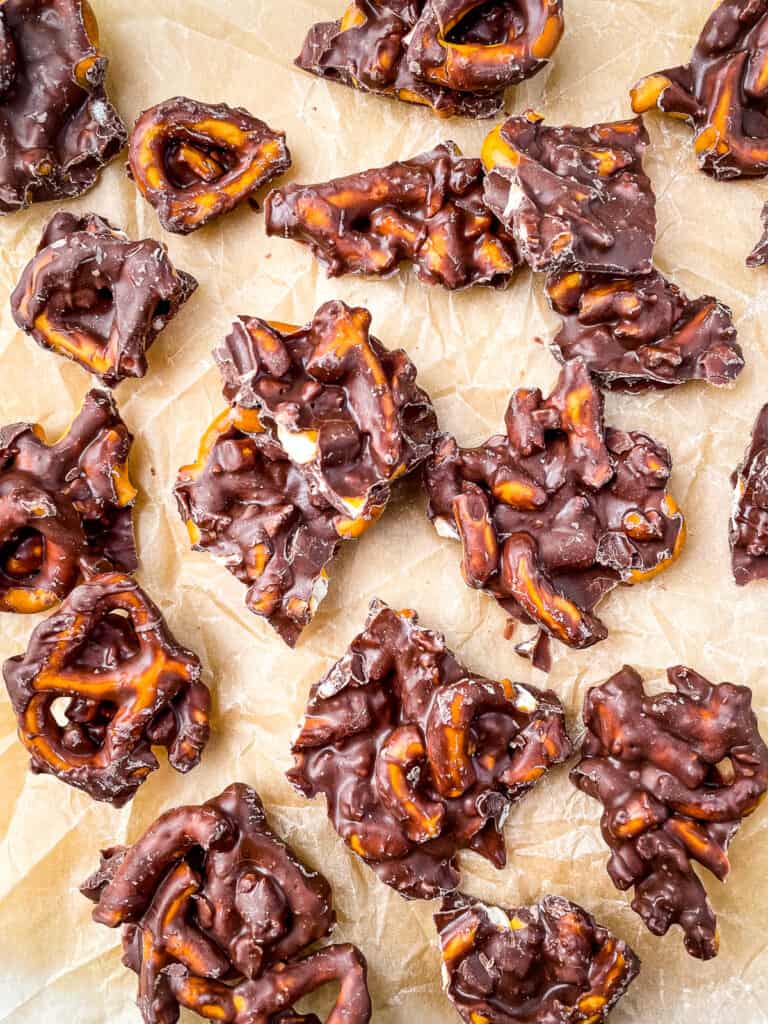 How to Make Pretzel Bark
Crush Mini-Pretzels. To get a little pretzel in each bite, crush mini-pretzels before coating.
Use Chocolate Candy Coatings. Candy coatings don't require tempering like chocolate chips or chocolate bars. This means you can keep the bark at room temperature without it melting. (A common problem with non-tempered chocolate.)
Spread on Parchment Paper. After making the bark, spread it into a thin layer on a piece of parchment paper. The chocolate sticks to metal or glass. So you really need parchment paper for this.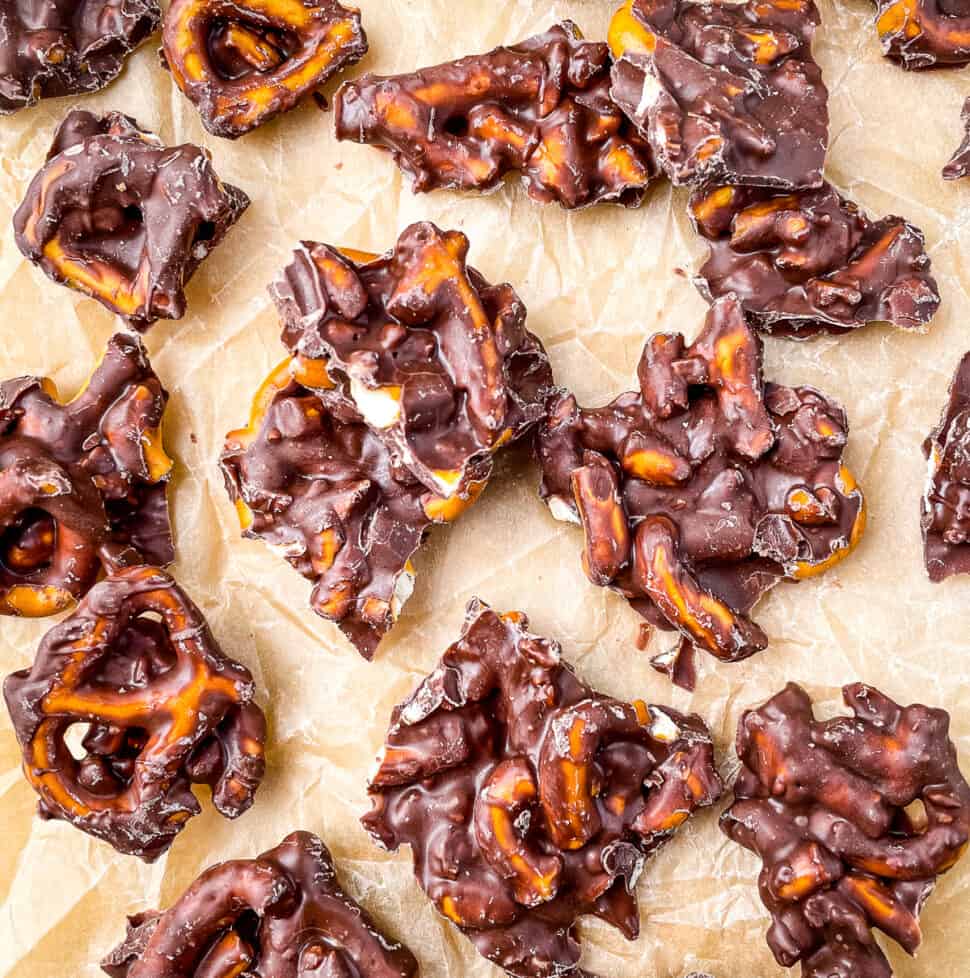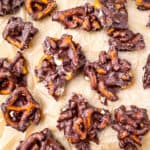 Chocolate Pretzel Bark
The irresistible flavor of chocolate-covered pretzels in one easy-to-make bark.
Ingredients
2

cups

mini pretzels

8

ounces

milk candy coatings, about 1 ½ cups
Instructions
Line a baking sheet with parchment paper.

Crush the pretzels and place into a medium mixing bowl.

Melt the candy coatings.

To melt in the microwave: Place coatings in a 2 cup glass container. Heat on high for 30 seconds. Remove and stir. Repeat until melted.

To melt in a double boiler. Fill bottom of double boiler with ½ water. Place candy coatings in top pan or bowl. Heat over low. Stir coatings until melted.

Pour melted candy coatings over the crushed pretzels. Stir to coat. Spread onto parchment paper. It won't look like much. Spread into about a 8×10-inch rectangle. Allow coatings to harden, about 20 minutes. Break into bite-size pieces.

Store pretzel bark in bags or an airtight container for up to one month. Don't refrigerate or freeze.
Recipe Notes
Ingredient Notes and Substitutions. 
Pretzels: For the best flavor, use salted pretzels. I used mini-pretzels because even when broken, they are smaller then regular pretzels. Gluten-free pretzels can be used. 
Milk Candy Coatings: The quality of candy coatings varies from brand to brand. Use a candy coating that tastes great right out of the bag. Dark or white candy coatings can be used for a different flavor. 
Don't replace the candy coatings with chocolate chips or a melted chocolate bar. Those chocolates require tempering. If you don't temper the chocolate, it will melt at room temperature.