This wacky cake recipe makes an easy and rich eggless chocolate cake. You just stir together the ingredients in a bowl and bake. The cake is dense and very moist.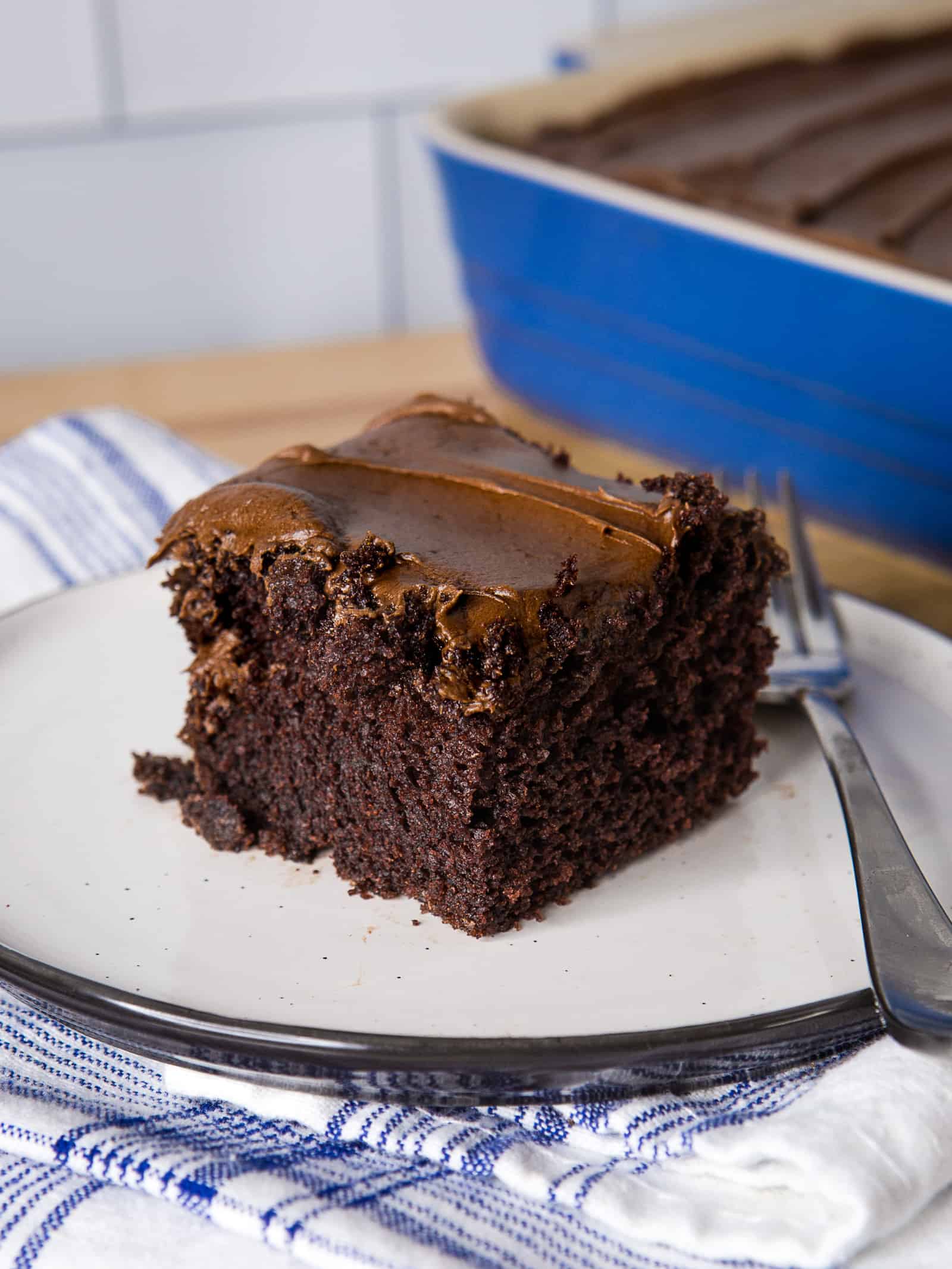 Why is it called Wacky Cake? 
The recipe for wacky cake is an old one. The history of the recipe isn't clear. It seems to come from early 1900s—the Great Depression or World War II eras. The "crazy" or "wacky" name is because the recipe doesn't include eggs, butter, or milk but comes out so good.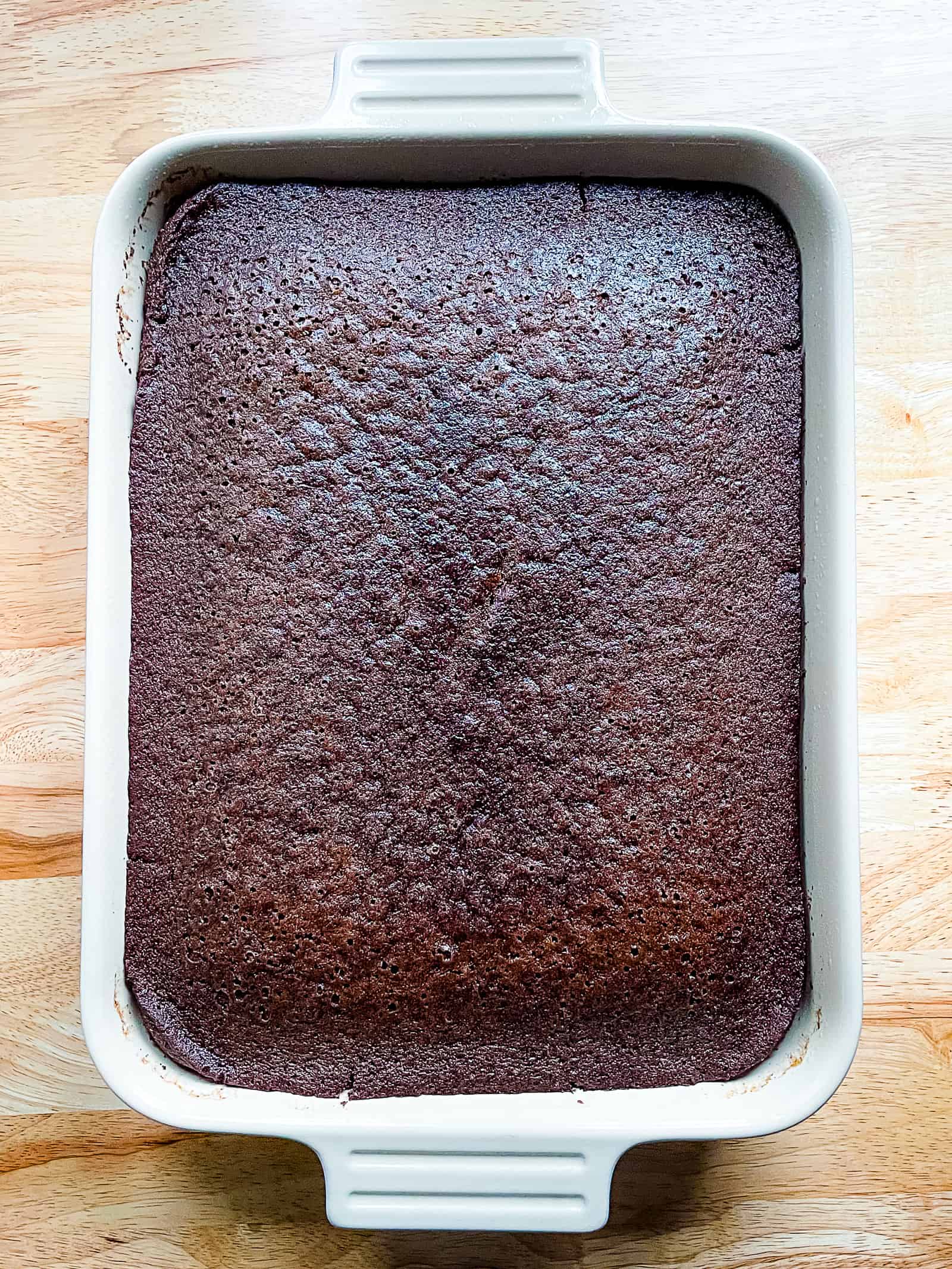 Ingredients for Wacky Cake.
Flour. All-purpose flour gives the cake a nice texture.
Sugar. Granulated sugar adds sweetness. Don't use brown sugar in this recipe. It makes the cake too moist.
Cocoa Powder. Be sure to use unsweetened cocoa powder, not hot cocoa mix, in the recipe. Both natural and Dutch-processed cocoa work. Dutch-processed cocoa powder gives the cake a slightly more chocolatey flavor. But both are delicious.
Baking Soda. The lift for this cake comes from baking soda. It combines with the vinegar to bubble. Since baking soda only rises once, when it combines with an acid, be sure to bake the cake right away.
Salt. You know I always say it: salt is an important ingredient in baking. It enhances the flavor. Table (fine) salt is best because it measures evenly and blends easily into the batter.
Water. The classic recipes for this cake call for water.
Oil. The richness for this cake comes from oil. Any neutral oil works. If you want to use butter, melt it and let it cool slightly before adding it to the batter.
Vinegar. Don't worry, you wont' taste the vinegar in this cake. It helps the baking soda produce lots of bubbles—giving you a cake with a really nice crumb.
Optional Ingredients
Vanilla. One teaspoon of vanilla extract adds a nice flavor.
Chocolate Chips. Stir in a cup of chocolate chips into the batter right after mixing.
Dried Cranberries. Chocolate and cranberries go really well together. Stir in a cup of dried cranberries (crasins) into the batter.
How to Make a Wacky Cake.
Many recipes for wacky cake call for you to mix the batter right in the pan. I prefer mixing the batter in the bowl. This way you know there are no dry clumps of flour and you can grease the pan before baking. 
Step One. Preheat the oven.
It's important to bake this cake in a hot oven. Before you get out any ingredients or make the batter, turn on your oven to 350℉. The rise for this cake comes from baking soda. When it combines with the acid in the natural cocoa powder and vinegar, it produces bubbles in the batter. Those bubbles give the cake a nice texture. But after a while those bubbles can pop. If this happens in the bowl, you'll get a flat cake. As long as your oven is ready, you'll be all set.
Step Two. Make the Batter.
This batter is so easy to make. All you need to do is whisk the dry ingredients together in a large mixing bowl. This step mixes the baking soda throughout the flour, which helps the cake to rise evenly. Then add the liquid ingredients. Stir until a batter forms, this cakes about 30 seconds. You can use a handheld whisk or electric mixer. It's up to you.
Step Three. Bake until Set.
Spread the batter into a greased 9×13-inch pan. (If you'd rather bake cupcakes, see the bake time note in the recipe.) Bake the cake until a cake tester comes out clean or with only one or two dry crumbs. It usually takes about 40 minutes to bake.
Step Four. Cool and Frost.
This cake is so moist and rich, it really doesn't need frosting. But since frosting is so yummy, it's a nice finish. Let the cake cool in the pan and then frost with your favorite frosting. I've include a my favorite recipe below if you need one.
Storage and Freezing Tips.
This cake is really moist. It keeps nicely on the counter for about four days. Be sure to cover it or it will dry out.
If you'd like to freeze it, allow the cake to cool completely. Then wrap tightly and freeze for up to three months.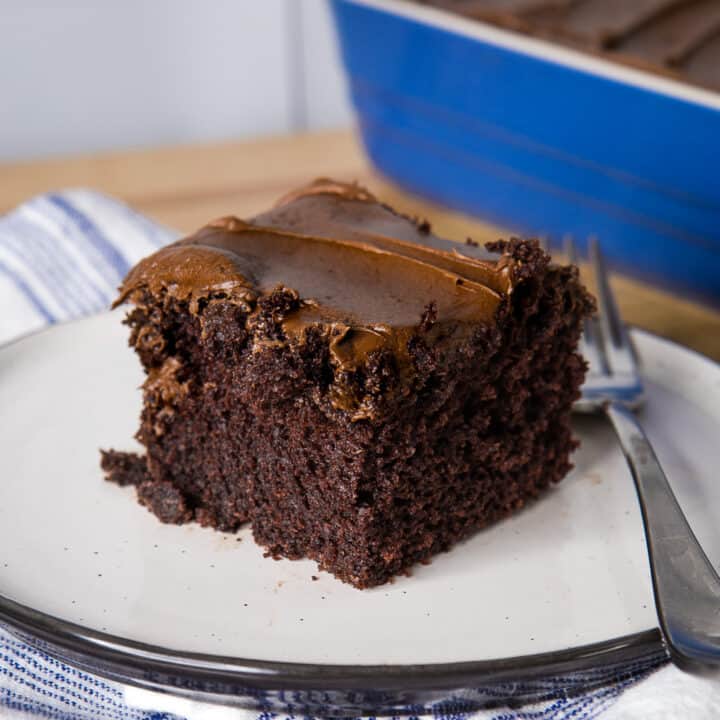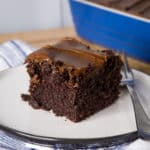 Wacky Cake
Wacky cake is a classic recipe for a rich eggless chocolate cake. You simply stir together the ingredients in a bowl and bake. The cake is dense, rich, and very moist.
Ingredients
For the Cake
3

cups

all-purpose flour

2

cups

granulated sugar

⅓

cup

cocoa powder, natural or Dutch processed.

2

teaspoons

baking soda

1

teaspoon

salt

2

cups

cold water

¾

cup

vegetable oil

2

tablespoons

white vinegar
For the Frosting
½

cup

butter, soft

2

cups

powdered sugar

¼

cup

cocoa powder

¼

teaspoon

salt

2

tablespoons

milk, more as needed
Instructions
Whisk flour, sugar, cocoa powder, baking soda, and salt in a large mixing bowl. Add water, oil, and vinegar. Mix until a smooth batter forms, about 30 seconds.

Grease a 9×13-inch cake pan. Spread batter evenly into the pan.

Bake until a cake tester inserted into the center of the cake comes out clean, about 40 minutes.

Let cake cool in the pan. When it's cool, make the frosting. (optional.)

Mix the softened butter until light and fluffy. Add the powdered sugar, cocoa powder, and salt. Turn mixer on. Add milk and mix until fluffy. If frosting is thick, add a little additional milk.
Recipe Notes
For Cupcakes
Fill 24 cupcake cups about halfway full. Bake until set, about 20 minutes.