Cinnamon and nutmeg make this Chex mix irresistible. Simply combine your favorite Chex cereal with pretzel twists, peanuts, and M&Ms. Add melted white chocolate and stir. Recipe doubles or triples easily.
Ingredients You'll Need.
Chex Cereal. Many Chex mixes use a blend of different Chex flavors. Not this one. You can use one flavor. I like corn but any flavor works. And if you'd like a mix of Chex, go for it.
Pretzels. Small pretzels add a nice salty note to this sweet mix.
Peanuts. Use lightly salted peanuts. Check the label to avoid using peanuts that have garlic or onion flavor added.
M&Ms. A generous handful or two of M&Ms adds a nice chocolate flavor. If you love chocolate, add chocolate chips too. You can't have too much chocolate in this mix.
White Chocolate. You'll need 12 ounces of melted white chocolate chips to coat everything. For a sweeter mix, double the chocolate.
Cinnamon and Nutmeg. The combination of cinnamon and nutmeg take this sweet mix to the next level.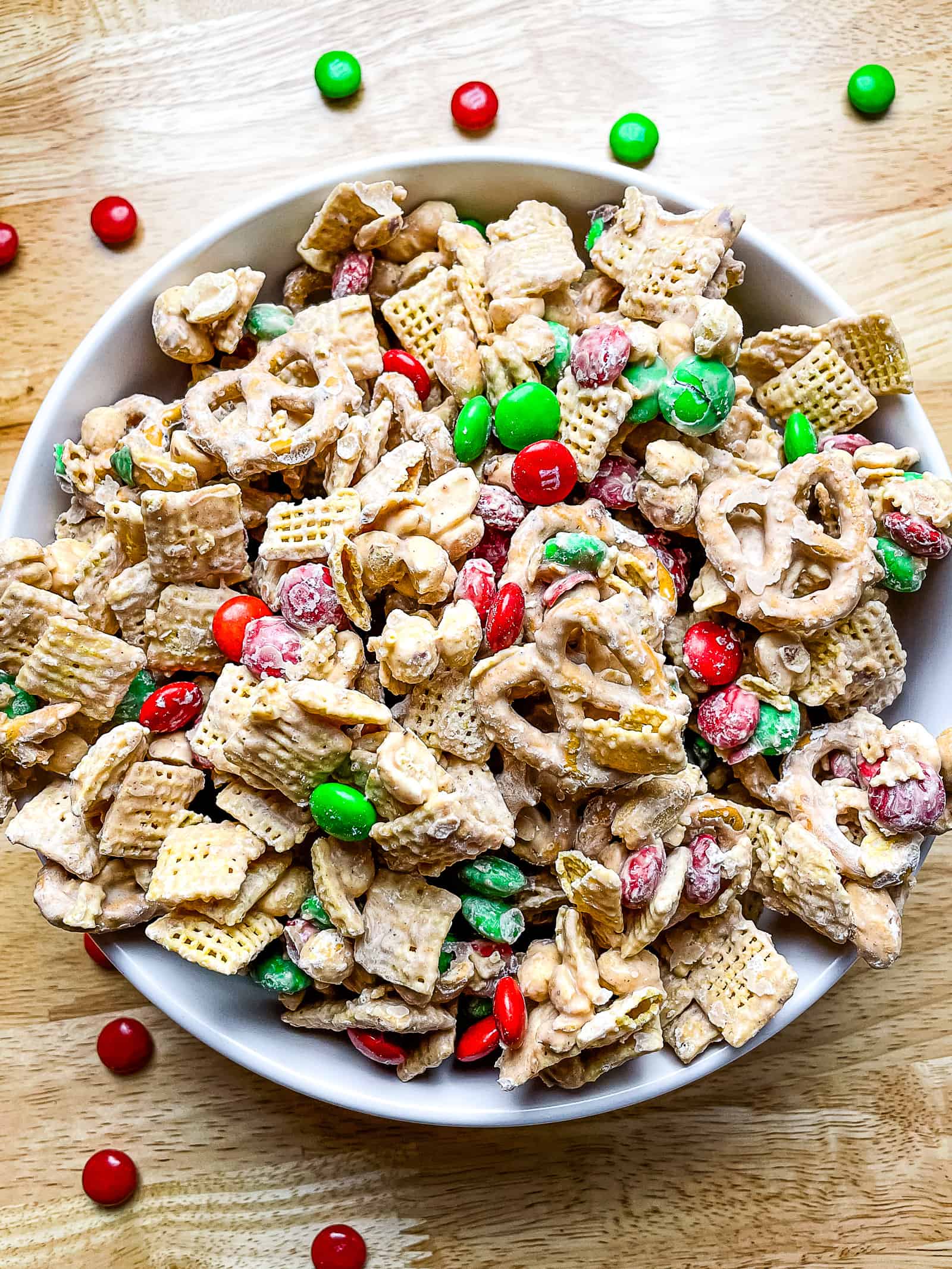 How to Make Chex Mix.
Here's how to make this Chex mix. Step one is the most important. If the baking sheet isn't ready, the mix can harden in the bowl while you try to find it.
Line a baking sheet. After you coat the mix with white chocolate, it sets pretty quickly. Have a parchment-line baking sheet ready and waiting. If you do this, everything else is easy-peasy.
Stir. Add the cereal, pretzels, peanuts, and M&Ms to a large bowl. Give it a stir. The M&Ms usually fall to the bottom of the bowl. Don't worry about this.
Melt and Flavor the White Chocolate. Gently melt the white chocolate in a double boiler or microwave. Add the spices after the chocolate melts.
Coat. Pour the melted white chocolate over the mix. Quickly stir to coat everything.
Spread into a Single Layer. Spread the mix onto a parchment-lined baking sheet. Let set for about 30 minutes and then break apart.
How to Store Chex Mix.
Store this mix in a container with a lid for up to one week.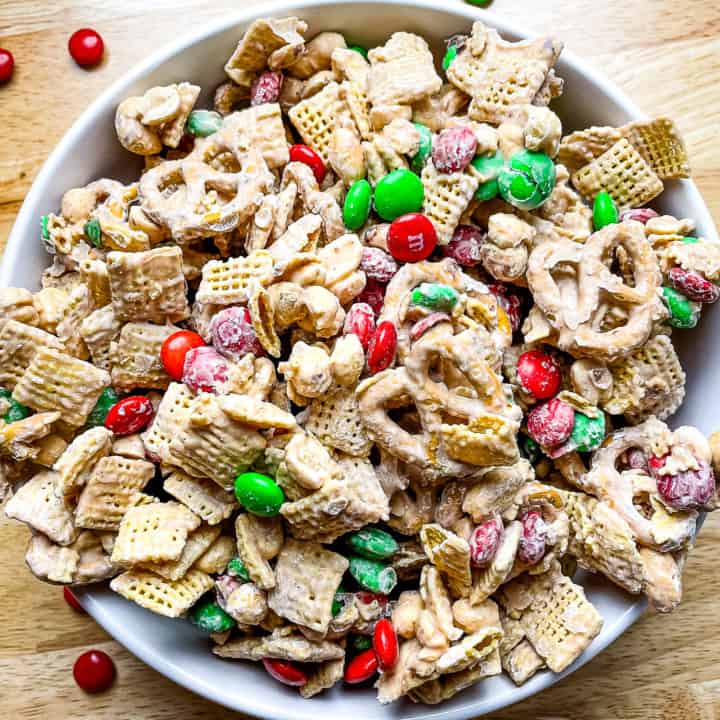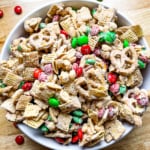 Cinnamon Spiced Chex Mix.
Cinnamon and Nutmeg make this simple Chex mix irresistible.
Ingredients
4

cups

Corn Chex

1

cup

mini pretzel twists

1

cup

lightly salted peanuts

¾

cup

M&Ms or chocolate chips

12

ounces

white baking chips

2

teaspoons

ground cinnamon

1

teaspoon

ground nutmeg
Instructions
Line a large baking sheet with parchment paper.

Combine the Chex cereal, pretzels, peanuts and M&Ms in a large bowl. Stir to combine.

Melt the white chips in a double boiler or microwave. Stir until smooth. Add the cinnamon and nutmeg. Stir to combine.

Pour the melted chocolate over the mix. Stir to coat with a wooden spoon or rubber spatula.

Spread the mix onto the prepared baking sheet. Let set up for 30 minutes. Break into small pieces and place in a container.

Store at room temperature for up to one week.
Recipe Notes
Note:
Some brands of white chips are thick when melted. If yours seems thick, add ½ teaspoon to 1 teaspoon coconut oil to the melted chocolate.