This dill pickle dip is creamy and packed with flavor from chopped dill pickles and a generous amount of seasonings. To make it, simply stir all the ingredients together and let the dip chill for about 30 minutes before serving. This gives the flavors time to develop.
And if you love pickles, try making a batch of easy refrigerator pickles or a few jars of homemade dill relish.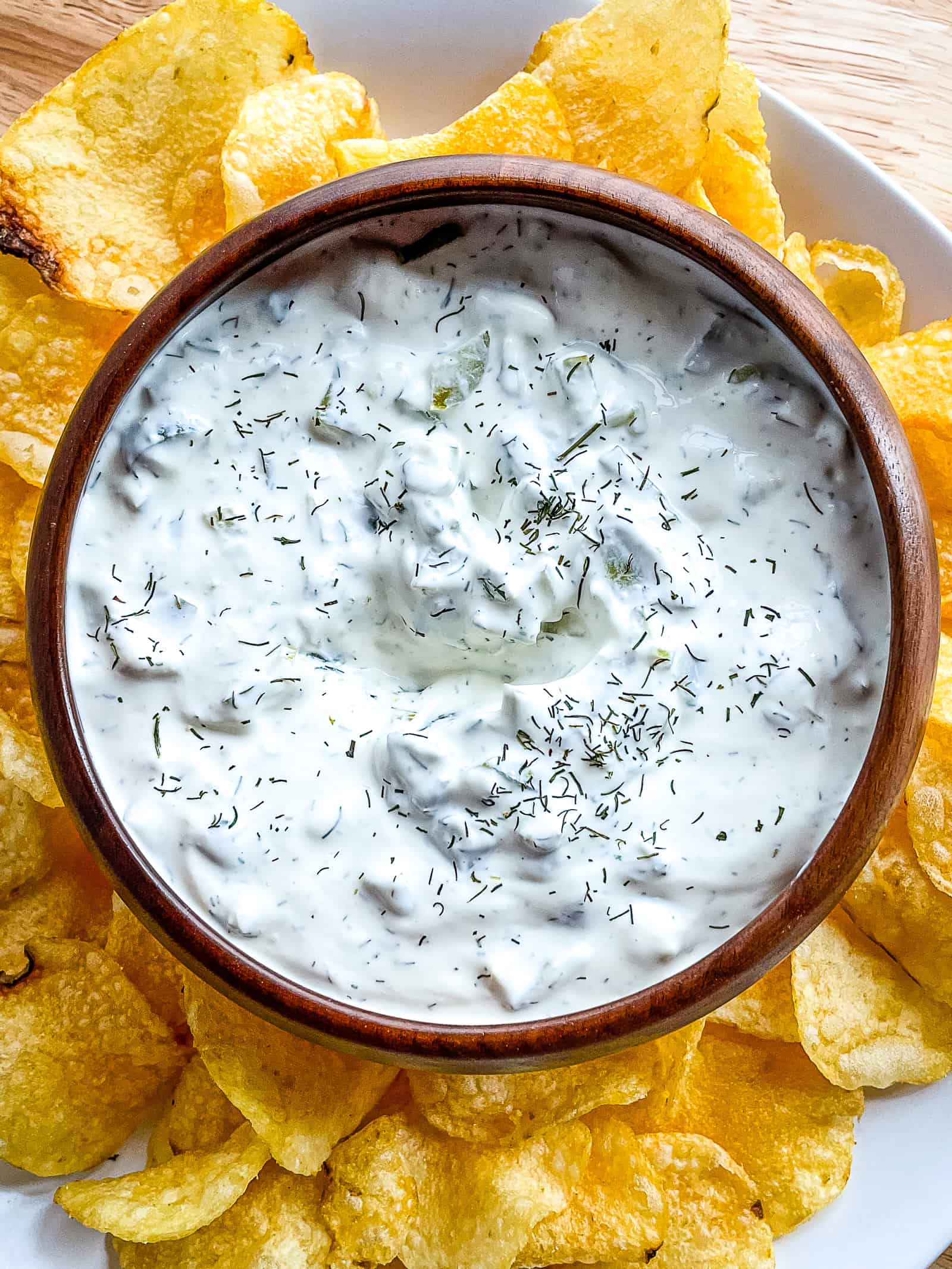 I'm not sure I have a favorite dip. I love them all. But this pickle dip is definitely in the top five. There's just something about the combination of the creamy base with the crunchy pickles that keeps me coming back for more.
As written, the recipe makes a dip that rich and really flavorful. Think of it as a starting point. This is your dip: adjust it to suit your tastes. If you prefer something that's a little lighter, replace the sour cream with Greek yogurt. For a dip with a little spice, stir in some crushed red pepper or chopped pickled jalapeños.
Ingredients
Sour Cream. Use sour cream or plain Greek yogurt for the base.
Mayonnaise. A little mayonnaise adds richness.
Pickle Juice. Wondering where to find pickle juice? Right in the pickle jar. Two tablespoons adds an extra layer of "pickle-y" goodness.
Dried Dill. Use dried dill. It's sometimes labeled "dill weed." Don't use dill seeds in this recipe. They're crunchy and don't lend the same flavor to the dip.
Onion and Garlic Powder. You want onion and garlic powder, not onion or garlic salt for this recipe.
Dill Pickles. Any chopped dill pickles work great. I like to use baby dill pickles. They have fewer seeds than full-sized pickles and add a really nice crunch.
How to Make the Perfect Pickle Dip.
Chop the Pickles. (Or use relish). The heart of this recipe are the dill pickles. Before making the dip, chop them into small pieces. If you want the flavor of pickles without having to cut them, use dill relish. You won't get the same crunch but the flavor is fantastic.
Stir Everything Together. Combine everything except the chopped pickles. If you toss the pickles in at the same time as the seasonings, the dip can get clumpy. Mix everything together until it's nice and smooth. Then add the pickles.
Chill for 30 Minutes. I'm not going to lie, this dip tastes great as soon as you make it. A quick 30-minute chill helps the flavors to develop and makes for an even better dip. If you've got the time, pop the dip in the fridge for at least 30 minutes before serving.
How to Serve and Store
Pickle dip goes great with almost anything. Here are a few serving suggestions.
Potato chips.
Crackers
Raw vegetables.
Pumpernickel pretzels or chips.
Used as a spread on sandwiches or with fish.
Store leftover dip in the refrigerator for up to four days. Note: this dip does not freeze well.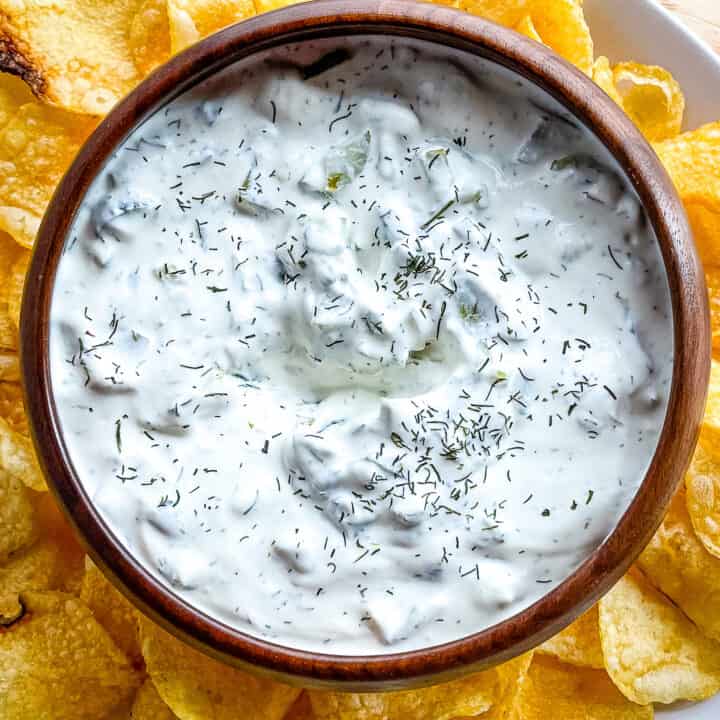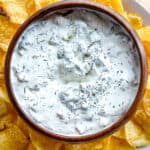 Dill Pickle Dip
Dill pickle dip is made with sour cream, mayonnaise, seasonings, and lots of dill pickles. Chill the dip for 30 minutes before serving for the best flavor.
Ingredients
1

cup

sour cream

½

cup

mayonnaise

2

tablespoons

pickle juice

1

teaspoon

dill weed

½

teaspoon

garlic powder

½

teaspoon

onion powder

1

cup

chopped pickles (add up to 1 ½ cups)
Instructions
Stir together sour cream, mayonnaise, pickle juice, dill weed, garlic powder, and onion powder until smooth. Add pickles. Stir to combine. Chill for 30 minutes for the best flavor.

Store leftover dip in the refrigerator for up to four days.
Recipe Notes
Sour cream: Greek yogurt can be used in place of the sour cream. 
Relish: Replace the pickles with 1/2 cup of dill relish and omit the pickle juice. The flavor is the same but the texture is smoother.
For a spicy pickle dip: add chopped pickled jalapeños.