Easy-to-make cinnamon-sugar pretzel bites. Start with small pretzel twists. Add butter, cinnamon-sugar, and bake. That's it!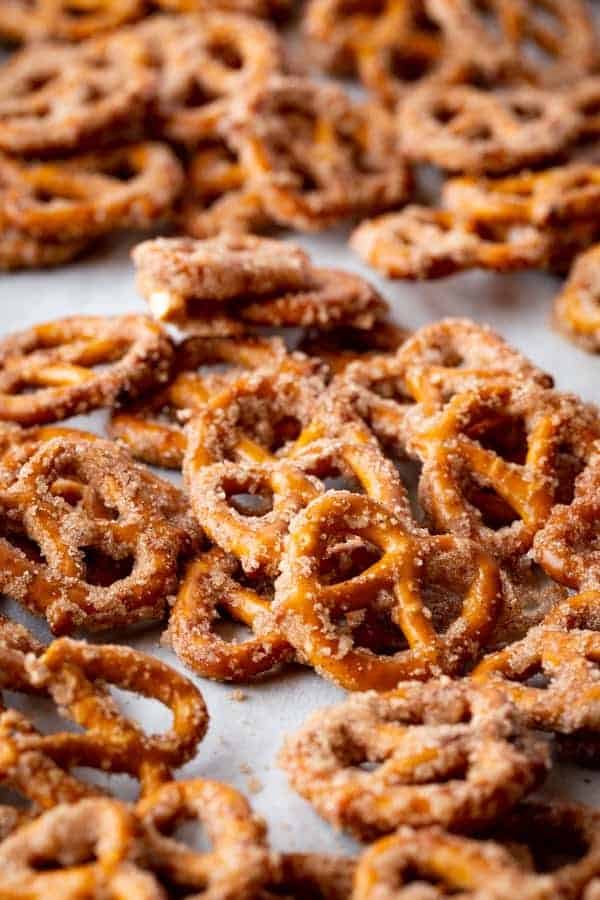 Today we're making cinnamon sugar pretzels bites. Not the yeast-raised kind that are sold at the mall, although those are a delight. These are sugar-cinnamon coated pretzel twists. It's one of those recipes that's greater than the sum of its parts.
These pretzels are crunchy. They're sweet and salty. And, friend, they're impossible to stop eating.
Why You'll Love These Cinnamon Sugar Pretzels
easy to make
sweet and salty
make quick and tasty gifts
a perfect snacky treat for parties.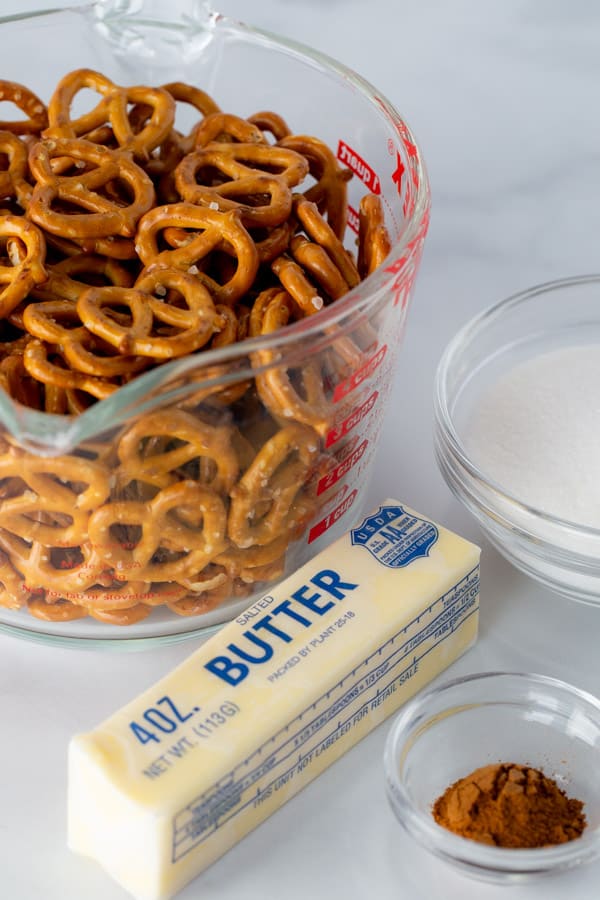 How to Make Them
Make the cinnamon-sugar mixture. Do this first so it's ready to go after you've tossed the pretzels with the melted butter.
Melt the butter. Use a low heat setting on a microwave or melt in a very small pot on the stove. If melting on the stove, take care not to burn the butter.
Toss the pretzels with the butter. Some recipes call for mixing the butter together with the cinnamon-sugar mixture. This is a mistake. That makes for a thick sugar mixture that's hard to coat the pretzels with. It's far easier to coat the pretzels with melted butter and then toss with cinnamon and sugar to coat.
Bake. A quick bake in the oven sets the coating on the pretzels and makes them crunchy and sweet.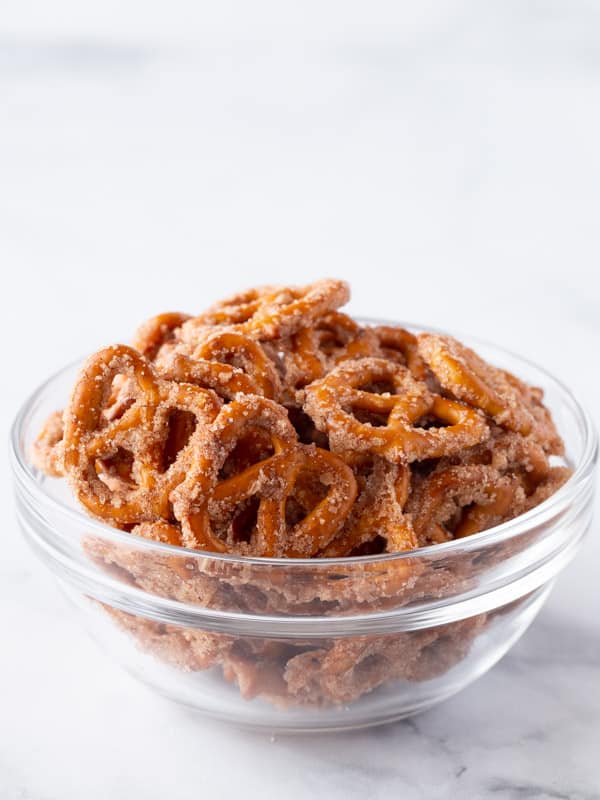 Cinnamon Sugar Pretzels Q & A
Why are these so good?
I think it's the combo of sweet and salty. It's only four simple ingredients but, my goodness, these are amazing.
Can I use vegetable oil in the recipe?
Some versions of this recipe use vegetable oil. When I tested it with oil, I found the cinnamon-sugar mixture didn't stick as well and the pretzels burned easily in the oven. I recommend butter or a dairy-free butter replacement for this recipe.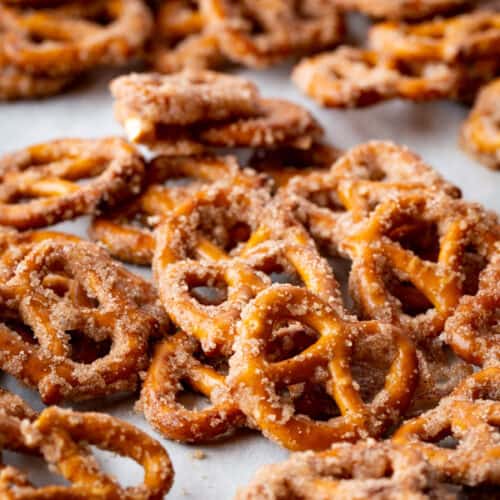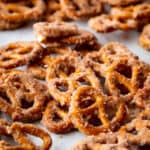 Cinnamon-Sugar Pretzels
Easy to make cinnamon sugar pretzel bites. These are sweet and salty and hard to stop eating!
Ingredients
½

cup

granulated sugar

(about 3 1/2 ounces; 100 grams)

1½

teaspoons

ground cinnamon

4

cups

small pretzel twists

¼

cup

butter, melted

(2 ounces; 56 grams)
Instructions
Preheat oven to 350° F. Line a rimmed baking sheet with parchment paper.

Stir together the granulated sugar and cinnamon. Set aside.

Place the pretzels in a large bowl. Add melted butter. Stir to combine. Sprinkle the cinnamon-sugar mixture over the pretzels. Stir gently to coat the pretzels with the sugar mixture.

Spread pretzels onto a baking sheet. Bake until the sugar bubbles and pretzels are golden brown, about 10 minutes.

Remove the pan from the oven and let pretzels cool on the pan. Once the pretzels are cool, break apart.

Store pretzels in an airtight container for up to one week.