Easy and classic macaroni salad recipe. Mayonaise, black olives, dill relish, onion, and roasted red peppers.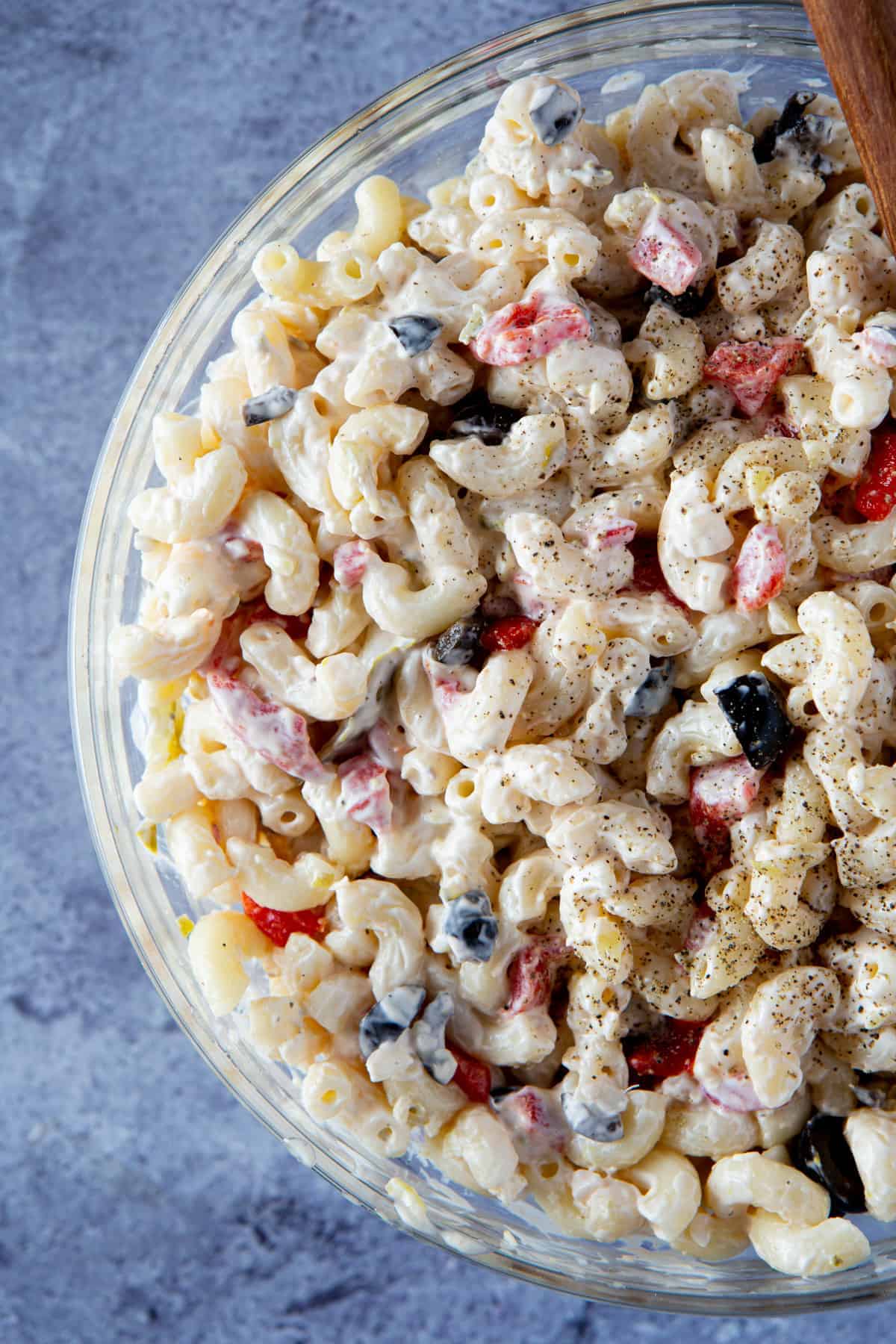 When people ask me to bring a bowl of my macaroni salad to summer BBQs, I usually ask, "Are you sure?"
You see, my "mac salad" is…ridiculously easy to make. There's nothing—absolutely nothing—fancy about it. Yet people always tell me it's the best macaroni salad. ¯\_(ツ)_/¯
They might love the simplicity of the recipe. This is a classic, old fashioned mayo-based macaroni salad. It contains black olives, onions, roasted red peppers (they come from a jar, don't worry about having to roast your own), and dill relish.
That's it.
And, in my opinion, that's why it's so popular. It goes great with ribs or hamburgers. This mac salad is great with hot dogs or other salads. It just…fits in.
Classic Macaroni Salad: Key Ingredients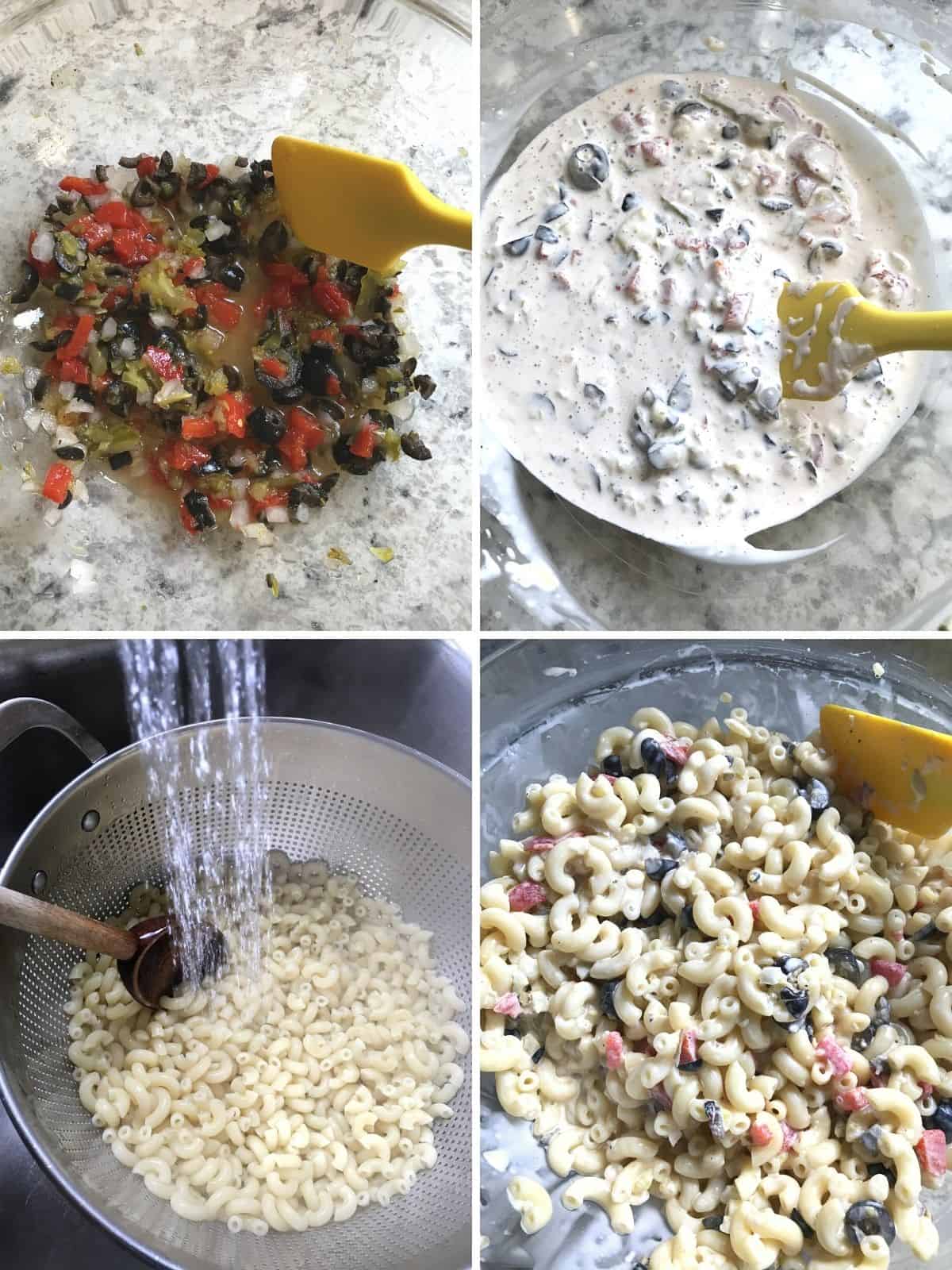 This recipe is so simple that every ingredient plays an important role.
Elbow Pasta. For classic macaroni salad, use elbow macaroni. Can you use any pasta shape? Sure but elbow is traditional.
Diced Onion. Diced onion really brings the flavor to this salad. Since the onion is raw, it tends gets stronger as it sits. I start by adding about two tablespoons of chopped onion to the macaroni salad. Then, after it chills, if it needs more onion I'll add it. Onion is the one ingredient I add judiciously because it can overpower the salad.
Sliced Black Olives. You can drain a small can of sliced black olives and add as-is or…since the cutting board is already out, you can give the olives a little chop.
Dill Relish. Some folks like sweet relish in their macaroni salad. I'm not one of those people. I prefer the vinegar tang that dill relish brings to a salad.
Roasted Red Peppers. This is the one "fancy" ingredient in this macaroni salad. A few roasted red peppers bring some color and a bit of flavor.
Mayonnaise. If you're going to use (whispers) Miracle Whip in this salad, go for it. Just…dont' tell me. 😉 It's traditional mayo for me, bay-bee.
Salt, Black Pepper, and…Sugar? Salt and black pepper make sense, right? But sugar?! I can explain! Since I don't use sweet pickle relish, I add a pinch of sugar. Can you taste it? No. Can you taste it if you omit it? Yes. The macaroni salad isn't as flavorful without it.
How to Make Classic Macaroni Salad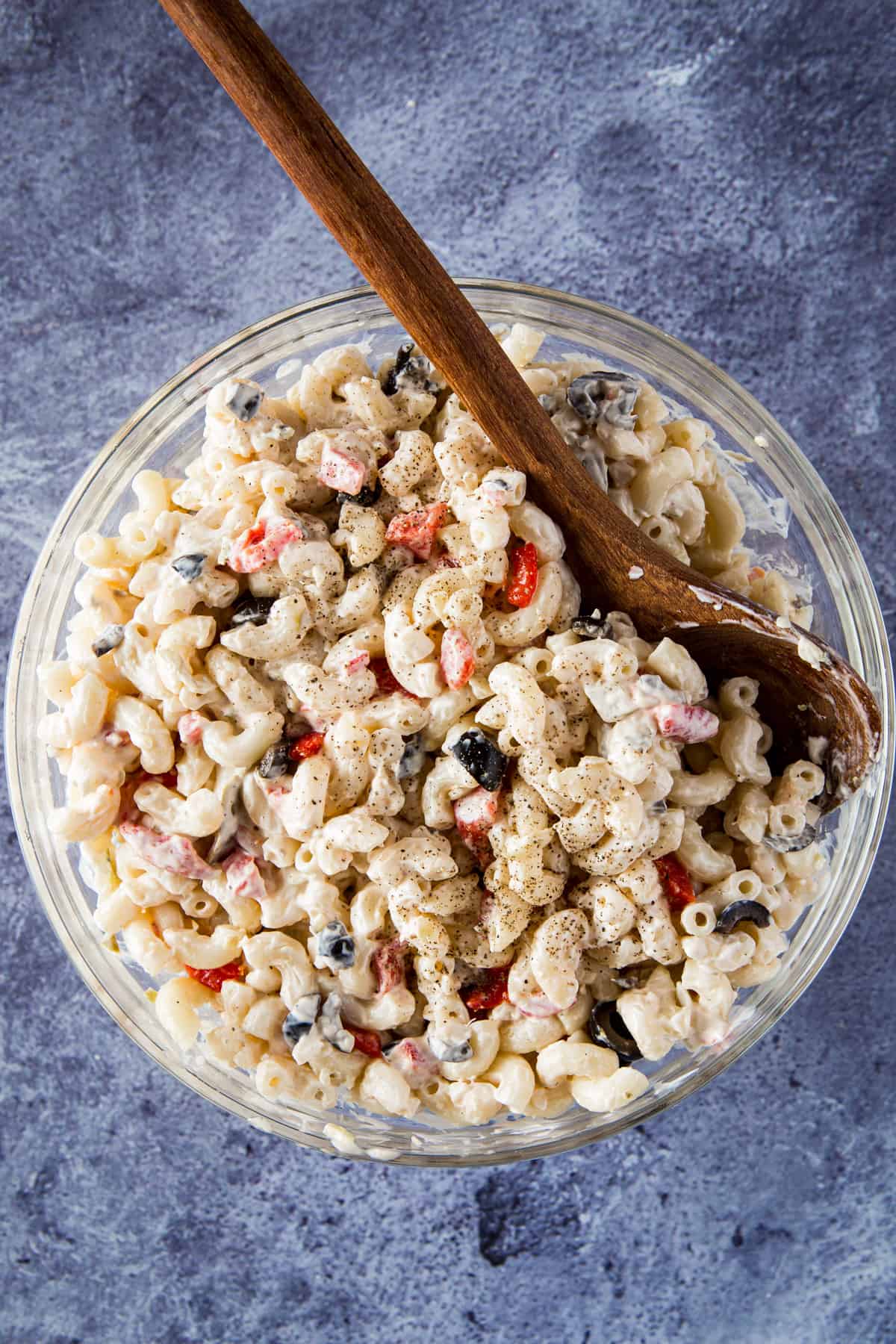 Cook the Pasta. You want the pasta nice and tender but not mushy. For the best flavor, cook the pasta in salted water.
Make the dressing. While you're waiting for the pasta water to come to a boil, make the dressing. Chop the onion, red pepper, and, if you feel like it, the black olives. The recipe calls for sliced black olives but, since I've already got the cutting board out, I give the black olives a little chop.
Cool the pasta. This step is key. Once the pasta is tender, drain it in a colander. Then run cold water over it until it's cool. This takes about one minute. Stir the pasta with a wooden spoon while you rinse it. This helps to cool it quickly.
Toss the pasta with the dressing. Toss the pasta together with the mayonnaise dressing. At this point, the macaroni salad dressing looks thin. Don't worry about it. As the salad chills, the dressing thickens.
Taste it. Adjust the salad to taste. Sometimes it needs a little more onion or a little more relish. Remember: the flavors get stronger (especially onion) as it chills. So go easy. You can always add more later.
Chill. This salad needs to chill for at least two hours before serving. It tastes even better the next day. So if you can make it a day ahead, even better.
Macaroni Salad: Other Classic Ingredients
So you want a macaroni salad that's classic and simple but…not too simple. Here are some ingredients to consider adding.
Chopped Celery
Hard-Boiled Egg
Tuna
Classic Macaroni Salad: FAQs
Should I soak the raw onion for macaroni salad?
Soaking raw onion in cold water makes the onion less sharp. If you prefer a more mild macaroni salad, soak the onion in cold water for five to 15 minutes. Drain the onion before adding to the macaroni salad.
Do you have to rinse the pasta for macaroni salad?
Yes. Rinse the pasta (macaroni) after cooking with cold water. This stops the cooking and prevents the pasta from getting mushy.
My macaroni salad stuck together. What happened?
To keep macaroni salad from sticking together, rinse it directly after cooking with cold water. Then, as soon as it's cool, toss it with the dressing. Cold macaroni, unless it's tossed with dressing or oil, can stick together.
What should I serve with macaroni salad?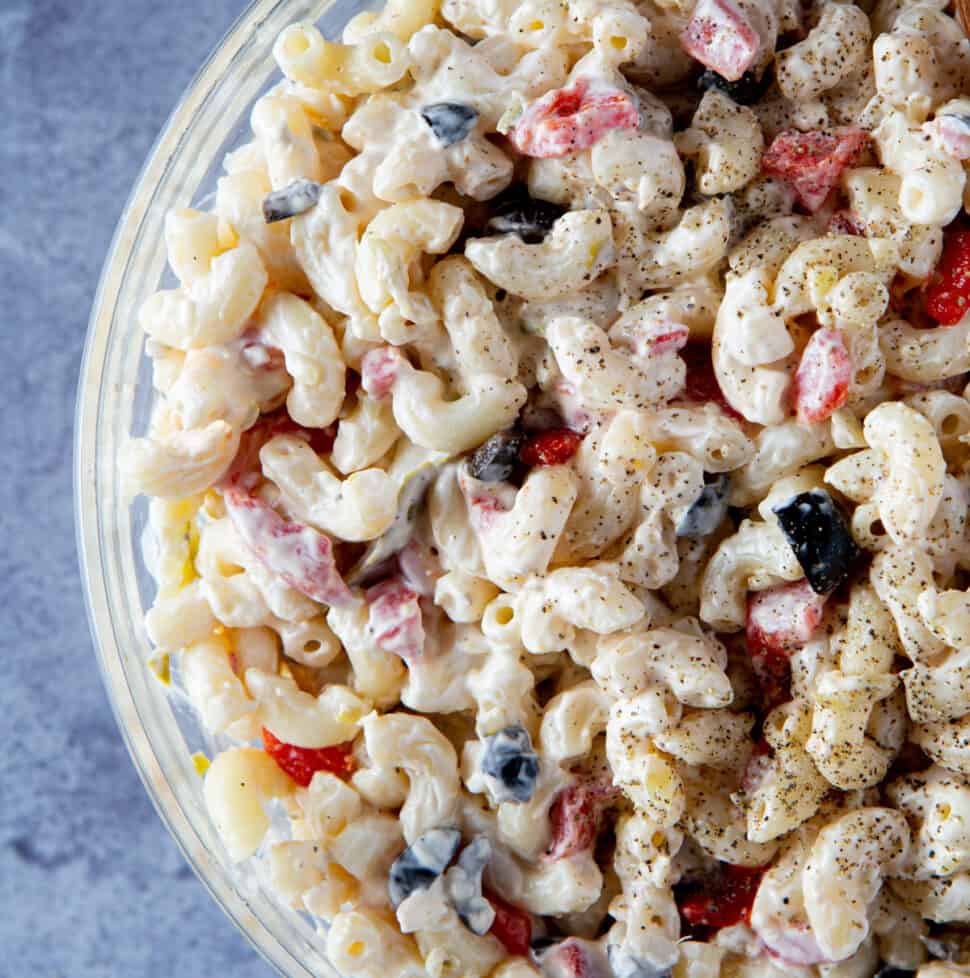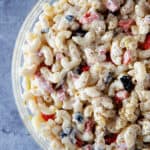 Classic Macaroni Salad
Easy and classic macaroni salad recipe. Mayonaise, black olives, dill relish, onion, and roasted red peppers.
Ingredients
2

cups

(8 ounces) uncooked elbow macaroni

⅓

cup

mayonnaise, plus more as needed

1

(2.25 ounce) can

sliced black olives, chopped (about 1/4 cup)

¼

cup

chopped roasted red peppers

¼

cup

dill relish

2

tablespoons

chopped onions, see note

2

teaspoons

apple cider vinegar

¼

teaspoon

granulated sugar

Salt and ground black pepper to taste
Instructions
Cook Pasta. Bring a medium pot of water to a boil. Salt the water. Cook pasta until tender. Drain. Rinse with cold water until cool. (Gently stir the pasta as you rinse it. This helps to quickly cool the pasta.)

Make the Dressing. Combine the mayonnaise, olives, red peppers, onions, apple cider vinegar, and sugar in a medium bowl. Stir to combine.

Toss Together. Add the pasta and stir to combine. Taste. Add salt and pepper to taste. Cover and chill the macaroni salad for two hours or overnight. Stir before serving. Add more mayonaise if needed. Adjust salt and pepper as needed.
Recipe Notes
Notes
Add more olives, roasted red peppers, and dill relish to taste.
The onion flavor intensifies as the salad chills.