Creamy Italian dressing is easy to make at home. It makes a tangy and flavorful dressing that's perfect for Italian salads. To whip up a batch, you'll need a few simple ingredients and about five minutes. (Recipe is dairy-free)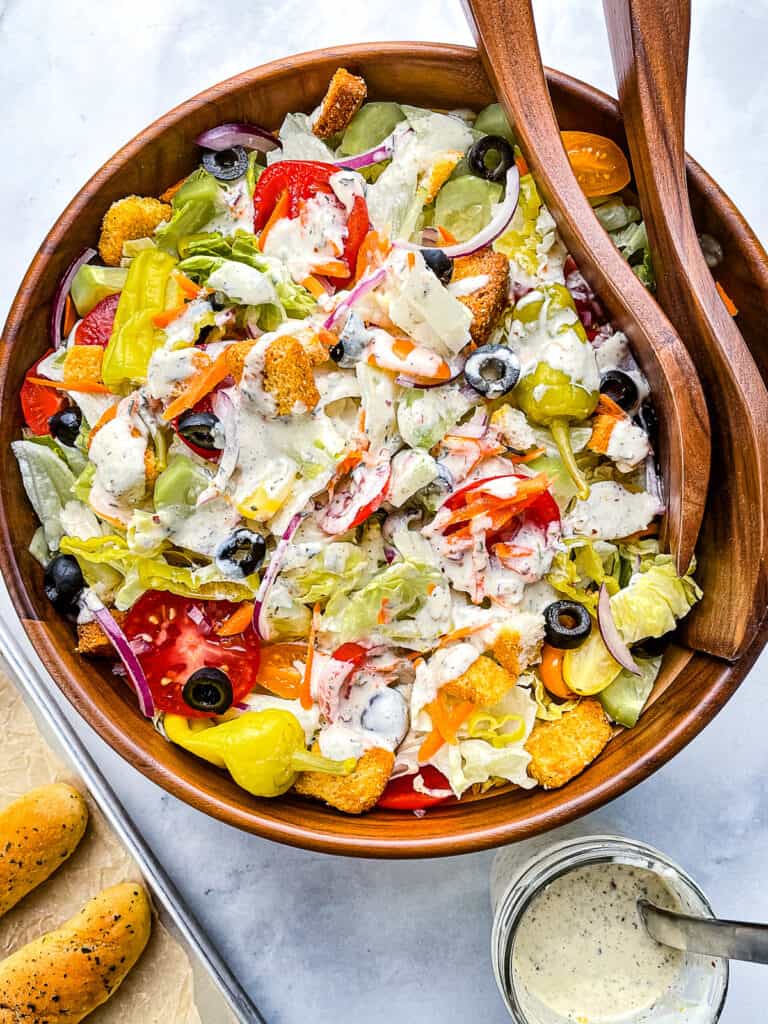 What's the difference between creamy Italian Dressing and Italian Dressing (Vinaigrette)?
Traditional Italian dressing is a blend of olive oil and vinegar plus herbs other seasonings. Creamy Italian dressing contains mayonnaise. This ingredient makes it creamy and smooth. The flavors are similar. Both contain garlic, onions, basil, and oregano.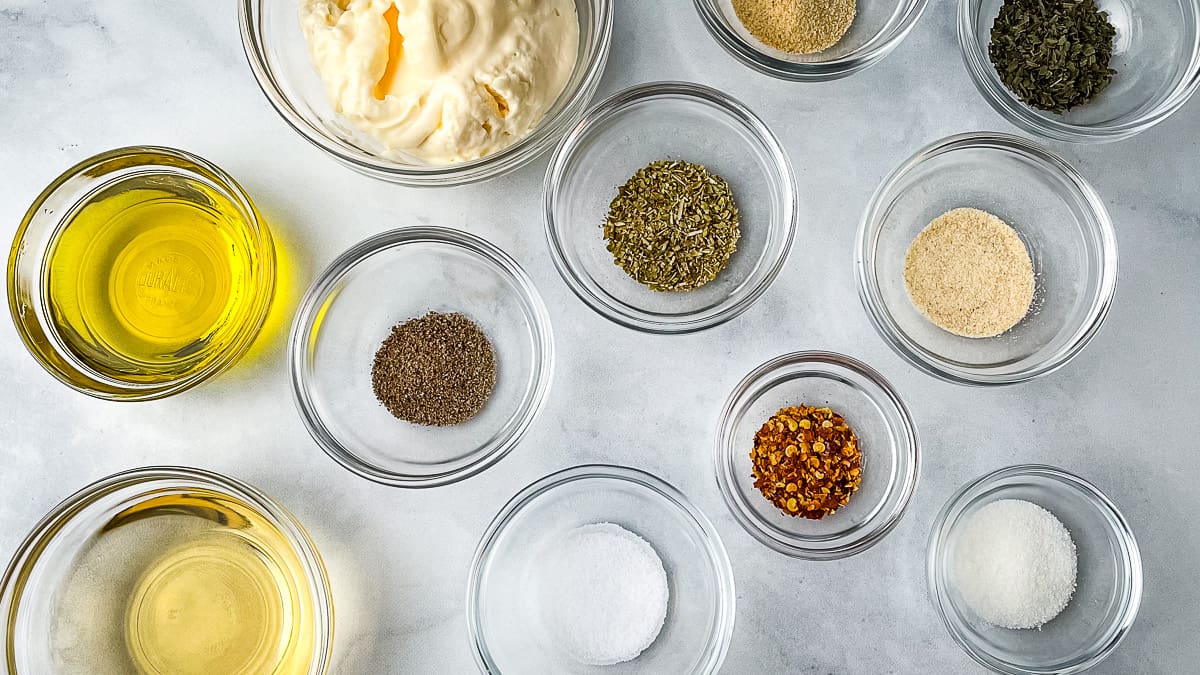 Creamy Italian Dressing: Key Ingredients.
Mayonnaise. The base of this dressing is mayonnaise. Use whatever mayo you love. Miracle whip can be substituted but the flavor of the finished dressing will be different.
Apple cider vinegar. To balance the creaminess of the mayonnaise, use apple cider vinegar. White vinegar or red wine vinegar are good substitutes.
Olive oil. A little olive oil adds flavor to the dressing and gives it a great consistency. If you prefer a different oil, use one with a neutral flavor like canola oil.
Garlic and Onion Powder. Be sure to use garlic and onion powder, not garlic or onion salt. Raw onions and garlic tend to overpower the dressing as it sits in the refrigerator. I prefer to use powders for this recipe.
Dried Herbs. Dried basil and oregano give the dressing its classic "Italian dressing" taste. Always check the expiration dates on dried herbs. If they're expired they lose flavor.
Crushed Red Pepper Flakes. Red pepper flakes add a little heat to the dressing without making it spicy.
Sugar. A teaspoon of sugar does two things cuts the tartness of the vinegar. It doesn't make the dressing sweet.
Salt and Pepper. Freshly ground black pepper tends to be stronger than pre-ground. Taste the dressing after mixing and add more pepper and salt if needed.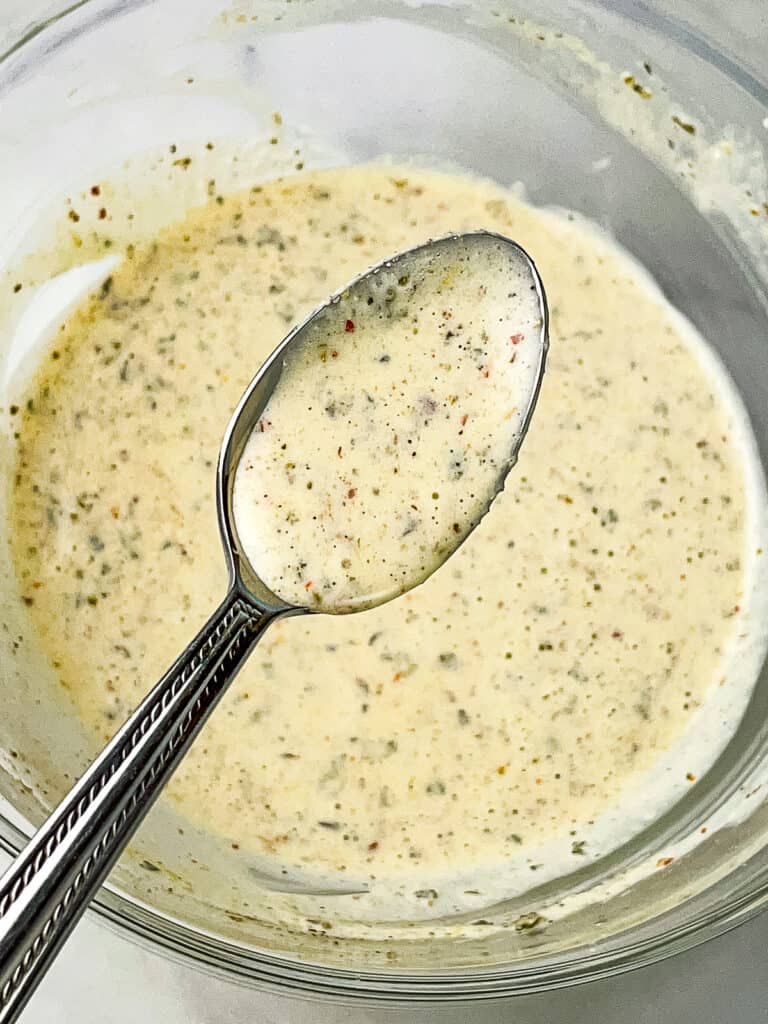 How to Make Creamy Italian Dressing.
Whisk the mayonnaise with vinegar and olive oil. When you add the vinegar to the mayonnaise, it might look like the mayo curdles. This is normal. Simply whisk until smooth. And since olive oil is such a good emulsifier, you don't need to slowly drizzle the oil into the mixture, like you do for most homemade dressings. Combine everything in a bowl and whisk until smooth.
Add the seasonings. Once the dressing is smooth, add the seasonings. Whisk until combined.
Adjust the flavors. Give the dressing a taste. Add more herbs or salt and pepper as needed. If the dressing seems thick, add a little more olive oil.
Let it sit. Since this dressing uses dried seasonings, it tastes best if it sits for at least 20 minutes before serving. Doing this allows the herbs to soften.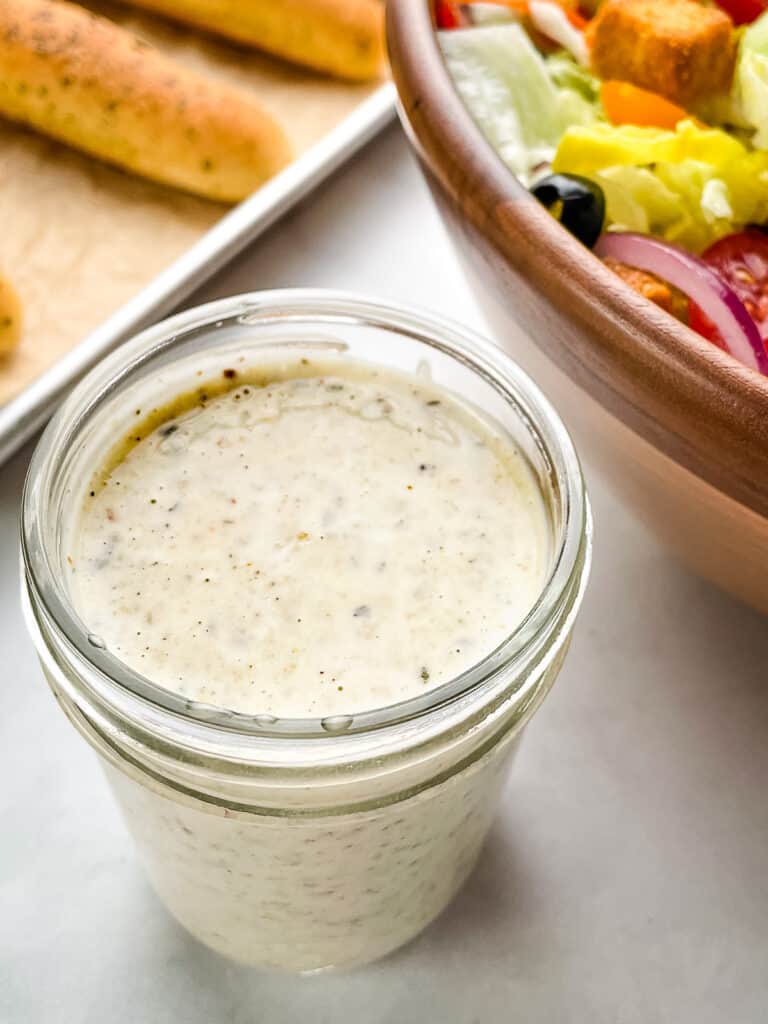 How to Serve and Store Creamy Italian Dressing.
Serving Ideas
Use on your favorite green salad or as the dressing for cold pasta salad.
Add a dollop to roasted potatoes.
Brush on chicken breasts before air frying.
Storage
Store the dressing in the refrigerator for up to one week.
FAQs
Does creamy Italian dressing contain sour cream?
Some versions of creamy Italian dressing call for sour cream. This recipe does not.
Can I add parmesan cheese to the dressing?
Yes. Grated parmesan is a lovely addition to this recipe. Add up to 1/4 cup of grated parmesan to the dressing after you add the herbs.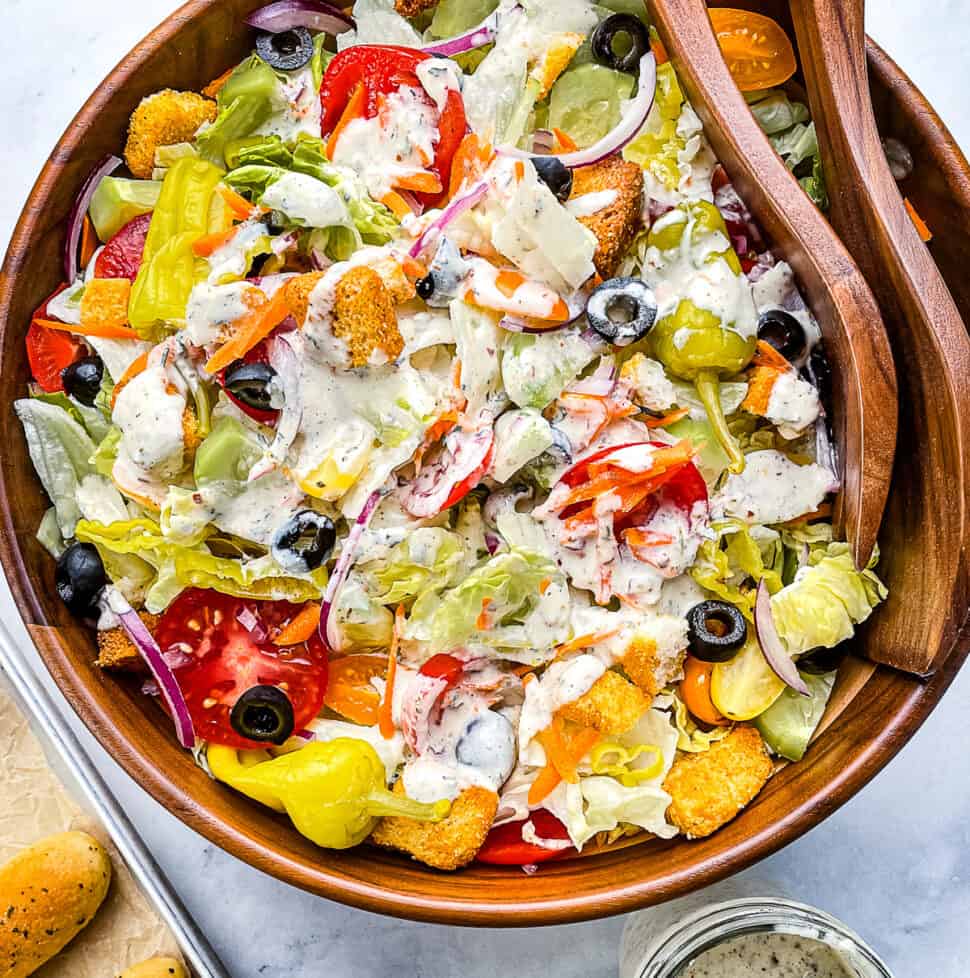 How to Make Creamy Italian Dressing
Creamy Italian dressing has the tangy flavor of classic Italian dressing with a creamy texture. It's easy to make. You only need one bowl and a few pantry ingredients.
Ingredients
½

cup

mayonnaise

¼

cup

apple cider vinegar

3

tablespoons

extra virgin olive oil

1

teaspoon

garlic powder

1

teaspoon

dried oregano

1

teaspoon

dried basil

1

teaspoon

sugar

½

teaspoon

onion powder

½

teaspoon

crushed red pepper flakes

½

teaspoon

salt

½

teaspoon

freshly ground black pepper
Instructions
Whisk together 1/2 cup mayonnaise, 1/4 cup apple cider vinegar, and 3 tablespoons extra virgin oil until smooth.

Add 1 teaspoon garlic powder, 1 teaspoon dried oregano, 1 teaspoon dried basil, 1 teaspoon sugar, 1/2 teaspoon onion powder, 1/2 teaspoon crushed red pepper flakes, 1/2 teaspoon salt, and 1/2 teaspoon freshly ground black pepper. Whisk until smooth. Taste. Adjust seasonings. Chill for 30 minutes before serving.

Store dressing in the refrigerator for up to five days.