Easy to make creamy pasta with diced jalapeños and corn. Use fresh or frozen corn, both work great in the recipe.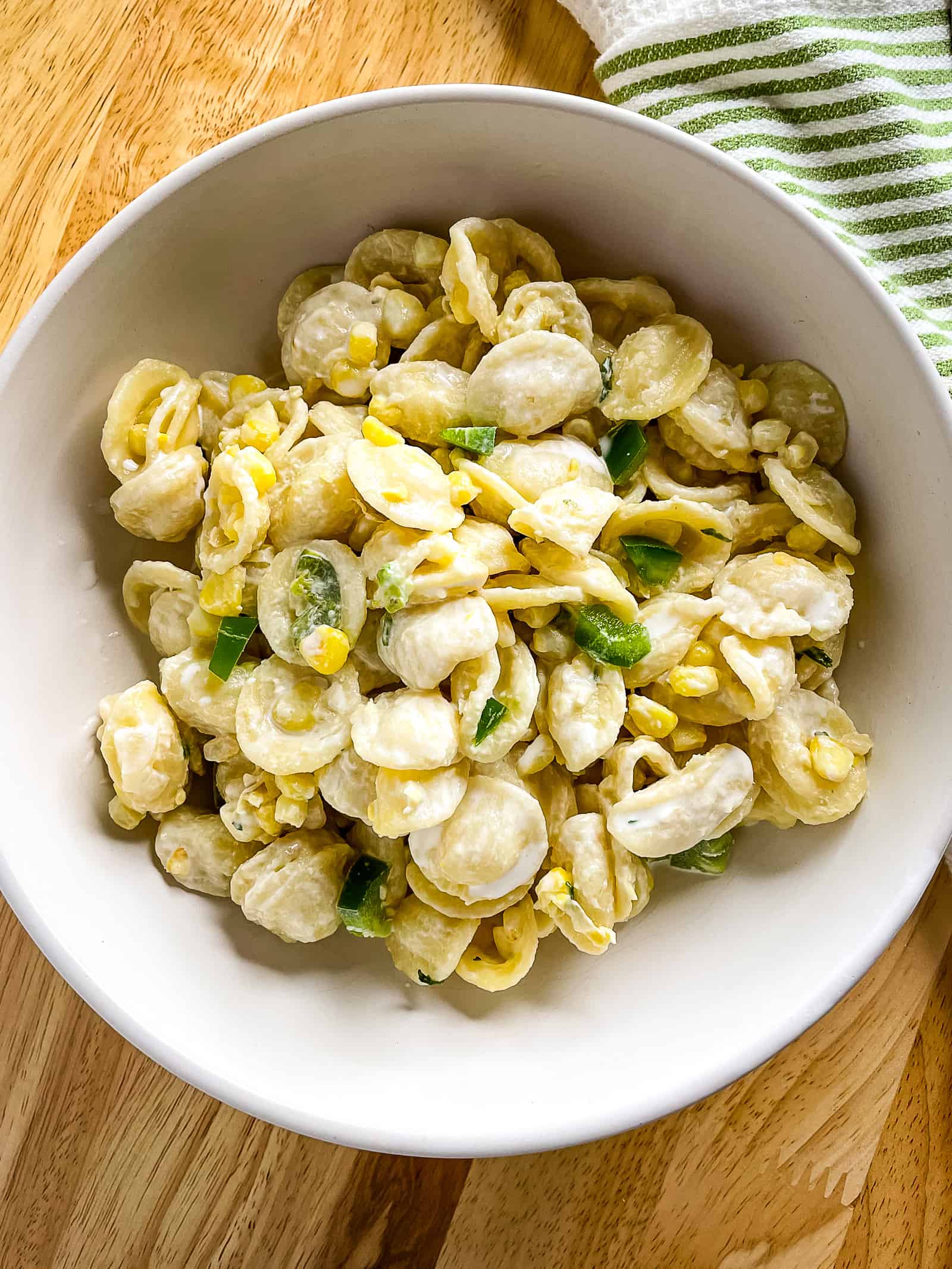 This creamy jalapeño and corn pasta is creamy, a little spicy, and really easy to make. It's based on a recipe the New York Times published a few years ago. 
Their recipe included feta. When I went to make it for dinner, I realized I didn't have any; which was a problem. The original recipe needs the feta to make the sauce creamy. Without it, there's no sauce.
So I varied the recipe a bit.  The result is a pasta dish I've been making ever since. I still haven't tried the original recipe as written. Maybe one day.
Ingredient Notes.
You only need a few ingredients to make this pasta. I like to prep the ingredients, start the pot of water for the pasta, and then cook the sauce. This way, everything is ready to go when the pasta is cooked.
Pasta. The recipe calls for orecchiette pasta because the shape cups the small kernels of corn and diced jalapenos. Medium shells and casarecce also work well. 
Jalapeños. Use a fresh jalapeño. Canned jalapeños don't work in this recipe. If you like the spiciness, include the seeds and the membrane the seeds cling to in the sauce. For a milder spice, remove and discard them. 
Corn. Fresh or frozen corn works. When I make it in the summer, I use fresh corn. For other times of the year, frozen corn is best. 
Half and Half. The creaminess comes from half and half. This is a pre-blended mix of half cream and half whole mix. (That's where the name comes from. It's half cream, half milk.)
Parmesan Cheese. A little parmesan cheese adds a nice nuttiness. If you don't have it, use feta or omit the cheese altogether.
How to Cut Corn Off the Cob.
If you're using fresh corn, here's how to cut it off the cob. Note: there are many ways to cut corn from the cob. If you prefer a different style, use it. There's no one right way to do it.
Using a sharp chef's knife, cut the bottom off the corn. You want a flat surface.
Stand the corn up on the flat surface. Hold the top of the corn firmly. Keep your fingers away from the knife.
Slice downwards to cut the kernels off the cob.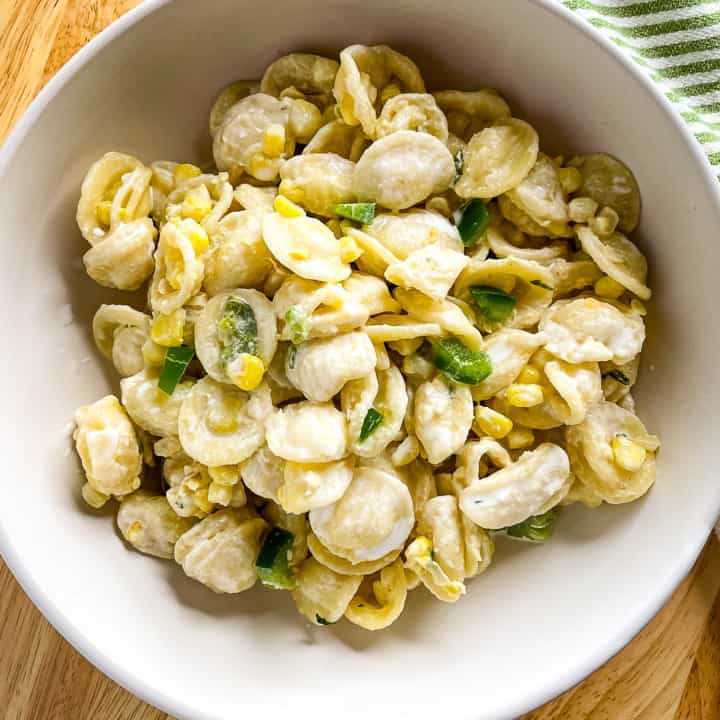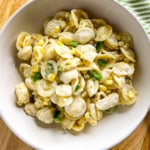 Creamy Pasta with Jalapeño and Corn
This pasta is spicy, a little sweet, and really creamy.
Adapted from the New York Times. Orecchiette With Corn, Jalapeño, Feta, and Basil Pasta, August 2018
Ingredients
1

pound

orecchiette pasta⁣

2

tablespoons

olive oil ⁣

3

tablespoons

butter⁣

1

medium

onion, finely chopped

3

cloves

garlic, minced

1

medium

jalapeño, finely chopped

2

cups

fresh or frozen corn (about 3 ears of fresh corn )

1 ½

cups

half and half⁣

½

cup

grated parmesan⁣

½

cup

chopped cilantro

optional⁣
Instructions
Bring a large pot of salted water to a boil. Add pasta, and cook until tender. Reserve 1 cup of the pasta cooking water. Drain.⁣

While the pasta cooks, make the sauce. In a large nonstick skillet, heat olive oil and butter over medium heat. Add onion and cook until soft. Add jalapeños and garlic. Cook until soft and fragrant, about 3 minutes. Add the corn and cook until tender, about 3 to 4 minutes. ⁣

Reduce heat to low. Add the half and half. Stir to combine. Simmer until pasta is ready. Stir occasionally. ⁣

Return drained pasta to the cooking pot. Add the sauce, parmesan, and cilantro. Stir to combine. Add pasta cooking water if the sauce is thick. Season with salt to taste. Serve and enjoy. ⁣