5 Ingredients and 20 minutes are all you need to make this easy butter chicken recipe. A shortcut ingredient helps get dinner on the table fast. Serve with naan or rice, and your favorite vegetable.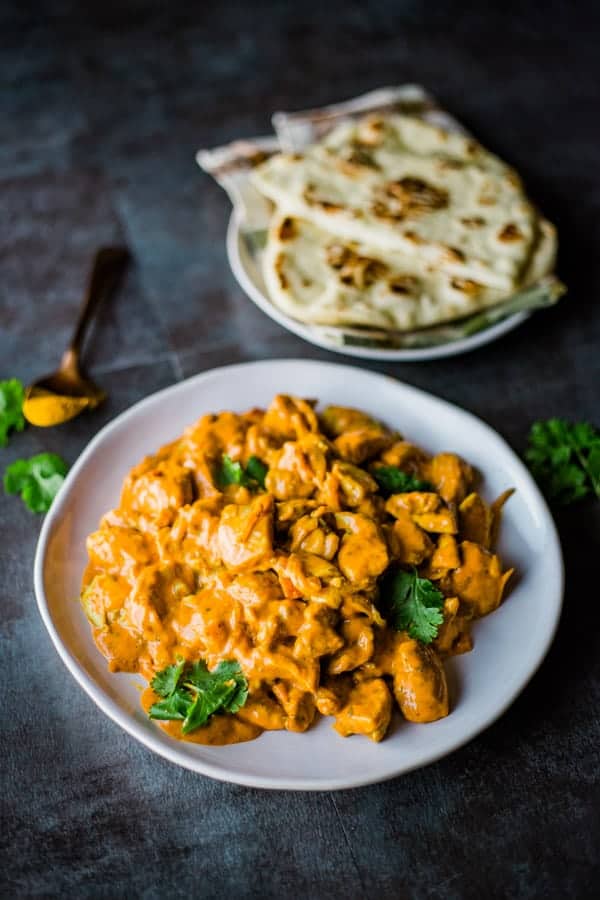 Don't you hate those nights when you don't feel like cooking but
You want to eat.

You don't want to spend the money on takeout (

again

).
This easy butter chicken recipe is the solution to those nights. It's a shortcut recipe. You'll need a jar of Tikka Masala sauce. I really like the one Aldi sells. It costs less than two-bucks and is really flavorful. If you don't have an Aldi near you, you can find jarred Tikka Masala sauce in most grocery stores. They vary from brand to brand but this recipe works with whatever sauce you buy.
Of course, you could simply cook some chicken, heat up the tikka masala sauce, and call it a day. There's no problem with that approach. But…if you doctor the sauce just a bit, it makes your meal even better.
The prep time for this easy butter chicken takes about 10 minutes and, I'm not kidding here, it tastes like something you'd get from a restaurant.
The best part? You only need five ingredients. Seriously. As long as you have the sauce on hand, and keep onions in the pantry and chicken in the freezer, you can make this meal whenever. It's faster than waiting for takeout.
All you do is toss the chicken with some curry powder and oil. Then cook a sliced onion. Add the sauce and allow it to simmer while you cook the chicken. Before serving, add some half-and-half to the sauce and, boom, dinner is done. Easy, eh?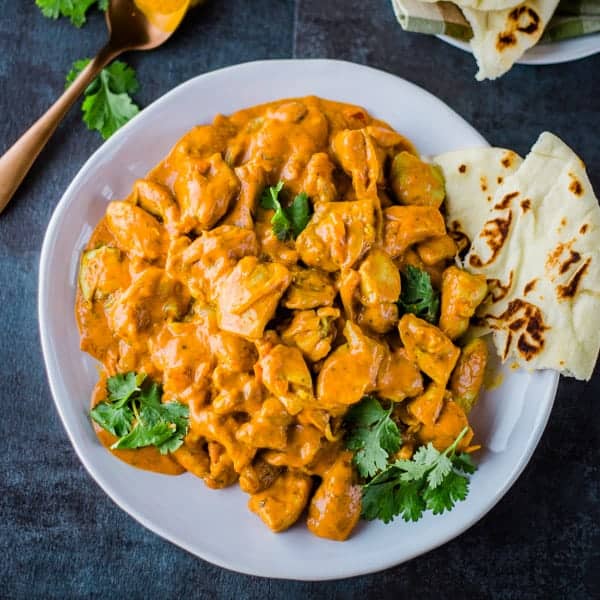 What You Need to Make the BEST (and easiest!) Butter Chicken
This 5 ingredient butter chicken really tastes like it came from a restaurant. Here's what you need.
Jar of Tikka Masala Sauce. (Aldi "Journey to India" suggested)
Yellow Onion
Curry Powder
Skinless, Boneless Chicken Breasts or Thighs
Half and Half
What to Serve with Butter Chicken
Naan
Rice (Basmati or Jasmine are especially nice.)
Roasted Potatoes
Cooked Red Lentils
Chickpeas
Cauliflower. Roasted or steamed
Peas
Sautéed Spinach
Broccoli. Roasted or steamed
Cucumber Salad with onions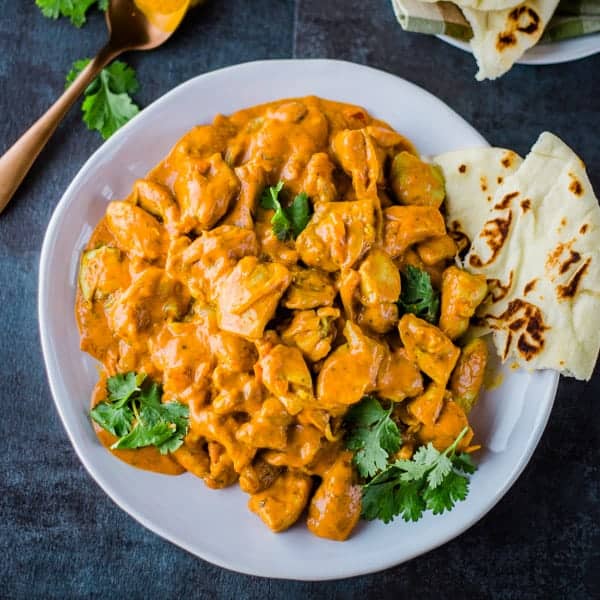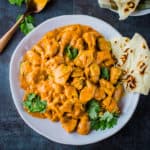 Easy Butter Chicken
A jar of tikka masala sauce steps in to make this the easiest butter chicken you've ever made--and the best you've ever eaten.
Ingredients
1

pound

boneless, skinless chicken thighs or breasts

4

teaspoons

olive oil, divided

2

teaspoons

curry powder

1

large

yellow onion, sliced

1

jar

tikka masala sauce

1/2

cup

half-and-half

chopped cilantro for serving, optional
Instructions
Prep the Chicken: Cut the chicken into bite-size pieces. Let me be honest here, you can skip this step if you want. The only reason I do this is because traditionally butter chicken is cut. If you prefer cooking whole pieces of chicken and cutting them as you eat, go for it.

Make the Marinade: Stir together the 2 teaspoons olive oil and curry powder. This ensures that the chicken gets evenly coated with the curry powder. If you just plop the curry in, sometimes some pieces get a lot of curry while others don't get much at all.

Place the chicken in a medium bowl. Add the curry-oil mixture. Stir together to coat.

Note: You can do this right before you cook dinner or up to 24 hours in advance. If prepping the night before, cover the bowl and refrigerate.

Slice the Onion and Cook: Cut the onion in half from stem to tip. Then cut into thin slices. Heat one teaspoon olive oil in a nonstick skillet until it shimmers but doesn't smoke.

Add the onion. Cook, stirring frequently, until soft. Add the sauce. Reduce heat to low and allow sauce to simmer while you cook the chicken. If the sauce seems too thick, add a splash (1/4 cup) water.

Cook the Chicken: Heat remaining olive oil in a large nonstick frying pan.

For cut chicken: Add the chicken, cook, stirring frequently, until no pink spots remain, about 5 minutes.

For whole boneless thighs or breasts: Place chicken into hot pan. Cook for three minutes. Turn. Cook until chicken is no longer pink in the center. Cooking time varies depending on the thickness of the chicken.

Put it Together: Add the half and half to the sauce. Stir to combine. Pour the sauce over the chicken. Stir to combine. Reduce heat to low. Allow chicken to simmer for about three minutes. Chicken should reach 165 degrees F.

Transfer to a serving platter. Sprinkle cilantro over the chicken, if desired.