Chicken Lettuce Wraps are an easy-to-make meal for any night of the week. Skip a trip to the restaurant (or take out!) and make your own version of PF Chang's yummy chicken lettuce wraps.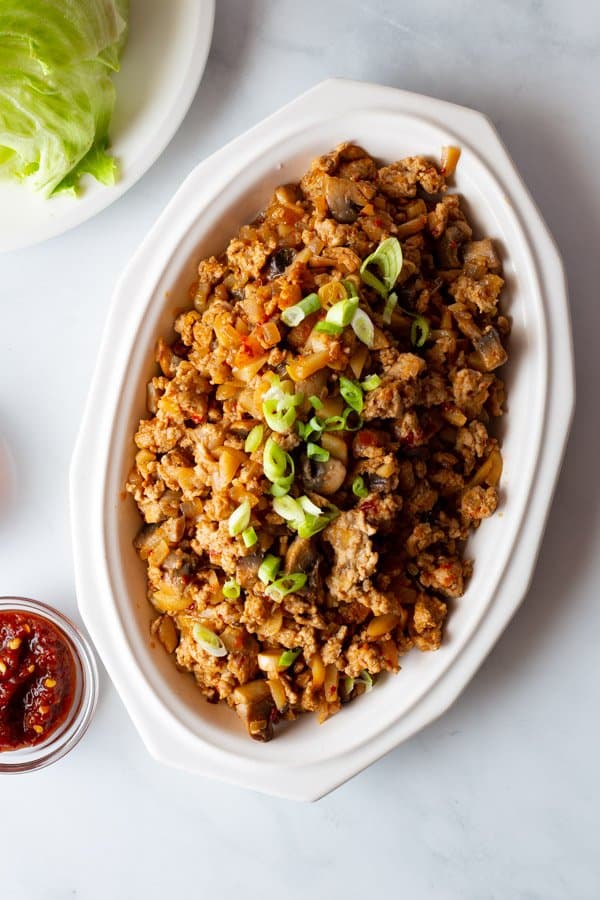 It's not often I get obsessed with a meal served at a chain restaurant. PF Chang's chicken lettuce wraps are one of the exceptions to that rule.
The first time I ordered them, I wasn't sure what to expect. A friend told me that she loved them but…she didn't say much. Other than, "OMG! Order the chicken wraps!" Then the menu description from PF Chang's didn't help. It's vague: "A secret Chiang family recipe and our signature dish. Enough said."
Um, okay. I don't think that's "enough said" but you do you, menu-writer.
The lettuce wraps, which they sell as an appetizer but I think make a great main course, are a spicy ground chicken mixture with….well I'm not sure. I couldn't find an official ingredient list. My theory is that the wraps contain chopped water chestnuts, mushrooms, and green onions.
And they're really easy to make at home. In about 30 minutes, you can have dinner on the table.
You'll need a few specific ingredients to give the wraps that signature Chang's flavor: soy sauce, sambal oelek, water chestnuts, and green onions. If you keep fish sauce in the house, a little splash goes really well in these wraps.
The only thing they're missing? The crunchy white rice noodles that PF Chang's includes with the wraps. I omitted the noodles because to make them, you need to deep fry uncooked rice noodles. And I'm not pulling out the deep fryer to make a few crunchy noodles that don't add much flavor to the dish.
What's in the PF Chang's Wrap special sauce?
The heart of this recipe comes down to the sauce. It's what gives the chicken wraps its signature flavor. A mixture of soy sauce, sambal oelek, ketchup, and, if you've got it, fish sauce makes for a very close replica of what you'll get at the restaurant.
Ketchup?! Did you say ketchup?!?!
I did. First, I promise that you can't taste a ketchup flavor. It adds umami and a very subtle sweet-tang flavor that mimics Chang's chicken wraps. I know using ketchup sounds odd-—awful even⁠—but ketchup is unique. It's one of the rare foods that delivers salty, sweet, sour, bitter, and umami flavors. Which happens to be the five known fundamental tastes in the human palate. The ketchup enhances the other flavors of the sauce and, again I promise, you don't taste a ketchup flavor.

Can I use low sodium soy sauce?
You sure can! I almost always use low sodium soy sauce at home. It works very well.
What's sambal oelek? Is it like sriracha?
Sambal oelek Southeast Asian chili sauce made from red chili peppers, salt and sometimes vinegar. While the ingredients are similar to sriracha the flavor and texture are different. Sriracha is pureed into a smooth sauce with a sweet-vinegar tang and a mild garlic flavor. Sambal oelek is chunky with no sweetness or garlic.
Can I substitute sriracha for sambal oelek?
Yes. But if you enjoy sriracha, I think you'll love sambal oelek. It's worth picking up a jar.
What's the best lettuce to use for chicken lettuce wraps?
Either butter lettuce or iceberg lettuce works well. Iceberg doesn't wrap as well as butter lettuce but the crunch is fantastic. Plus, it's often easier to find and more affordable than butter lettuce.
Can I make these gluten-free?
Yes! Replace the traditional soy sauce with either gluten-free soy sauce or tamari and you've got gluten-free lettuce wraps.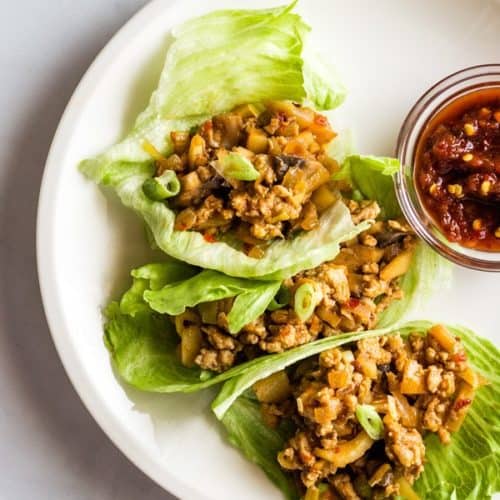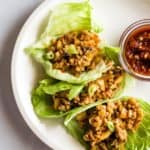 PF Chang's Chicken Lettuce Wraps
Easy recipe for Chang's chicken lettuce wraps.
Ingredients
3

tablespoons

soy sauce

plus additional for serving

3

tablespoons

ketchup

2

teaspoons

sambal oelek, optional

plus additional for serving

½

teaspoon

fish sauce

optional

2

teaspoons

olive oil

1

medium

onion, finely diced

8

ounces

mushrooms, chopped

1

pound

lean ground chicken

3

cloves

garlic, minced

1

tablespoon

grated fresh ginger

1

(8 ounce) can

water chestnuts

drained and roughly chopped

4

green onions (scallions)

finely sliced

Butter or iceberg lettuce

leaves separated and washed, for serving

White or brown rice

for serving (optional)
Instructions
Whisk together soy sauce, ketchup, sambal oelek and fish sauce until smooth in a small bowl. Set aside.

Heat olive oil in a large (12 inch) nonstick skillet until it shimmers but doesn't smoke. Add the onion. Cook, stirring frequently, until the onions are soft and shiny but not brown.

Add the mushrooms. Cook until mushrooms are soft, about three minutes. Stir occasionally.

Push the onions and mushrooms to one side of the pan.

Add the ground chicken to the exposed part of the pan. Cook, crumbling the meat with a wooden spoon or meat chopper, until chicken just begins to brown.

Stir the mushroom mixture into the ground chicken. Add the minced ginger and garlic. Stir to combine. Reduce heat to low. Add the sauce mixture. Stir.

Add the water chestnuts and green onions. Cook, stirring occasionally, for an additional three minutes. Season to taste, adding more soy sauce or sambal oelek as needed.

Serve with lettuce leaves and rice. Store leftovers covered in the refrigerator for up to three days.