Homemade mushroom seasoning is a delicious way to add umami to your favorite savory foods. Use it in stews and soups. Sprinkle some on eggs, potatoes, and even popcorn. The possibilities are endless!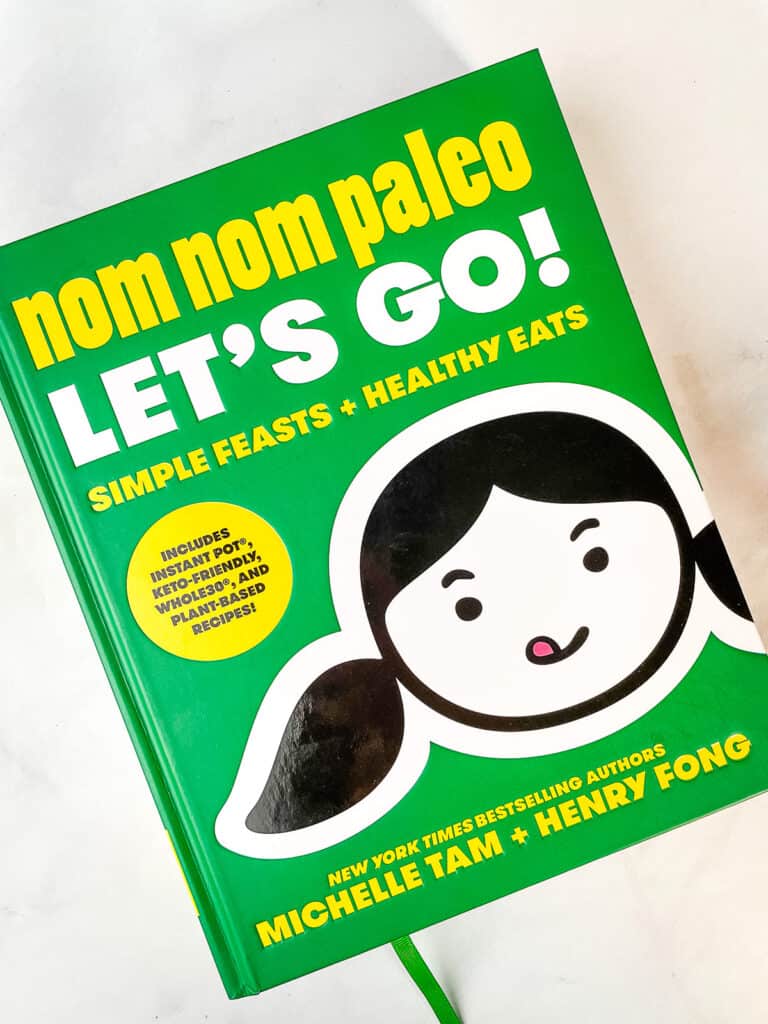 Lately, I've been cooking my way through Michelle Tam's latest cookbook: Nom Nom Paleo: Let's Go. I don't follow a paleo style but I'm smitten with her recipes. They're flavorful, easy to make, and totally adaptable to most eating styles. 
Her recipe for Magic Mushroom Powder (funny name, eh?) is genius. If you've tried the Umami powder from Trader Joe's, this is similar but, I think, it tastes better. There's no mustard or onion competing with the flavor of the mushrooms.
Michelle says this is her "not-so-secret" weapon in the kitchen. And after making it, I can see why. Use it in place of salt for a burst of flavor in savory recipes.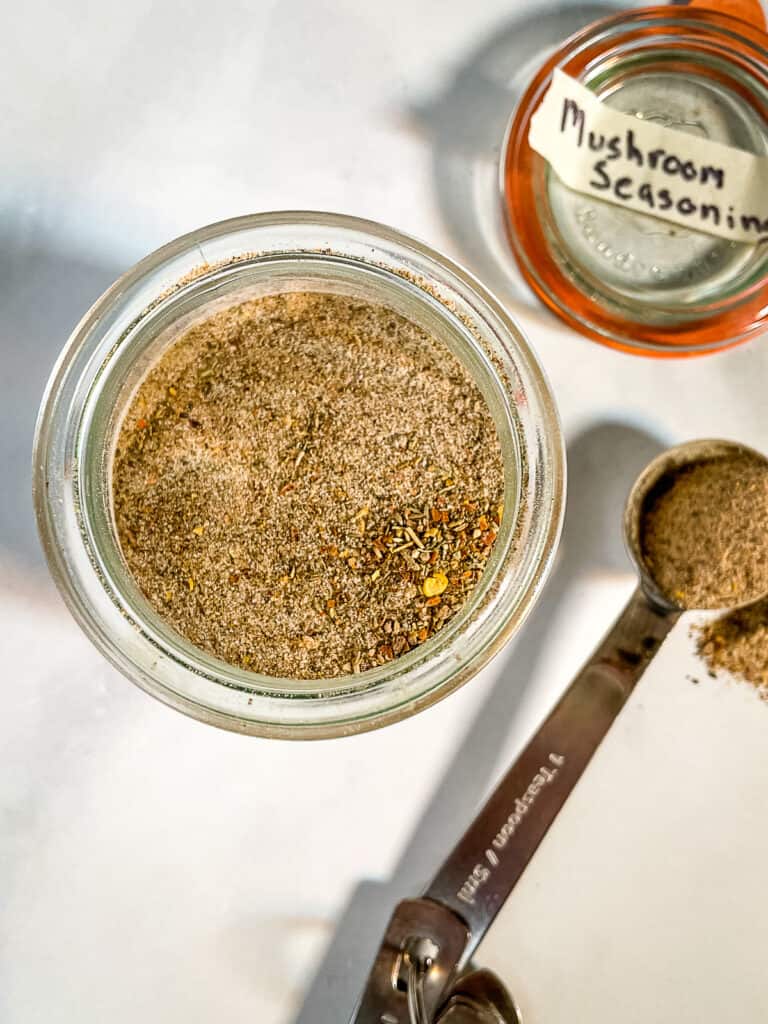 What Does Mushroom Seasoning Taste Like?
The unique flavor is hard to describe. Think of this like an umami-packed seasoning salt. It's (sort-of) like beef bouillon crossed with mushrooms.
How to Use Mushroom Seasoning
Use this salt blend in any savory dishes where you'd use salt. Beef, hamburgers, eggs, roasted potatoes, soups, and even popcorn benefit from a sprinkle of this seasoning.
Mushroom Seasoning: Ingredients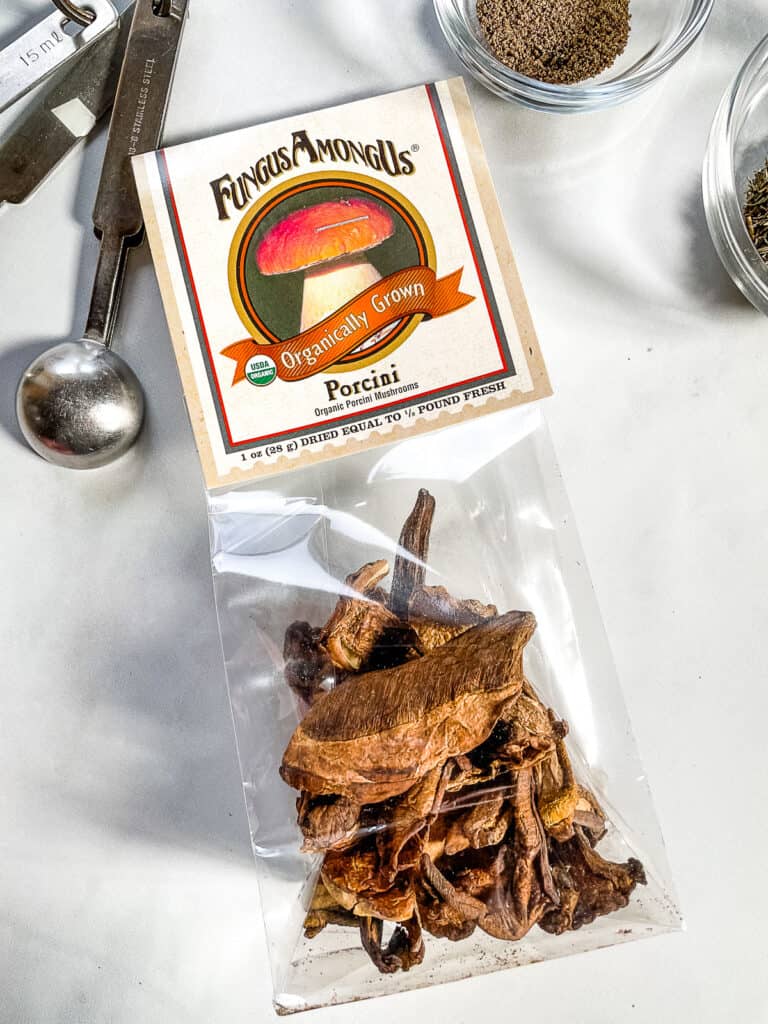 Dried Porcini Mushrooms. The flavor of a dried porcini mushroom reminds me of beef bouillon, in the best way. It's meaty, intense, and is the backbone of this seasoning. While other dried mushrooms, like shiitake and crimini, work in this recipe, I think it tastes best with porcini.
Diamond Kosher Salt. Michelle created this recipe using Diamond Kosher salt. This brand of salt is really flaky. If you can't find it, replace it by weight with another salt. Since Diamond Kosher salt is lighter than other salts, it's important to replace it by weight, not by volume.
Crushed Red Pepper Flakes. In the United States, crushed red pepper flakes are a common ingredient. They're spicy without being too hot. The peppers used varies by manufacturer. Most are a blend of dried peppers, with cayenne pepper being the most common pepper in the blend.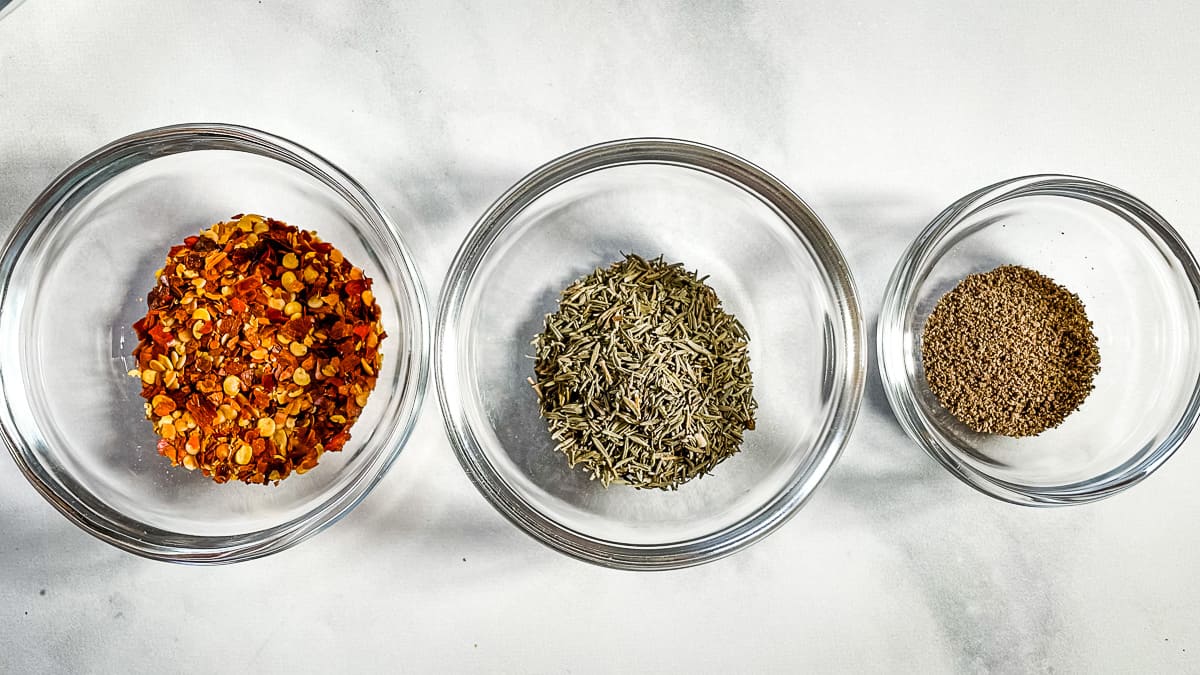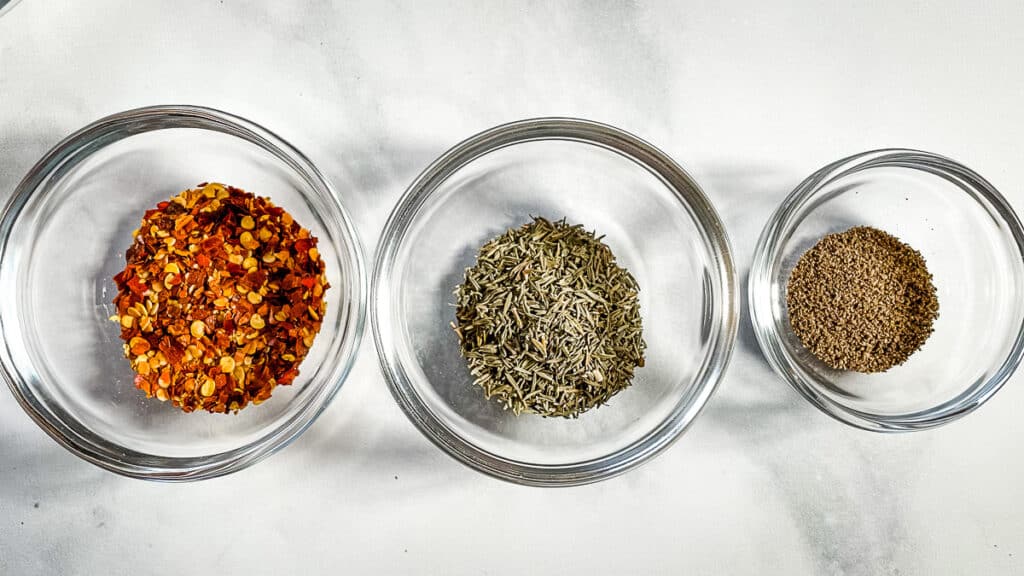 Dried Thyme Leaves. I always think of thyme as "sort of" a rosemary-oregano with a hint of lemon. (Don't confuse regular thyme with lemon thyme. They are two different ingredients. Use regular/common thyme in this recipe.) If you don't like thyme, either omit it or replace it with rosemary or oregano.
Freshly Ground Black Pepper. There's a mere teaspoon of freshly ground black pepper in this blend. But it makes a difference. The pepper adds subtle heat to the mushroom powder.
How to Make Mushroom Seasoning
Grind the dried porcini mushrooms. Place the dried porcini mushrooms in a high-powered blender or food processor. Blend until the mushrooms are a fine powder. This took me about three minutes. During this step, cover the lid with a towel or mushroom powder will escape during blending.
Let it settle. Do not, I repeat do not, open the blender or food processor right after blending. While blending a fine mushroom powder fills the blender. If you open the lid too soon, it escapes. Let that powder settle for a minute or two before opening.
Add the remaining ingredients. Once the powder settles, add the remaining ingredients. You can pulse a few times to combine or, do like I did, and run the blender for a minute for a fine, even powder.
Is this mushroom seasoning salt-free?
No. This mushroom seasoning contains salt. Use it in the same quantities you'd use salt in a recipe. (Think of it as seasoning salt.) If you'd like to omit the salt, you can do so. Just know that the flavor of the mushroom will be more prominent than the version made with salt.
Is this a like Trader Joe's Umami Powder?
It's similar but not the same. Trader Joe's Umami Powder contains dried mustard and onion, which add different notes to the seasoning. I find this blend to be more versatile and a little more subtle in recipes.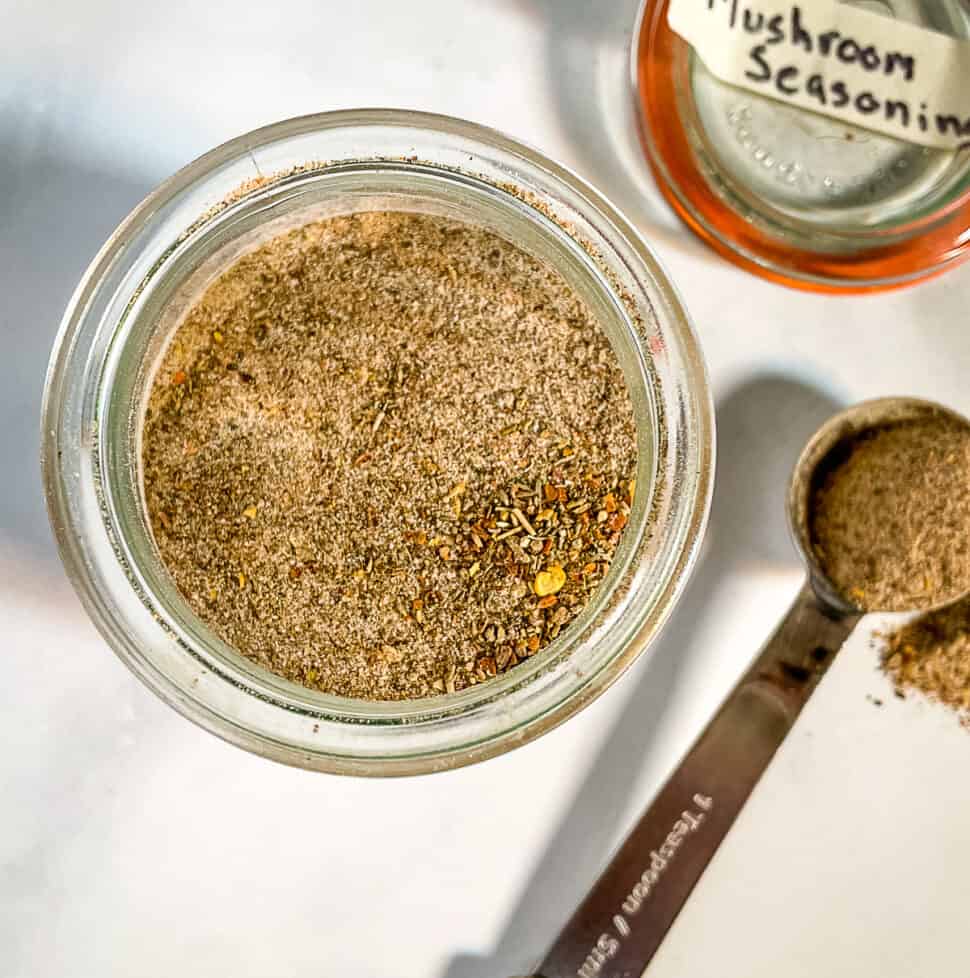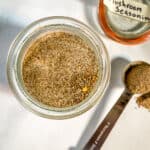 Mushroom Seasoning (Umami Powder)
Easy Mushroom seasoning is an umami seasoning salt. Use it as you would salt in savory recipes. Adds flavor and umami notes. (Recipe from from Nom Nom Paleo: Let's Go. Authors, Michelle Tam and Henry Fong)
Ingredients
1

ounce

dried porcini mushrooms, about one cup

(28 grams)

⅔

cup

Diamond Kosher salt, see note

(about 90 grams)

1

tablespoon

crushed red pepper flakes

2

teaspoons

dried thyme leaves

1

teaspoon

freshly ground black pepper
Instructions
Place dried porcini mushrooms in the bowl of a food processor or into a high-powered blender. Blend the mushrooms into a fine powder. This usually takes about 2 minutes. (Use high speed on a blender)

Do not open the lid right away. Allow the mushroom powder to settle for about two minutes. Add the salt, red pepper flakes, dried thyme leaves, and black pepper. Process until fine, about one minute.

Again, allow the mushroom powder to settle for a few minutes. Remove the lid and spoon into a jar. Store at room temperature for up to six months.
Recipe Notes
Ingredient Notes and Substitutions. 
Dried Porcini Mushrooms. The key to this recipe are the dried mushrooms. For the best flavor, use dried porcini mushrooms. Other dried mushrooms can be substituted but the flavor will change. 
Note: You can use one ounce of dried mushroom powder in place of grinding whole mushrooms. 
Diamond Kosher Salt. Use Diamond Kosher salt for the best result. It's very light. If you need to use a different salt, it's best to replace it by weight (90 grams). However, if you want to use volume, use 1/3 cup Morton's Kosher salt.
Dried Thyme. Use whole dried thyme leaves, not ground thyme.