Here's a recipe you're going to want to know by heart: pasta with tomatoes and olives. Sounds simple doesn't it? But the flavor is anything but simple. Onions, garlic, and olives along with tomatoes and a generous amount of olive oil make for a perfect pasta dish. Serve on a busy weeknight or on a weekend to friends.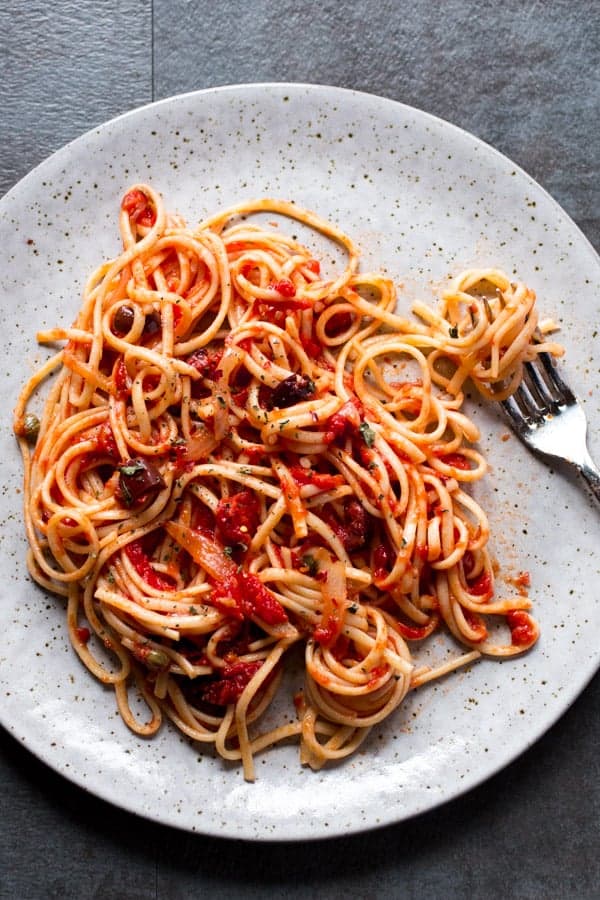 What do you make for dinner when you don't know what to make? For me, the answer is usually pasta. I know. I know. Many folks eschew carbs; so the thought of having pasta as a go-to dish isn't for them.
Me? I'm firmly on team pasta. (Actually, I'm really on team carb. It's great. We have pasta, pizza, AND cookies.)
This pasta is the one I make again and again. It's the recipe that I text my friends when they say that they don't know what to cook for dinner. This pasta, similar to pasta puttanesca, comes together in minutes and, yet, feels totally decadent–even when you snarf it down while sitting on the couch in yoga pants.
The sauce cooks in the time it takes to bring a big pot of water to a boil and cook some pasta. And, holy moley, that sauce. It's so good. Even though I've made this a thousand times, I still amazed that so few ingredients can make such a tasty sauce.
But those few ingredients are flavor powerhouses: Tomatoes, onions, garlic, red pepper flakes, and olives. I mean, you can taste that right now, can't you? If you're like me and adore anchovies and/or capers, go ahead and add them too.
Toss together the sauce with some bucatini pasta. This is a new-to-me pasta. Lately it seems to be everywhere. So I gave it a whirl instead of the usual linguine I usually use. To be honest, I didn't think it would make much of a difference. I expected it to be like spaghetti only thicker. While that's true of course, the pasta is also, somehow meatier. There's a hole in the center of the pasta that soaks up sauce. And the mouthfeel, yum. If you haven't tried this pasta, give it a go. It's worth it.
By the way, you want to cook the pasta all the way through. This isn't one that you want al dente.
After tossing the pasta with the sauce, add a generous amount of freshly grated parmesan. Taste, and then, seriously, do a happy dance. This pasta warrants one.
TL;DR: How to Make Pasta with Tomatoes and Olives
Bring a large pot of water to a boil. Salt the water generously before cooking the pasta.
While the water heats up, start the sauce.
Cook a yellow onion with garlic, and red pepper flakes. Add some tomato paste and crushed tomatoes. Add kalamata olives and simmer. That's it. The sauce tastes light and somehow hearty. Think of a pasta puttanesca without the capers.
Toss with bucatini pasta. It's a thick pasta with a hole in the center that soaks up the sauce.
Top with freshly grated parmesan cheese.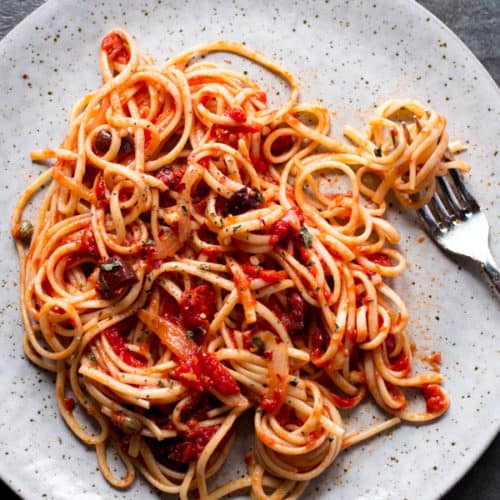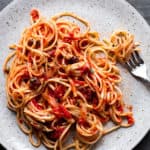 Perfect Pasta with Tomato and Olives
Quick and easy pasta dish with robust flavors thanks to onions, garlic, red pepper flakes, and olives. This one is a must-make.
Ingredients
3

tablespoons

olive oil

1

small onion, thinly sliced

4

cloves

garlic, minced or put through a garlic press

pinch

crushed red pepper flakes

2

tablespoons

tomato paste

1

(28 ounce) can

crushed tomatoes

1/4

cup

Kalamata olive, halved

16

ounces

Bucatini pasta

(see note)

Parmesan cheese
Instructions
Bring a large pot of water to boil. While waiting for the water to come to a boil, start the sauce. Heat the olive oil in a large skillet over medium heat. Add the onion. Cook, stirring frequently at first and then occasionally, until the onion is soft, about 7 minutes.

Add the garlic and red pepper flakes. Stir and cook for about one minute. Add the tomato paste. Cook for a minute. It will stick to the bottom of the skillet and darken. Totally normal. Add the crushed tomatoes and olives. Stir. If anything is sticking to the bottom of the skillet, scrape it with a wooden spoon. Bring to a simmer and then reduce heat.

Cook the pasta in boiling water. Before draining, reserve about 1/2 cup of pasta cooking water.

Toss the pasta with the sauce until all the noodles are coated. If the sauce seems thick, add some of the reserved pasta water. Serve with lots of parmesan cheese.

This pasta keeps and reheats really well.
Recipe Notes
Pasta Note
This recipe makes a generous amount of pasta. Which is great, because it keeps and reheats really well. If you want less pasta, reduce the amount to 14 ounces and keep everything else the same. You'll have a higher sauce to pasta ratio, which isn't a bad thing. 
Anchovies Variation
Add one can of anchovies, along with the oil, to the sauce right before tossing with the pasta. 
Capers Variation
Add a tablespoon or so of capers to the sauce along with olives.