Today we're making a 30-minute pasta dish that I think will become one of your go-to dinners. But first, I have to tell you something: It contains tuna. Are you still with me? Good! (And, no, it's nothing like tuna noodle casserole. It's more like salade niçoise — sort of.)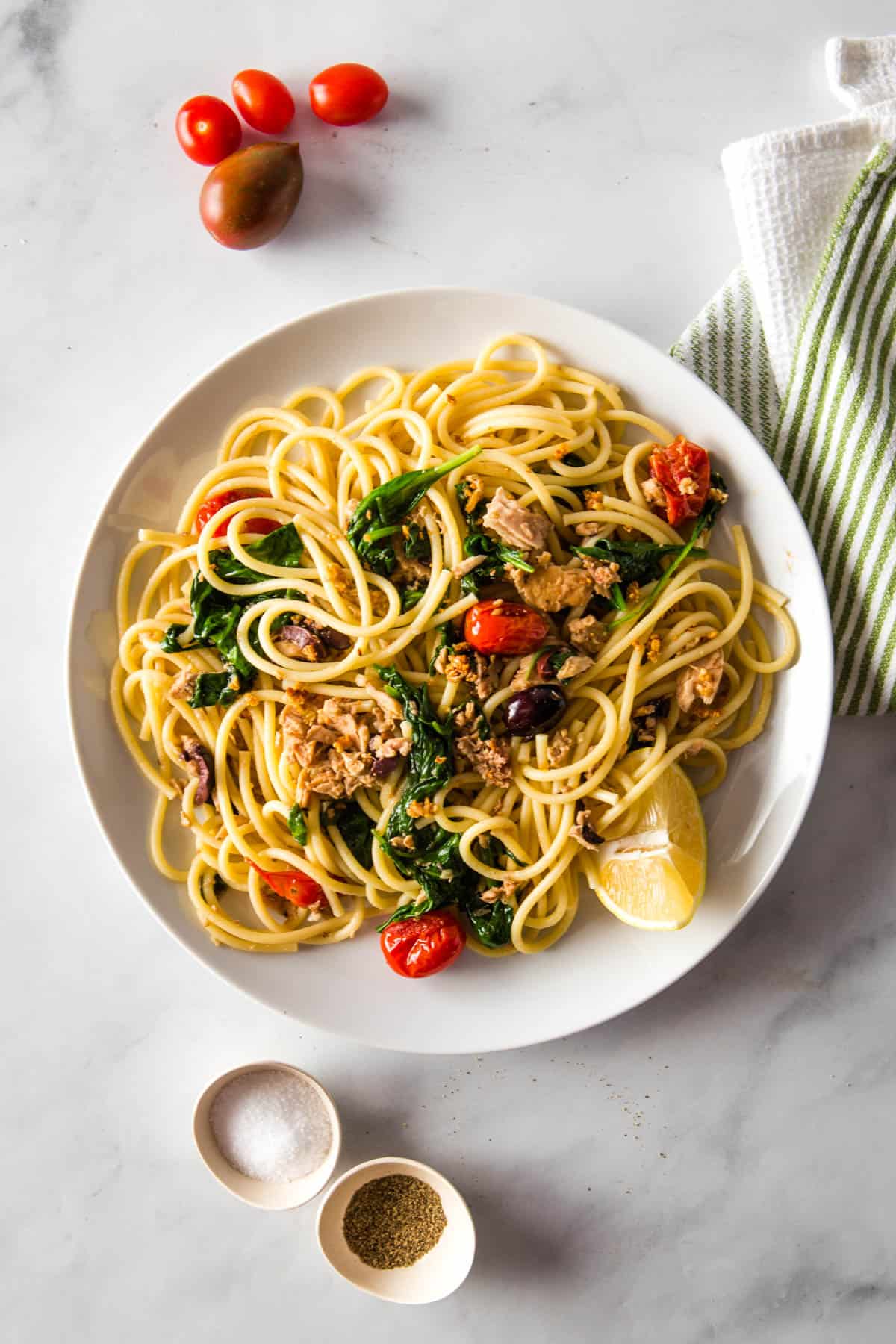 How to Make Easy Pasta with Tuna, Tomatoes, and Spinach
Cook the pasta.

You can use whatever pasta shape you want for this recipe. I usually reach for bucatini. It's a thick spaghetti-style noodle with a hollow center. I don't know why, but I'm obsessed with this shape. It's got a bit more chew than regular spaghetti. If you've never had it, you need to give it a try.

Whatever you use, bring a large pot of water to a boil. Salt it generously (this adds flavor to the pasta).

Make the sauce.

While you're waiting for the water to reach a boil, start the sauce.

As with most good pasta dishes, this one starts with olive oil. Heat a few tablespoons of olive oil in a large skillet. Use the biggest skillet you've got because we'll be cooking spinach in it later. The rest of the oil gets added after the tomatoes cook. This prevents splattering.

Add grape tomatoes.

Add the grape tomatoes to the pan. Cook, shaking the pan occasionally, until the skins blister and look brown, and a few tomatoes begin to pop. Grape tomatoes usually aren't the most flavorful ingredient, especially when purchased out of season at the grocery store, but they really work in this pasta. They add a sweet-tart flavor that goes great with the other ingredients.

Add more olive oil and lots of garlic.

We don't start with all the olive oil because, if we did, it would spurt and sputter uncontrollably when you cook the tomatoes. Once the grapes are nice and soft, add the remaining olive oil and garlic. Lots of minced garlic. Cook until the garlic is light brown and aromatic. Everything should smell amazing at this point.

Add tuna and olives.

What's the best tuna to use? Good question. Not to get all Ina Garten on you, but you really want to use the best-quality kind you can find that fits in your budget. I like Wild Planet. (Another excellent choice is Ortiz. It's an Italian tuna and it's delicious. It's also about expensive hard to find; so I don't use it often.)

Break up the tuna with a wooden spoon and stir. Then add some Kalamata olives. The salty flavor of the olives goes really well with tuna.

Add the spinach.

Once everything starts to simmer and smell amazing, add the spinach. At first, the spinach might overwhelm the pan. If it doesn't seem like the spinach will all fit in the pan, add it in large handfuls and allow it to cook down between additions.

Toss the pasta with the sauce.

Once you've cooked the pasta, toss it with the tomato-tuna sauce, some freshly squeezed lemon juice. Adjust the salt and pepper to taste, and serve. Some folks (read: my husband) like to finish this with a sprinkle of Parmesan cheese. Other folks (read: me) dislike the combo of fish and dairy.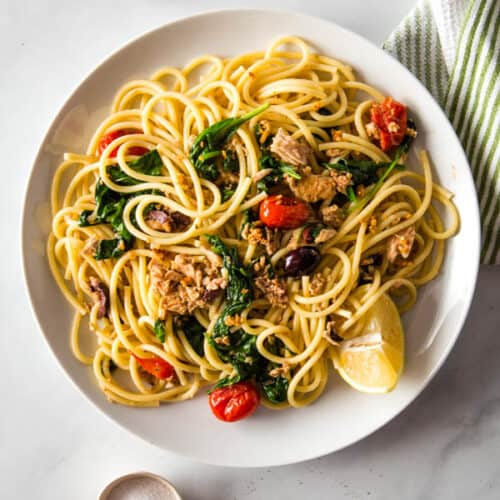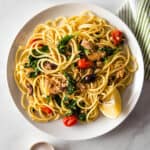 Pasta with Tuna, Tomatoes, and Spinach
Ingredients
12

ounces

bucatini pasta

salt

⅓

cup

olive oil

divided

1

pint

cherry tomatoes, washed

4-5

cloves

garlic

minced

2

5-ounce cans

tuna, drained.

½

cup

Kalamata olives

pitted and halved

5

ounces

baby spinach

juice

of one lemon, about ¼ cup

freshly ground black pepper
Instructions
Cook the pasta. Bring a large pot of water to a boil. Salt generously. Cook bucatini pasta, stirring occasionally, until al dente. Reserve about ½ cup pasta cooking water before draining.

Prepare the sauce. While the water comes to a boil and pasta cooks, begin the sauce.

Heat 2 tablespoons olive oil in a large skillet over medium-high heat until it shimmers. Add the tomatoes. Cook until soft, shaking pan occasionally, about 5 minutes. The tomatoes should pop and brown a bit during this step.

Add remaining oil. Heat for a minute or two. Add garlic. Cook. Stirring occasionally until garlic is golden brown.

Add tuna and break up the tuna with a spoon. Stir. Add the olives, followed by the spinach. Cook until spinach is wilted. Reduce heat to low. Add the lemon juice. Stir.

Toss the pasta with the sauce. Toss the drained pasta with the sauce. Season with salt and pepper to taste. Adjust the thickness of sauce with a splash of pasta cooking water if needed.