This easy strawberry cake recipe is an old classic. It uses a cake mix, a packet of jello, and sour cream to make the best strawberry cake you've ever had.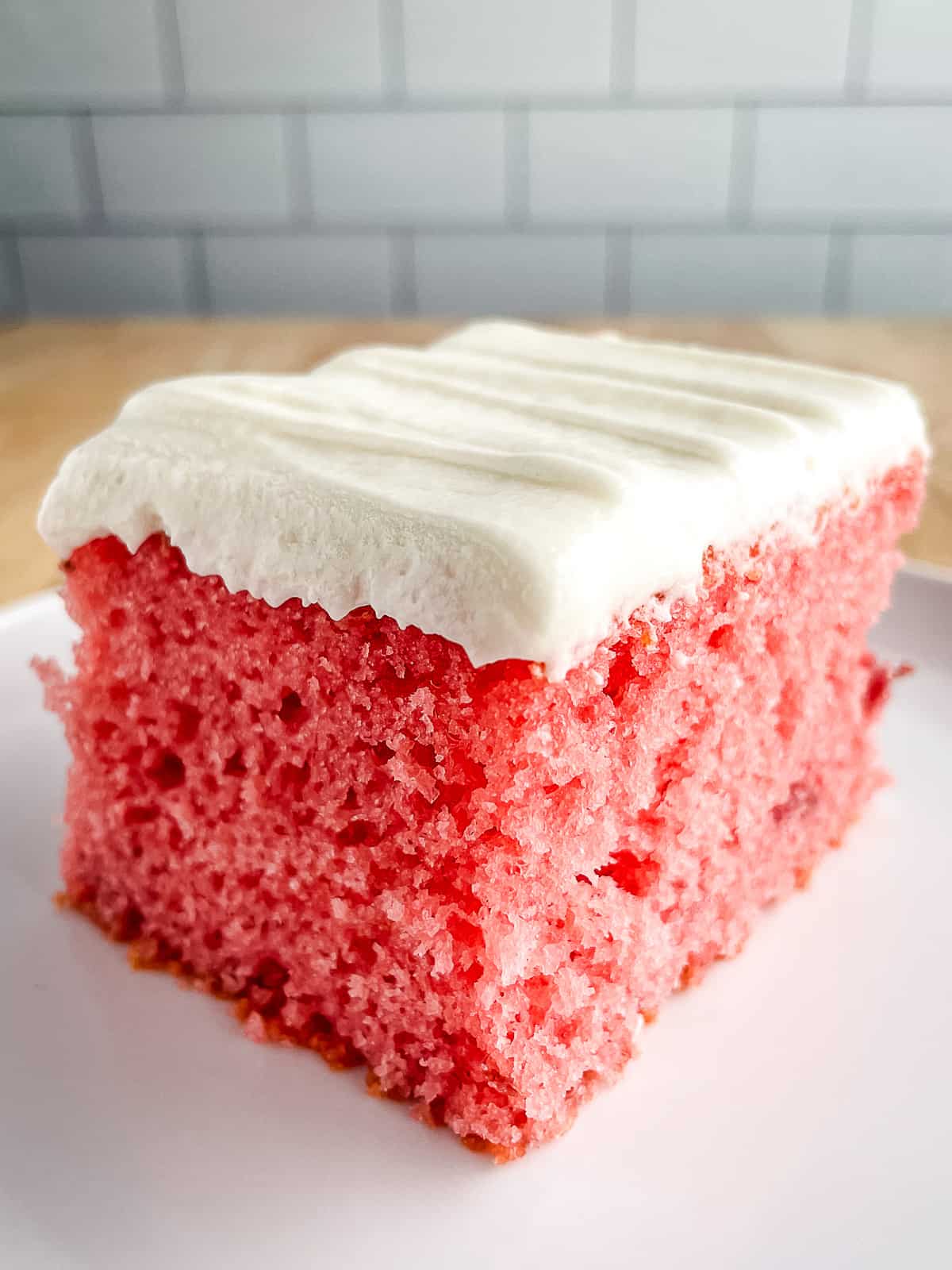 Cake mixes have gotten smaller over the years. They've gone from about 18 ounces down to 15 ounces—or less. So I had to update my mom's favorite strawberry cake recipe to work with the new box size. With this recipe, the cake comes out just as tall and tender as her original. It's really one of my favorite summer cakes.
Ingredients.
Here's what you need to make this cake.
White Cake Mix. The best cake mix to use for this recipe is a white cake mix, not a yellow cake mix. While these two mixes are similar, the more subtle flavor of the white cake mix lets the strawberry flavor shine. 
Strawberry Jell-O (Gelatin). It's important to use a three-ounce box of strawberry Jell-O. Look for regular, not sugar-free gelatin.
Flour. Since cake mixes aren't as large as they used to be, a little extra flour helps the cake rise and fills the pan nicely.  
Milk. A half cup of mix makes the batter nice and smooth. 
Sour Cream. A little sour cream adds moisture and a little richness to the cake. Plain Greek yogurt is a good replacement. 
Eggs. You'll need three large whole eggs to make this cake. 
Oil. Use any neutral oil, like vegetable or canola. If you prefer butter, melt it and allow to cool slightly before using. 
Mashed Strawberries. Some mashed or sliced strawberries add a nice flavor and texture to the cake. Use fresh or frozen strawberries. Both work great. 
Can I use strawberry cake mix?
If you want to use a strawberry cake mix, omit the Jell-O and then follow the rest of the recipe as written. This cake turns out great with strawberry cake mix.
How to Make a Simple Strawberry Cake. 
There are three simple steps to making this cake: make the batter, bake the cake, and frost. That's it. (full recipe below)
Make the Batter. 
Start by mixing the cake mix together with the gelatin and flour. This blends the gelatin throughout the batter, so it won't clump. Once that's done, add the milk, eggs, oil, and sour cream. Blend until the batter is smooth and creamy. Stir in the mashed strawberries and you're done.
Bake the Cake.
Spread the batter into a greased pan or paper-lined cupcake pan. This recipe makes one 9×13-inch cake, two 8-inch round cakes or 24 cupcakes.
Bake until a cake tester comes out clean. The top edge of the cake or cupcakes turn a light brown. A 9×13-inch cake takes about 45 minutes. 
Frost. 
Strawberry cake goes great with cream cheese or vanilla frosting. Use whichever one you love. Before frosting, let the cake cook completely. If you don't the frosting gets warm and melts off the cake. 
Storage Tips.
If frosted with homemade cream cheese frosting or whipped cream, store the cake covered in the refrigerator for up to three days. If you frost this with canned or buttercream frosting, store the cake on the counter for up to three days.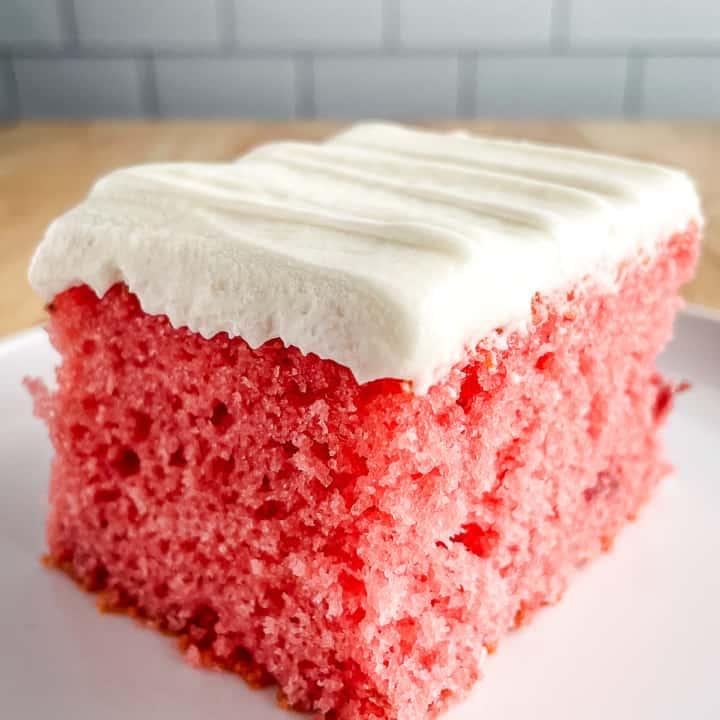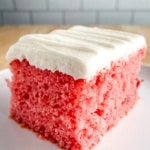 Easy Strawberry Cake Recipe
This easy strawberry cake recipe is an old classic. It uses a cake mix, a packet of strawberry Jell-O, and sour cream to make the best strawberry cake you've ever had.
Ingredients
Strawberry Cake
1

(15.25 ounce )

white cake mix

½

cup

all-purpose flour

(2 ¼ ounces; 65 grams)

1

(3-ounce)

box strawberry gelatin

3

large

eggs

½

cup

oil

(3 ½ ounces; 100 grams)

½

cup

milk

(4 ounces; 113 grams)

½

cup

sour cream

(4 ounces; 113 grams)

¾

cup

mashed strawberries

(about 5 ounces; 142 grams)
Cream Cheese Frosting
8

ounces

cream cheese, softened, see note

½

cup

butter, softened

(4 ounces; 113 grams)

2

teaspoons

vanilla extract

¼

teaspoon

salt

3 ½

cups

powdered sugar

(14 ounces; 400 grams, plus more as needed)
Instructions
Strawberry Cake
Preheat oven to 350 ℉. Grease a 9×13-inch cake pan OR two 8-inch round cake pans OR line 24 muffin cups with paper liners.

Whisk together cake mix, flour, and gelatin. Add eggs, oil, milk, and sour cream. Blend until smooth.

Spread batter into prepared pan. (For 8-inch rounds, divide batter between the two pans. For cupcakes, fill each cup about ½ full)

Bake until a cake tester inserted into the center of the cake comes out clean, about 40 minutes for a 9×13 cake OR 35 minutes for the two 8-inch rounds OR 25 minutes for the cupcakes.

Remove cake from the oven. Allow to cool. Frost with cream cheese frosting or your favorite frosting.
Cream Cheese Frosting
Mix together cream cheese, butter, vanilla extract, and salt until smooth and creamy. Add powdered sugar. Mix until smooth and fluffy.

If the frosting is too soft, add an additional ½ cup of powdered sugar.
Recipe Notes
Note: Use brick-style cream cheese, not whipped. Low-fat and fat-free is NOT recommended. Cream cheese frosting made with low-fat or fat-free cream cheese is very soft.