Sweet potato hash with sausage and spinach is the perfect recipe for an easy and healthy breakfast or dinner.
Paleo, Gluten-free, and Whole30-friendly.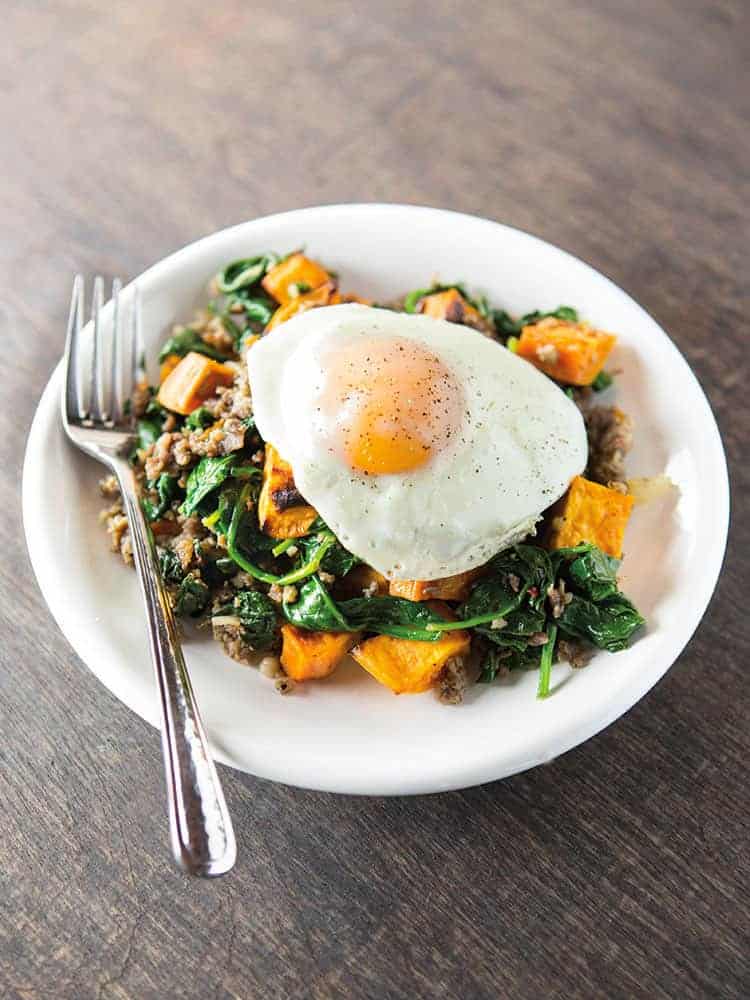 Potato hash makes such a great meal. And depending on the ingredients you use, it makes for an easy and healthy meal. But do you make it for breakfast or dinner? I'm all about making it for dinner. To be honest, I'm pretty sure I've never made, or even eaten, for breakfast. Is that weird?
A friend gave me this recipe when she was on a paleo diet or was it Whole30? I seriously can't remember. Her original recipe required homemade breakfast sausage and instructed you to cook the cubed sweet potatoes right in the pan.
There was nothing easy or quick about her recipe.
But the hash tasted SO good that it inspired me to tinker with it so I could make it on a busy weeknight.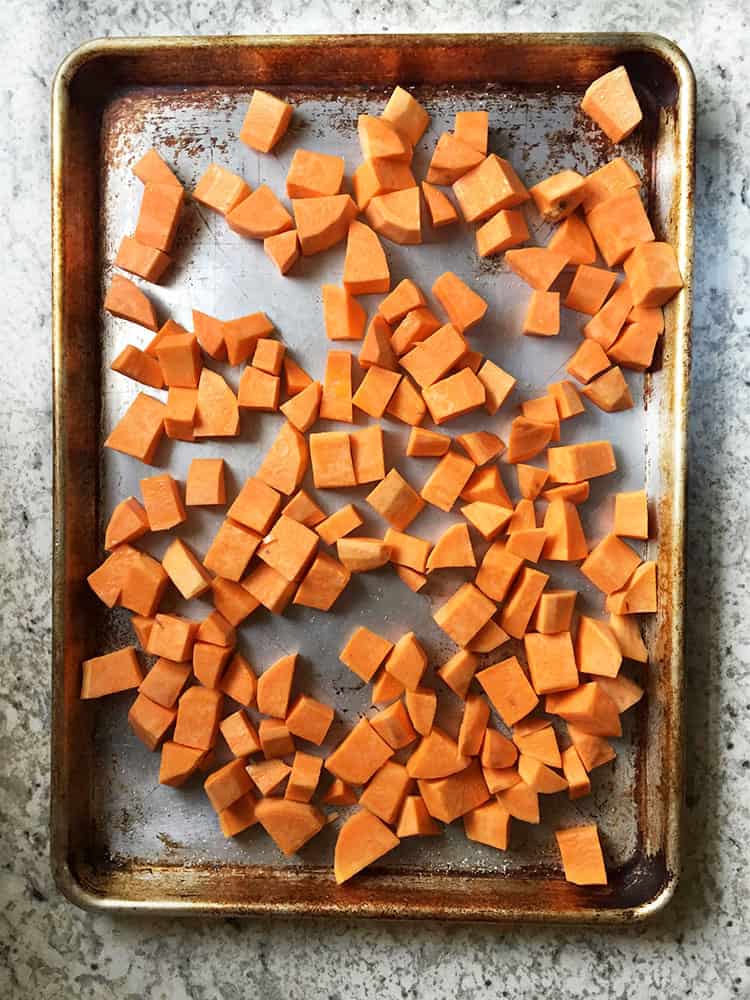 The first thing I did was to ditch cooking the sweet potatoes in the skillet. Not only did this take forever, the sweet potatoes ended up soft and mushy. In hash, I prefer my potatoes crispy, not mushy.

Since I love roasted sweet potatoes, I decided to see if roasting would give me the texture I wanted. It's easy to do this. Cut up three or four peeled sweet potatoes into bite-size pieces. Then add some olive oil and salt and toss. I do this right on a rimmed baking sheet so that I don't have to clean a mixing bowl.
Roast the potatoes for about 30 minutes. Turn them once or twice on the baking sheet so that all sides get nice and crispy.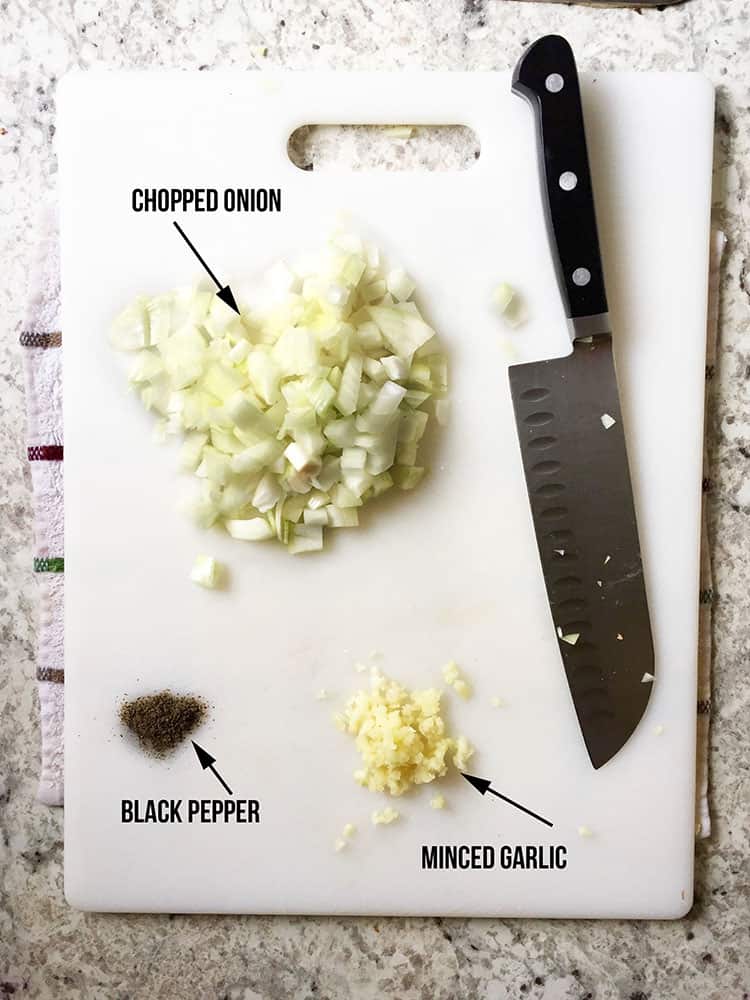 While the potatoes roast, cut up a small onion, mince a garlic clove, and grind some fresh black pepper. I love that this is one of those recipes that allow me to prep the meal while a part of cooks.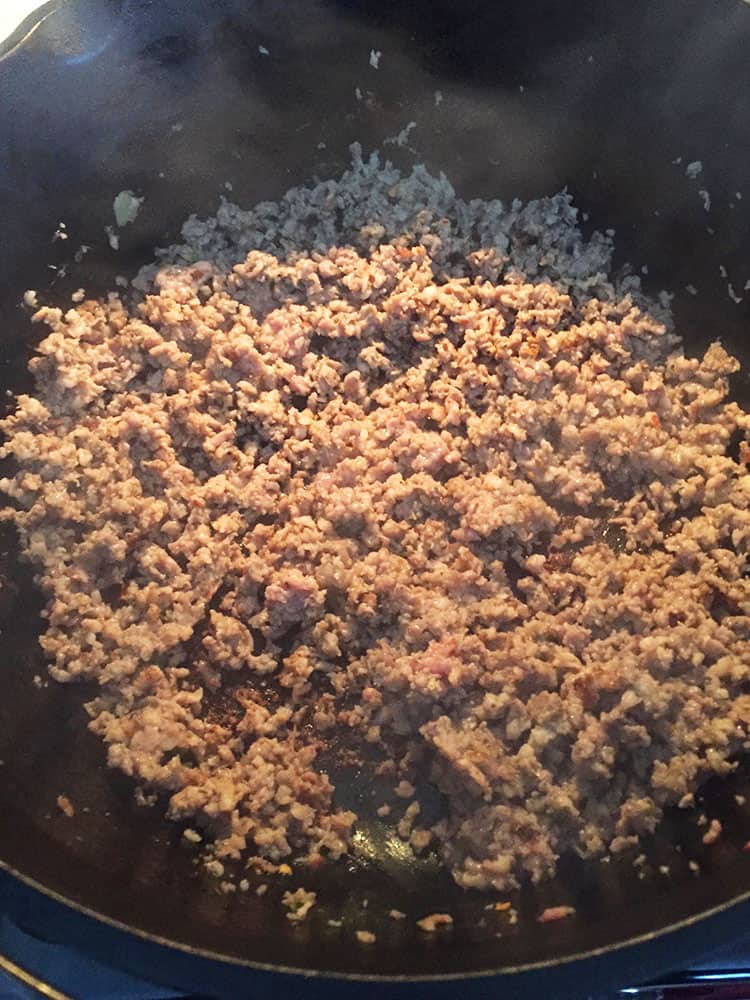 Now it's time to get cooking. Buy your favorite sausage. The flavor of the sausage really informs the flavor of this dish. So use something you love. I usually make this with sage breakfast sausage. And if the store doesn't have sage, I'll add a little ground sage to the mix.

You don't have to use breakfast sausage. Italian sausage or spicy chorizo would also make an awesome sweet potato hash.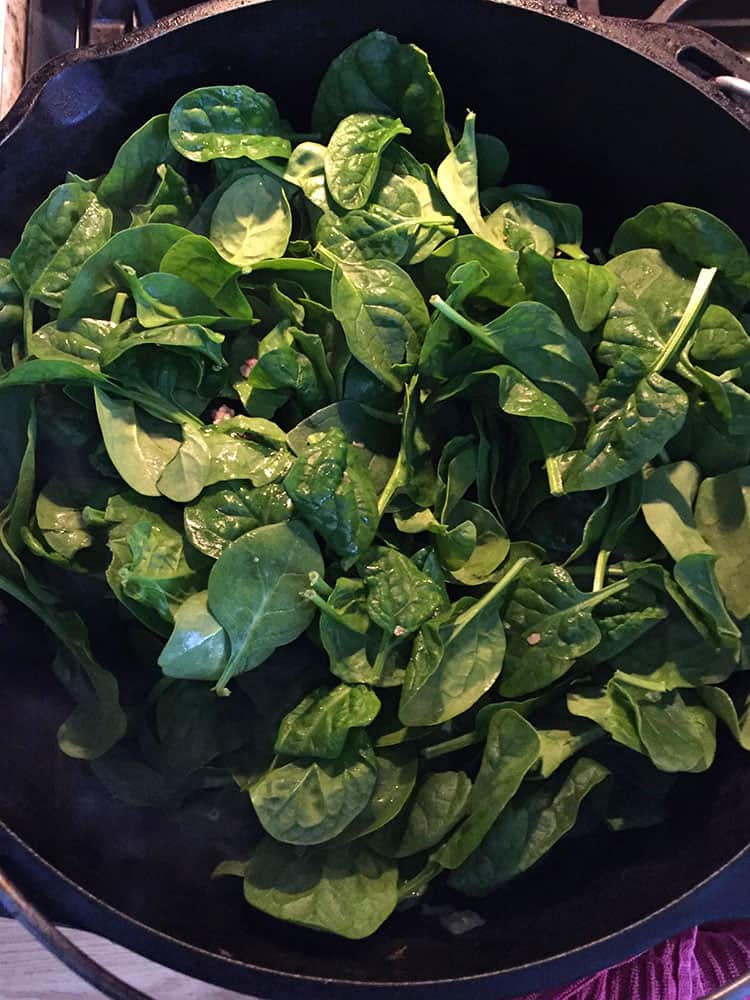 Once the sausage cooks all the way through, add the spinach. At first, it will look like there's too much spinach. Trust me, there isn't too much spinach. (Is there ever too much spinach? Answer: no.)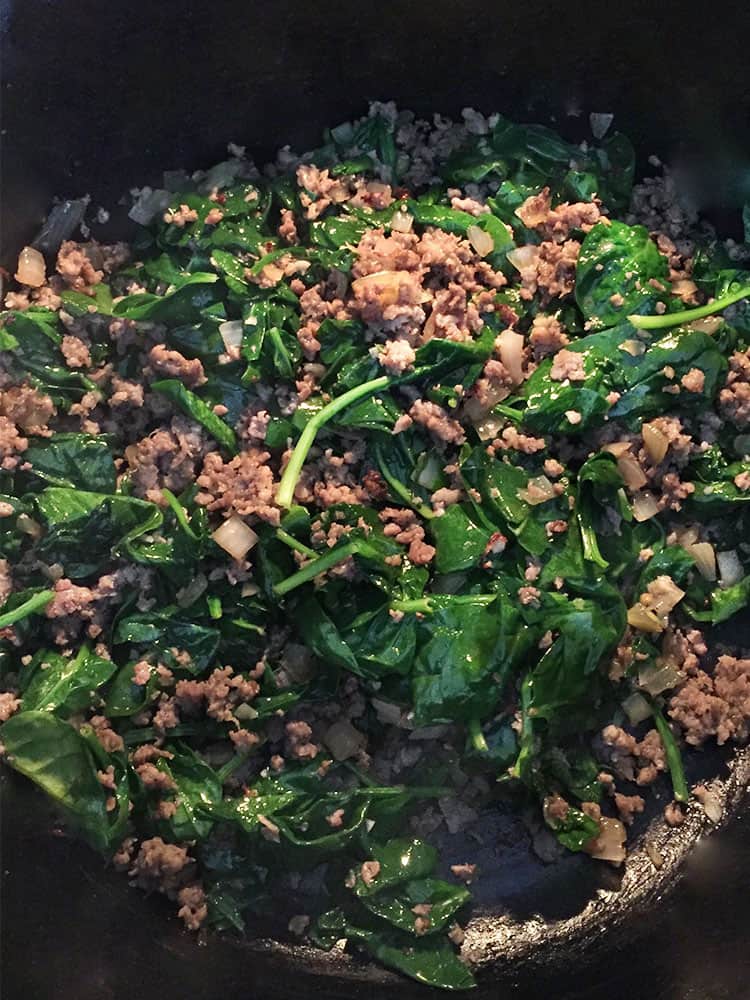 Like magic, the spinach wilts and ends up being just the right amount. If you love spinach, you could buy one of those 16 ounce packages. In fact, I think I'll do that the next time. More spinach=happy Elizabeth.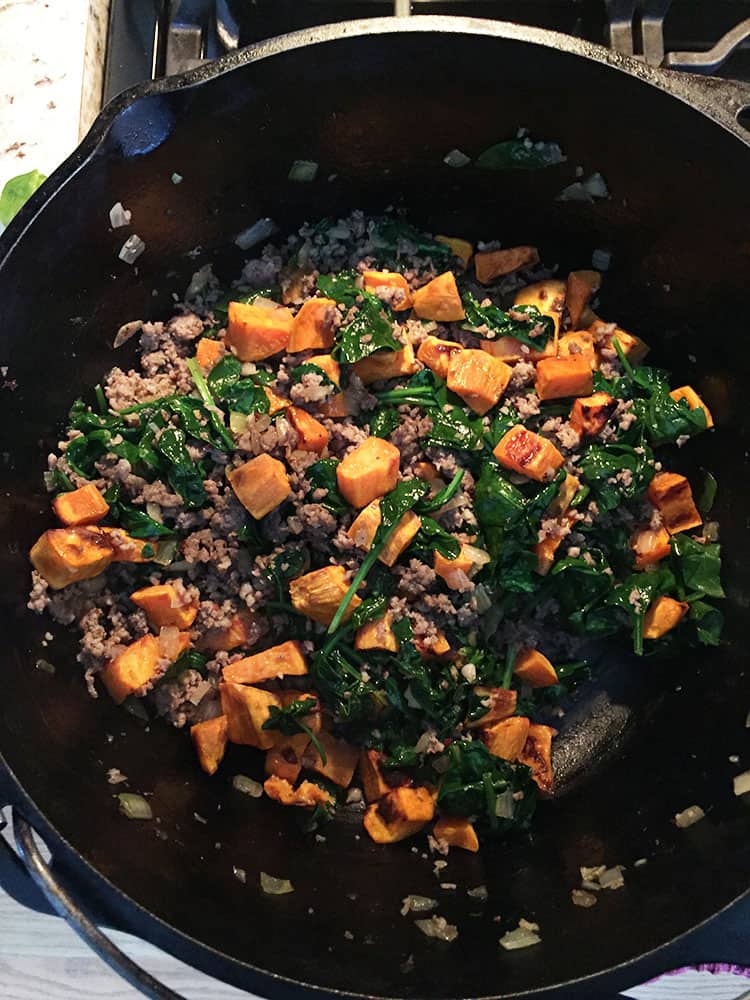 Stir in the roasted sweet potato cubes and you're done.
Or are you?
If you're like 99% of people, you probably want to top this hash with an egg. I get it. (whisper: I just don't like it.) Yes. Yes. Not only do I eat potato hash for dinner, I don't like mine with an egg. I know. Weird.
My husband , on the other hand, prefers an egg with his hash. That means, I cook the his eggs on the side and plop them onto his plate.
If your entire family likes eggs with their hash, you can cook them right in the Dutch oven. After you add the potatoes, crack the eggs right onto the hash. Put the lid on and cook for about four minutes, longer for a more set egg. Season with salt and pepper and you're done.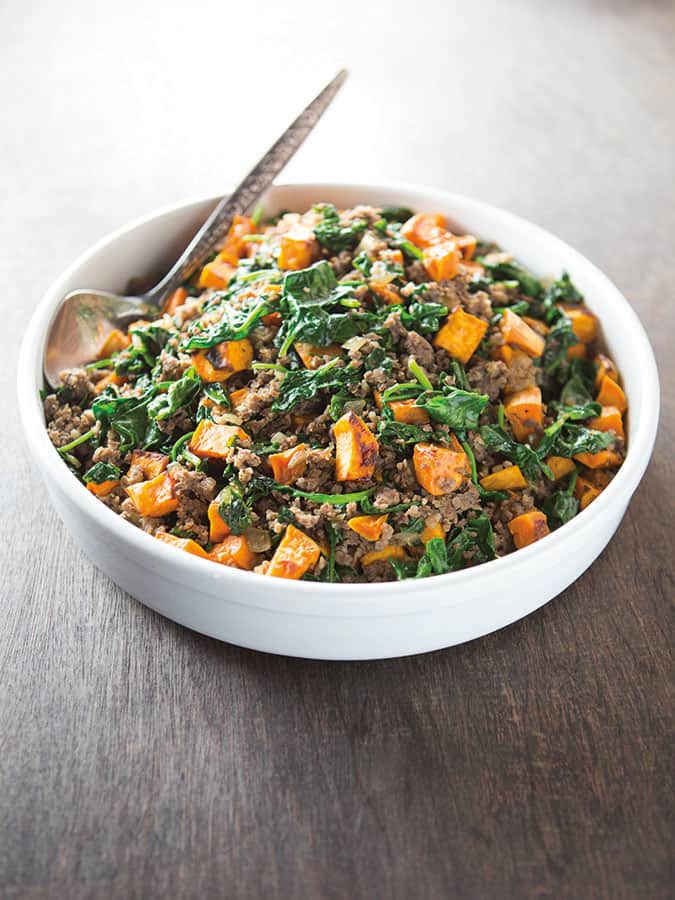 Ah, the way I like my hash. No egg.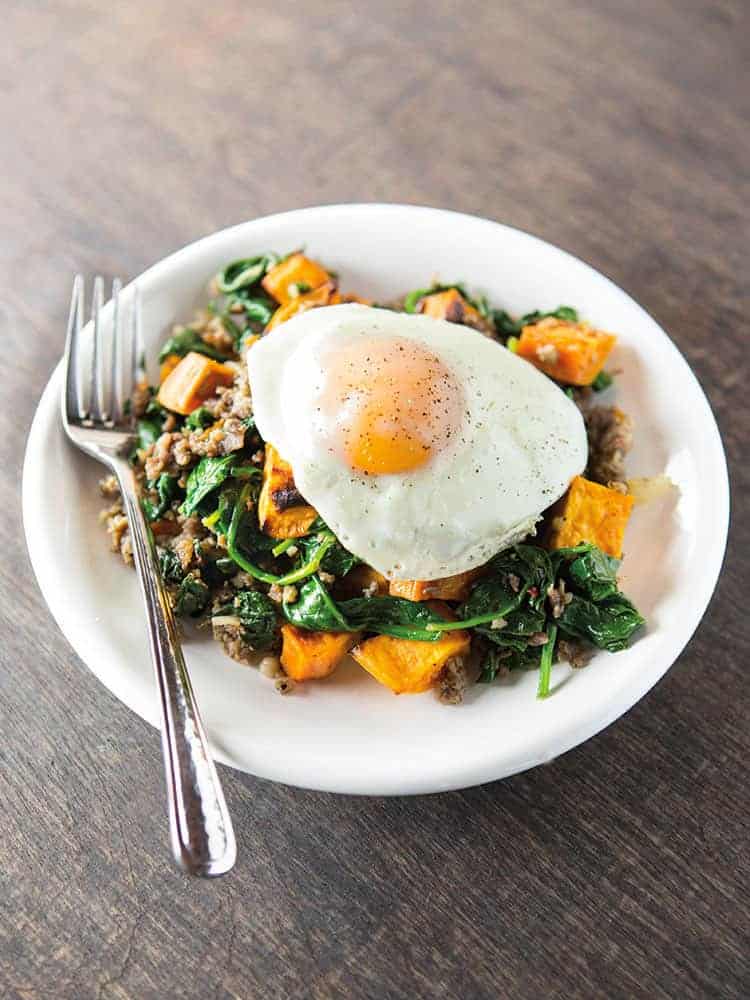 And the way most people like their hash.
Which way do you like it? With an egg or without?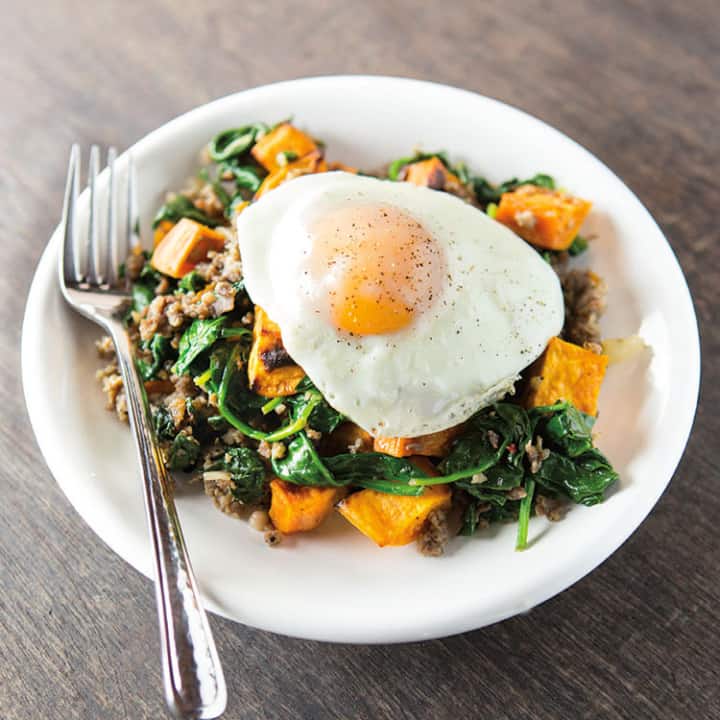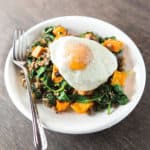 Sweet Potato Hash with Spinach and Sausage
Sweet potato hash with sausage and spinach is the perfect recipe for an easy and healthy breakfast or dinner. | Paleo, gluten-free, and Whole 30-friendly.
Ingredients
3

large

sweet potatoes, peeled and cut into 1-inch pieces

1

tablespoon

olive oil, divided

1/2

teaspoon

Kosher salt

12

ounces

loose sausage (breakfast, Italian, or chorizo)

1

small

onion, finely chopped

2

cloves

garlic, minced or put through a garlic press

1/2

teaspoon

ground sage, see note

1/4

teaspoon

freshly ground black pepper

11

ounces

baby spinach

4

large

eggs, optional
Instructions
Preheat oven to 425 degrees F. Toss sweet potatoes cubes together with 2 teaspoons oil and salt on a rimmed baking sheet. Roast until golden brown and fork-tender, about 30 minutes. About halfway through roasting, remove pan from the oven and stir the potatoes with a metal spatula. This helps them brown evenly.

When the potatoes are ready. Turn off the oven. In a Dutch oven, heat remaining oil over high heat. Add the sausage, cook, breaking up the sausage with a potato masher or fork, as it cooks. Add the onions, garlic, sage (if using), and black pepper. Cook, stirring frequently, until the onions are soft, about two minutes.

Add the spinach. Stir constantly until the spinach wilts, about one minute. Add the cooked potatoes, stir to combine.

If serving with eggs, slide four eggs right onto the surface of the hash. Reduce heat to low. Cover the Dutch oven and cook for four minutes or until egg is done to your likening. Serve with salt and pepper--and a little hot sauce, of you like.
Recipe Notes
Recipe Note: Sage
Use ground sage with plain or maple breakfast sausage. Omit if using sage-flavored sausage or Italian sausage or chorizo. 
Variation: Sweet Potato Hash with Spinach, Sausage, and Apples
Add one small, peeled and diced apple (a crisp apple, like granny smith works best) to the recipe along with the onions and garlic. Cook as directed. 
Variation: Sweet Potato Hash with Spinach, Sausage, and Maple
Add 2 tablespoons maple syrup to the recipe after you've cooked the onions and garlic. This variation works especially well with the apple variation.