This easy tres leches cake recipe starts with a box mix—making it quick to make! A rich, three-milk topping soaks into the cake overnight. The finished cake is moist and delicious.
Why You'll Love Easy Tres Leches Cake
Easy-to-make. It starts with a cake mix.

Moist and tender but not soggy

Delicious
The Best Cake Mix for Tres Leches Cake
A traditional tres leches cake starts with a homemade sponge cake. This recipe takes a shortcut and uses a white cake mix. Not only is it easy to prepare, but it also makes a cake with a dense, custard-like texture that doesn't get soggy.
Use a white cake mix and replace the egg whites with whole eggs. My mix called for four egg whites. So I used four whole eggs.
What Milks are Best for Tres Leches Cake?
Tres leches means "three milks" in Spanish. Different recipes use different kinds of milk. My favorites are:
Whipping cream
Sweetened condensed milk
Milk, either whole milk or 2%
This combination gives the cake a sweet flavor with a rich texture. If you don't want to use whipping cream, replace it with one cup of evaporated milk. Don't use more than three cups total of milk or you risk a soggy cake.
How to Make Easy Tres Leche Cake
Prepare the White Cake Mix. Replace the egg whites with whole eggs for the best texture and flavor.
Cool the Cake. This step is key. To avoid a soggy cake, let the cake cool completely in the pan before pouring the topping over it.
Poke it All Over. Once the cake is cool, grab a fork or skewer and poke it all over. The small holes help the tres leches topping soak evenly into the cake.
Make the Soak. Stir the three milks and vanilla together right before pouring over the cake. Sweetened condensed milk likes to settle. Whisk the mixture well to evenly distribute it.
Wait Before Serving. This is the hardest part of the recipe: waiting to eat it. Tres leches cake tastes best after it has a chance to absorb the liquid. Let it soak overnight in the refrigerator before eating.
Frost with Whipped Cream. Top the finished cake with sweetened whipped cream or whipped topping. (Or you can skip the topping. It's a rich cake and it tastes great with or without whip.
Do You Frost Tres Leches Cake?
Tres leches cake is usually finished with sweetened whip cream or whipped topping. However, you can skip the topping if you want. The cake is wonderfully rich with a dense, pudding-like texture. If you want to frost it, stick with whipped cream or topping. You don't want to frost tres leches cake with buttercream. It's too heavy and the texture isn't right for this cake.
Can You Stack a Tres Leches Cake?
I don't recommend stacking this cake because of the dense, moist texture of the cake. It would probably fall apart.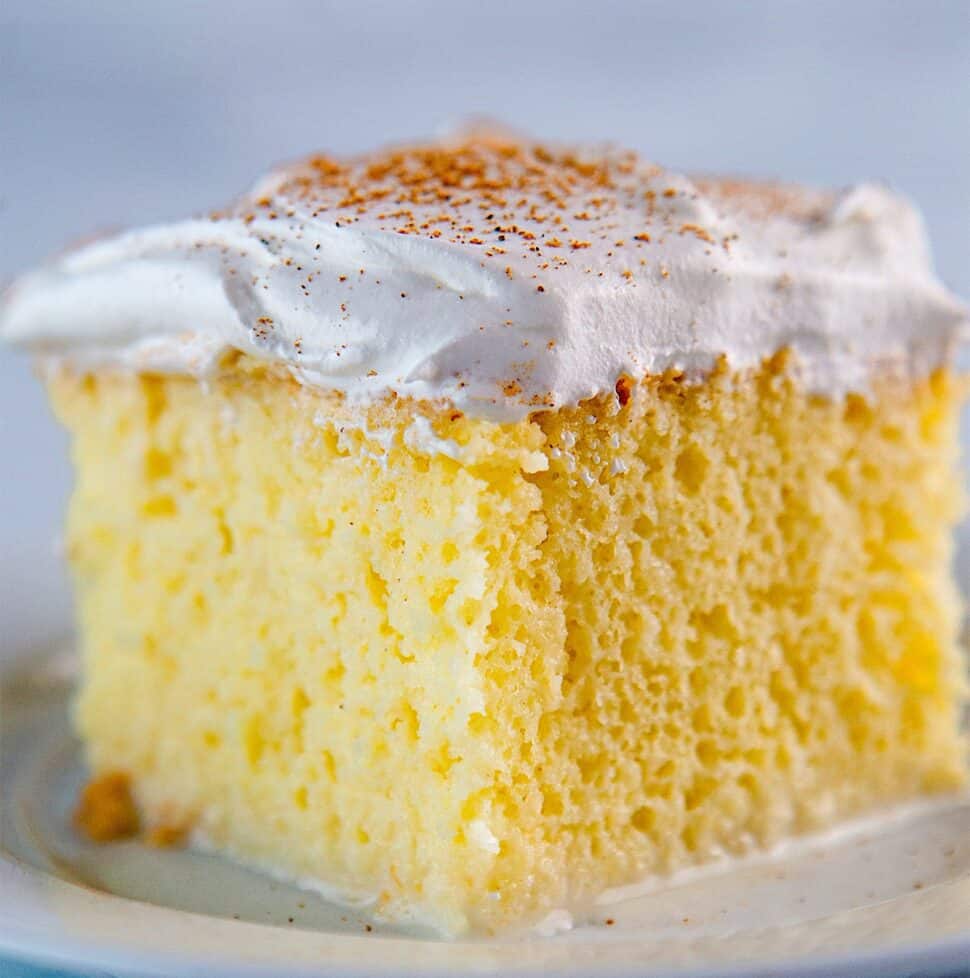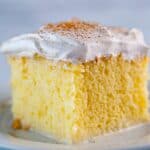 Easy Tres Leches Cake
This simple tres leches cake starts with a white cake mix. The cake is soaked with three milks, making for a sweet, dense and perfect dessert for any time of year.
Ingredients
1

(15 to 16 ounce)

box white cake mix, see note

1

(14 ounce)

can sweetened condensed milk

1

cup

whipping cream

1

cup

whole or 2% milk

1

teaspoon

vanilla extract
For the Topping
1

cup

whipping cream

4

tablespoons

powdered sugar

ground cinnamon, optional
Instructions
Heat oven to 350°F. Grease the bottom and sides of a 13x9-inch pan with nonstick cooking spray.

Prepare cake mix as directed, replacing the egg whites called for with whole eggs. Spread batter evenly into the prepared pan.

Bake as directed until the cake is golden brown and a cake tester inserted into the center comes out clean. Allow cake to cool completely in the pan.

Poke the top of the cooled cake every 1/2 inch with long-tined fork or metal skewer. If cake sticks to the fork or skewer, wipe it with a towel.

Combine the sweetened condensed milk, whipping cream, milk, and vanilla extract in a large bowl. Stir to combine. Slowly and evenly pour the mixture over the cake. Allow cake to sit for 10 minutes. Cover and refrigerate overnight.

Prepare the whipped cream. Place whipping cream in a medium bowl. Whip on high speed until soft peaks form. Add the powdered sugar one tablespoon at a time and whip until stiff.

Spread whipped cream over the cake. Dust the cake lightly with ground cinnamon, optional. Serve. Store cake, covered, in the refrigerator for up to four days.
Recipe Notes
Cake Mix Note: Use Whole Eggs
Most white cake mixes call for egg whites. Replace the egg white called for with whole eggs. For example, if the mix calls for four egg whites, use four whole eggs.