This quick herb and garlic cream cheese spread comes together in two minutes! Stir together softened cream cheese with herbs and garlic—and then spread it on crackers or dip veggies into it.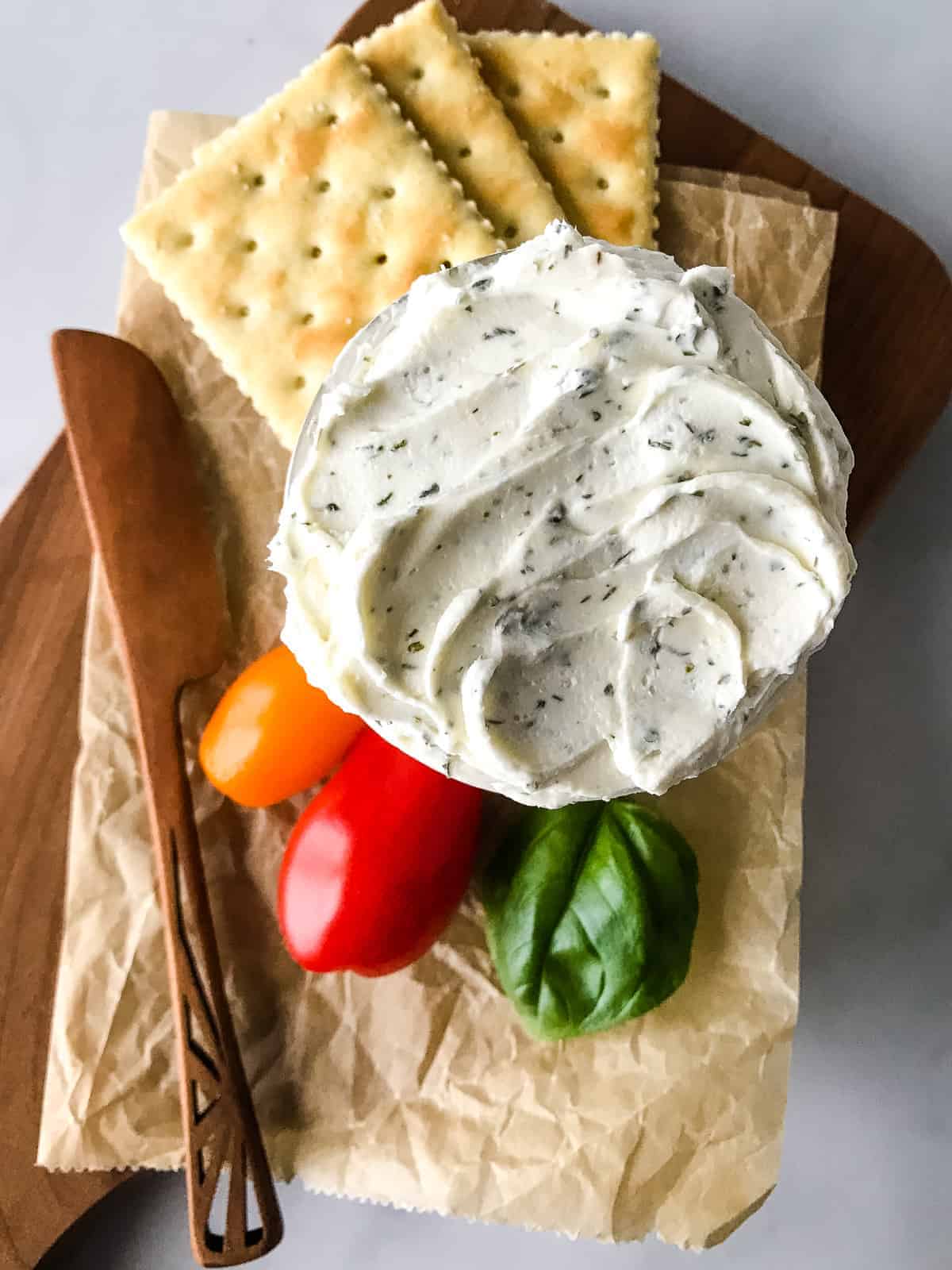 How to Make Homemade Herb and Garlic Cream Cheese Spread
Some of my favorite recipes are the easiest and, honestly, the tastiest, like my homemade pasta sauce. This herb and garlic cream cheese is in the same camp. It's ridiculously easy to make and is one of those "I can't stop eating this"-foods.
Step One: Buy the Right Cream Cheese
The cream cheese section of the grocery store offers a lot of options. For this recipe, you want solid cream cheese, not whipped. The cream cheese gets mixed with the garlic and herbs. If you start with whipped cream cheese, the mixture gets too soft.
As for the fat content, that's up to you. I like to use regular (full-fat) cream cheese but lower fat versions (sometimes labels as Neufchatel cheese) work really well in this recipe.
Step Two: Soften the Cream Cheese
It's easy to stir the garlic and herbs into softened cream cheese. Plus, when it's soft, the cream cheese holds on to a little air. (If you like the texture of whipped cream cheese, starting with softened cream cheese is a must.)
How to Soften Cream Cheese
There's two ways to soften cream cheese.
Soften At Room Temperature. Cut the cream cheese into cubes and let it sit on the counter for about an hour. Cutting it into pieces helps it to soften faster.
Use a Microwave. Unwrap the cream cheese and place it on a microwave-safe plate. Heat on medium-low for 30 seconds. Check the texture. If it's still too firm, microwave for an additional 10 seconds until the cream cheese is soft. (Be sure to stop before the cream cheese melts.)
Step Three: Select the Garlic.
There are two options when it comes to using garlic: fresh or garlic powder. They both taste great but give you different spreads.
Raw, minced garlic. Adds a really intense garlic flavor. Just so you know, raw garlic can overpower the other ingredients if too much is used. Raw garlic tends to get stronger the longer it sits.
Garlic powder. Adds a subtle garlic flavor. Doesn't overpower the other ingredients. Easy to add more as needed. (I usually reach for garlic powder for this recipe.
Which should you use? It's up to you. I prefer garlic powder because I like how the flavor plays well with the cream cheese and herbs without stealing the spotlight.
Step Four: Add the Herbs and Black Pepper
Dried herbs work really well in this recipe. They add good flavor without changing the texture of the cream cheese like fresh herbs can. Plus, you don't need to chop them. Always use fresh dried herbs. If they sit around for several years, the flavor fades.
Suggested Herbs for Herb and Garlic Cream Cheese Spread
Dried Dill (use dill weed, not dill seed)
Freeze dried Chives
Dried Parsley
Dried Basil
Stir the herbs and black pepper into the cream cheese until they're evenly mixed. You want every bit of cream cheese dotted with garlic, herbs, and a hint of pepper.
Step Five: Season to Taste
Taste the cream cheese spread right after you make it. Does it need anything else? This is the time to add a little more garlic or herbs. If you have the time, chill it for 30 minutes and taste it again. Once the spread has a chance to sit for a little while, the flavors mix and mingle. You can eat this as soon as you mix it but I think it tastes best after at least 30 minutes. (Overnight is best if you can wait that long!)
What to Serve with Herb and Garlic Cream Cheese Spread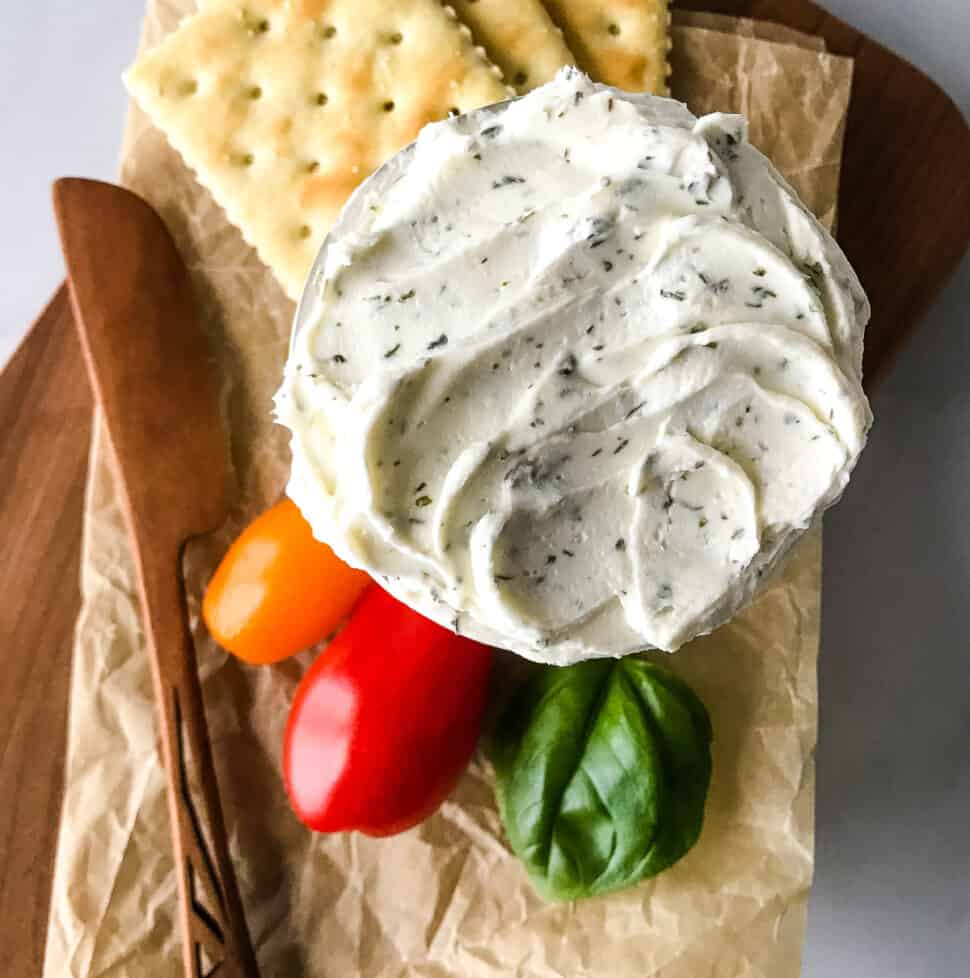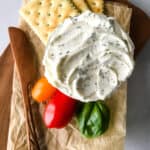 Easy Garlic and Herb Cream Cheese Spread
Easy to make garlic and herb cream cheese spread. Perfect spread on crackers or used as a dip for raw vegetables.
Ingredients
8

ounces

cream cheese, softened

softened

1

teaspoon

dried parsley

½

teaspoon

dried dill weed

¼

teaspoon

garlic powder or one small garlic clove, minced

¼

teaspoon

ground black pepper

salt, optional
Optional (use as many or few of these herbs as you like)
1

teaspoon

dried basil

1

teaspoon

dried oregano

1

teaspoon

crushed dried chives
Instructions
Stir together cream cheese, garlic, parsley, dill, and black pepper. Mix until smooth. Season with salt to taste, if needed. If you want a whipped cream cheese spread, mix ingredients together with an electric handheld mixer until fluffy.

Optional: chill for 30 minutes or overnight before serving.

Serve with crackers or fresh vegetables. Store covered in the refrigerator for up to four days.