The secret to making perfect Fruity Pebbles™️ marshmallow treats? Add a splash of vanilla extract to the melted marshmallows. It goes great with cereal's light citrusy flavor, giving these no-bake bars a creaminess.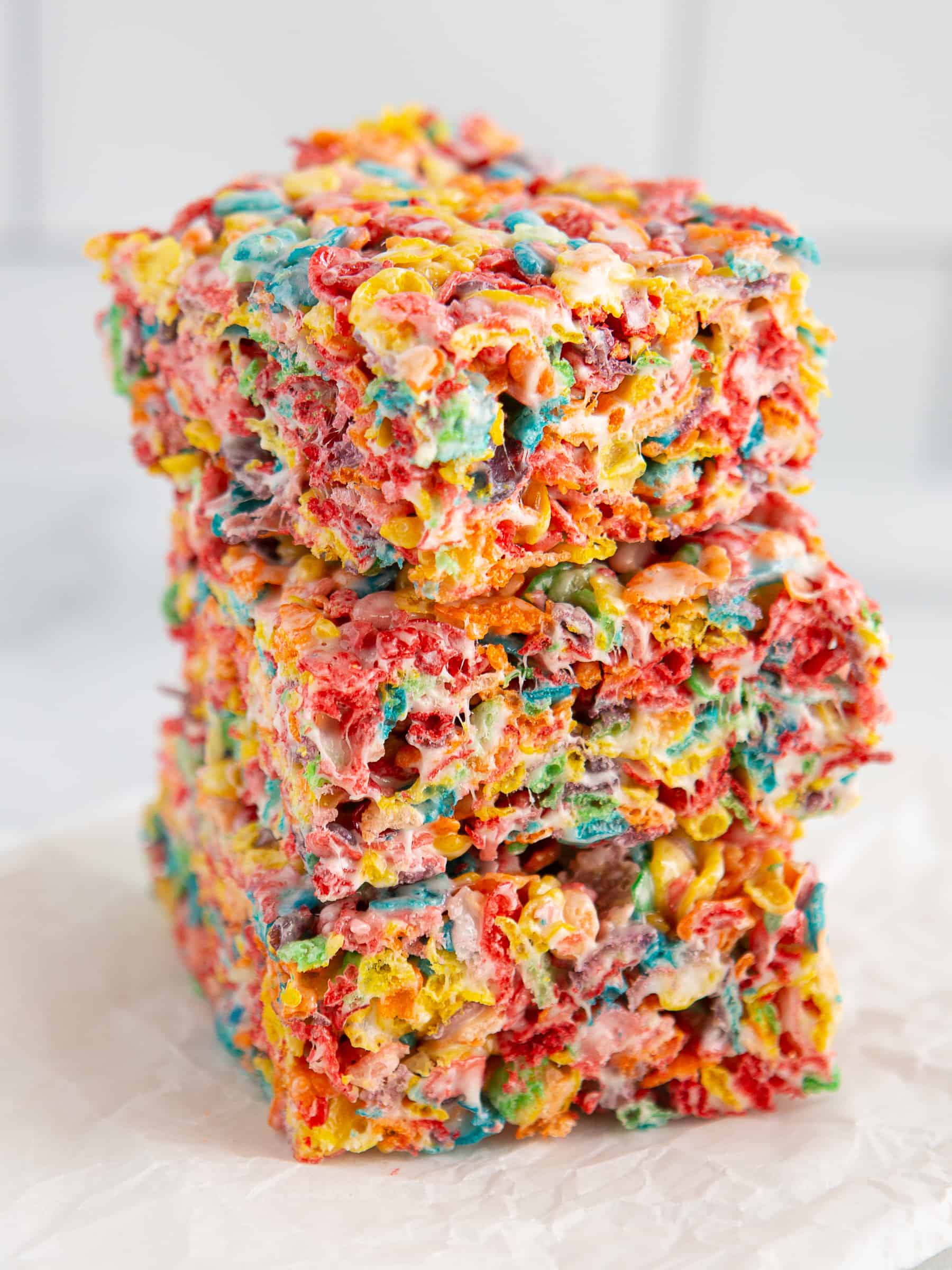 Homemade Fruity pebbles crispy treats are just so fun to make and to eat. Every time I make a batch, the first thing people say is, "These are so pretty!" And the second is: "Ohhhh. These are good."
Ingredients You'll Need.
Butter. I like to use salted butter for these bars. It helps balance the cereal's sweetness. If you don't have salted butter in the kitchen, use regular butter and add a pinch of salt.
Marshmallows. What would cereal bars be without marshmallows? I like the way mini-marshmallows melt. So that's what I use. Whenever you're making cereal treats, be sure the marshmallows are fresh. You don't want to use stale or hard marshmallows. They don't melt easily.
Vanilla. A little vanilla extract goes nicely with the light citrus flavor of the cereal.
Cereal. A fruity rice cereal, like Fruity Pebbles™️, give these bars great flavor and texture.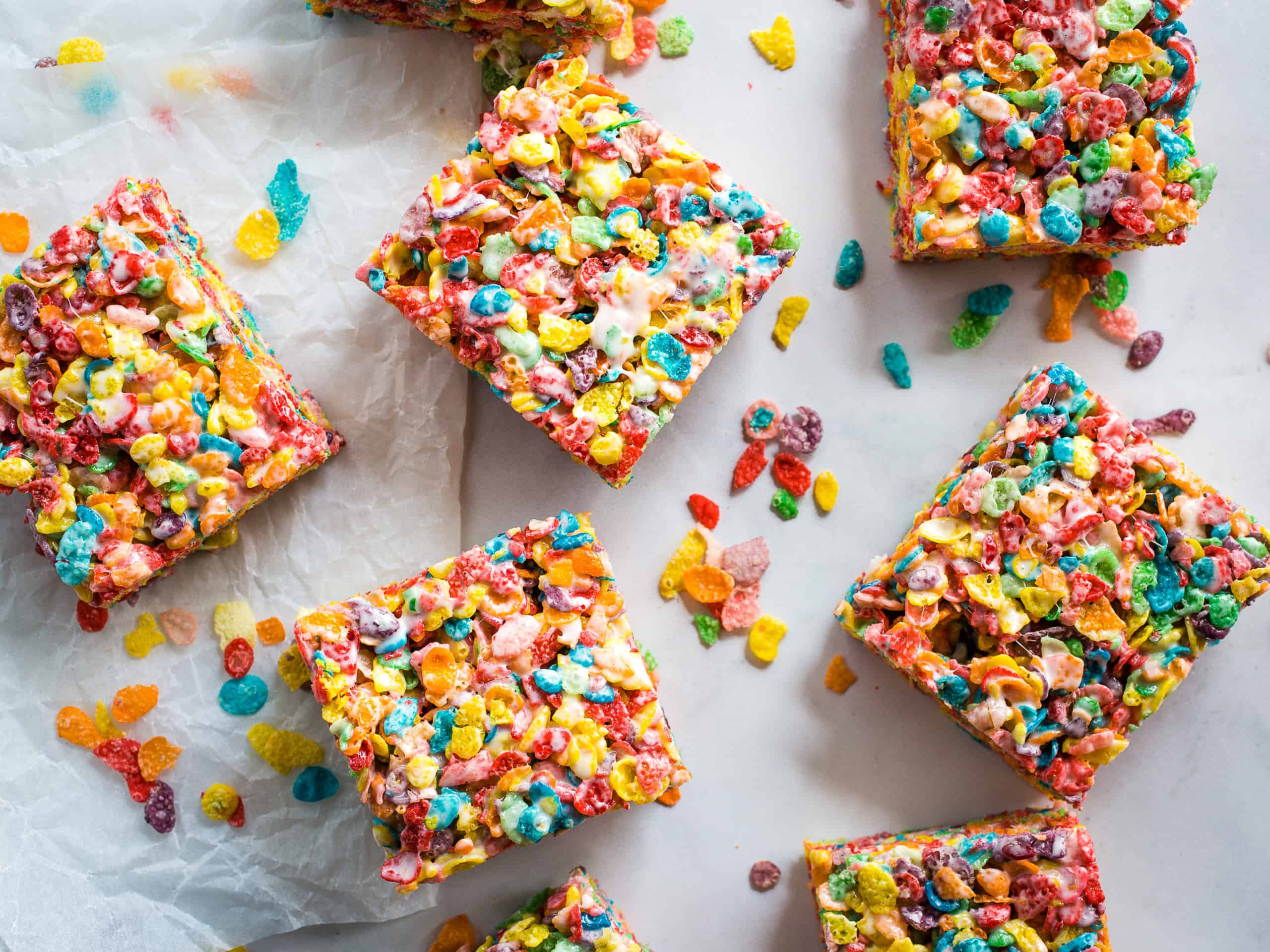 How to Make Them.
Melt the butter. Use a pot that's large enough to mix the six cups of cereal you'll add later. This way, you won't have to dirty two dishes.
Add the marshmallows. If you like your cereal bars soft and gooey, melt the marshmallows over low heat. If you like them crispy, melt the marshmallows over high heat. The hotter the marshmallows get, the crispier the bars.
Stir in vanilla extract. Fruity Pebbles always tastes like citrus to me. And since I love how citrus and vanilla tastes together, I always add a splash of vanilla extract.
Combine the cereal. Gently stir the cereal into the melted butter-marshmallow mixture. You want to stir until all the cereal is coated.
Press into the pan. Transfer the sticky mixture to a parchment-lined or greased pan. Press it down with a greased piece of parchment paper. Or you could use your hands. Just be sure to grease or wet them before touching the cereal mixture. It'll stick to dry uncoated hands.
Cut into bars. After the cereal mixture cools, cut into bars. And then, the best part, it's time to enjoy.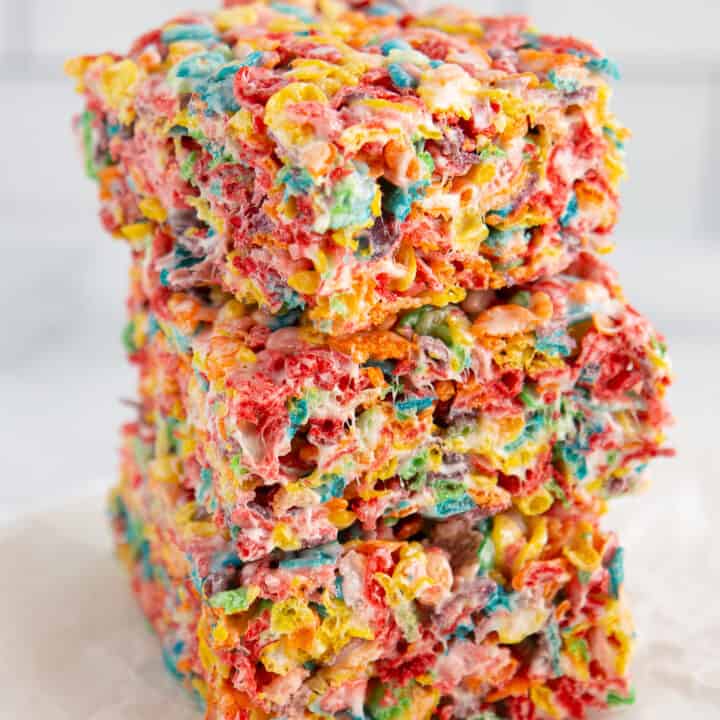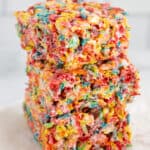 Homemade Fruity Pebbles Treats
Fruity Pebbles marshmallow treats are a fun and colorful variation of rice crispy treats. With their bright color and fruity flavor, these no-bake bars are as pretty as they are delicious.
Total Time
1
hour
15
minutes
Ingredients
6

tablespoons

salted butter

1

(10 ounce) bag

marshmallows

1

teaspoon

vanilla extract

6

cups

Fruity Pebbles™️ cereal
Instructions
Melt butter in a large pot over medium-low heat. Add the marshmallow. Stir constantly until the marshmallows are almost melted. Add the vanilla. Stir until marshmallows are melted and smooth.

Remove from the heat. Add the cereal. Stir gently to combine. Pour the mixture into the prepared pan. Press down lightly with a piece of greased parchment paper or your hands. If using your hands, grease them lightly or the cereal mixture will stick.

Chill for one hour. Cut into bars. And enjoy.