To make a BLT you need bread, bacon, lettuce, tomato, and mayo. But if you want to make a perfect BLT? Well…I have ideas for you.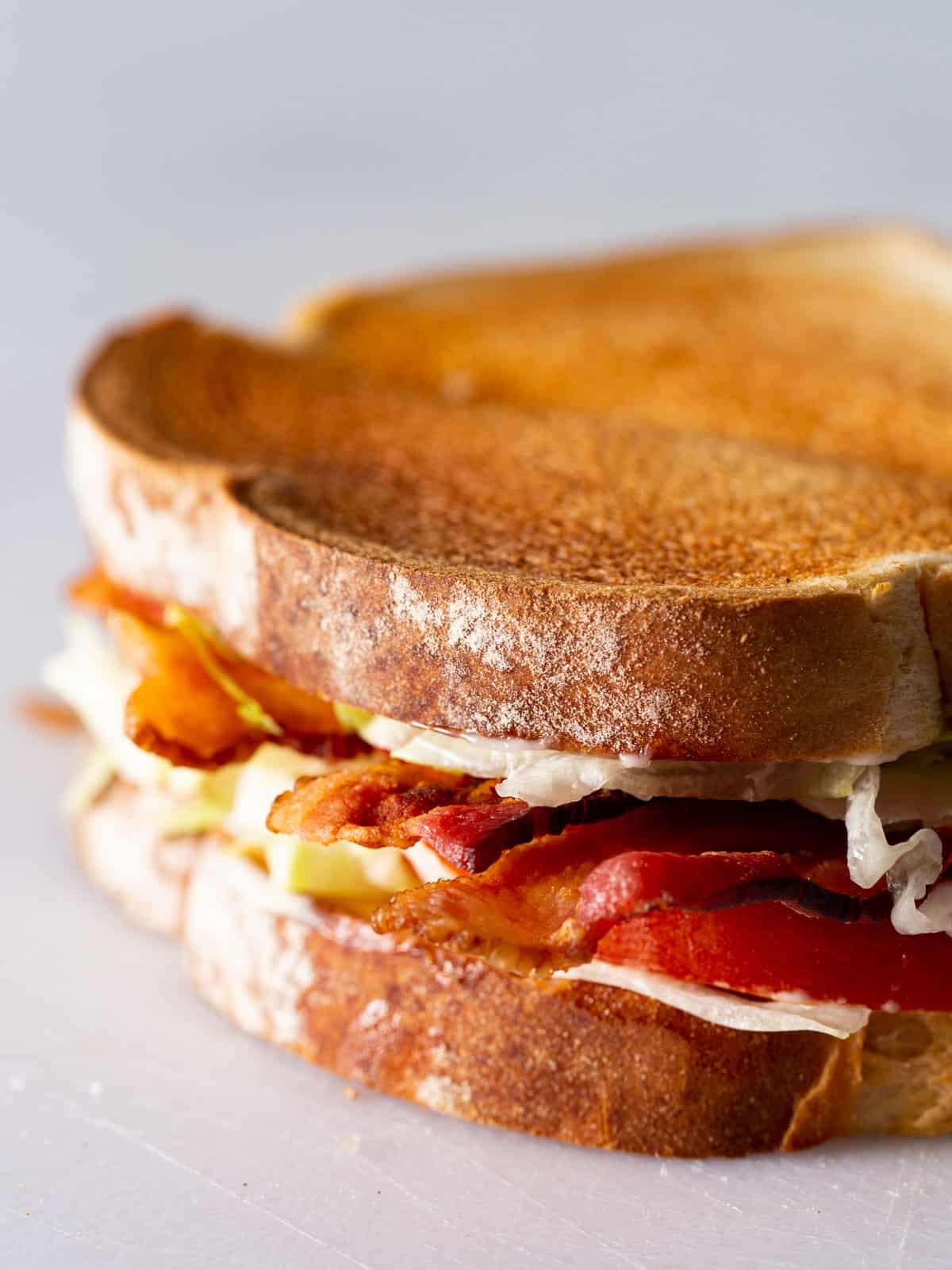 Last night I made BLTs for dinner and, as one does, immediately texted a photo of the sandwich to my friend.
Her reply came quickly.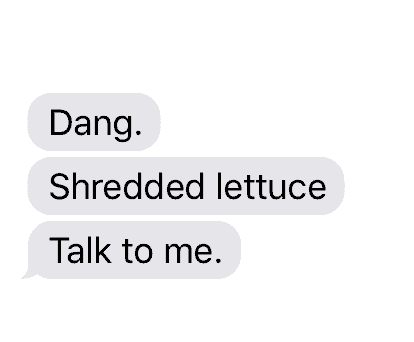 Text on image: Dang. Shredded lettuce. Talk to me.
Instead of texting her back with all my feels about what makes a perfect BLT, I wrote 1,000 words on the subject and sent her the link. (Friends *love it* when you do this.)
Let's establish my starting point for BLTs: they're all perfect. Some are just more perfect than others. And I think the ones I make are the most perfect.
A few years ago, Kenji over at Serious Eats wrote a BLT Manifesto. My husband saw it, read it, and sent it to me with the note: This is the same way you make BLTs!
My husband was correct with one exception…and we'll get to that.
The Bread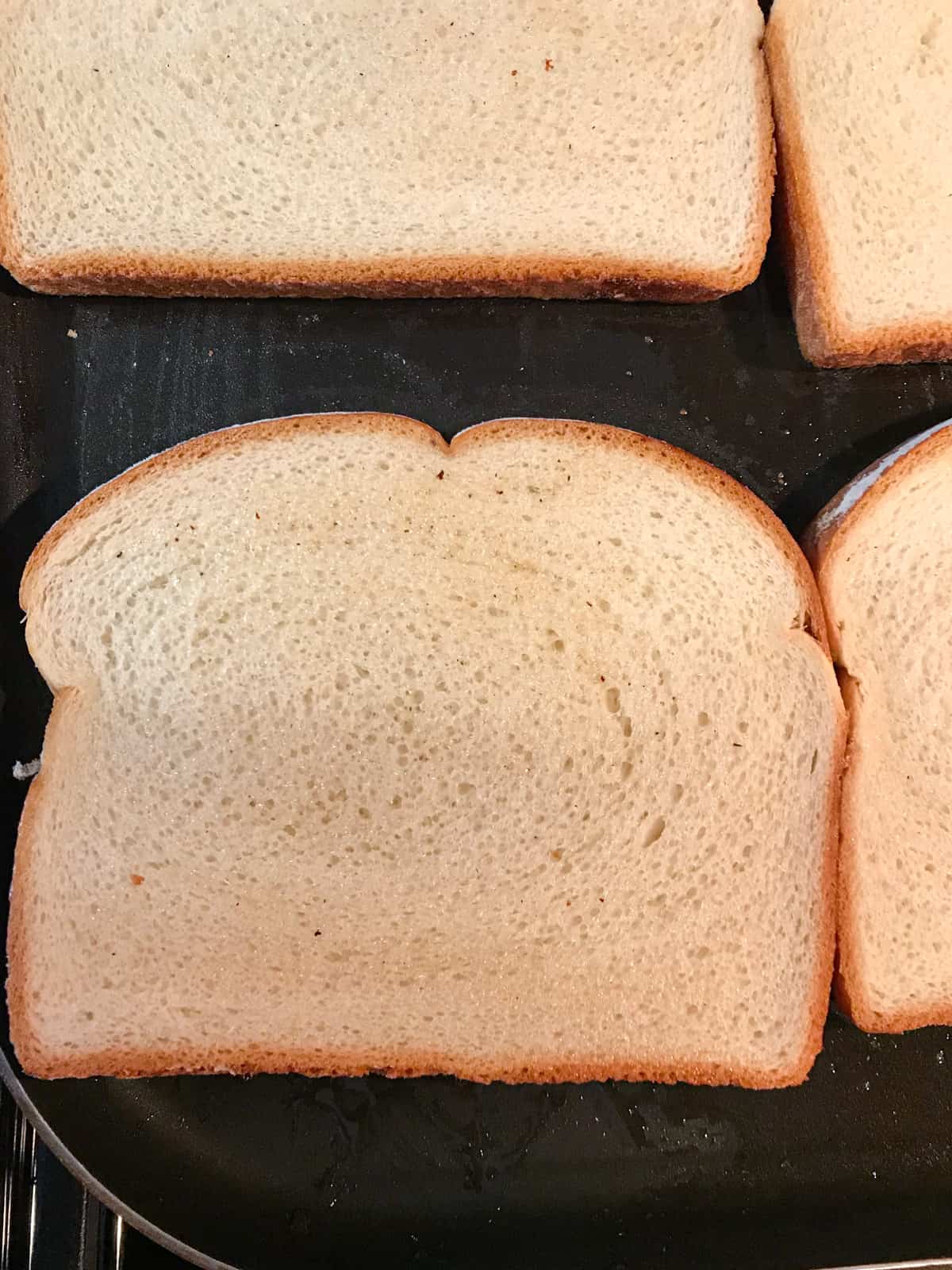 The bread for a BLT serves one purpose: it holds together the tomato and bacon so you can get it into your mouth. This is not the time for whole-grain bread. Or hearty bread. Or sourdough. All of those are lovely but they're not what I want in a BLT.
For a BLT, use white bread. Either homemade (my sandwich bread recipe is great for BLTs) or I buy a loaf. This summer I've been digging Arnold Country Buttermilk bread. It's soft. It's a good size and it has a very subtly sweet flavor.
Confidential to my friend: I know you're going to want to get all fancy and buy a loaf of challah or something else. Just buy a loaf of white bread! (grumble)
The Bacon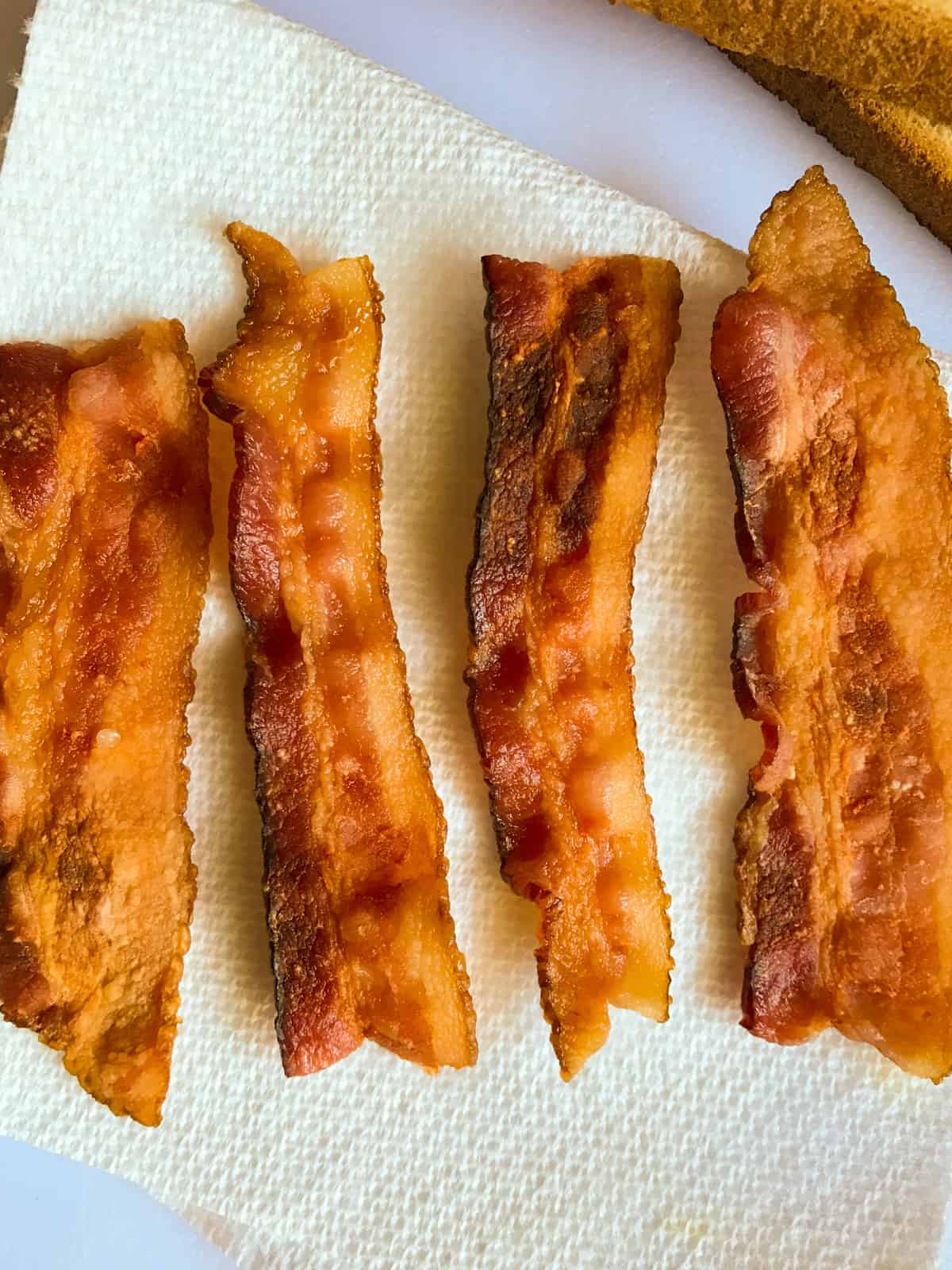 If you can get your hands on Nueske's bacon, use it. Got a stash of Dakin bacon in the freezer? Excellent! Oh. You can only get your hands on supermarket bacon right now? That's FINE. You really can't go wrong here. (Unless you use turkey bacon.)
The Tomatoes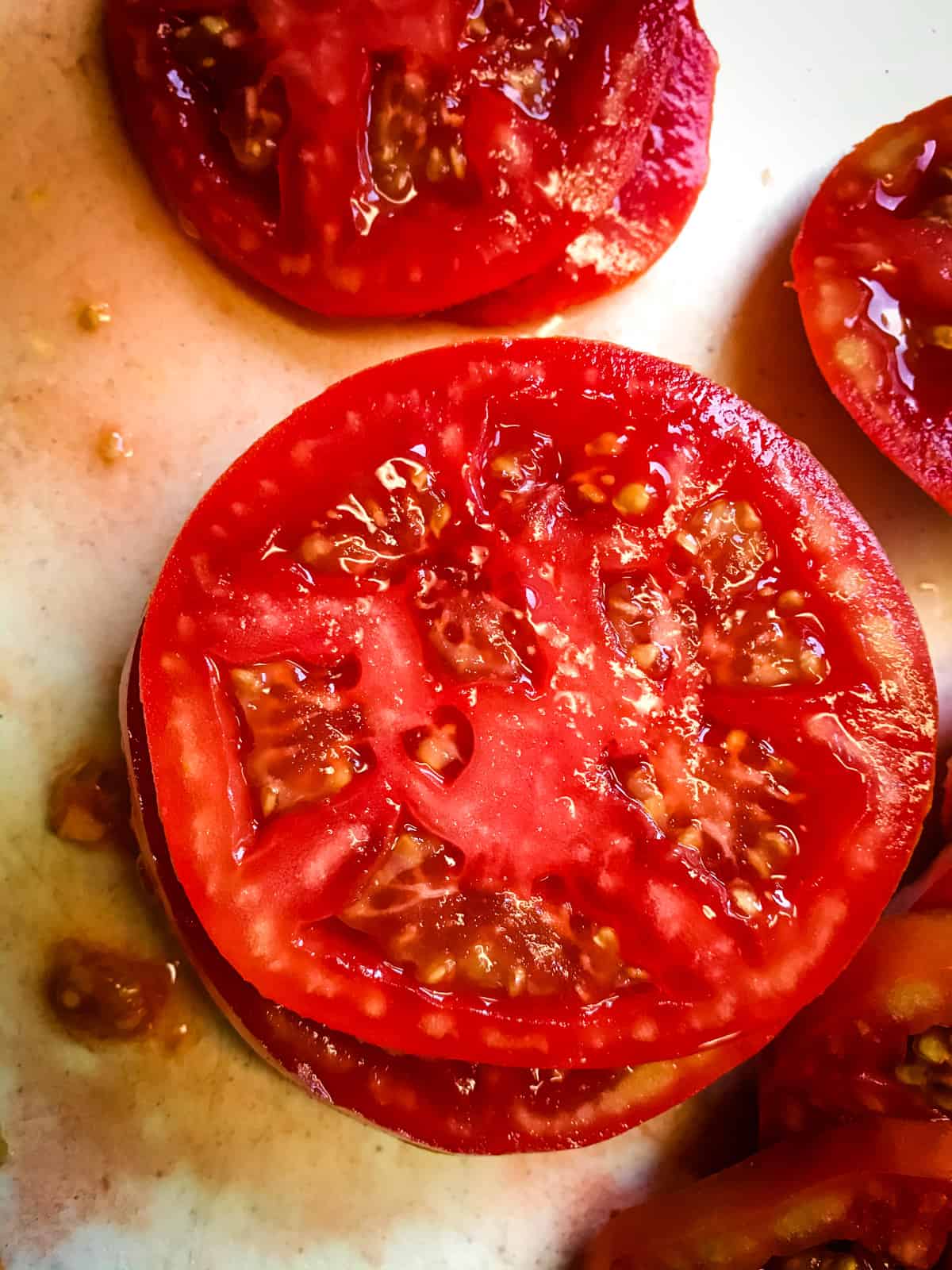 You know what I'm going to say: use ripe tomatoes for a BLT. The best ones come from your garden or a local farmer. When you slice the tomato, look at the center. If it's red from the edge to center, it's perfect for a BLT. If it's white, don't get it near your BLT.
The Lettuce
My opinion on the lettuce used on a BLT is strong and unwavering. Use iceberg. It's crunchy. It's cool. It's the ideal BLT lettuce.
The Mayo
Use mayo. Not "salad dressing", like Miracle Whip. It's not that I hate Miracle Whip (actually I kind of do) it's that it's too sweet for a BLT.
As I type this, I can hear my friend asking, "How about homemade mayo? Or Kewpie? Or Dukes? Or…" (she's extra like this). To her, I say, "Those are fine. But I use Hellmann's"
The Extra Addition
I firmly believe that a BLT should be just that: Bacon, Lettuce, and Tomato. Once you add other ingredients, it's no longer a BLT.
I have one exception to this rule. (These are my BLTs, I make the rules!)
Thinly Sliced Onion
A whisper of thinly sliced onion enhances the flavor of the tomato without overpowering it. The key here, of course, is slicing it very thin. How thin? You want to be able to see through it.
Oh and use raw onion. I like to use a simple yellow onion. Skip the pickled onion here. The vinegar tang isn't what we're going for.
Putting it all together: The Perfect BLT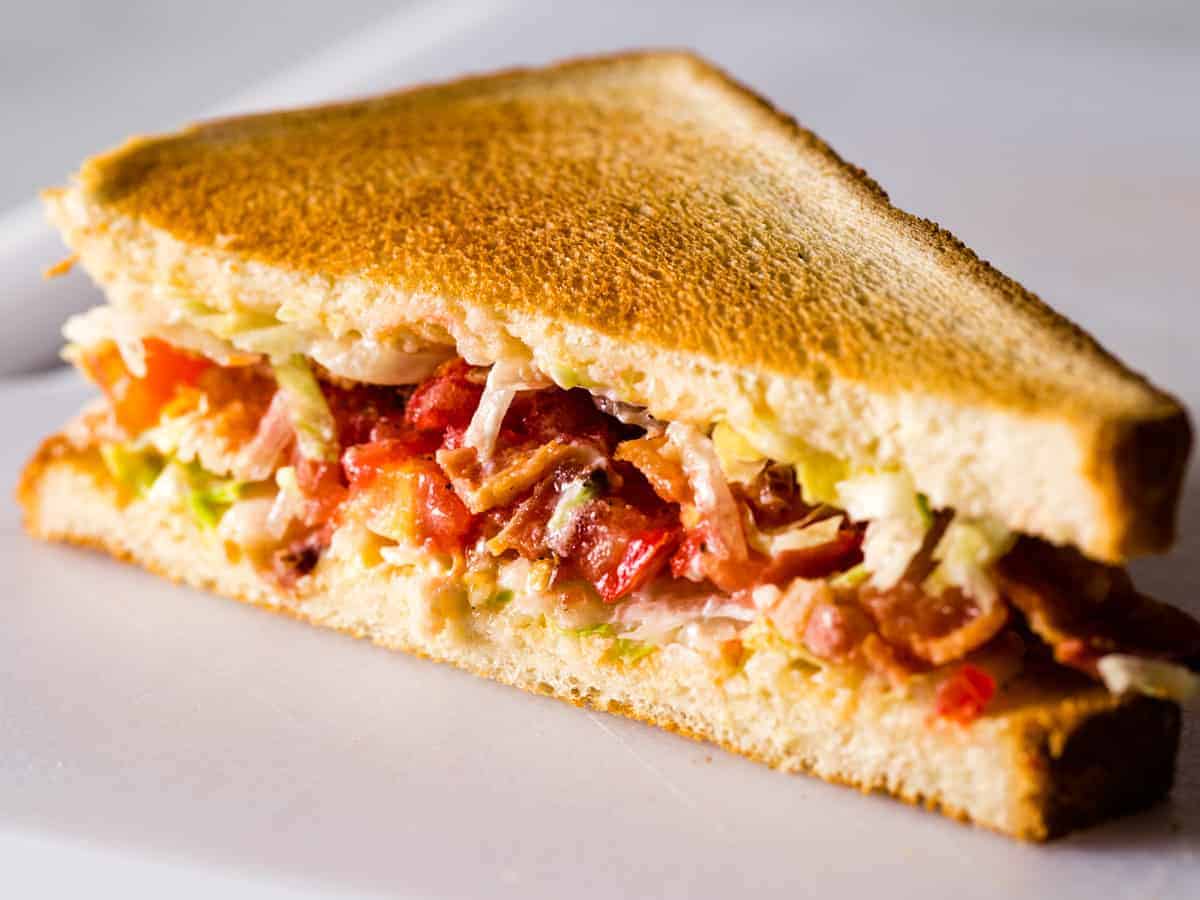 My opinions on a BLT don't stop with the ingredients. Oh no, friend, the key to a great BLT is how you put those ingredients together.
Grab a notepad, I have thoughts.
Cooking the Bacon
I love crispy bacon. LOVE IT. But for a BLT, I cook the bacon a tad lighter than fully crisp. Why? Because this way it doesn't shatter as you bite it. Now, you don't want it flaccid either. If the bacon is soft, it pulls out of the sandwich at first bite. This…isn't great.
Cook it until it's crisp enough. Put the bacon in a cold skillet, turn on the heat, and watch it. You'll know when it's done. I trust you.
Toasting the Bread
Remember when I said that Kenji and I made very similar BLTs with the exception of one thing? This is it. He toasts his bread in bacon grease.
Now before you recoil at the idea of cooking bread in bacon grease, let me explain.
Have you ever buttered bread and toasted it, for, let's say, a grilled cheese? The idea here is the same. You don't soak the bread in grease. You lightly brush it on. The flavor it adds? Perfect.
Cook the bacon.
Reserve some of the bacon grease.
Brush it lightly onto both sides of the bread.
Toast the bread on a griddle pan. You want the heat medium-low. If the heat is too high, the bread burns before it toasts
I like the bread lightly toasted. Dark enough that it has flavor and crunch but not so toasted that it gets dry.
Slicing the Tomatoes
Slicing a ripe summer tomato can be a pain if you don't use the right knife. This is because the skin of a tomato is a bit tough compared to the delicate flesh. Grab a serrated knife and this becomes easy-peasy. You want the slices about 1/4-inch thick.
Shredding the Lettuce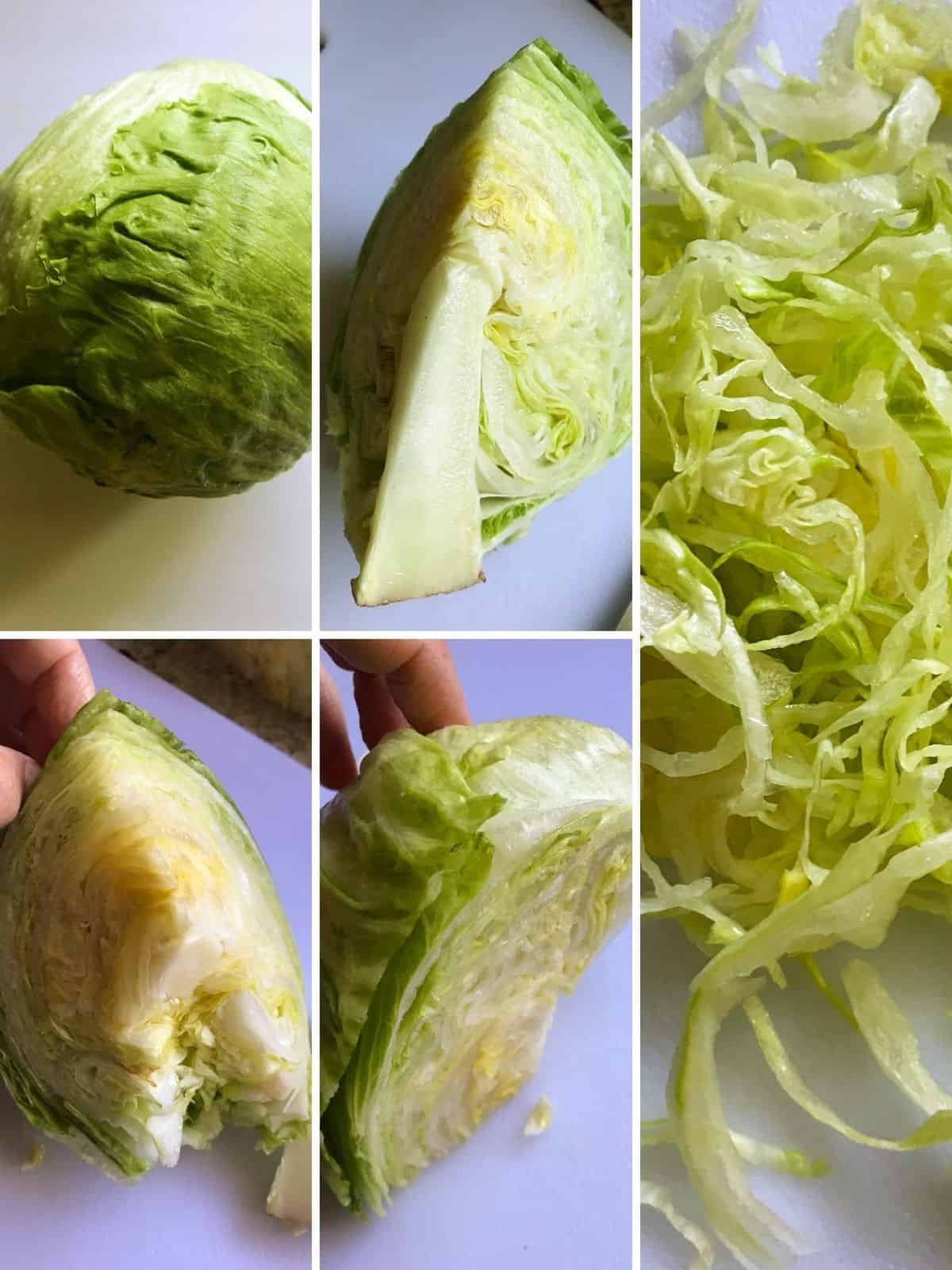 My eagle-eyed friend (waves) noticed that I shredded my lettuce. Of course I did. Because this is the best way to prep lettuce for a BLT. Shredded lettuce, when placed on each slice of bread, helps to prevent the tomato from turning the bread into a sog-fest.
And, like cooking the bacon crisp-but-not-too-crisp, it makes the sandwich a delight to eat. No big pieces of lettuce fall out on your plate.
If you've never shredded lettuce before, here's what to do. Cut a head of iceberg in half. Then cut the half in half again. Cut out the core. Then slice the lettuce as thin as you can with a Chef's knife.
Mayo-ing the Bread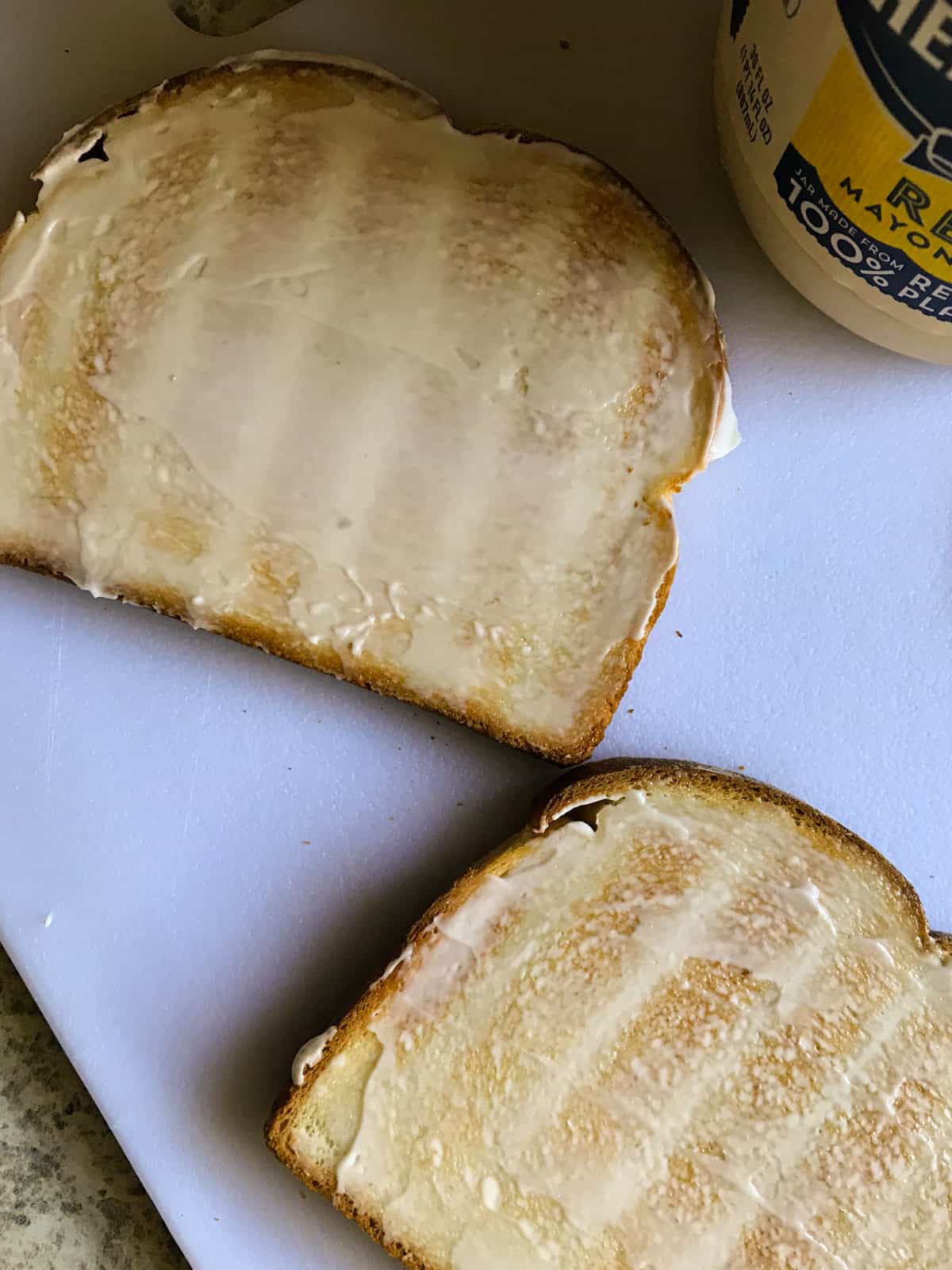 BLTs need mayo. To be more precise, each slice of bread on a BLT needs mayo. It adds flavor and it helps prevent soggy bread.
Go light with the mayo. Or heavy. You do you when it comes to mayo application.
Add the lettuce. (Plus the onion if using)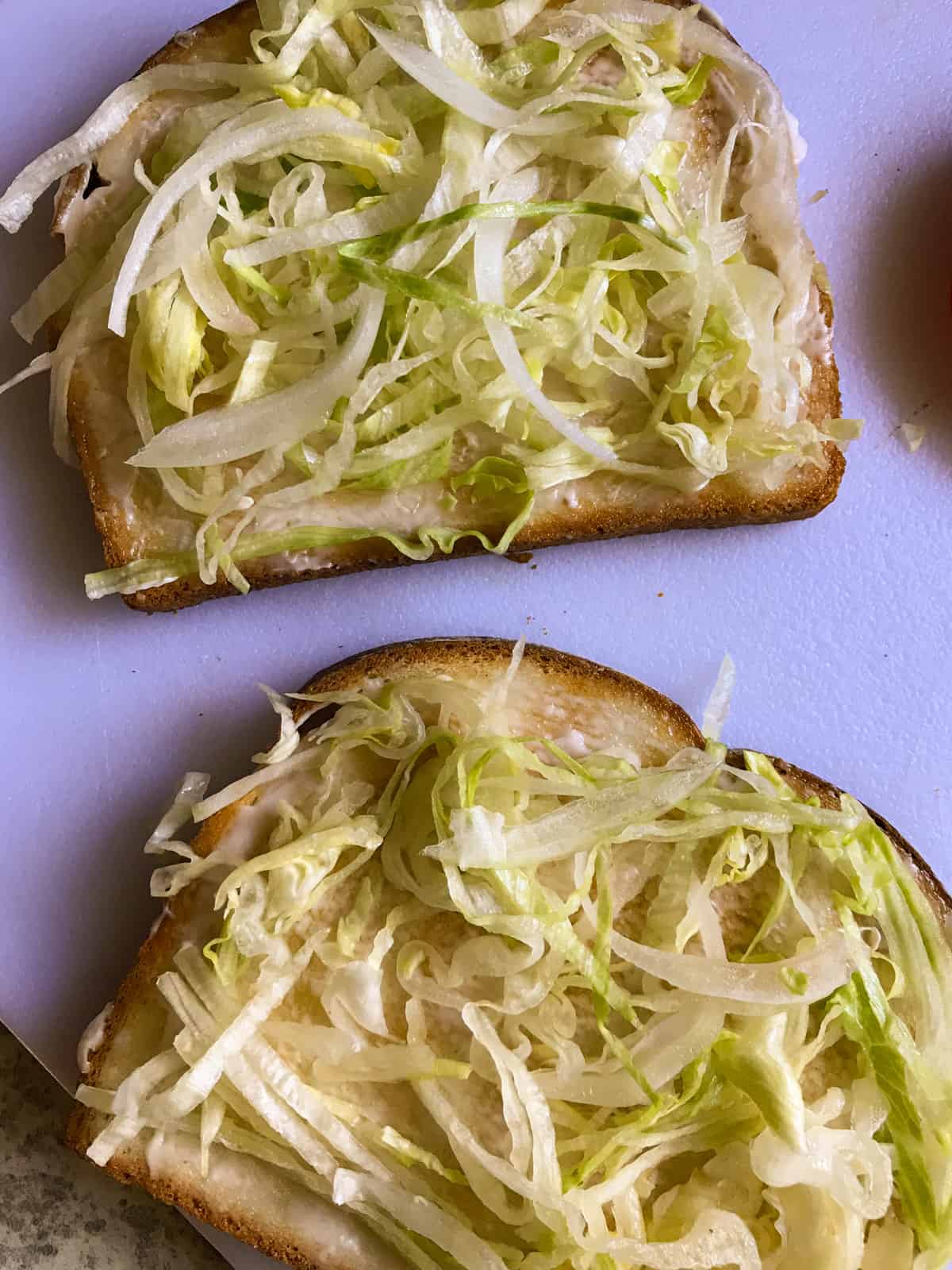 Put lettuce on each slice of bread. This acts as a bed for the juices of the tomato. Trust me; each side needs a little lettuce.
Season the Tomato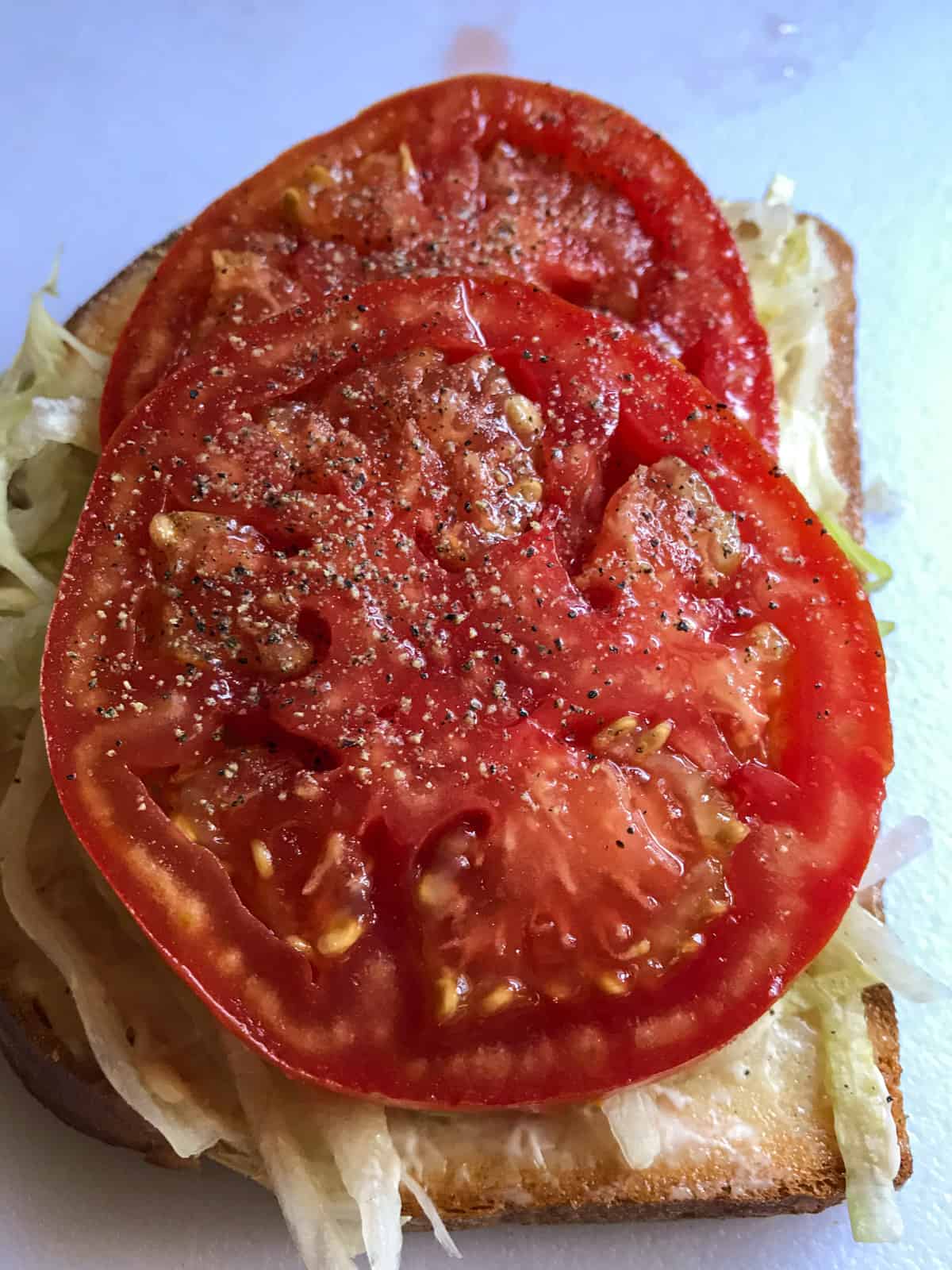 Here's where most people make a mistake: they don't add salt and pepper to their BLT. I get this. Bacon is salty. So why add more salt?
Because the tomato needs it.
Don't go wild. Put your tomato slices on the sandwich. Sprinkle on some Kosher salt and a generous amount of freshly cracked black pepper. Done.
(Friend! Don't you skip this step. DO NOT SKIP THE SALT.)
Cut the Bacon
Don't go putting whole pieces of bacon on your BLT. You've done all this work. Take a second and cut those slices in half. It makes the sandwich easier to eat.
How much bacon do I put on a BLT? Usually two whole slices.
Fin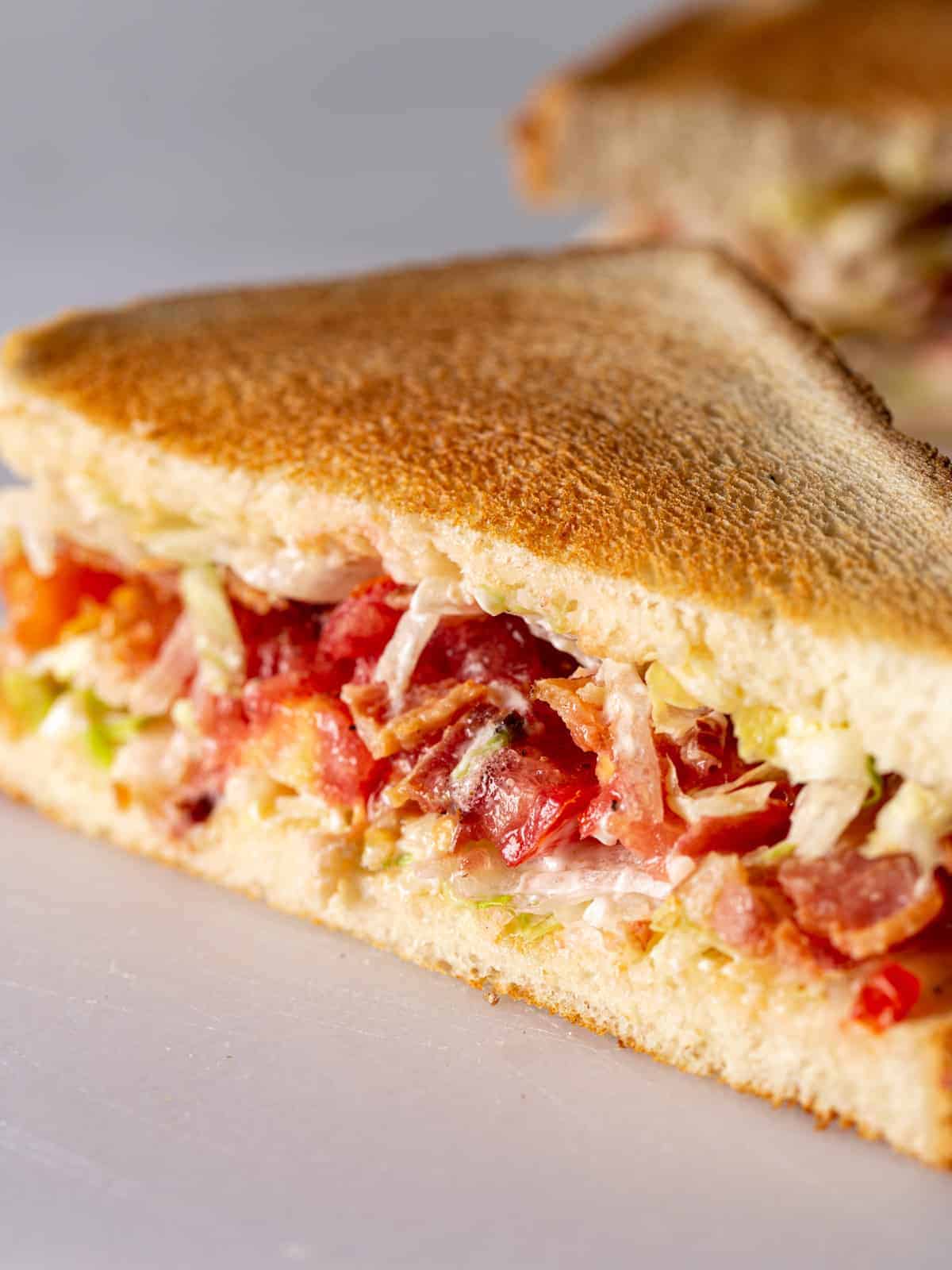 That's it.
That's how I make a perfect BLT. And now you can too. (And when you do, send pics.)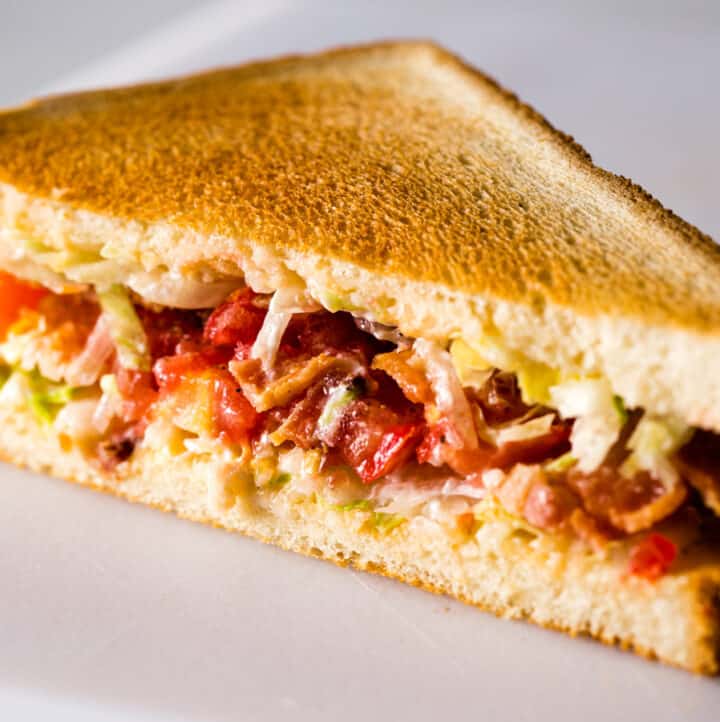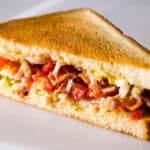 Perfect BLTs
For a BLT, you need white bread, bacon, perfectly ripe tomatoes, and mayo. (And if you're feeling like it, thinly sliced onion.)
Ingredients
2

slices

bacon

reserved bacon grease

2

slices

soft white bread, see note

2-4

slices

ripe tomato

shredded lettuce, about one cup

mayonnaise

salt and pepper
Instructions
Cook the Bacon. Place the bacon in a nonstick skillet. Turn on the heat to medium-high. Cook, turning once until crisp and lightly golden brown. If you have a bacon press, go ahead and use it. If you don't, don't worry about it.

Transfer the cooked bacon to a paper towel-lined plate. Reserve a few teaspoons of bacon grease.

Toast the Bread. Lightly brush both sides of each slice of bread with bacon grease. Heat a skillet over medium-low heat. (You can use the same pan you cooked the bacon if you wipe out the excess grease.) Toast bread until lightly golden brown, two to three minutes per side.

Make the Sandwich. Allow the bread to cool for a few minutes. Spread a light coating of mayonnaise on each slice of bread. Top each slice of bread with shredded lettuce.

Place tomato slices on top of the lettuce. Lightly sprinkle with salt and freshly ground black pepper. (You can go heavier with the pepper than with the salt.)

Cut the bacon slices in half. Place on the tomato. Top with the remaining slice of bread. Cut in half (I like to cut the bread on the diagonal.) Enjoy!
Recipe Notes
Ingredient Note
Use homemade white bread or Arnold Country Buttermilk Bread.