This simple recipe makes classic lemonade. It's sweet, pleasantly tart, and perfect for summer.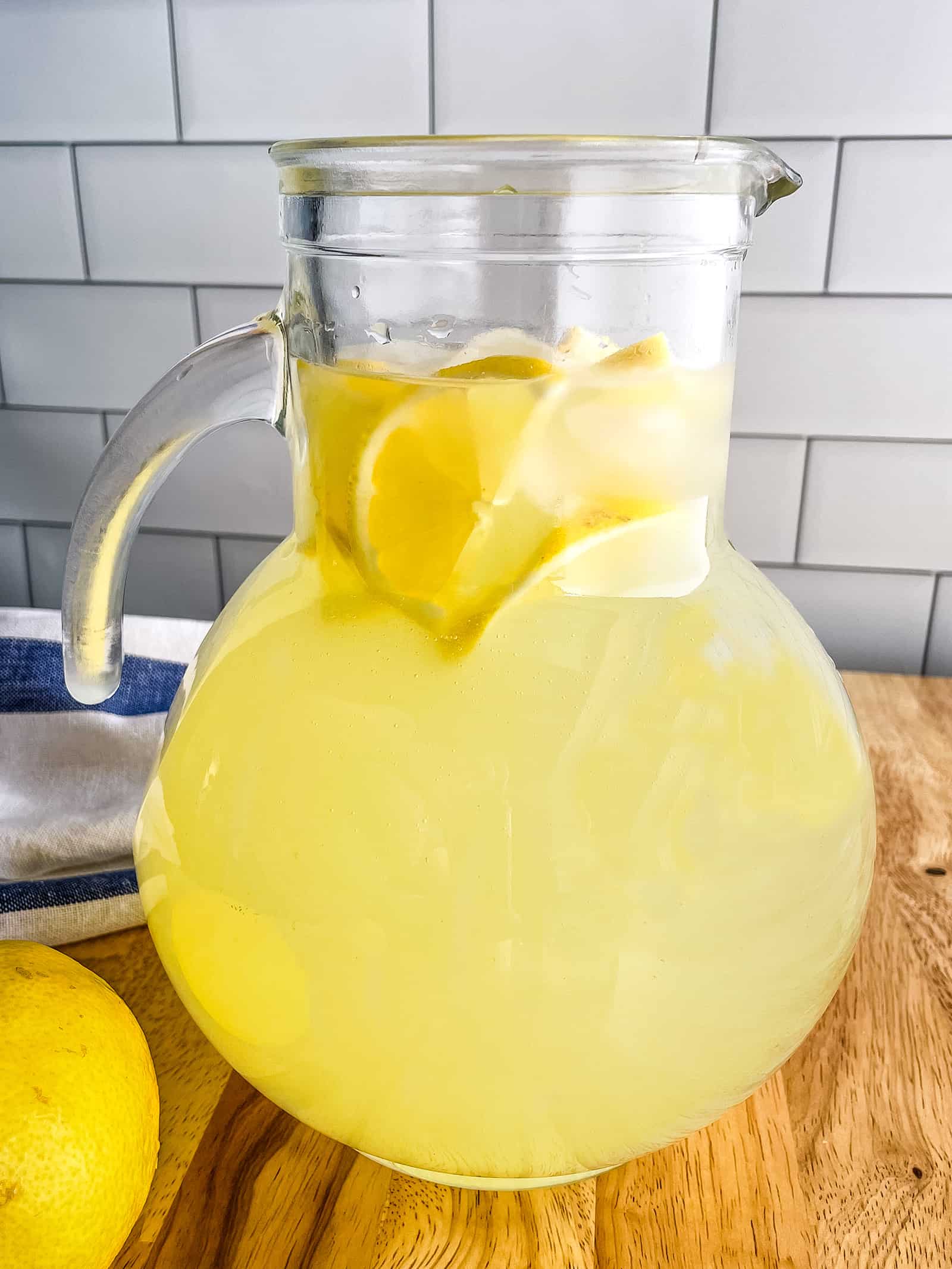 You only need three ingredients to make lemonade. And one of those is water!
Homemade lemonade only needs three simple ingredients: lemons, sugar, and water. That's it.
Lemon Juice. For the best taste, use freshly squeezed lemon juice. Bottled lemon juice tends to be very acidic. If you'd like to save some money, you can use half freshly squeezed juice and half bottled lemon juice.
Granulated Sugar. The sweetness for this lemonade comes from granulated (table) sugar.
Water. If you want to serve the lemonade right away, use very cold water. If not, chill the lemonade after you make it.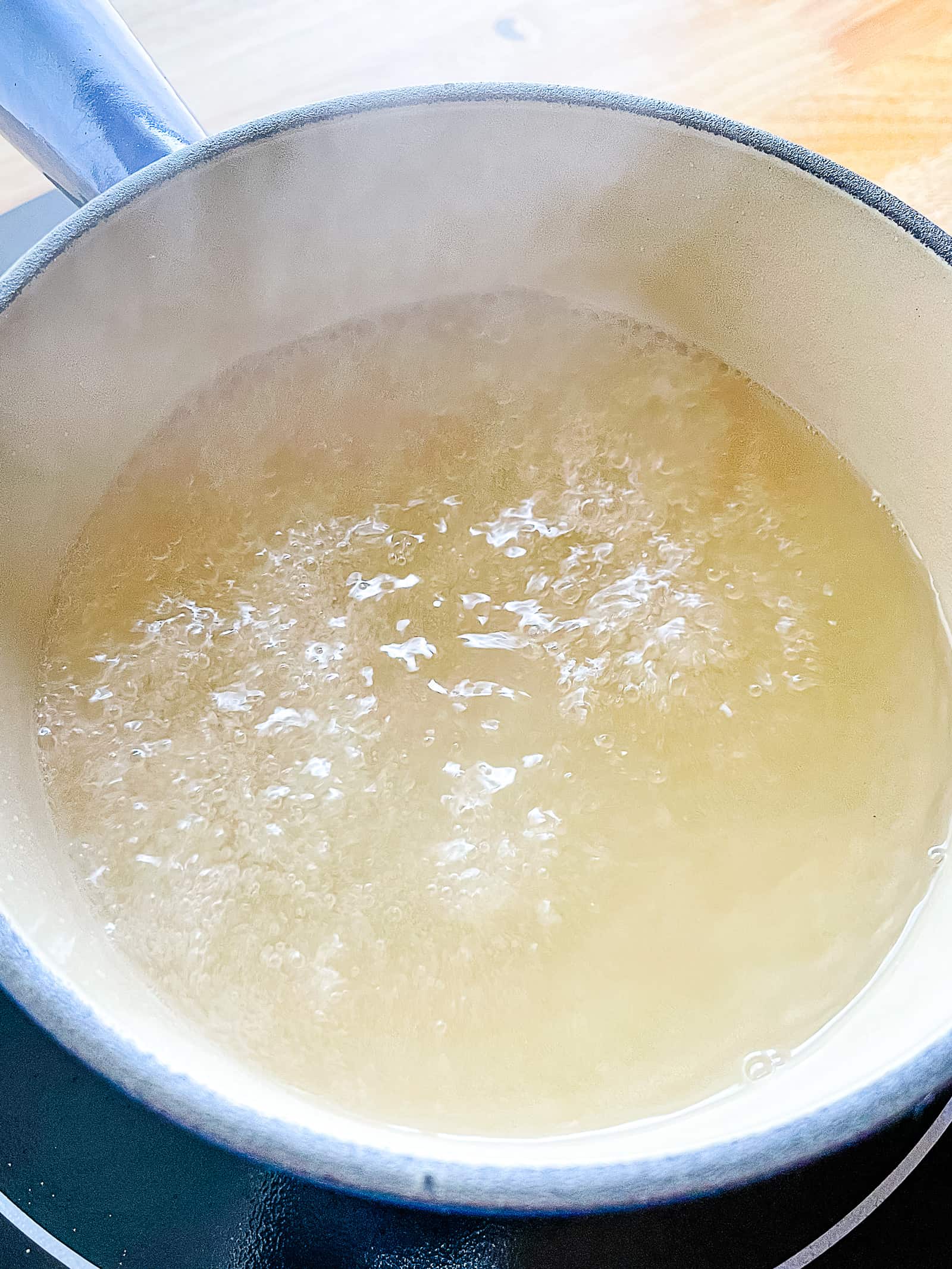 Make a Simple Sugar Syrup.
Even though it's an extra step, I like to make a sugar syrup to sweeten lemonade. Unlike simply mixing sugar with water, a simple syrup ensures that the sugar fully dissolves. This means no one gets a glass of lemonade with sugar sitting on the bottom.
To make the syrup, mix equal parts sugar and water together. Bring the mixture to a boil over medium heat. As soon as it reaches a boil and, the sugar is fully dissolved, remove it from the heat.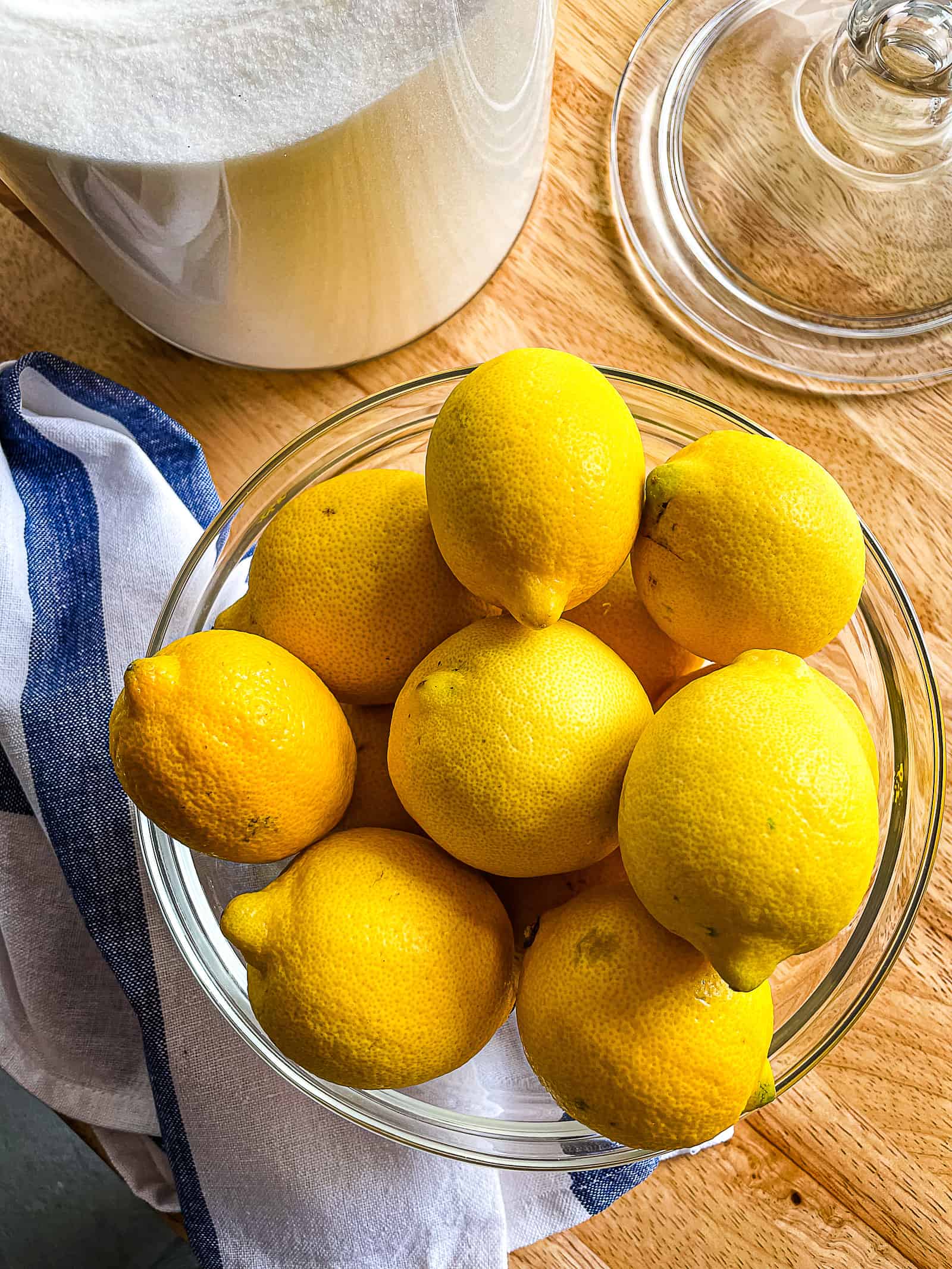 Juice the Lemons.
This recipe includes a full cup of freshly squeezed lemon juice. That's about eight to ten medium lemons. The exact amount of juice you'll get from a lemon varies. Try to have extra lemons on hand in case yours aren't juicy.
How to Juice a Lemon
Roll the Lemons. Start with room-temperature lemons and roll them back and forth under your palm on the counter. Apply a medium-to-heavy pressure as you do this. Rolling the lemons helps break down the citrus membranes, making the lemons easier to juice. 

Cut and Juice the Lemons. Use a sharp knife and cut the lemons in half. Don't worry about the seeds. You can use a strainer to catch them. Squeeze the lemons directly, either with a handheld or electric juicer, into a large liquid measuring cup. This makes it easy to know how much juice you've squeezed.

Strain the juice. Pour the lemon juice through a strainer to remove the seeds. If you like pulp in your lemonade, you can remove the seeds from the strainer and stir the pulp back into the juice.
Make the Lemonade.
Combine the lemon juice with cold water. But don't add all the sugar syrup just yet. Since the sweetness of fresh lemons vary, it's a good idea to add about ¾ of the sugar syrup. Then give the lemonade a taste. Stir in the rest of the sugar syrup if needed.
If you've got leftover sugar syrup, don't throw it away. Store it in the refrigerator for up to one month. Use it to sweeten iced tea, iced coffee or add a splash to your favorite cocktails or mock-tails.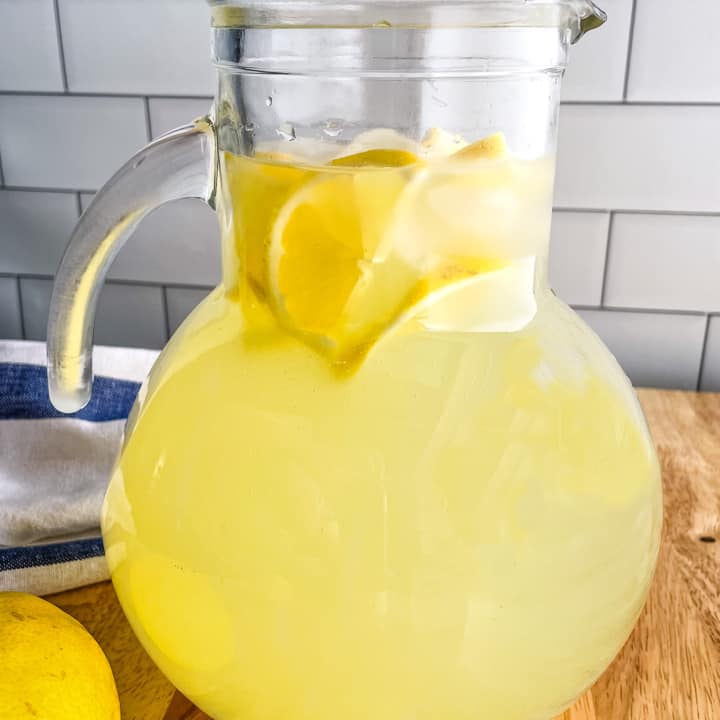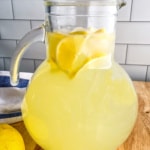 Homemade Lemonade
Lemonade and summer are made for each other. This classic recipe makes lemonade that's sweet and pleasantly tart. For the best flavor, use freshly squeezed lemon juice. If you'd like to use bottled lemon juice, use half freshly squeezed and half bottled.
Ingredients
1

cup

granulated sugar

7

cups

water, divided

1

cup

freshly squeezed lemon juice, about 8 to 10 lemons
Instructions
Combine the sugar and 1 cup water in a small pan. Heat until sugar is dissolved. Remove from the heat and allow to cool.

Combine the remaining water and lemon juice in a large pitcher. Add the sugar mixture. If you like a tart lemonade, add half the sugar mixture. Taste. Add more as needed. Serve and enjoy.
Recipe Notes
For a tart lemonade, add half the sugar syrup and taste. Add more sugar syrup until you reach the sweetness you enjoy. Store the leftover syrup in the refrigerator for up to one month. Use it for another batch of lemonade or add it to iced coffee, iced tea, or cocktails.