Nutter Butter Skateboards with Rolo Wheels are cute and easy to make! Perfect for Skateboard birthday parties.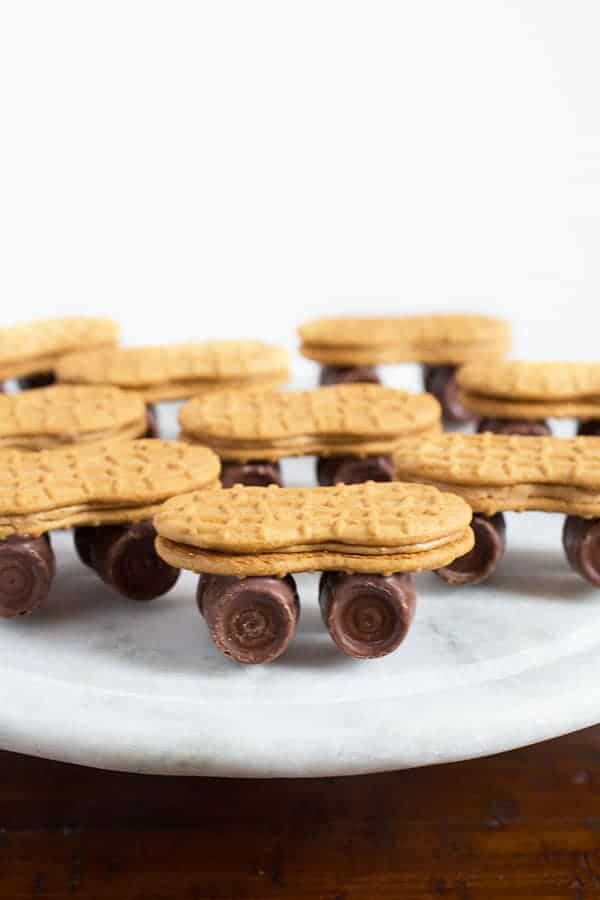 How cute are these Nutter Butter Skateboards? How cute?! I mean, they have Rolos for wheels. I can't even.
My friend Tara posted a picture of these yesterday on Facebook and two things happened:
1. I wondered how she had the time to make them. She's the mom of four young boys. Four. I don't have any kids and I can hardly get myself together. But I digress.
2. I asked her if I could share the idea here. Because, seriously, the world needed to see this cuteness.
Tara pointed me in the direction of the blog where she'd gotten the idea. Turns out, Lindsay over at the Pleated Poppy blog made these a few years ago for her son's birthday party.
Since these cookies combine two of my favorite things, Nutter Butters and Rolos, I decided to make them. Who cares that I wasn't throwing a party? Life demanded a cookie project. And who am I to say no to such a demand?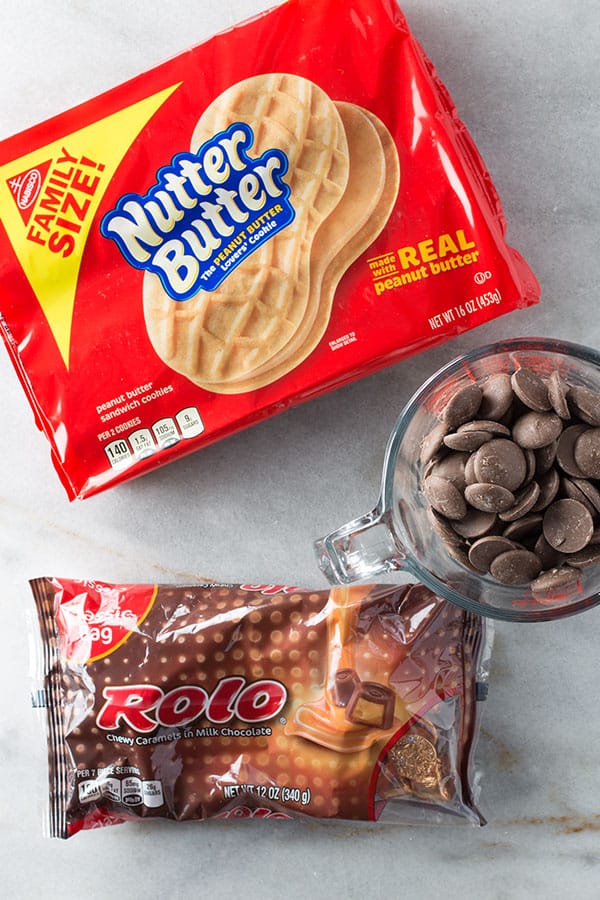 Grab a box of Nutter Butters and a bag or two of Rolos. (One 12 ounce bag of Rolos makes about 14 cookies and the 16 ounce Nutter Butter package contains about 32 cookies.)
You'll also need some candy melts or chocolate chips. I recommend candy melts because they are designed to melt but for a small project like this, you can get away with chocolate chips.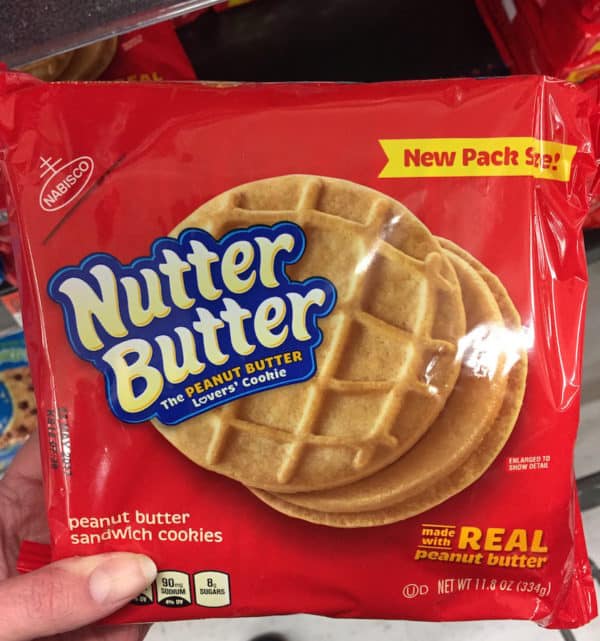 Oh, and when you're at the store, don't get these Nutter Butters. They're an abomination round. And round Nutter Butters do not make cute skateboards.
What happens if you do happen to grab these instead of the traditional peanut-shaped ones? Hmmm…you'll just have to eat them.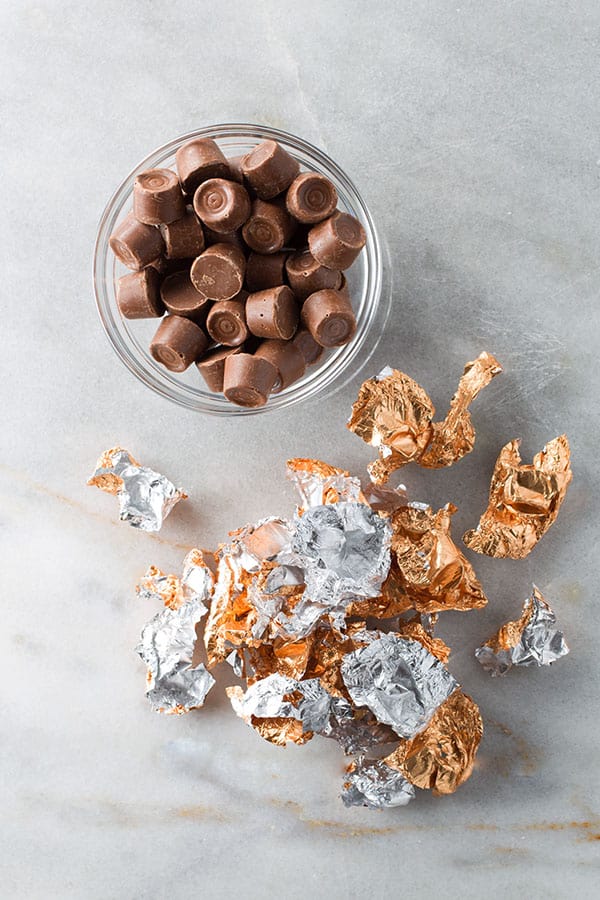 Unwrap the Rolos. Something weird happened to me during this step. Occasionally a Rolo would fly into my mouth. Weird, right? If that happens to you, let me know.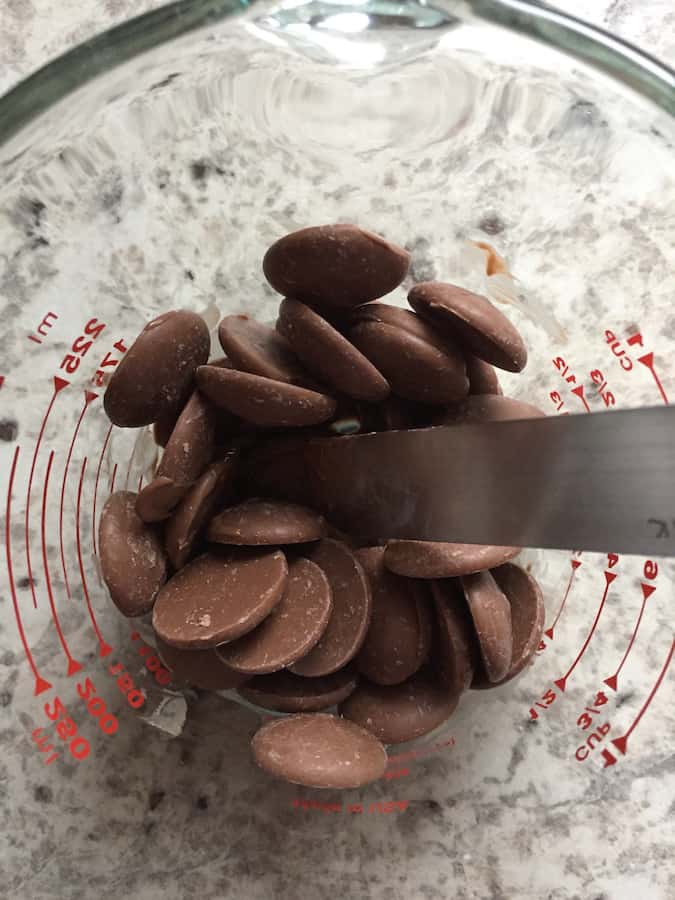 Put about 1/2 cup chocolate candy melts in a measuring cup. You'll have leftover chocolate when you're done this project. Sorry. There's no way to melt just the right amount of chocolate for this project.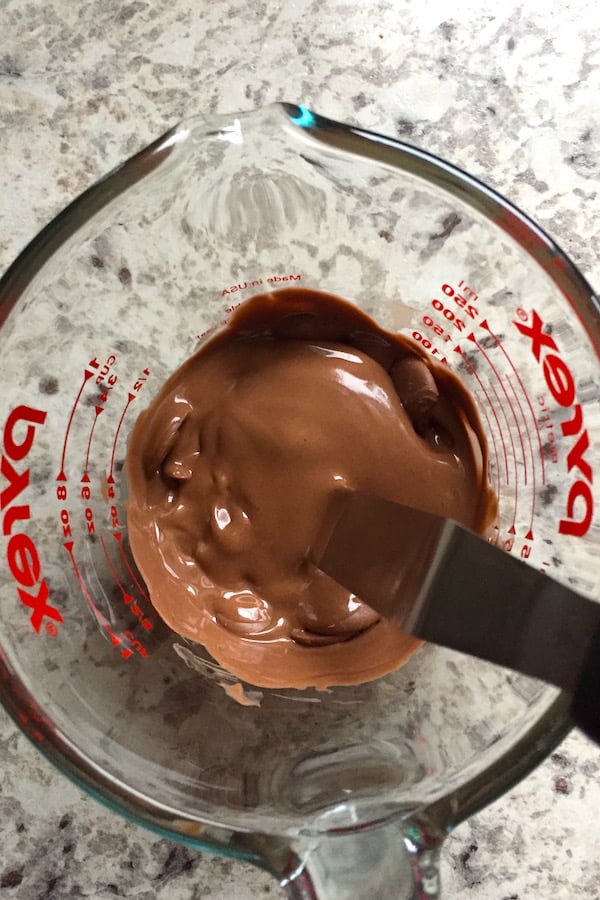 Microwave the candy melts in 30-seconds bursts in the microwave. Take the chocolate out after each 30-second burst and stir. This prevents hot spots from building up and burning the chocolate.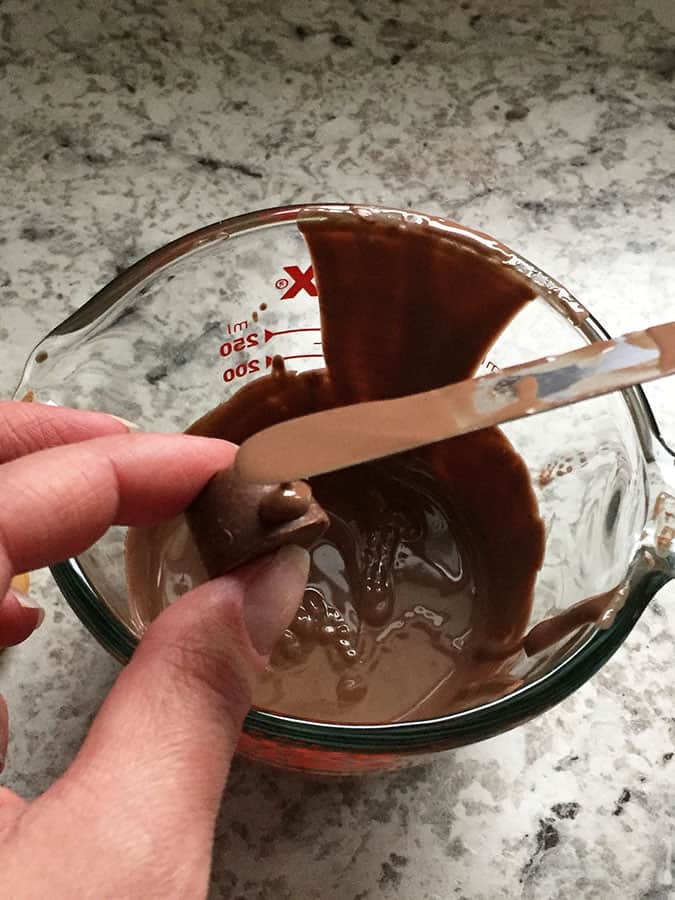 Dab some melted chocolate on the Rolo. Use a small metal spatula or butter knife for this step. Nothing sharp. You don't want to cut yourself and bleed all over the cookies.
By the way, I dabbed the chocolate on the Rolos for 99% of the cookies. It worked really well and controlled the amount of chocolate that went on each Rolo. By the end of the project, I wondered if dipping would be faster.
It was.
If you're not careful, however, your fingers get coated with chocolate. I don't love the feel of hardening chocolate on my fingers. So I'm going to stick with dabbing the chocolate. Do whichever works for you. The goal here is to get some melted chocolate on each Rolo to act as glue. How you get the melted chocolate onto the Rolo is up to you.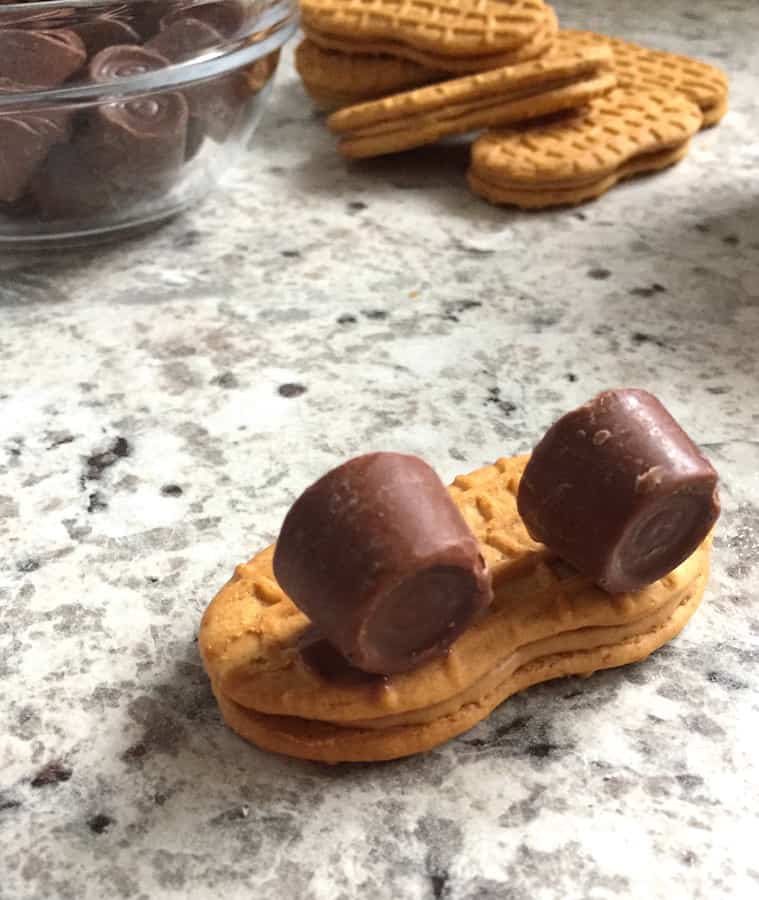 Place the Rolos, lines out, onto the cookie. Hold the Rolo on for a second to wait for the chocolate to harden. Repeat until you have four wheels.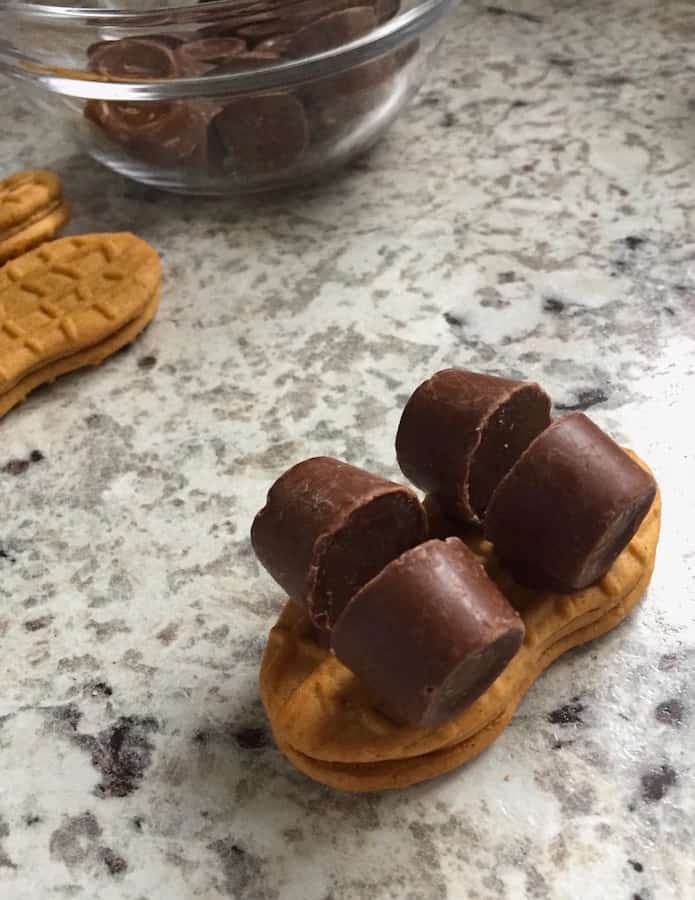 Eeeee!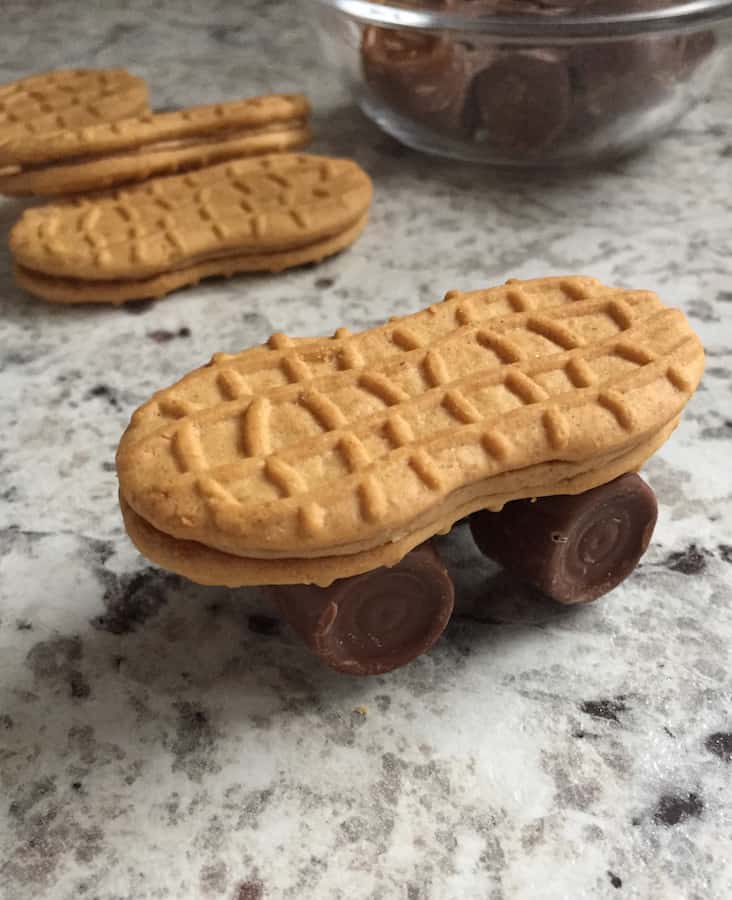 Ta-Da!
Nutter Butter Skateboards with Rolo Wheels. If you're a real fancy-pants, you could get a bunch of different colored melting chocolate to decorate the top of the skateboard. Just the thought of doing that makes me feel tired. To keep up my strength, I'm going to go eat one of these babies.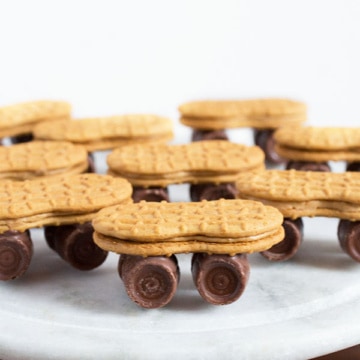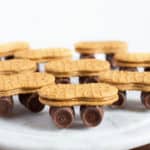 Nutter Butter Skateboards with Rolo Wheels
Nutter Butter Skateboards with Rolo Wheels | Fun and Easy No-Bake Cookies | Perfect for Skate-Themed Birthday Parties for Boys and Girls

Ingredients
½

cup

chocolate candy melts or chocolate chips

56

unwrapped Rolo candies

14

peanut-shaped Nutter Butter sandwich cookies
Instructions
Place the candy melts in a small (1 cup) measuring cup. Microwave for 30 seconds. Remove from the microwave and stir. They might not look melted. This is fine. This step removes hot spots and keeps the chocolate from burning. Repeat until candy is melted.

Dab a little melted chocolate onto a Rolo (or dip the Rolo into the chocolate). Place the Rolo, lines out, on the cookie to make a wheel. Hold until the chocolate hardens and the Rolo sticks to the cookie. Repeat to make four wheels.

Repeat until all cookies are done. If the chocolate hardens before you've attached all the Rolos, microwave it for 12 seconds to remelt.