Easy recipe for "pasta and beef." Comes together in less than 30 minutes. This recipe is perfect for busy weeknights.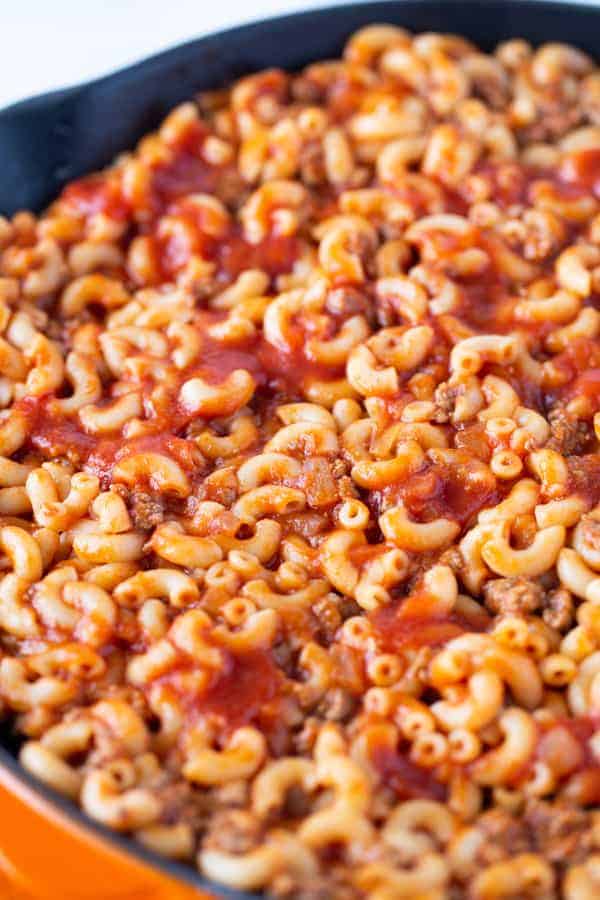 Years ago I told Greg that I planned to make goulash for dinner. He thought I was making a beef stew seasoned with paprika. So you can imagine his surprise when I set down a very American casserole on the table.
The conversation that followed went something like this:

"What's this?"

"It's goulash."

"No…no, it isn't. It's like a homemade version of, I don't know, Hamburger Helper*."
I was confused. He was confused. And we both thought we were right and the other person was wrong.
*He has never, ever lived down comparing my cooking to Hamburger Helper, let me tell you.

See, Greg assumed I would be making the classic Hungarian stew and had never heard the macaroni and beef casserole I made referred to as goulash. And I'd never heard of the Hungarian stew.
After sharing this story and recipe a few years ago on Serious Eats, I learned a few things:
Some people get really annoyed when this pasta dish is called "goulash". (But people on the internet get annoyed about everything so this isn't really a surprise.)

This dish goes by several other names. Johnny Marzetti, American Chop Suey, Pasta and Beef, and, my favorite, "Ms. Mac Special." That last one, I'm sure, is a family nickname for this dish.
No matter what you call it, this recipe for pasta and beef is pure comfort food.
How to Make Goulash (Aka Pasta and Beef)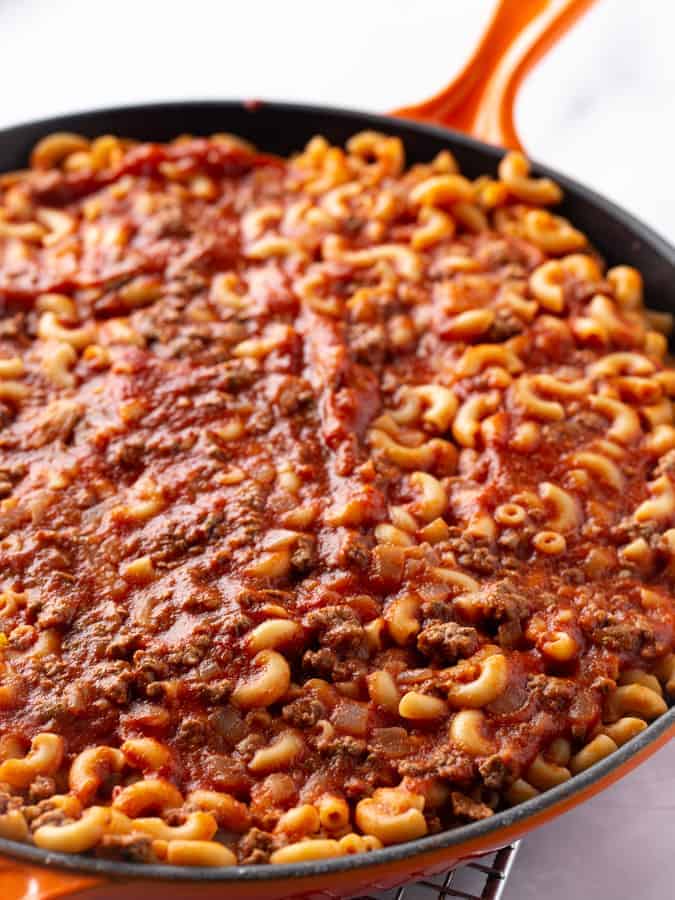 Cook the Pasta. Elbow macaroni is traditional for this dish. If you replace it with another type of pasta, you might need to adjust the amount of sauce used.
Cook the Ground Beef. While the pasta cooks, cook the ground beef with a chopped onion and some minced garlic.
Add the Tomato Sauce. For this recipe, I use a specific brand of tomato sauce: Hunt's. It's not fancy–at all. The reason I use it? Consistency. It's not too thick. In fact, it's on the thin side. Would I use this sauce for a traditional pasta dish? Never. Ever. But for goulash, it's perfect. (If you want to make homemade sauce, use my recipe for easy pasta sauce, and add 1/4 to 1/2 cup of water to thin before adding it to the pasta.)
Stir Everything Together. Stir the pasta together with the ground beef and sauce. (If you want, add a generous handful of shredded Cheddar cheese. )
Can I use Velveeta in American Goulash?
Sure, I don't see why not. I don't use Velveeta in this recipe but there's no reason it wouldn't work. Add 4 ounces of shredded Velvetta to the finished recipe and stir until melted.
Does Goulash contain olives?
Some recipes might. This one doesn't. But if you love olives and want to use them, go for it.
Is Goulash the same thing as Cheesy Mac and Beef?
Probably. This dish goes by seemingly a thousand names. In this recipe, the cheese is optional. If you want an easy- cheesy mac and beef, stir in about 4 ounces of shredded Cheddar cheese or, to answer the question above, Velvetta.
Is this Goulash the same as "Slumgullion"?
I have to be honest, when someone first asked me this, I thought they were either 1. joking. 2. swearing at me 3. misspelling something (probably misspelling a swear word.) I was wrong. Yes! American Goulash and slumgullion are the same. But "the same" is vague because recipes vary so much from cook to cook.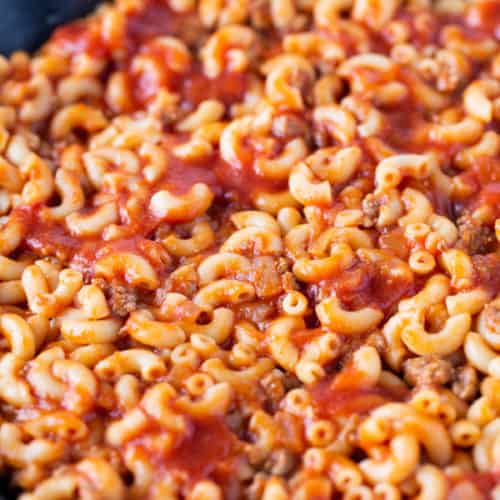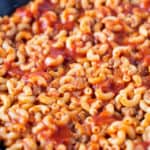 American Goulash
Easy 30 Minute Recipe for "Pasta and Beef."
Ingredients
Salt

1

pound

elbow macaroni

2

tablespoons

olive oil

1

medium

onion, finely chopped

1

pound

lean ground beef

1

clove

garlic, minced or put through a garlic press

1

(28 ounce)

can Hunt's tomato sauce

freshly ground black pepper, optional

4-6

ounces

cheddar cheese grated (about 1 1/2 cups) optional
Instructions
Fill a large pot three-quarters full with water. Cover and bring to a boil over high heat. Set a colander in the sink for draining the pasta. When the water reaches a boil, add salt, about two teaspoons, and the pasta. Stir with a wooden spoon for about 30 seconds, then stir occasionally while the pasta cooks.

In a large nonstick frying pan, heat the oil over high heat until hot and shimmering but not smoking. Add the onion. Cook, stirring frequently with a wooden spoon, until the onion is soft, about 3 minutes. Add the garlic. Cook, stirring frequently, until soft and aromatic.

Add the ground beef and cook, breaking up the clumps with a wooden spoon or heatproof spatula, until thoroughly cooked and browned, about four minutes. If desired, remove and discard any excess fat.

Stir the tomato sauce into the beef. Reduce heat to low. Taste. Season with salt and pepper if needed. (This is a good time to check the pasta if you haven't already.)

After about 10 minutes of boiling, check the pasta for doneness. Drain the pasta in the colander and return it to the cooking pot.

Add the meat sauce to the pasta and stir with a wooden spoon to combine. If using cheese, add it, one handful at a time, stirring between each addition until the cheese is melted.

Serve with additional sauce, optional.
Recipe Notes
Love Sauce?
If you love your pasta with lots of sauce, pick up a small (8 ounce) can of tomato sauce. Heat it gently, either in a microwave-safe cup or on the stovetop in a small pan, and serve alongside the pasta.