How to Make Pickled Jalapeños
Pickled jalapeños are easy to make! This recipe is perfect for beginners. It makes two small jars of spicy pickled jalapeños rings.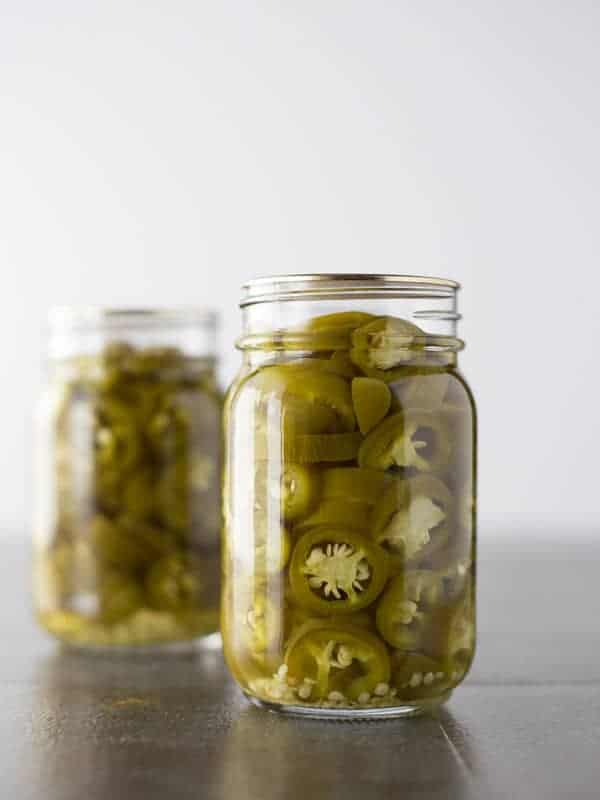 Today we're talking about canning jalapeños! If you have an abundance of jalapeños coming out of the garden, this recipe is for you. Don't despair if you don't grow jalapeños. Find a local grower, buy a pound or so and you're set to go.
This recipe makes shelf stable pickled jalapeños. So you'll need some familiarity with water bath canning. If you've never canned before, check out this tutorial on water bath canning.
The Basic Steps for Canning Pickled Jalapeños
Making homemade pickled jalapeños is easy but it does take some time. Here are the 10 basic steps.
Clean the kitchen. This is an important step when canning.
Slice the peppers into rings. Wear gloves while you do this. It prevents burns.
Heat the canning jars for 10 minutes.
Make the brine.
Pack the peppers tightly into hot jars.
Add pickle crisp. (optional but highly recommended.)
Ladle brine into the jars.
Remove air bubbles.
Wipe rims and apply lids and bands.
Process jars in a water bath canner.
What Do Pickled Jalapeños Taste Like?
It depends on the style of "pickling" used. This recipe uses a vinegar brine. They taste hot and spicy with a nice vinegar kick. Naturally fermented jalapeños, which aren't common, have a distinctly different flavor. They're pungent and taste strongly of pepper. If you've ever purchased pickled jalapeños at the store, chances are you've enjoyed a vinegar-brined pepper.
Selecting the Peppers
Use firm, unbruised peppers. Discard any peppers that show signs of mold. Clean all peppers thoroughly to remove dirt before canning.
Can You Use Jalapeños with Lines (Striations) On Them?
Yes! Homegrown peppers often have lines on them. These striations are normal and usually indicate a hotter pepper. As long as the pepper is firm with no mold, it's safe to use.
Can You Use Red Jalapeños?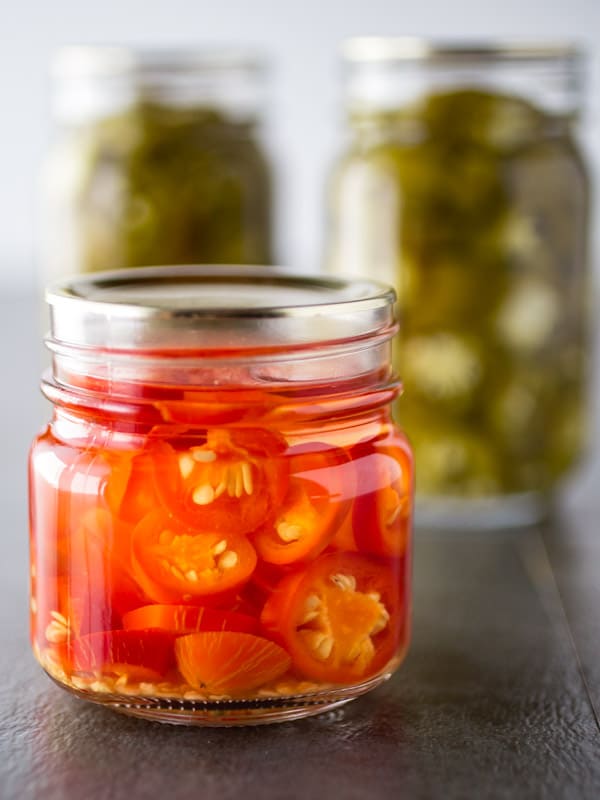 Yes! Fully ripe jalapeños turn red. They are hotter than green jalapeños peppers and work great for pickling. Each year a few dozen jalapeños get away from me in the garden and turn red. When pickling, I make a jar or two of just red jalapeños because….I like the way the look. Again, be sure to only use peppers with no signs of spoilage.
How to Make Brine for Pickled Jalapeños
The brine for this recipe is simple to make. For one pound of jalapeños, combine three and a half cups of white vinegar and one cup of water. If you want, add one tablespoon picking salt and bring the mixture to a boil. (The pickling salt keeps the canned jalapeños from turning cloudy. If you don't want to buy a box of canning salt, you can use Kosher salt. Just expect a cloudy appearance in your jars.) Adding salt is optional but it adds a nice flavor.
As with all canning recipes, don't adjust the brine. Peppers are low in acid. The ratio of vinegar to water keeps you safe. Use a vinegar that contains 5% acidity.
How to Pack the Jars
After heating your clean pint jars, it's time to pack them. Notice I said "pack". You really want to get as many pepper rings into the jar as you can. Of course, take care not to overly force the slices into the jar–there's no need to crush or bruise them.
After adding as many slices as you can, use a clean chopstick to poke the slices down. You can often get an extra handful or so of slices into the jar after poking them down with a chopstick.
How to Make Pickled Jalapeños Crisp and Crunchy
One of only problems with homemade pickled jalapeños is they can turn out mushy. No one wants a mushy pepper! To keep the pickled jalapeños crisp and crunchy, use Pickle Crisp by Ball or Mrs. Wage's Xtra Crunch. Both products are calcium chloride, which is a type of salt that keeps canned produce firm, among other things. To use, add 1/4 teaspoon per pint to keep the peppers crisp.
I didn't use pickle crisp one year. (To be honest, I was being lazy. I didn't want to run out and buy a jar.) That year, we ate peppers that tasted amazing but were mushy. The next season, I bought the pickle crisp. It made a huge difference! If you want crisp jalapeños peppers, get yourself a jar.
How to Make Pickled Jalapeños Less Hot and Spicy
Some folks ask how they can make their pickles jalapeños less hot and spicy. I hate to be the bearer of bad news here but…the level of heat and spice depends on the peppers themselves. You can try slicing the peppers in half and removing the seeds. This tends to reduce the heat level. However, expect your peppers to still be hot. This step takes a bit of time and, since you'll need to slice the peppers in half to de-seed, you won't get round rings.
How to Use Pickled Jalapeños
My answer to this is on everything! Seriously, I love these things so much. A better answer is that you can use pickled jalapeños on tacos, burrito bowls, nachos, pizza, or any place you want a little heat.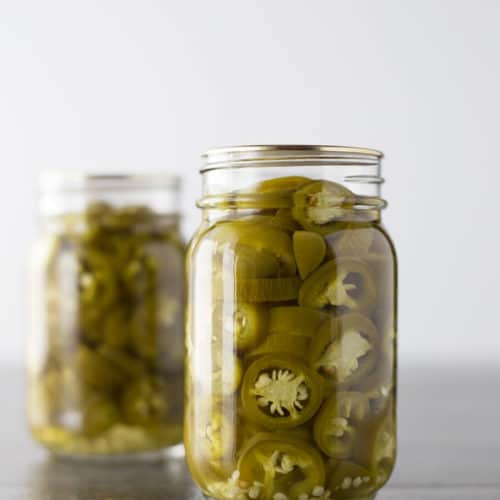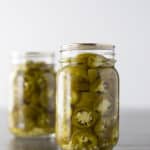 Pickled Jalapeños
Homemade Pickled Jalapeños are easy to make! This simple recipe, which uses the waterbath canning method, makes tasty and crisp homemade pickled jalapeños slices.
Ingredients
1 1/2

pounds

jalapeños peppers

3 1/2

cups

white vinegar (MUST be 5% acidity)

1

cup

water

1

tablespoon

pickling salt, optional

Ball® Pickle Crisp or Mrs. Wages Xtra Crunch, optional
Instructions
Slice Peppers: Wash peppers and cut off steams. Slice peppers into 1/4-inch thick rings. Wear gloves for this step to avoid burning your hands. And do NOT touch your eyes or any other sensitive body parts.

Heat Jars: Place a rack into the bottom of a large pot. Fill pot with enough water to cover jars. Submerge jars in water. Bring water to a simmer, 180 degrees. Simmer jars for 10 minutes. (Since the peppers process for 10 minutes, you don't need to boil the jars.)

Prepare the Brine: While the jars heat, combine vinegar, water, and salt medium saucepan. Boil for five minutes.

Pack Jars. Remove jars from the water. Pack the peppers into hot jars, leaving 1/2 inch headspace. Add 1/4 teaspoon Pickle Crisp to each jar, if desired.

Add Brine. Ladle brine into jars, leaving 1/2 inch headspace. Using a wooden chopstick, bubble tool, or soft rubber spatula, remove air bubbles. Measure headspace. Add more brine if needed.

Clean Rim and Apply Lids. Wipe rim with clean, damp cloth. Place lid on jar. Screw on band to "fingertip tight." You should feel some resistance but you don't want to crank the band on too tight.

Process Jars. Lower jars into pot. Water should cover jars by 1 to 2-inches after all jars are in the pot. Cover the pot. Return water to a boil. Process for 10 minutes. (Start the timer once the water returns to a boil.) Be sure to maintain a rolling boil during the entire 10 minute processing time.

When processing time completes, turn off the burner and remove lid. Wait 5 minutes before removing jars from the pot. Lift the jars out of the water straight. Avoid tipping the jars. Place hot jars on a towel-lined counter or wood cutting board. Allow jars to cool for 24 hours.

Check Seals. Press the center of the lid. It should not move. Remove outer ring. Gently try to lift the lid off the jar. It should not move. Wipe jars. Label. If any jar didn't seal, place into the refrigerator and enjoy within a week or so.

Store: Place jars in a cool place out of direct sunlight. For best flavor, wait six weeks before enjoying the peppers.