These burrito bowls cook under pressure for only ten minutes. The result is a one-bowl meal that's loaded with flavor!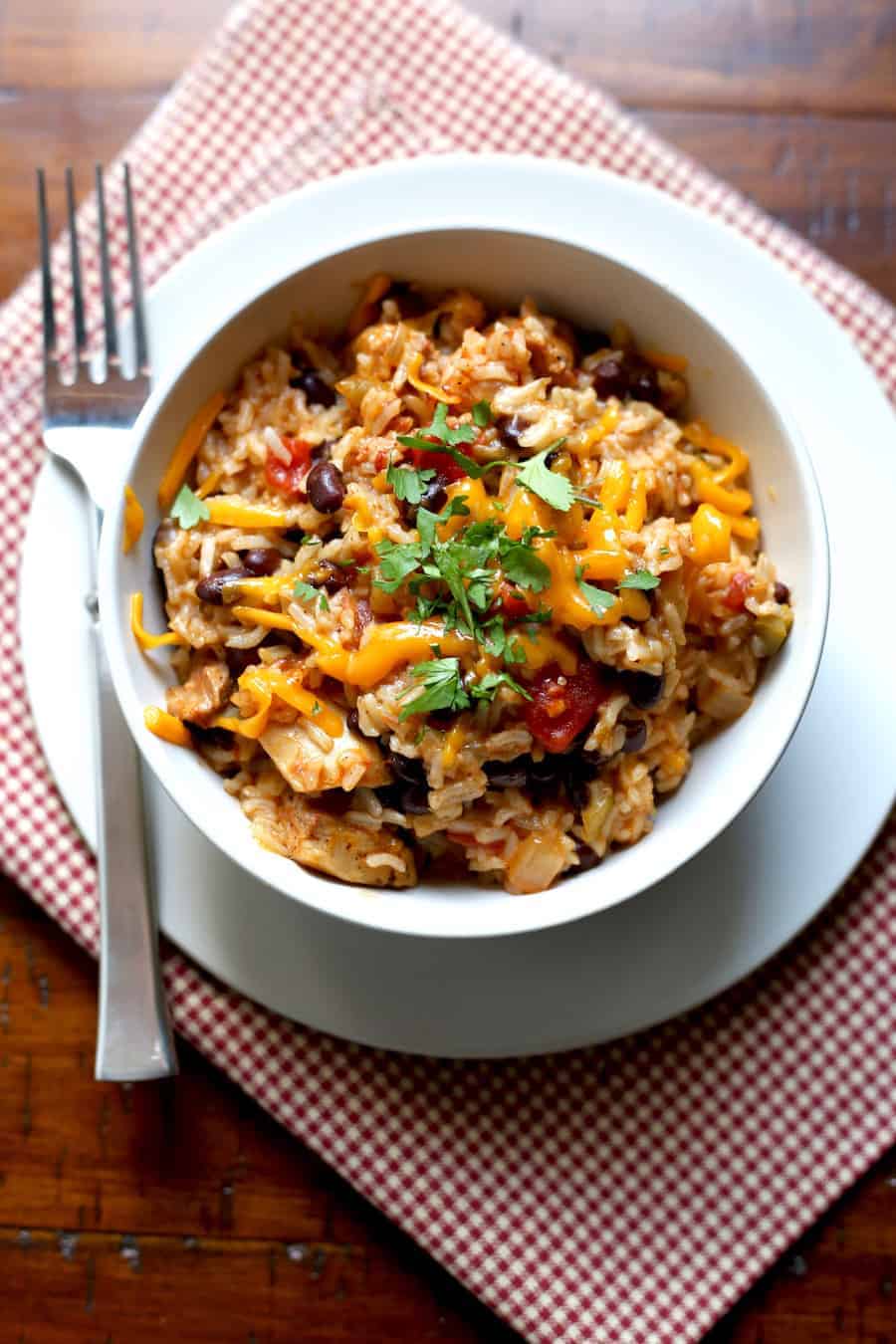 The Chicken
One of my favorite things about using an electric pressure cooker is that it gives me the ability to make a "one bowl" meal in minutes. Take these burrito bowls. Combine chicken, black beans, rice, and salsa with some sautéed onions and garlic, and, after ten minutes under pressure, you've got yourself a tasty meal.
So little work! So much reward!
When using a pressure cooker, I often use boneless, skinless chicken thighs instead of boneless chicken breasts. The meat always cooks up moist and flavorful. Where, in my experience, the chicken breasts sometimes come out rubbery.
To make life easier, buy a package of boneless, skinless thighs. They're sometimes labeled, "Thigh Filets". Then cut the chicken into bite-size pieces, about one to two inches each. (update: see note below about chicken breasts)
The Black Beans
Next up: Black Beans. In my opinion, black beans are the BEST beans. I love 'em so.very.much. Use low sodium or no salt added black beans. If you don't like black beans, replace them with pinto beans.
The Rice
For these bowls, I like plain, 'ol long grain white rice. You could use any white rice that you have in the house. Just don't replace the white rice with brown rice. The cooking time for brown rice, even in a pressure cooker, is vastly different.
The Chili Powder
Do you love chili powder? I LOVE chili powder! Since it's a spice blend (usually containing dried chili powder, cumin, garlic), the flavor varies from brand to brand. I use Penzey's Regular Chili Powder. It doesn't add much heat but it adds a nice kick of flavor.
If you want to add some heat, use Penzey's medium or hot chili powder.
The Salsa
Confession time: There are two types of salsa in my kitchen: cooking salsa and all the other salsas.
The collection of salsa that I use for chips and as a topping on foods salsa is REALLY spicy and flavorful. It would take over a dish in 0.02 seconds flat. So I tend not to cook with it.
For cooking, I want something that adds flavor but doesn't overpower the dish.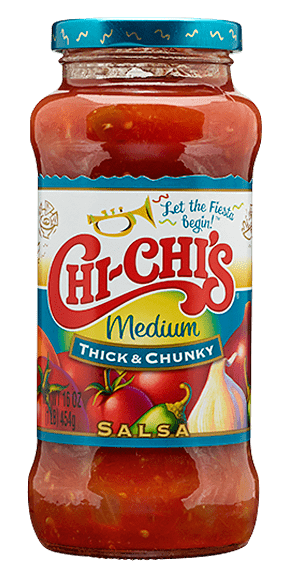 Enter: Chi-Chi's Medium Thick and Chunky salsa. Yes. I said Chi-Chi's. No, that's not a typo.
This salsa works really well in dishes like this one. It's a simple blend of tomatoes, peppers, onions, and garlic. That's it. And that's all I want from it.
If you have another salsa that you love and enjoy cooking with, use it! (And then let us know in the comments what you used. The salsa affects the flavor. If you find something amazing, share the love!)
The Chicken Stock
Two cups or one can of chicken stock helps build and maintain the pressure needed for the pressure cooker to seal. Don't skip this ingredient.
To keep the amount of salt in check, I always use a low sodium or unsalted chicken broth. Two really good ones are Trader Joe's and Kitchen Basics Unsalted Chicken Stock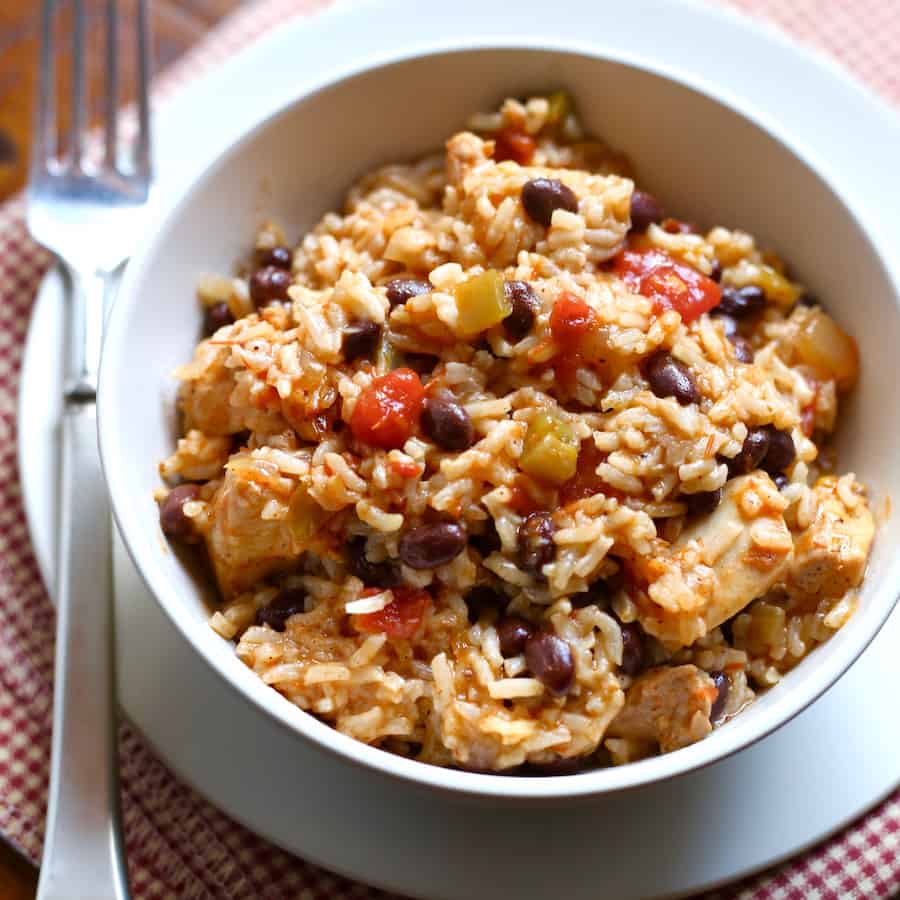 Topping it: Cilantro and Cheddar Cheese
As soon as you open the lid of the pressure cooker, this dinner is ready to eat. You don't need to top it with anything. But what fun would that be?
A sprinkle of Cheddar cheese and, if you don't hate it, cilantro finishes the burrito bowls nicely. If I have some sour cream hanging out in my fridge, a dollop always seems to find it's way into my bowl. And my husband always adds some pickled jalapeños and a spoonful of hot salsa to his bowl. So dress it up–or not–as much as you'd like.
Lunches or Leftovers
Consider making a batch of these burrito bowls and dividing it into four or five containers for a week's worth of easy lunches. To heat, add about a half teaspoon of water. Cover with a microwave cover/steamer and heat for a minute or so. (Reheat time varies based on your microwave.)
If you have a small portion leftover and want to get another meal out of it, cook up an egg, and plunk it onto the hot rice. This makes such a delicious dinner!
UPDATE: Chicken Breasts
Lots of folks have wondered if chicken breasts can be used in this recipe. Absolutely! Simply swap the chicken thighs for boneless breasts. You don't need to adjust the cooking time.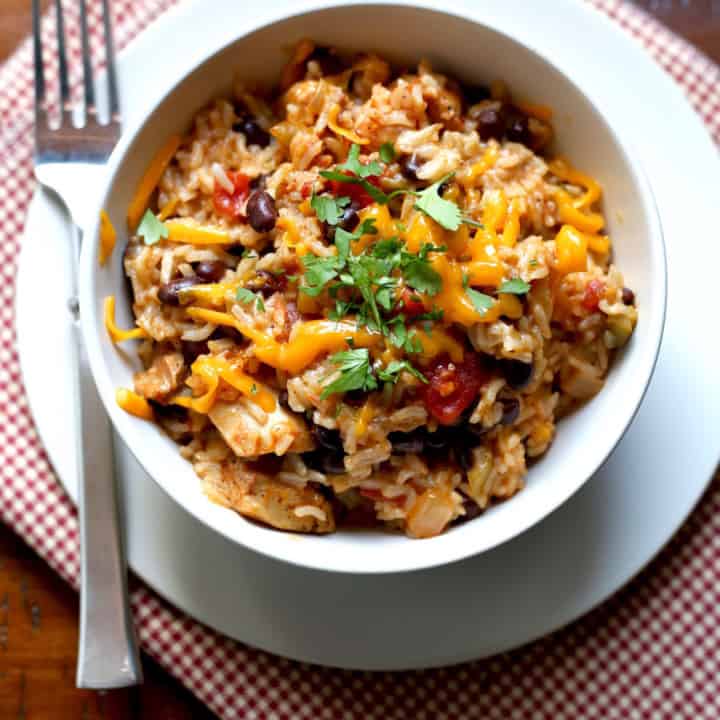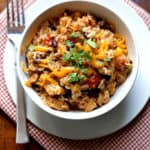 Pressure Cooker Chicken, Black Bean, and Rice Burrito Bowls
Ingredients
1

tablespoon

olive oil

1

small

onion, diced

1

clove garlic

minced or put through a garlic press

1

teaspoon

chili powder

(I used Penzey's Regular Chili Powder)

1/2

teaspoon

Kosher salt

1 1/2

pounds

boneless, skinless chicken thighs, cut into 1-inch pieces

1

(15.5 ounce) can

black beans, rinsed

(preferably low or no salt added)

1

cup

long grain white rice

uncooked

1

cup

salsa

(I used Chi-Chi's Thick and Chunky Medium Salsa)

2

cups OR 1 (14.5 ounce) can

chicken broth

(preferably low or no sodium)

1/4

cup

chopped cilantro

for serving, optional

1/4

cup

grated Cheddar cheese

for serving, optional
Instructions
Set electric pressure cooker to the saute setting. Heat olive oil until it shimmers but doesn't smoke. Add the onion and cook until soft, about two minutes. Add the garlic and cook an additional minute. Add chili powder and salt. Stir to combine. Add the chicken, black beans, rice, and salsa. Stir. Pour chicken broth over the mixture.

Lock the lid in place. Set a 10-minute cook time on high pressure.

Once the cook time completes, quickly release the pressure.

Open the lid away from your face. Stir with a wooden spoon or rubber spatula.

Serve with chopped cilantro and grated cheddar.