Pressure cooker mashed potatoes come light and creamy. The best part? This recipe is so easy, you can make a batch on a busy weeknight.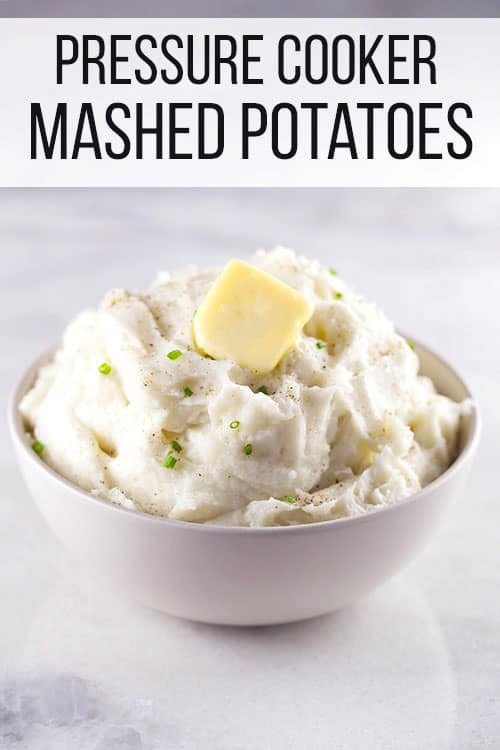 In my pre-pressure cooker days, mashed potatoes only landed on my table on a Sunday night. Making a batch on a busy weeknight was out of the question. By the time the potatoes boiled, we would have already eaten dinner.
Not anymore! Thanks to my pressure cooker, I now make creamy mashed potatoes in minutes—even on a busy day. In fact, I think mashed potatoes taste even better at the end of a busy day.
Pressure Cooker Mashed Potatoes: The Potatoes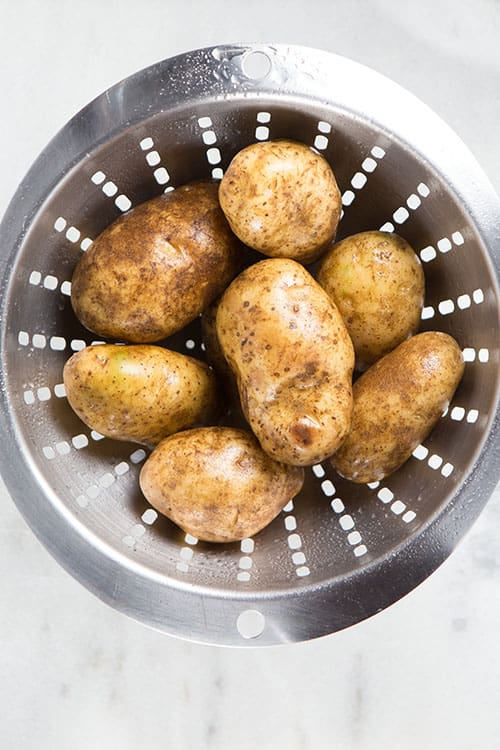 Let me be real here for a second. When I walk up to the potato selection at the grocery store, I get a little overwhelmed. There are so many varieties! Russets. Whites. Yellow. Red. Fingerlings. And those potatoes whose name I can never remember.
(cut to me googling) Best potatoes for mashed potatoes?
Cooking advice tells us to select a "starchy" potato for mashed potatoes. This is excellent advice. Starchy potatoes whip up into light and fluffy mashed potatoes. However, how do you know which potatoes are starchy? Most of the time, they don't put it on the bag or on a sign at the grocery store. For a long time, I couldn't remember if I needed Russet or white potatoes for mashed potatoes.
It was Russet potatoes that I was after.
Here's what I do now: I write down the name of the potatoes I need on my grocery list because the success of mashed potatoes starts right at the grocery store.
For the lightest mashed potatoes, get Russets. (These are sometimes labeled Idaho potatoes just to further confuse us all.)
Mashed potatoes made with Russets whip up fluffy and light. They aren't the most flavorful potatoes. This usually isn't a problem because it's easy (and delicious) to add all sorts of flavorful ingredients to mashed potatoes. (more about that in a second.).
When I want light and flavorful mashed potatoes, I use a 50/50 blend of Russets and Yukon Gold potatoes. Sometimes it's hard to find Yukon Gold potatoes. If your grocery store doesn't carry them, grab any type of yellow potato. They all work well.
I'll be honest, mashed potatoes made with a blend of Russets and yellow potatoes don't whip up as light as those made with all Russets. But the flavor and pretty golden color make up for this.
Pressure Cooker Mashed Potatoes: Peeling and Cutting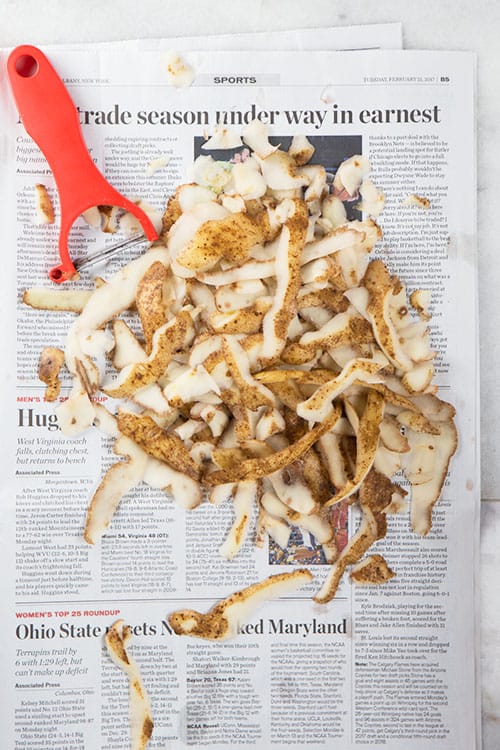 Peel the potatoes and cut into cubes. If you want to prep the potatoes in advice, put them in a bowl of cold water to prevent the potatoes from browning.
Whenever I peel potatoes, I always peel them over a piece of newspaper. It makes cleaning up the peels easy. I mean, what is it with potato peels? They like to stick to the counter like they've been glued down. To do this, you need to have a newspaper around. Let me step on a soapbox for a second. (ahem) Subscribe to your local paper if you can. Those newspapers are important to the community and they really need our support. (steps off soapbox)
Cook Fast Tip: Prep the potatoes up to 12 hours in advice. Place the cut potatoes into a bowl of water, cover, and refrigerate.
Pressure Cooker Mashed Potatoes: Cooking Them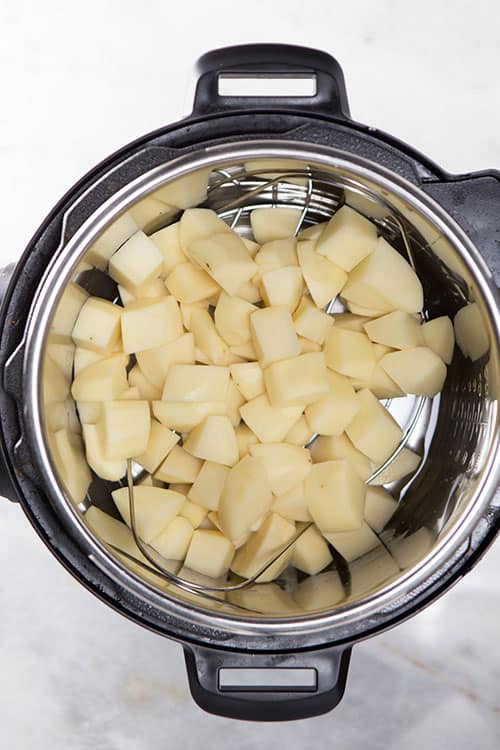 When my friend makes mashed potatoes, she cooks the potatoes right in the milk. This sounds like such a good idea-—until you get the unlucky batch of potatoes and milk that scorches on the bottom.
Since I don't want my milk to burn and ruin the potatoes, I cook the potatoes in water, not milk. In fact, if we want to get all technical, I'm pressure steaming them.
It's so easy to do. Pour water into the pressure cooker insert. Then put the steamer rack into the bottom of the pot. Place your peeled, cubed potatoes onto the rack. It's fine if a few of the potatoes fall through the rack into the water. There's lots of things to worry about in life. This isn't one of them.
Lock the lid in place. Close the steam release valve. Cook on high pressure for 8 minutes. When the time's up, do a quick release. Poke a potato or two with a fork. It should be nice and soft. If it's hard in the center, put the lid back on the pressure cooker and cook for an additional two minutes.
Pressure Cooker Mashed Potatoes: Mashing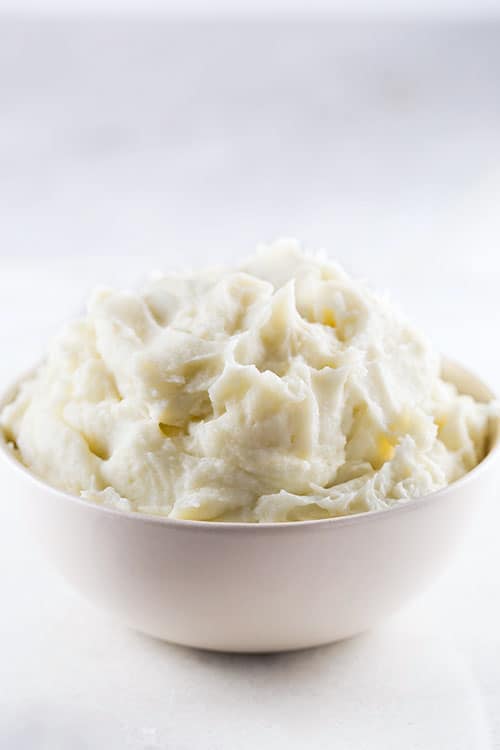 How do you like your mashed potatoes? Dense and creamy or light and fluffy? I'm firmly in the light and creamy camp. This means that I whip my potatoes with a handheld mixer instead of mashing them with the traditional potato masher.
Here are the tools you can use for mashing potatoes (and one to avoid)
Masher
Results: Dense, thick mashed potatoes often dotted with small lumps.
Pros: Easy-to-use. Kid-friendly.
Cons: Lumpy potatoes
link: the potato masher that I use and love.
Ricer/ Food Mill
Results: Creamy, dense mashed potatoes
Pros: Makes mashed potatoes with a silky texture. No lumps here.
Cons: Pain to clean (especially a food mill)
link: the food mill that I have. Nothing fancy for me.
Note: You don't have to peel potatoes before putting them through a ricer. I've found this to be somewhat true. Some of the peel always gets through and the holes tend to clog on me. I'd rather spend a few minutes peeling the potatoes than futzing with a clogged ricer.
Handheld/Stand Mixer
Results: Light, whipped potatoes
Pros: Whips a batch of potatoes very quickly.
Cons: Dirties a second bowl.
links: my stand mixer and my handheld mixer.
What to Avoid!
Food processor
Pros: None
Cons: Turns potatoes into a dense, gluey puree. Avoid the food processor when you're making mashed potatoes.
So which should you use? Whichever one you like. Seriously. They all make great mashed potatoes.
Pressure Cooker Mashed Potatoes: Flavoring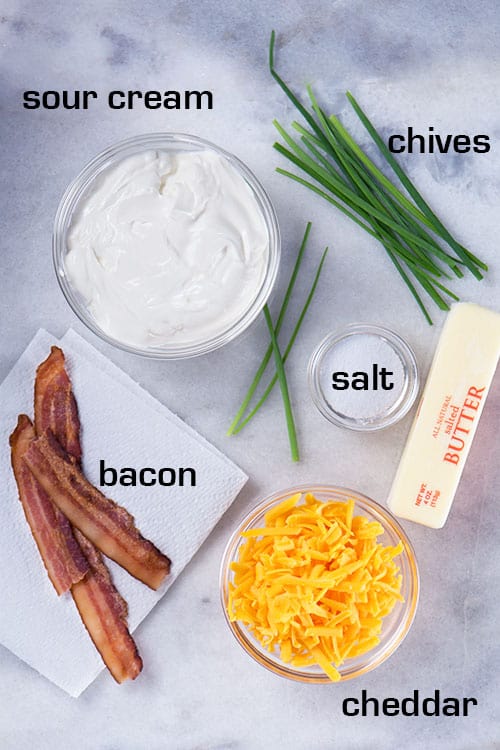 For years (and years and years), this is how I made my mashed potatoes: drained the potatoes, added milk and butter. Mashed. Done.
Then one day I read that if you added the butter first, the potatoes turned out creamier because the fat coated the starch. When I read this, I was skeptical. Could adding the butter first really make a difference? It does. Slightly. Now, if I remember, I add my butter first, and then the warm milk.
How much milk? Good question!
For two pounds of potatoes, I usually use about 3/4 cup of milk. That's just a guide. Potatoes vary. Some contain a little more moisture than others. Sometimes I'm better at draining than others. Go by feel on this. If the potatoes seem dry to you, add more milk, about 1/4 cup at a time.
Cook Fast Tip: Add as much milk as the potatoes need. This can vary from batch to batch.
What happens if you're in a rush and just dump the butter and milk in at the same time? Nothing bad. The potatoes still taste great. And, if I'm being honest, I do this at least 50% of the time.
Stir in whatever additions you're using, season with salt and pepper to taste, and you're done.
Pressure Cooker Mashed Potatoes: Variations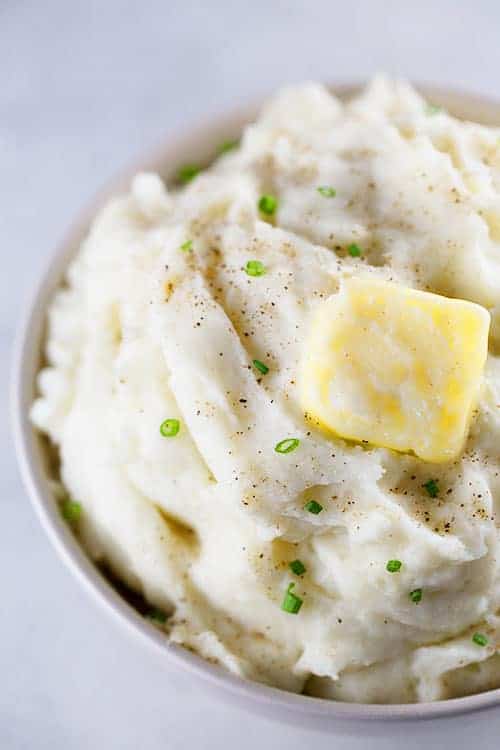 Regular mashed potatoes are pretty perfect in my opinion. Yet…sometimes you want a little something extra. Here are some ideas.
Garlic Mashed Potatoes
2 tablespoons butter
3 cloves garlic, minced or put through a garlic press
Follow directions through step three. While the potatoes are cooking, melt butter in a small skillet over medium-low heat. Add the garlic. Cook, stirring frequently, until the garlic turns light brown. Remove garlic from the heat. Stir into mashed potatoes.
Cheddar-Bacon Mashed Potatoes
1 cup shredded Cheddar cheese
2-3 strips bacon, crumbled
Mash the potatoes with the warm milk and butter. Stir in one cup shredded cheddar and half the bacon. Top with remaining crumbled bacon.
Vegan Mashed Potatoes
Omit the milk. Replace the butter with 4 tablespoons vegan butter (Earth Balance works best).
Toppers
Crumbled bacon, about three strips
Chopped Scallions, about one tablespoon
Snipped chives, about two teaspoons
Stir in and garish the mashed potatoes with bacon, scallions, or chives. Or a little or each.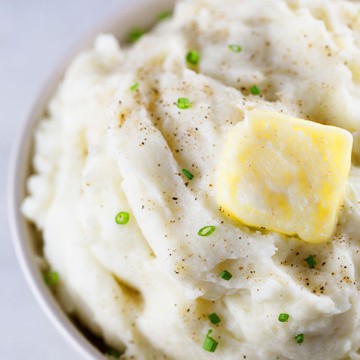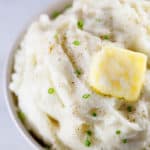 Pressure Cooker Mashed Potatoes
Mashed potatoes that come out creamy and light are possible in minutes thanks to your pressure cooker!
Ingredients
2

pounds

Russet potatoes, peeled and cut into medium cubes

1 1/2

cups

water

4

tablespoons

butter

3/4

cup

warm milk or half and half, plus additional as needed

salt and freshly ground pepper to taste
Instructions
Cook the Potatoes: Place potatoes on the steamer rack of your electric pressure cooker. (It's okay if a few fall through the grates.) Lock the lid in place and select an 8 minute cook time on high pressure.

Release the Pressure: Turn the pressure release valve to release the pressure. Unlock the lid and open away from your face. Test the potatoes. They should be soft. If they are hard in the center, replace the lid and cook for an additional two minutes. Drain the potatoes.

Mash the Potatoes: Mash the potatoes with a masher, food mill, or electric mixer. Add the butter. Stir to combine. Add 1/2 cup of the milk. Mix. Add more milk as needed--adding more than 3/4 of a cup of the potatoes seem dry. Season with salt and pepper to taste.
Recipe Notes
For Thicker, More Flavorful Mashed Potatoes: Use half Russet potatoes and half yellow potatoes. Look for Yukon Gold potatoes. These work great.