Cooking sweet potatoes in the pressure cooker takes only minutes and makes moist, tender sweet potatoes every time!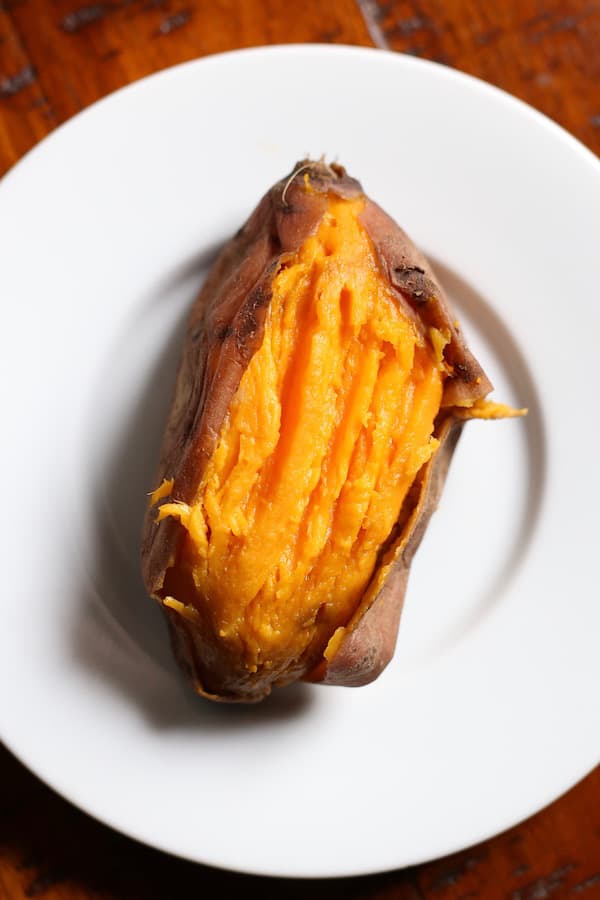 Sweet potatoes are one of my favorite side dishes. However, unless I was roasting a chicken or some other long-cooking dinner, I shied away from making them. I couldn't justify running the oven for an hour or so for only two or three sweet potatoes.
Enter: the pressure cooker.
Now I throw them in my Instant Pot and, in about 30 minutes, we have sweet potatoes that are tender and soft. No need for the oven!
You can eat them as is with a pat of butter–which is one of my favorite ways to enjoy a sweet potato. Or you can use the flesh for sweet potato pie, hash or a turn them into gnocchi. Mmm…gnocchi.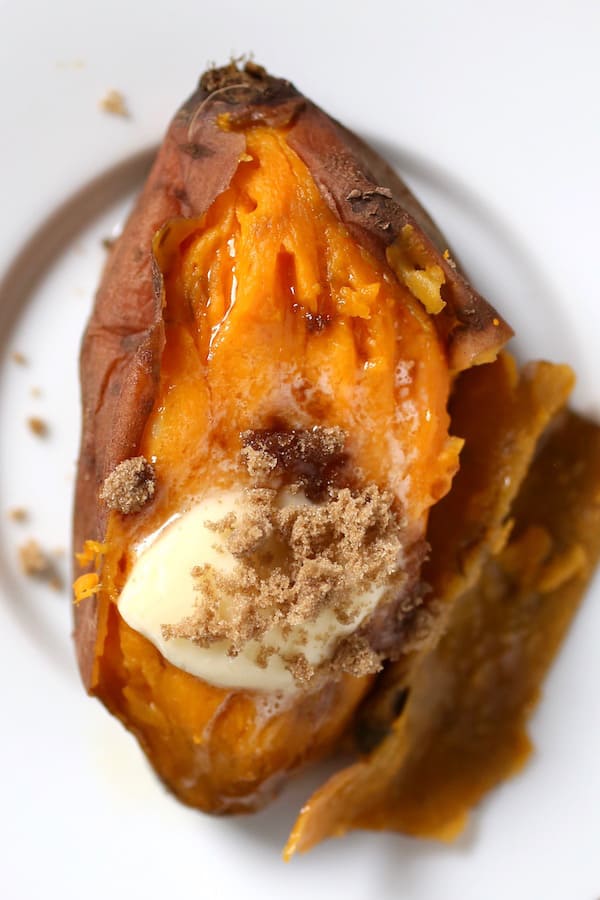 Pressure Cooker Sweet Potatoes: Selecting the Potatoes
For this recipe, look for classic American sweet potatoes. They should have copper skin and bright orange flesh. (Depending on where you live in the country, you might know these as yams. Fun fact: sweet potatoes are NOT yams. A yam is a starchy root vegetable grown in Africa and Asia.)
Look for potatoes that are on the small to medium side. Some sweet potatoes are HUGE. The bigger the potato the longer the cooking time.
Pressure Cooker Sweet Potatoes: Cooking
To cook sweet potatoes in the pressure cooker, you need a trivet or steam rack to keep the potatoes out of the cooking liquid. I used the steam rack that came with my Instant Pot. If you don't have a steam rack or trivet, I'd suggest getting one. They are really handy. Amazon sells a ton of them.
Wash the sweet potatoes and, carefully, prick them a few times with a sharp knife.
Then place the steam rack into the pot of your electric pressure cooker. Add 1 1/4 cups of water. Place the potatoes onto the steam rack; it's fine if they're stacked on top of each other.
Close the lid. Set the valve to "sealing" and cook for 20 minutes on high pressure. When the cooking time ends, allow the pressure to release pressure naturally for five minutes. After five minutes, open the valve and do a quick pressure release.
Pressure Cooked Sweet Potatoes: Checking for Doneness
Once the pressure is released, carefully open the lid and poke the center of the potatoes with a long knife or skewer. It should glide easily into the sweet potato. If it doesn't or if the potato feels hard, return the lid to the pot and pressure cook for an additional 5 minutes.
I'd say that most of the time an 18-minute cook time with a 5-minute natural pressure release works perfectly. However, some sweet potatoes are monsters. If you buy really large sweet potatoes (over a pound each) be sure to test them before serving to ensure they've cooked all the way through.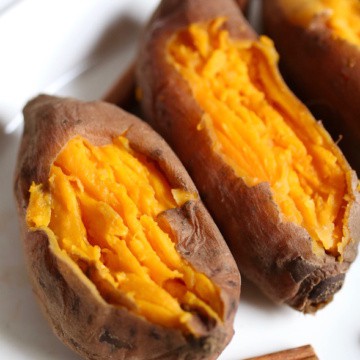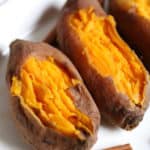 Pressure Cooker Sweet Potatoes
Sweet Potatoes cooked in the pressure cooker come out soft and tender in just minutes!
Ingredients
4

small-medium

sweet potatoes

1 1/4

cups

water
Instructions
Wash sweet potatoes. Carefully pierce each sweet potato a few times with a sharp knife.

Set steam rack or trivet into electric pressure cooker. Add water. Place sweet potatoes on the trivet. Close lid and set pressure valve to sealing.

Select high pressure and a 20-minute cook time. After cook time complete, allow the pressure cooker to rest for 5 minutes. Do not release pressure during this time. After 5 minutes, release pressure and carefully open the lid away from your face.

Pierce each sweet potato with a sharp skewer or knife. The knife should glide in easily. If the potatoes are hard, replace the lid. Set the valve to "sealing" and cook for an additional 5 minutes with another 5 minute natural release.