This easy-to-make rub gives chicken a smoky flavor with a mild kick. And the best part? You can customize it to your taste. Want it a little sweet? Add brown sugar. Love it spicy? Add cayenne. This rub will quickly become your signature blend.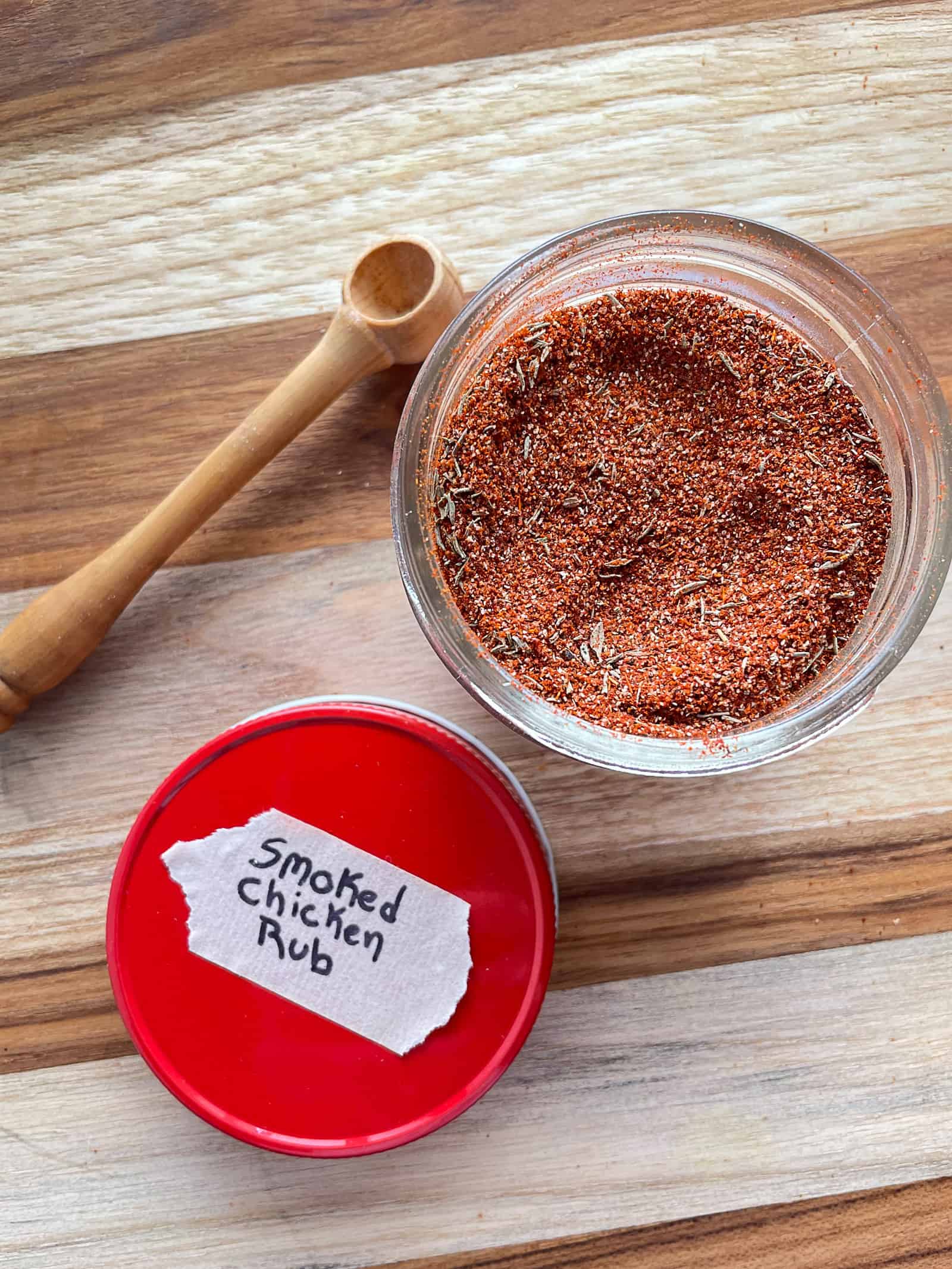 Why Use a Chicken Rub?
Some meats don't need anything more than a little salt and pepper for seasoning, chicken isn't (usually) one of them. Boneless, skinless chicken breast, for example, are bland on their own. A spice rub changes this. It brings flavor to every bite.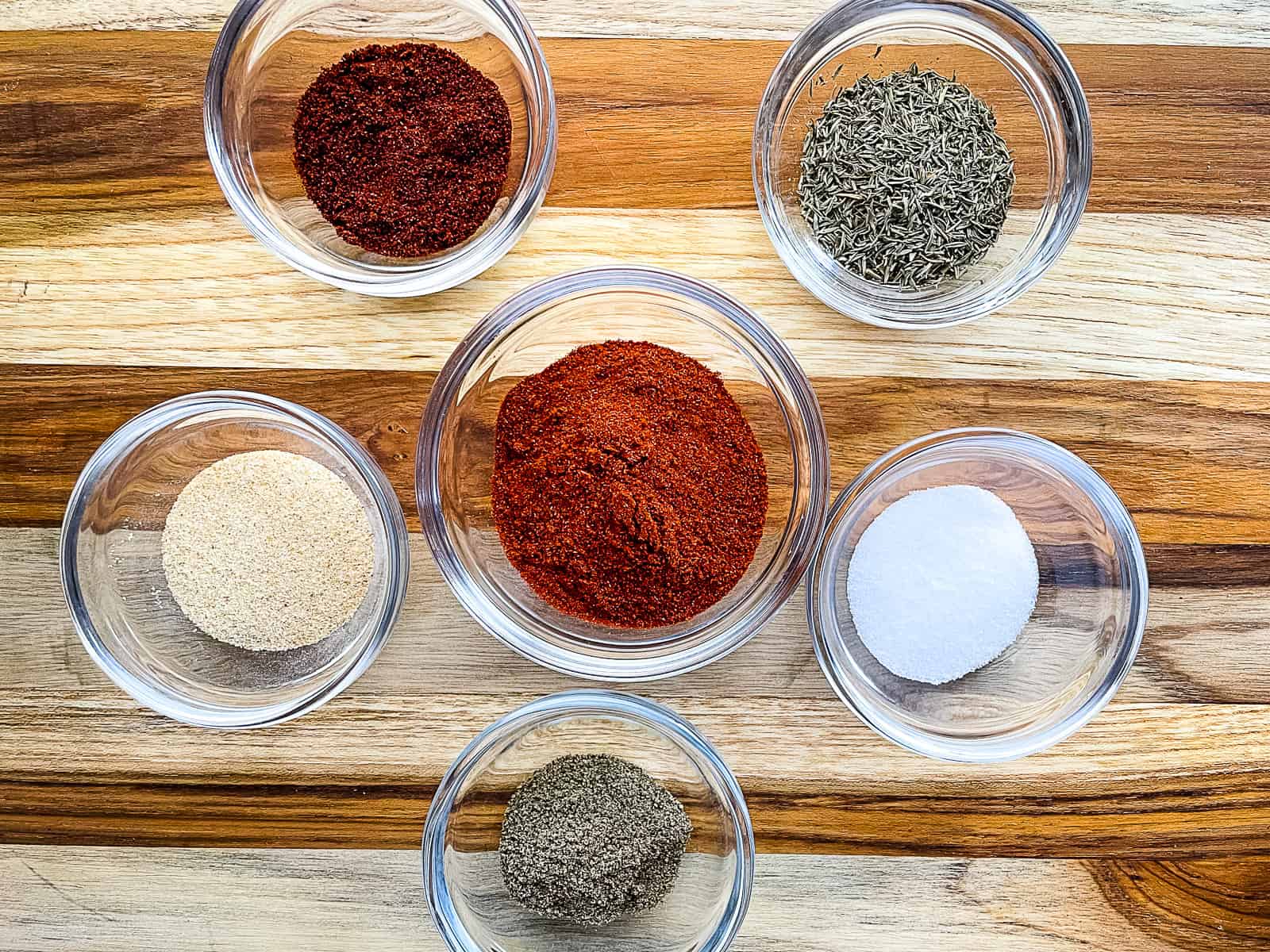 Ingredients and Substitutes.
No one wants bland chicken. Thankfully, a spice rub takes care of that in seconds.
To make this smoky rub, all you need are a few ingredients. The blend makes a rub that enhances the natural flavor of chicken but doesn't overpower it. Use it on grilled, baked, or barbecued chicken.
Smoked Paprika. The lovely smoky flavor of this rub comes from smoked paprika. Most smoked paprika is mild. However, it's also available in medium and hot varieties. These are usually sold at specialty spice shops.
Use: Smoked paprika. This is sometimes labeled pimenton or smoked Spanish paprika
Substitutes: Regular paprika or chili powder.

Dried Thyme. The flavor of thyme goes great with chicken. Its unique flavor, with notes of citrus and mint, is strong but not overpowering.
Use: whole thyme leaves, not ground thyme.
Substitute: Oregano.

Garlic Powder. Nothing is quite like the flavor of garlic. If you're a garlic lover, double the amount of garlic called for in this rub.
Use: Garlic powder, not garlic salt.
Substitute: None

Chipotle Powder. To enhance the smoky flavor of this rub, a little chipotle chili powder is used.
Did you know? Chipotle peppers are smoke-dried ripe jalapeño peppers?
Use: Chipotle chili powder
Substitutes: Ancho powder, hot paprika.

Black Pepper. Freshly ground black pepper is much more flavorful than preground. This is because the flavor components of black pepper oxidize and lose flavor over time. If you use pre-ground black pepper, increase the amount used.
Use: Freshly ground black pepper.
Substitute: Freshly ground white pepper.

Salt: Adding salt to a spice rub is always optional. You can mix the spice rub without it and then add salt to your chicken as needed. Not "to taste" because you won't be tasting raw chicken.
Use: table/fine salt, not Kosher/flaky salt.
Substitute: None, simply omit.
When should you put a spice rub on chicken?
The most important thing when applying a rub isn't time. It's coverage. You want to fully cover the chicken. If you're coating bone-in chicken or a whole chicken, make sure you get into all the folds of the meat. Bare spots = no flavor.
Spice rubs only penetrate about 1/8-inch of meat, according to Meathead Goldwyn, author of Meathead: The Science of Great Barbecue and Grilling, no matter how long they sit.
So it's unnecessary to apply them the night before–or hours before–cooking. Simply rub the blend onto your chicken before cooking.
Make It Your Own. Customizing the Blend.
For a Sweet Rub: Add brown sugar. Adding sugar to a spice rub does a few things. It adds sweetness. It enhances the flavor of the chicken. And it gives the chicken a light crust. You can use as much or as little brown sugar as you'd like. If your brown sugar is hard and lumpy, break if up with your hand or mash it with a fork before adding. If it won't break apart by hand, place all ingredients into a blender and blend on low speed.
For a Spicier Rib: Add chili powder. Chili powder is a blend of spices. The ingredients vary from brand to brand but a basic chili powder unusually includes: chili peppers, cumin, garlic and, oregano
For a Hot Rub: Add Cayenne Pepper. Either replace the chipotle powder with cayenne or add cayenne.
For a Hot and Spicy Rub: Add Chili powder and cayenne pepper. The combination of chili powder and cayenne powder is one of my favorite variations of this blend. It's smoky, flavorful and has a great kick.
How long does a homemade spice rub last?
You probably don't want to have to mix a rub every time you make chicken. So this recipe makes about 1/2 cup of rub.
To store it, place it in a clean glass jar with a lid. Store the rub in a cool, dark place. They last about a year. After that, the flavors in the various spices tend to fade.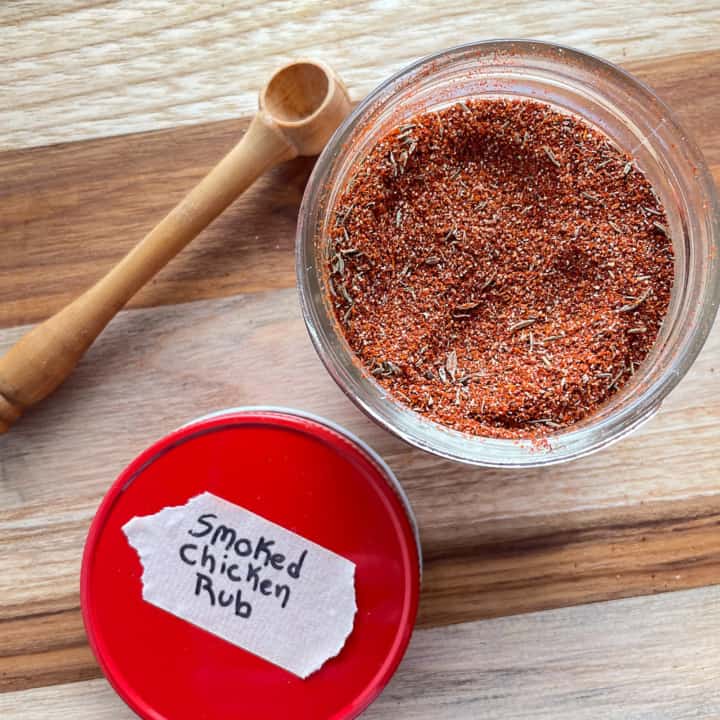 Smoky Chicken Rub
This easy-to-make spice rub gives chicken a smoky flavor with a mild kick. And the best part? You can customize it to your taste. Want it a little sweet? Add brown sugar. Love it spicy? Add cayenne. This rub will quickly become your signature blend.
Ingredients
3

tablespoons

smoked paprika

1

tablespoon

chipotle powder

1

tablespoon

garlic powder

1

tablespoon

dried thyme leaves

2

teaspoons

freshly ground black pepper

2

teaspoons

salt
Instructions
Whisk together all the ingredients. Place into a glass jar with a lid. Store for up to one year.
Recipe Notes
Variations
Mix and match the variations to create your own custom blend.
Sweet Rub: Add one tablespoon brown sugar.
Spicy Rub: Replace one tablespoon of the smoked paprika with one tablespoon chili powder.
Hot Rub: Add one teaspoon cayenne pepper.