Stuffing waffles are a fantastic way to use up leftover stuffing. They're perfect alongside leftover turkey or served as part of a hearty post-holiday breakfast.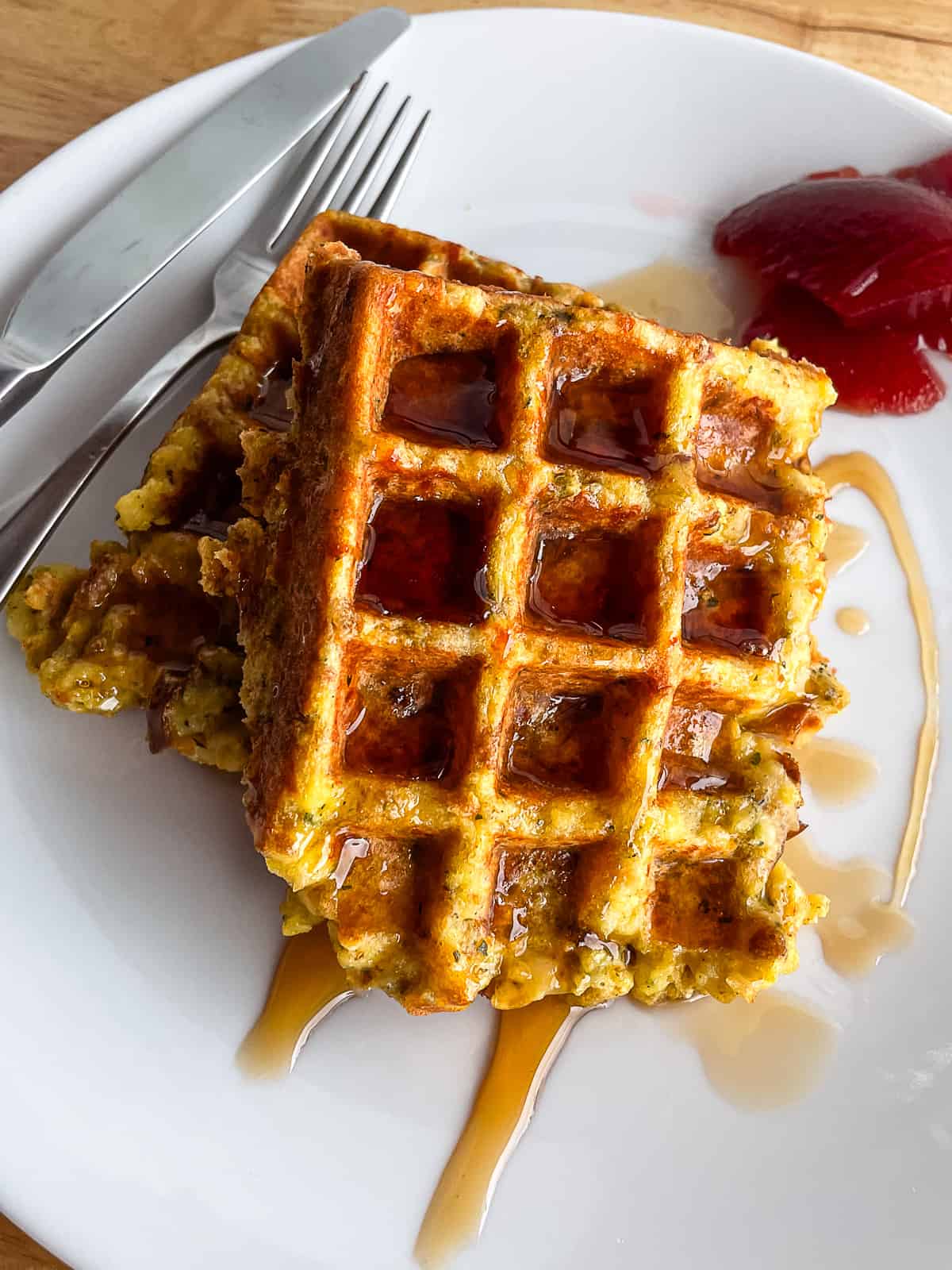 What's a "stuffle"? It's a waffle made out of leftover stuffing! And for years, making the perfect one eluded me. They'd either stick to the waffle iron or break apart when I'd go to remove them. The secret to perfect stuffing waffles ended up being a mere tablespoon of flour and cooking them in a really hot waffle iron. These two things make stuffing waffles that are crisp, flavorful, and don't stick to the pan. 
Ingredients. 
Here's what you need to make a batch. And if you don't have leftover stuffing? One box of instant stuffing, prepared according to the box directions, works great.
Leftover Stuffing. Traditional bread stuffing or cornbread stuffing work great for waffles. 
Eggs. You need one egg for every two cups of stuffing. If your stuffing already contains eggs or is very moist, you might want to use three cups of stuffing for each egg. 
Flour. This is the key ingredient. The flour helps the waffle hold together. 
Parmesan cheese. Adds a nice flavor and helps the waffles to brown.
How to Make Stuffing Waffles. A hot waffle iron is key.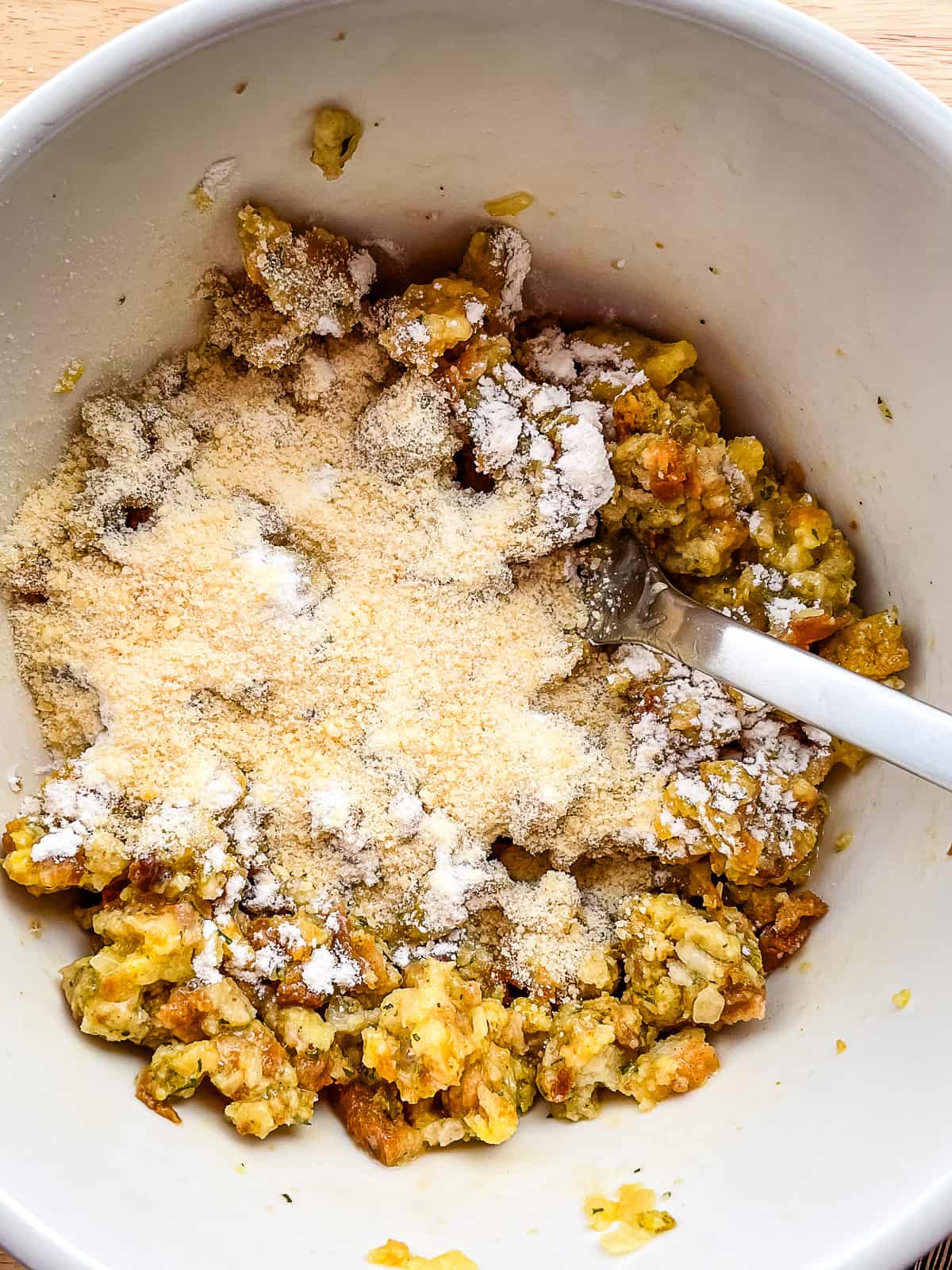 Make the Waffle Mixture. Break up the stuffing with a fork. If your stuffing contains large pieces of vegetables, meat, or bread, you might want to carefully chop it on a cutting board. The waffles work best if the stuffing is in small pieces or crumbles. So don't skip this step.

Once it's broken up, stir in the eggs, flour, and parmesan cheese. If you're adding cheese, stir it in now. 

Heat your Waffle Iron. The key to making great stuffing waffles is to use a hot, well-greased waffle iron. If the iron is cool when you start, the waffles can stick–even though we added flour.
Make the Waffles. Scoop the batter into the hot, greased waffle iron. Carefully spread it into an even layer before closing the waffle iron. 

Cook Until Brown. The cook time depends on your iron. Don't open the waffle iron right away to check on them. They'll pull apart and break if you do. A large waffle takes about three minutes to cook. Look for it to be brown and crispy before you remove it from the waffle iron.
What to Serve with Stuffing Waffles.
Serve hot with a drizzle of maple syrup or warmed gravy. They go great with breakfast foods, like eggs and hash. Or alongside a dinner with leftover turkey, sausage, or with a big green salad. Or just enjoy on its own.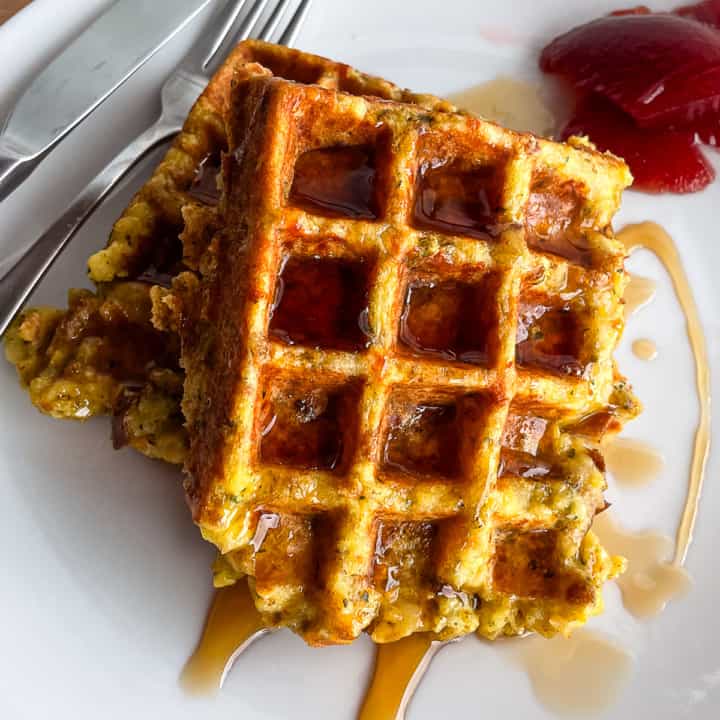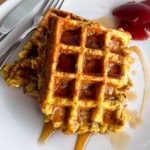 Stuffing Waffles
These stuffing waffles (stuffles) are a great way to use up leftover stuffing. Be sure to crumble the stuffing before using. The tablespoon of flour helps hold the waffles together. Serve with maple syrup or warm gravy.
Ingredients
4

cups

stuffing, crumbled or chopped into small pieces

2

large

eggs

2

tablespoons

grated parmesan

1

tablespoon

flour, plus more as needed
For Serving
maple syrup

gravy, warm

cranberry sauce
Instructions
Stir together crumbled stuffing, eggs, parmesan, and flour until the stuffing is coated. If the mixture seems very wet add an additional tablespoon of flour.

Heat a waffle iron according to the manufacturer's directions. Grease well with oil or nonstick cooking spray. If the iron isn't hot and well oiled, the waffles can stick.

Add the stuffing mixture to the hot waffle iron. Press into one layer. Close the iron and cook until the waffle is brown and crispy. Cook time varies depending on your waffle iron. A large waffle usually takes about three minutes.

Serve warm with maple syrup or leftover gravy and a spoonful of cranberry sauce.