The recipe for classic rice krispie treats only requires three ingredients: cereal, marshmallows, and butter. These bars come out soft and gooey. Just as you remember them!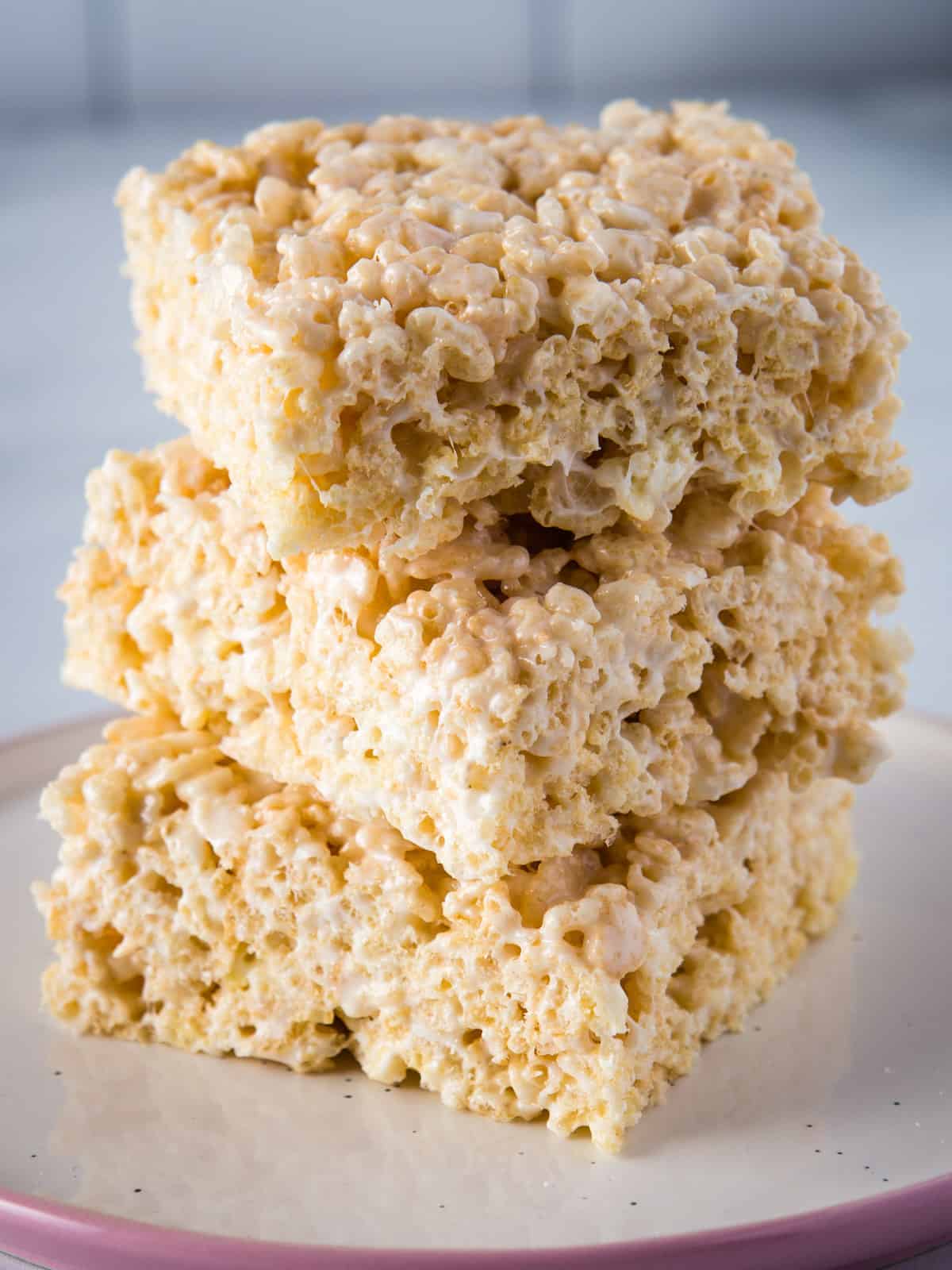 So you want to make a pan of soft and gooey rice krispie treats? Excellent!
Before grabbing your pot, wooden spoon, and marshmallows, there are three things you need to know: more butter, less cereal, and low heat.
Let me explain.
The current recipe on the box of Rice Krispies cereal calls for six cups of cereal, one bag of marshmallows, and three tablespoons of butter.
When I followed that recipe, the krispie treats it made were good but not great. They were too crispy. And, well, not gooey or rich enough.
So I did some sleuthing. It turns out, when I was growing up, the recipe my mother used called for 5 cups of cereal and 4 tablespoons of butter. So I did what any rice krispie treats lover would do: I made another batch. I wondered if those two small changes would make a difference.
Answer: they did!
It bumped up the marshmallow goodness just enough and enhanced the richness without tipping into too gooey or too rich.
This recipe is, in my opinion, the perfect take on the classic Rice Krispie treats.
Three Ingredients to Perfect Rice Krispie Treats.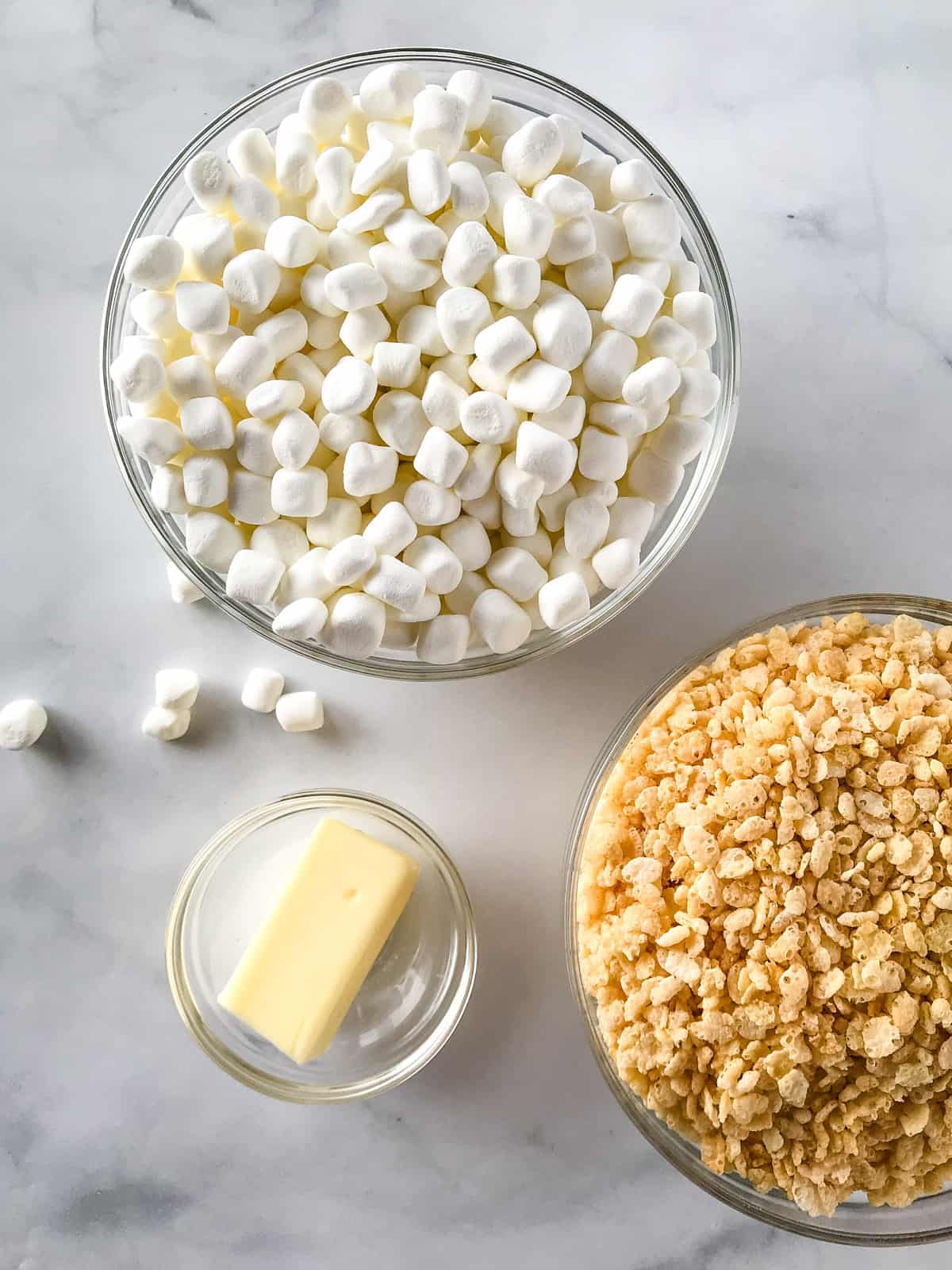 Many recipes for rice krispie treats use add-ins, like my recipe for Oreo Krispie Treats. Today we are making classic (and perfect!) rice krispie treats. And the good news? You only need three ingredients!
Cereal

: For classic crispy rice marshmallow treats, use crispy rice cereal. The classic, of course, is Kellogg's® Rice Krispies® cereal. If you're gluten-free, use a gluten-free version.

Butter

: Use salted or unsalted butter in this recipe. Margarine or coconut oil can also be used.

Marshmallows:

Use 10 ounces of marshmallows. (That's currently one standard bag.) Mini-marshmallows melt easily; so I prefer them to full-size marshmallows. The one type of marshmallow to avoid are those jumbo marshmallows. They're about three times the size of a standard marshmallow. Since they take so long to melt, the mixture can get overheated and, as you now know, that can cause hard treats.
The Optional Ingredients: Salt
Marshmallow rice krispie treats are sweet. Which means that a pinch of salt compliments them nicely. (If you've eaten a chocolate chip cookie with a pinch of salt on top or a salted caramel, you know what I'm talking about.)
A pinch of salt (about 1/4 teaspoon) tempers the sweetness of rice krispie treats without making them salty. Add the salt with the butter or use salted butter.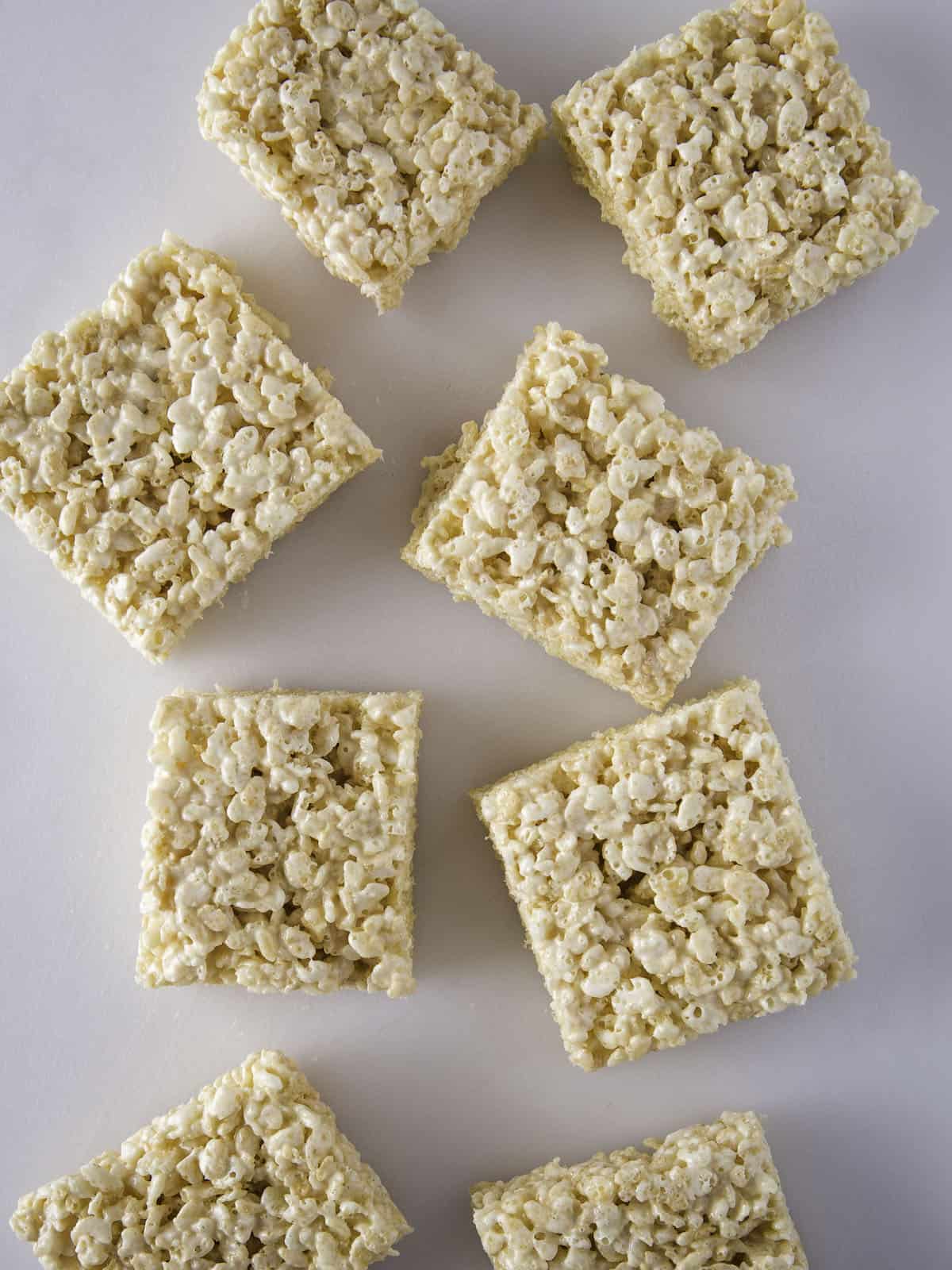 How to Make Rice Krispie Treats: Keys to Success
Use Low Heat. Have you ever eaten a rice krispie treat that was hard and crunchy? Yeah. Me too. To avoid hard rice krispie treats: melt the butter and marshmallows at a low temperature. If the melted marshmallows get too hot, the bars get crunchy when they cool.

Press Gently.

When pressing the mixture into the pan, don't press too hard. This compacts the treats and makes them hard.

Bonus Step. Use Parchment Paper. This step isn't required. A well-buttered pan works just fine. But the easiest way to get rice krispie treats out of the pan is to grease the pan. Line it with two pieces of parchment paper. (Criss-cross them) and, when the bars have set, lift them out of the pan with the help of the parchment.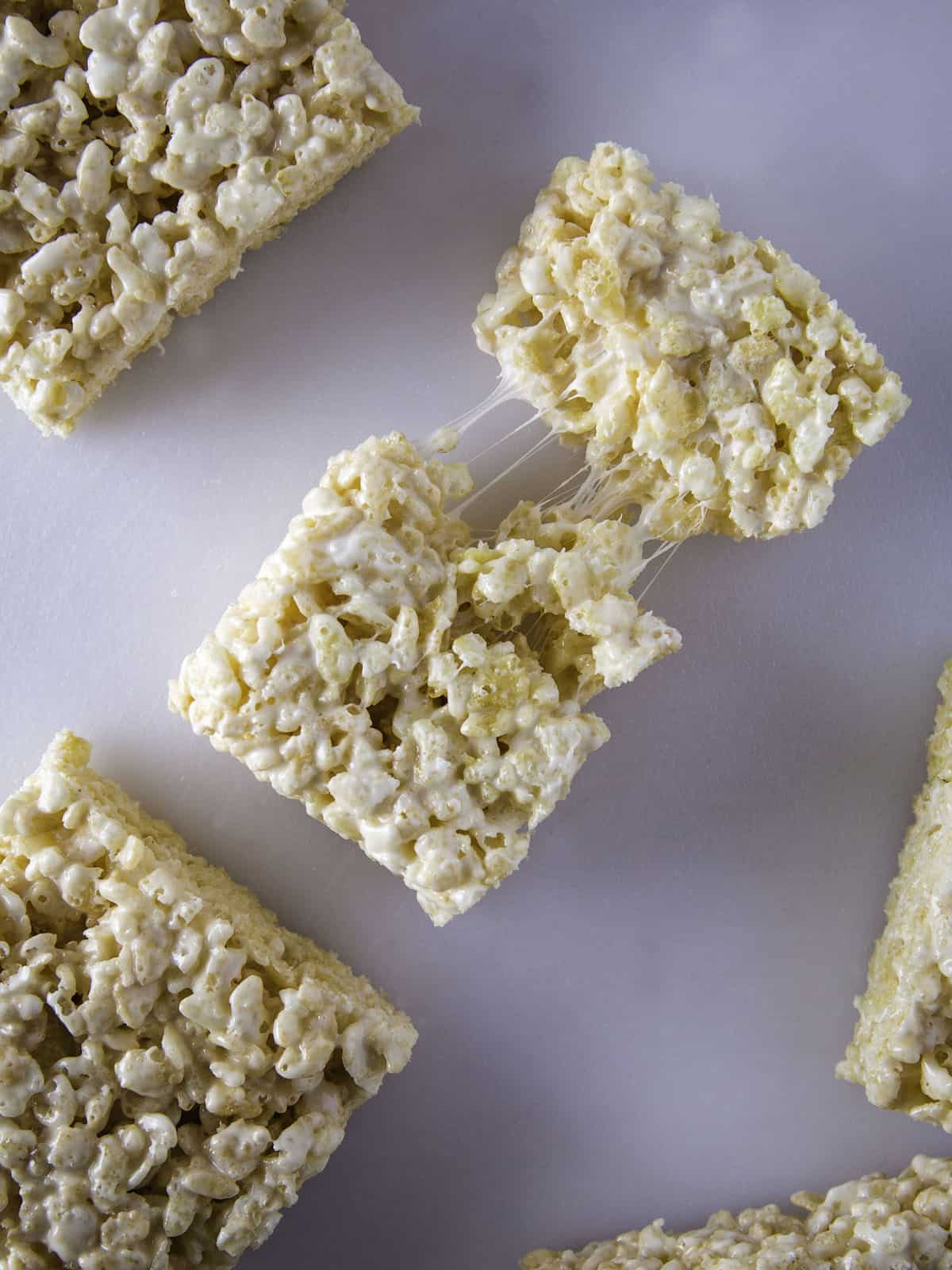 Rice Krispie Treats Recipe: FAQs
How long do rice krispie treats last?
Good question. They taste best the day you make them. They can be kept for several days if you cover them tightly.
Can I refrigerate rice krispie treats?
Sure! They tend to get hard when cold. So allow them to sit at room temperature before enjoying.
Can I freeze rice krispie treats?
Yes. Cut the bars into squares and layer a piece of parchment or waxed paper between them before freezing. You can freeze them for up to six weeks. Before serving, allow them to thaw completely.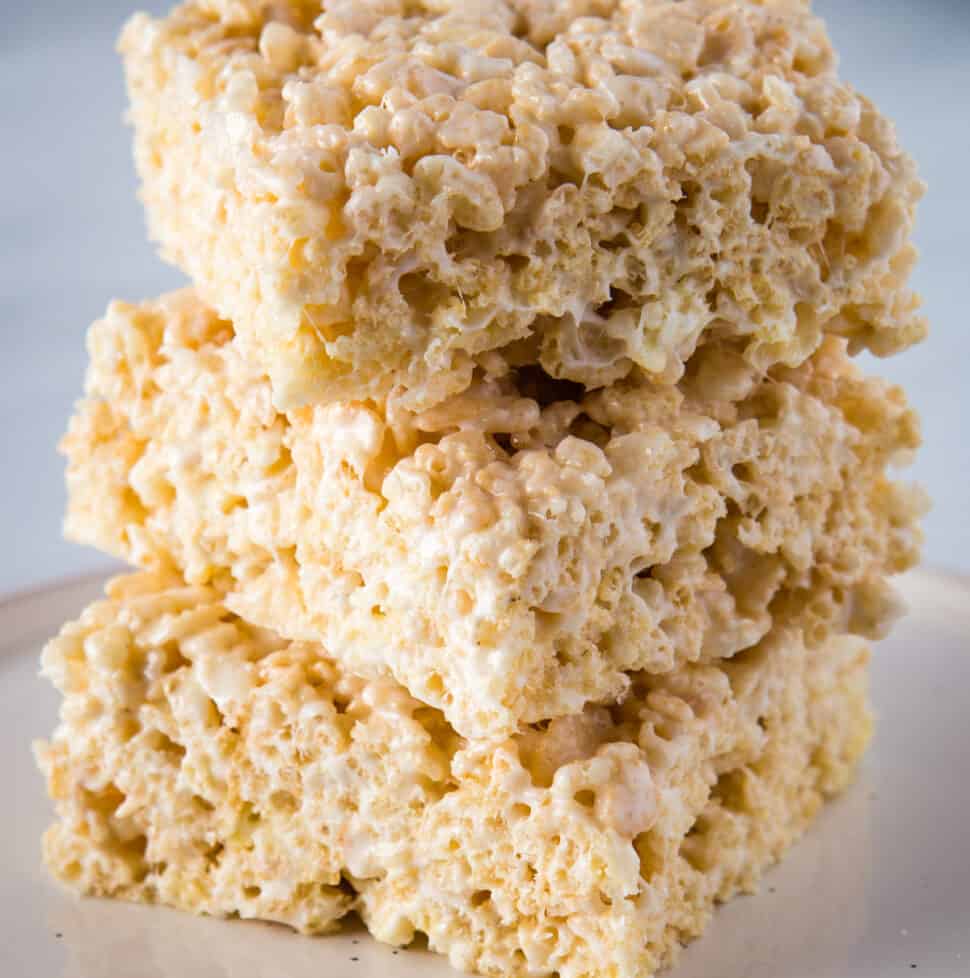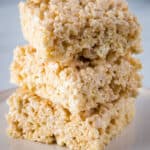 Rice Krispie Treats Recipe
You only need three ingredients to make perfect Rice Krispie treats: cereal, marshmallows, and butter.
Ingredients
4

tablespoons

butter, salted or unsalted

(2 ounces; 56 grams)

1

(10 ounce) bag

marshmallows, mini or regular (Jumbo not recommended)

5

cups

Rice Krispies cereal
Instructions
Prepare your pan. For thick bars: Grease an 8x8x2-inch pan with nonstick cooking spray or softened butter. For thin bars: grease a 9x13 inch pan with nonstick cooking spray or butter.

For the easiest removal, line the pan with two pieces of crisscrossed parchment paper.

Melt the butter. In a large pot, melt the butter over low heat. You don't want it to sizzle.

Add the marshmallows. Add the marshmallows and stir to combine. Continue stirring until marshmallows are melted. To keep the krispie treats soft and not crunchy, melt the marshmallows slowly over low heat.

Add the cereal. Remove the pot from the heat and stir in the cereal until coated.

Press into pan. Place the mixture into the prepared pan and gently press into place. A greased metal spatula makes this easy.

Cut into squares. Allow the bars to set for an hour or so and then cut into bars.

Store at room temperature. Rice Krispie treats are best enjoyed the day they are made. However, you can cover the leftovers and store at room temperature.
Recipe Notes
Notes
Butter: Use salted or unsalted butter. An equal amount of coconut oil or margarine may also be used. 
Marshmallows: Mini-marshamallows melt the easiest. Avoid "jumbo" marshmallows (These are sometimes called s'more marshmallows) The jumbo marshmallows take a long time to melt and can make for hard rice krispie bars. 
Store: Cover the bars and store on the counter. Rice Krispie treats may be refrigerated or frozen. Place a piece of waxed paper between the bars before chilling. For the best texture allow the bars to come to room temperature before serving.