This elegant tomato pie combines fresh tomatoes, zucchini, and caramelized onions. A layer of provolone cheese hides under the tomatoes. To prevent the crust from getting soggy the zucchini is cooked before being added to the pie.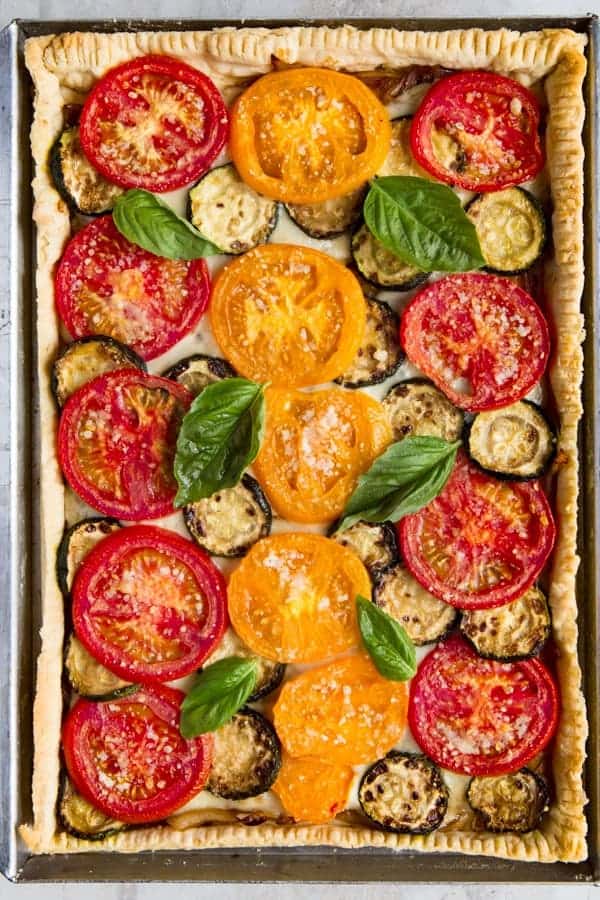 How to Make a Tomato Slab Pie
This elegant slab pie makes a great end-of-summer dinner. Here's what you'll need:
A Jelly Roll Pan (10×15-inches)
Two Sheets of premade pie dough
Local Fresh Tomatoes
Zucchini
Onions
Provolone
Fresh Basil
The Tomatoes
Let's talk about the most important ingredient: the tomatoes. This recipe is a late-summer treat. There's no way around it.
Out-of-season and supermarket tomatoes are bland and watery because the tomatoes don't ripen on the vine. Since truly ripe tomatoes are so delicate, supermarket tomatoes are picked when they're still hard and green. Before hitting your supermarket's shelf, the tomatoes are treated with ethylene gas–the gas that's naturally produced by plants to trigger ripening. This causes the tomatoes to turn red but it does nothing for the flavor.
When tomatoes ripen on the vine, they develop a sweetness and flavor that you don't find in supermarket tomatoes.
Look For: in-season locally grown tomatoes. There are wonderful heirloom varieties available at most farmers markets. Ask for meaty varieties, such as the Cherokee Purple, Brandywine, or, one of my favorites, the Mortgage Lifter.
The Dough
Premade pie dough is your friend here. (Of course, if you have a homemade pie dough recipe that you love, go ahead and use it.)
Since tomatoes are so juicy, tomato pies can get soggy. To prevent a soggy crust, prebake the crust before topping. This step is a bit of extra work but it's worth it.
You'll Need: Two sheets of premade pie dough.
The Cheese
Hidden under the tomatoes is a layer of sharp provolone. It's nutty flavor provides a nice contrast to the sweetness of the tomatoes. If you don't like provolone, replace it with grated whole milk mozzarella.
The Onions and Zucchini
This pie isn't hard to make but it does require two steps that are a little…putzy.
As mentioned above, you need to bake the crust before topping to prevent it from getting soggy when you add the tomatoes.
You'll also need to saute the zucchini and onions before putting them on the pie. (If you want to skip these ingredients, go for it. Tomatoes + cheese + fresh basil= a yummy, easy pie.)
This takes about 45 minutes. The reason it takes so long? The onions. You want to cook them slowly so they have time to caramelize. To save time, you can cook the zucchini and onions the day before you plan on baking the pie. Store cooked zucchini and onions in the refrigerator overnight.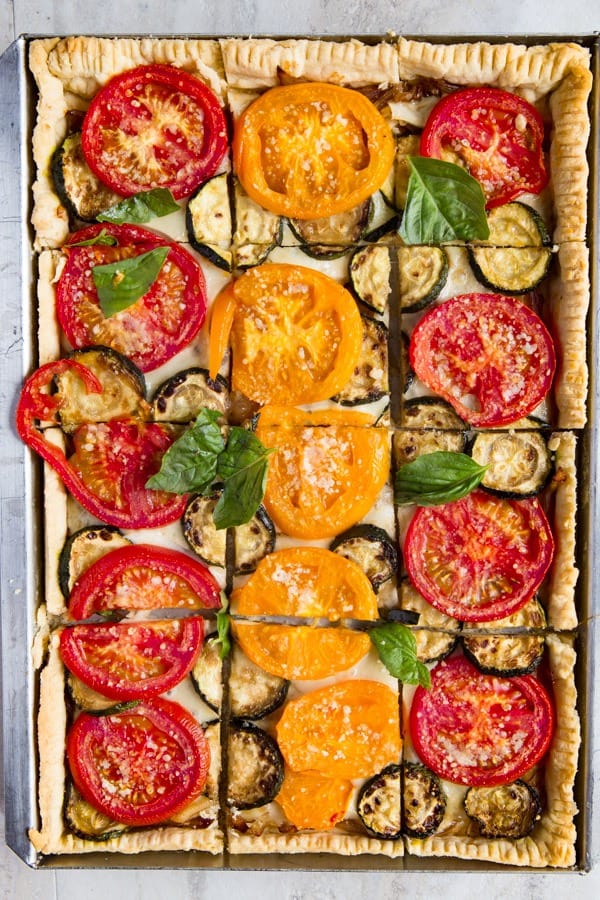 Serving
Whether you serve this pie warm or at room temperature, it's best enjoyed the day you bake it.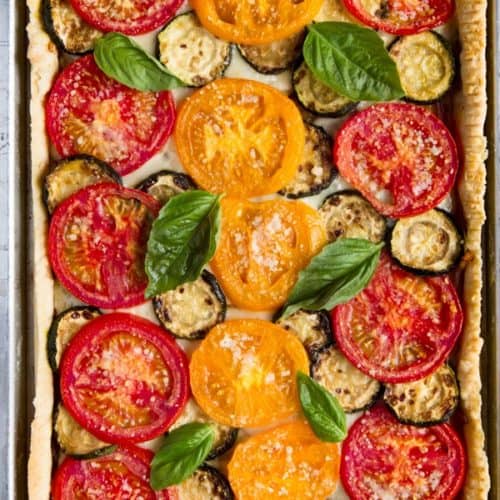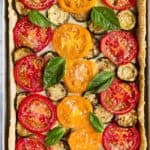 Tomato Slab Pie
This elegant tomato pie combines fresh tomatoes, zucchini, and caramelized onions. To prevent the crust from getting soggy the crust is baked before topping.
Ingredients
1

tablespoon

olive oil,divided

1

small

zucchini, sliced into thin coins

2

medium

onions, sliced

1/2

teaspoon

salt

2

sheets

premade pie dough

8

slices

about 6 ounces provolone cheese, optional

3

large

tomatoes, sliced

1/4

cup

Parmesan cheese, optional

6

leaves

fresh basil, finely chopped
Instructions
Prepare the Zucchini and Onions: Heat half the oil in a large nonstick skillet over medium-high heat until it shimmers. Add the zucchini and cook until golden brown. Transfer zucchini slices to a plate. Wipe out pan and return to the burner.

Heat remaining oil over medium-low heat. Add onion slices and salt. Cook, stirring occasionally, until onions are soft and tender, about 30 minutes.

Bake the Crust: Adjust oven rack to the middle position. Heat oven to 425°F. Remove two of the pie crusts from the box. Unroll each crust and stack on each other. Lightly flour your counter and roll dough out into a 17x12-inch rectangle using a rolling pin.

Bake crust until lightly golden brown, about 15 minutes. Remove crust from oven and place on a wire rack. Keep the oven on.

Top and Bake the Crust: Allow the crust to cool for a few minutes. Spread onions evenly over the bottom of the crust. Top with provolone slices. (Depending on the size of your slices, you might need to split a few in half so the crust is evenly covered.)

Place the sliced tomatoes and cooked zucchini in one layer over the cheese. Sprinkle parmesan over the tomato and zucchini slices. Return pan to the oven and bake until cheese melts and tomatoes look soft, about 15 minutes.

Remove pan from the oven and place on a wire rack. Allow to cool for 15 minutes before slicing. Sprinkle chopped basil over the pie.