The delicate flavor of white chocolate lends itself nicely to a dessert sauce. White chocolate chips and a generous amount of vanilla extract bring a lovely flavor, while condensed milk brings a milky sweetness.
And if you love white chocolate lattes, you're in luck. The sauce is thinner than chocolate hot fudge sauce—making it easy to stir into both hot and iced coffees. If your sauce happens to thicken when chilled, warm it for a few seconds in the microwave before adding to cold drinks.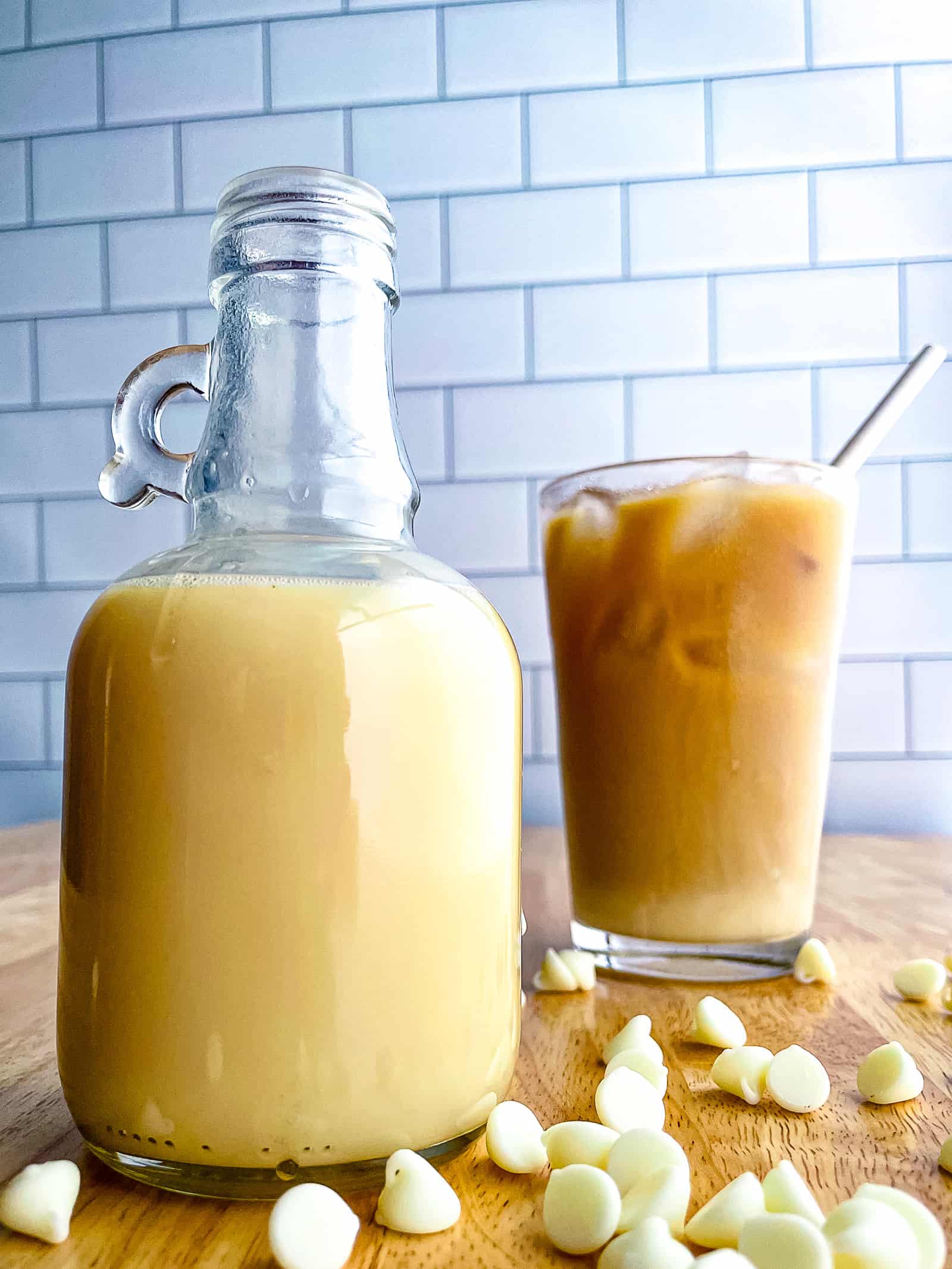 If you've ever tried a white chocolate latte, you know how delicious white chocolate sauce tastes. This homemade version is creamy and sweet—and really easy to make. To keep the sauce nice and smooth, remember to whisk the granulated sugar with the cornstarch.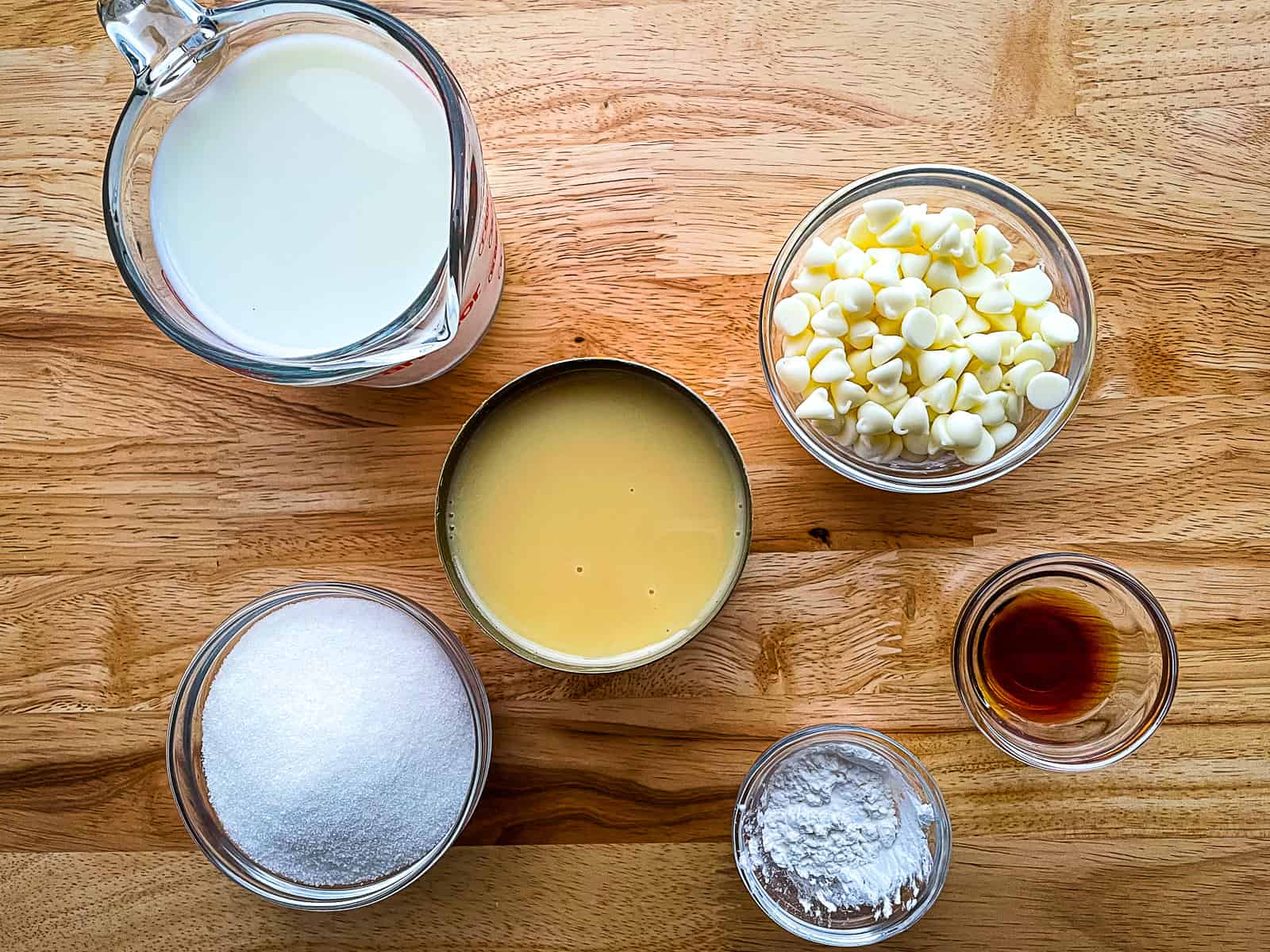 White Chocolate Sauce Ingredients.
Here's what you'll need to make a batch of white chocolate sauce.
Milk. A cup of milk helps the sauce pour easily. For a thicker sauce, reduce the amount to a half cup. Avoid using full-fat coconut milk in this recipe. It makes the sauce very thick.
Sugar. Granulated sugar adds a nice sweetness. Brown sugar also works well in the recipe. White chocolate sauce made with brown sugar has light caramel and molasses notes and a darker color. Avoid turbinado sugar. The larger sugar crystals can make the sauce gritty.
Cornstarch. A teaspoon of cornstarch helps the white chocolate chips blend into the sauce. Made without cornstarch, the chocolate can float to the top of the sauce and harden when it cools.
Sweetened Condensed Milk. Much of the sweetness and flavor comes from a can of sweetened condensed milk. It adds a white chocolate-like flavor and keeps the sauce smooth and pourable. I recommend using regular (full fat) sweetened condensed milk.
White Chocolate Chips. There's not much white chocolate in this recipe. You only need to use a half cup (about 4 ounces). Using more white chocolate chips than that makes the sauce thick and hard to stir into drinks.

Let's talk about white chocolate chips. Most brands sold at the grocery store are not white chocolate. To be labeled "chocolate", they need to contain cocoa butter. You'll notice bags at the store are chip-shaped but labeled "white chocolate morsels" or "white baking chips." They don't contain cocoa butter and, instead, have a different fat. If you can find white chocolate chips, use them. If not, no problem. The recipe was developed with white chocolate morsels.
Recipe Variations.
Pumpkin Spice White Chocolate Sauce. Add 2 teaspoons of pumpkin spice.
Raspberry White Chocolate Sauce. Add one teaspoon of raspberry flavor. Add more as needed.
Orange White Chocolate Sauce. Add one teaspoon of orange flavor. Add more as needed. Do not add orange juice. It curdles the sauce.
Mint White Chocolate Sauce. Add a few drops of pure peppermint oil. If using peppermint flavor, add a half teaspoon.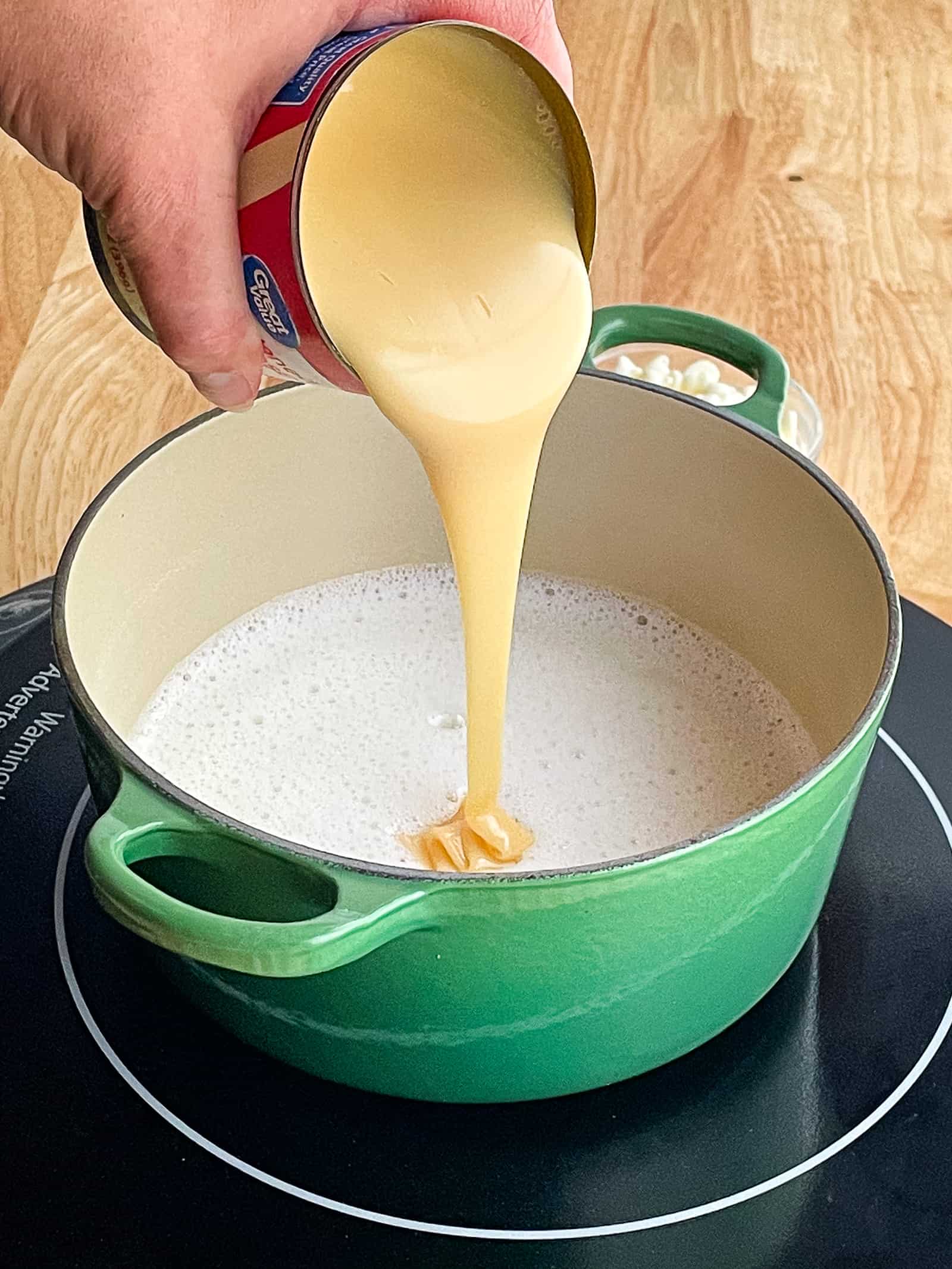 How to Make White Chocolate Sauce. Steps and Tips for Success.
Here are the key steps to ensure your sauce comes out perfectly every time.
1. Use a medium pan. 
At first glance, you'd think a small pan would be the right size for this recipe. It's not. If you've ever boiled milk, you know how quickly it can foam up and overflow the pan. A medium pan gives the sauce room to cook–and prevents overflow.
Tip: Use a pan that's about 2 quarts (4 cups).
2. Combine the Sugar and Cornstarch. 
Start the sauce by whisking the sugar together with the cornstarch. Doing this keeps the cornstarch from clumping.
Tip: Whisk the sugar and cornstarch together right in the pan. There's no need to dirty a bowl for this step.
3. Bring it to a Boil. 
Cornstarch must be cooked to 203°F before it begins to thicken. But there's no need to use a thermometer. Simply bring the milk, sugar, and cornstarch to a boil, and it will thicken nicely.
Tip: Whisk constantly while bringing the milk-sugar mixture to a boil. Since the sauce contains cornstarch, it can stick to the bottom of the pan and scorch. While whisking, pay attention to the edge of the pan.
4. Reduce the Heat. 
After the milk-sugar mixture reaches a boil, reduce the heat to low. Add the condensed milk and stir until it's smooth. Then add the white chips. If you add the white chips to the boiling milk mixture, the sauce can get gritty.
Tip: If you have an electric stovetop, remove the pan from the burner. Add the white chocolate chips and stir until smooth. If the white chocolate chips don't fully melt, return the pan to the burner and heat over low.
5. Stir until smooth.
White chips are made for baking. So they don't melt easily. After you add the white chocolate, stir for at least a minute to ensure they're fully melted.
Tip: Stir the sauce slowly in one direction to prevent incorporating air bubbles into it.
How to Store White Chocolate Sauce.
Allow the sauce to cool for about 20 minutes. Place into a container with a lid and refrigerate for up to two weeks.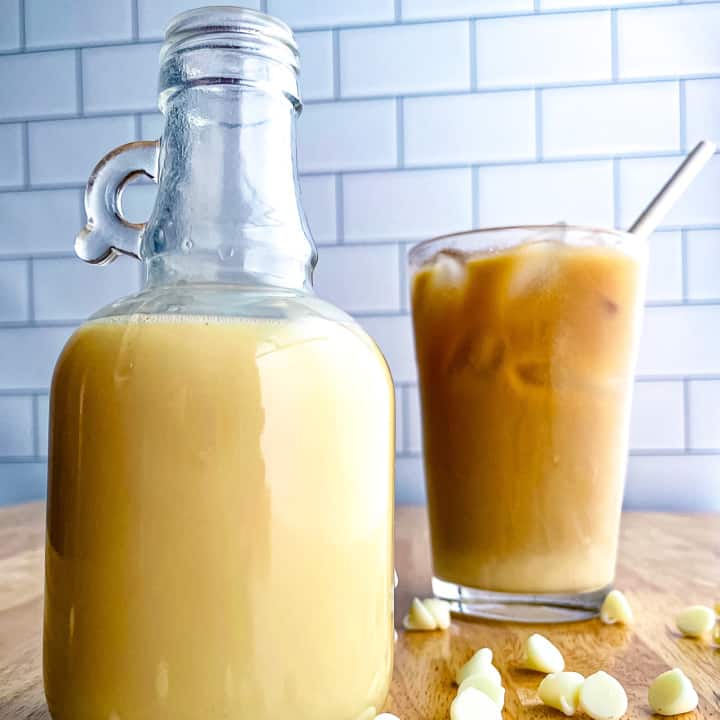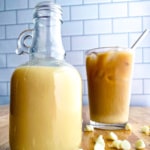 White Chocolate Sauce
It's easy to make a batch of white chocolate sauce. White chocolate chips and a generous amount of vanilla extract bring a lovely flavor, while condensed milk adds a milky sweetness. Use this sauce in hot and iced coffee, drizzled on ice cream or berries, or enjoy it by the spoonful.
Ingredients
½

cup

granulated sugar

(3 ½ ounces; 99 grams)

1

teaspoon

cornstarch

1

cup

milk

(8 ounces; 226 grams)

1

(14-ounce)

can sweetened condensed milk

½

cup

white chocolate chips

(about three ounces; 85 grams)

1

teaspoon

vanilla extract
Instructions
Whisk together granulated sugar and cornstarch in a medium (2 quart) pan. Break up any clumps of cornstarch. Add milk, and whisk until smooth. Heat until sauce gently boils. Whisk consistently to prevent the sauce from scorching.

Reduce heat to low. (If you're using an electric burner, remove the pan from the burner.) Add condensed milk. Stir until smooth.

Add white chocolate chips. Stir until the white chocolate chips are melted. This takes about two minutes. (Return the pan electric stovetop if the chips don't melt after two minutes. Heat over low heat.)

Remove pan from heat. Add vanilla extract. Stir to combine.

Store white chocolate sauce in the refrigerator for up to a week.
Recipe Notes
Variation: White Chocolate Fudge Sauce.
This white chocolate sauce is the perfect thickness to mix into hot and cold coffee. If you'd prefer your sauce with a thicker consistency, for ice cream or other desserts, make the following changes.
Increase the cornstarch to 2 teaspoons.
Reduce the milk to ½ cup.
Increase the white chocolate chips to one cup.