These 4 Ingredient Egg Cups make an easy, and tasty, breakfast, lunch, or low carb snack. Keto, paleo, low-carb, and gluten-free diet-friendly.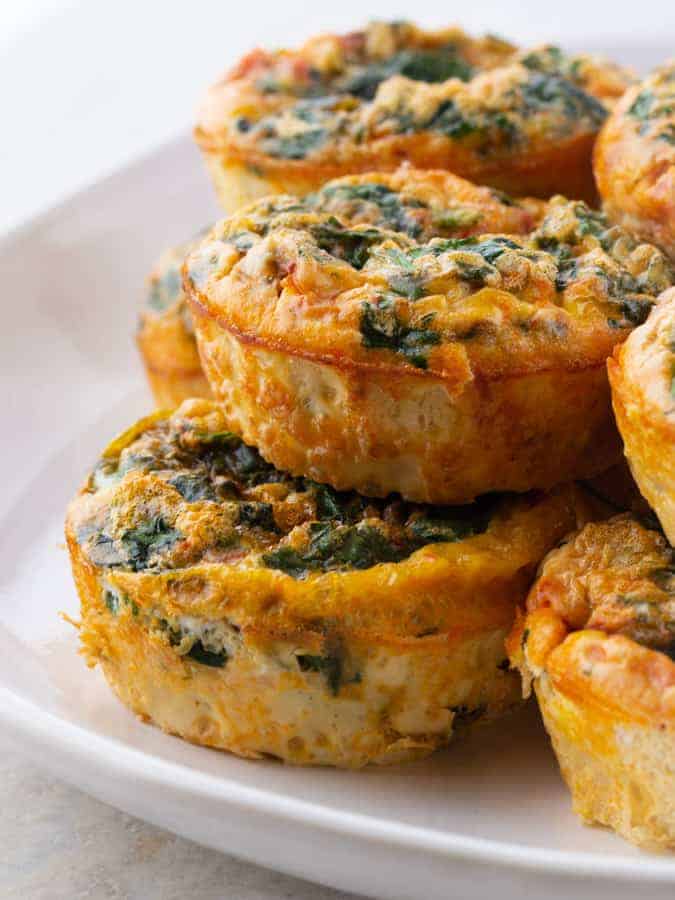 If you google egg cup recipes, you'll get 361,000,000 results. But I thought what the world really needed was another one. (That and a friend asked for my recipe. I figured if I was going to type it up, I might as well do a full post. #bloglife)
My version of baked egg cups are ridiculously simple to make because of one ingredient: salsa.
I have a thing for using salsa as a not-so-secret ingredient. If you've made my Instant Pot chicken burrito bowls, you know that I love the simplicity of Chi Chi's salsa.
For this recipe, instead of sautéing an onion, garlic, and opening a can of tomatoes only to use half, you whisk some thick salsa into a dozen eggs and you're done.
And that's the key: thick salsa. If you use a thin salsa, like Fonterra's Chipotle salsa, which I love, the egg cups can get a bit watery and, what's the technical term? Gross. As long as you use a rather thick salsa, you're good to go.
While salsa and eggs would make for tasty egg cups, I always add some spinach which not only bumps up the flavor but also adds a nice texture.
To start, sauté some fresh spinach in a hot pan. (Put the spinach in the pan and wait. After a minute or so, the spinach begins to wilt. When it does, turn it with a pair of tongs until completely soft. Done!)
Allow the spinach to cool a bit. Then press it with the back of a large spoon to remove excess liquid. There's usually a lot.
Once you've drained the spinach, chop it a few times and it's ready to go into the egg cups.
But what if you don't want to cook spinach but you'd like to add it to the cups? I got you.
Buy a box of frozen chopped spinach. Thaw as directed. Use about half the box. Drain. (Again, simply press the back of a spoon against the spinach to draw out excess liquid.)
Cheese, Please!
If you'd like to add cheese to these simple egg cups, I'm not going to stop you. About 4 ounces (1 cup) grated Cheddar cheese–or Monetary Jack cheese–works well in this recipe.
FAQs
How do I keep egg cups from sticking to the pan?
Excellent question. Bake the cup in a well-greased nonstick muffin pan. When the egg cups are baked, run a sharp knife around the edge of the cup to loosen.
Or you could line the muffin cups with paper liners. That works too! Just note that egg cups do tend to make paper liners soggy.
Are these Paleo?
As written, the recipe is grain-free, dairy-free, and sugar-free.
Are these gluten-free?
They should be! Check the ingredients on your salsa to ensure that it's gluten-free. The eggs and spinach are naturally gluten-free.
Can I freeze egg cups?
Yes! Allow them to cool completely. Then place the egg cups in a freezer bag. Freeze up to two months. Allow to thaw overnight in the refrigerator.
How do I reheat these?
The best way to reheat egg cups is on a low setting in the microwave.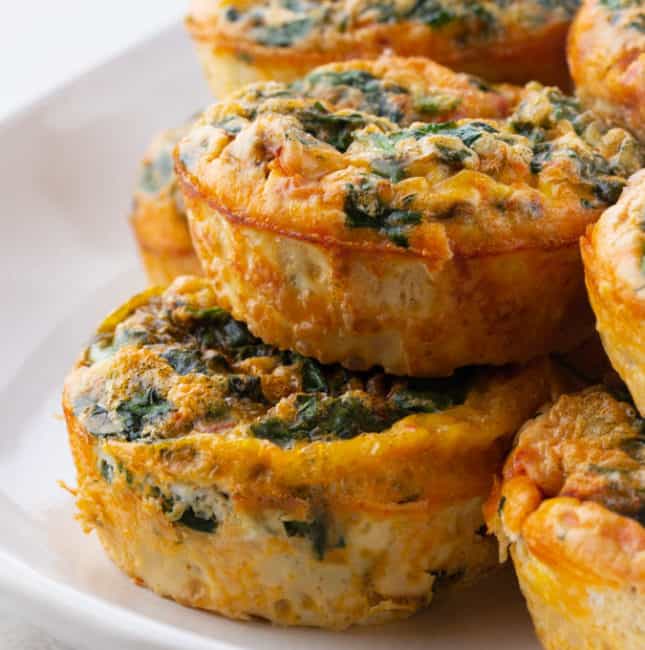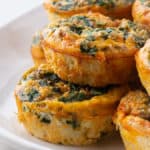 4 Ingredient Baked Egg Cups
4 Ingredient Egg Cups. Easy to Make. Perfect for Breakfast, Lunch or a low-carb snack. Keto, paleo, low-carb, and gluten-free diet-friendly.
Ingredients
nonstick cooking spray

1

teaspoon

olive oil

4

cups

fresh spinach

12

large

eggs, whisked

1/2

cup

thick salsa, mild, medium, or hot

1/2

teaspoon

salt

1/2

teaspoon

freshly ground black pepper
Instructions
Preheat oven to 350 degrees F. Grease a 12 standard muffin cups with nonstick cooking spray. Set aside.

Heat olive oil in a large nonstick skillet over medium-high heat until it shimmers. Add the spinach. Cook, stirring frequently, until soft and wilted. Remove pan from heat and allow spinach to cool, about 5 minutes. Place spinach on a cutting board and roughly chop.

Whisk eggs in a large mixing bowl. Stir in chopped spinach, salsa, salt, and pepper. Divide evenly among greased baking cups.

Bake until set, about 18 minutes. Remove from oven. Allow egg cups to cool in the pan for five minutes. Run a sharp knife around the edge of each cup to loosen.

Store leftovers wrapped in the refrigerator for up to three days. Serve chilled or reheat gently in the microwave on low power.