Chicken breast cooked in the Air Fryer comes out moist and juicy!
My Air Fryer unexpectedly became one of the most used appliances in my kitchen. And cooking chicken breasts in it quickly became one of my favorite uses for it. If you've got an air fryer, you need to try making chicken breasts in it.
Why You'll Love Air Fryer Chicken Breasts
Moist. No brining required!
East-to-Make. Sprinkle with seasoning, cook, done!
Quick. Less than 10 minutes to make.
Versatile. Use the chicken breasts for everything from salads to pasta to the main course.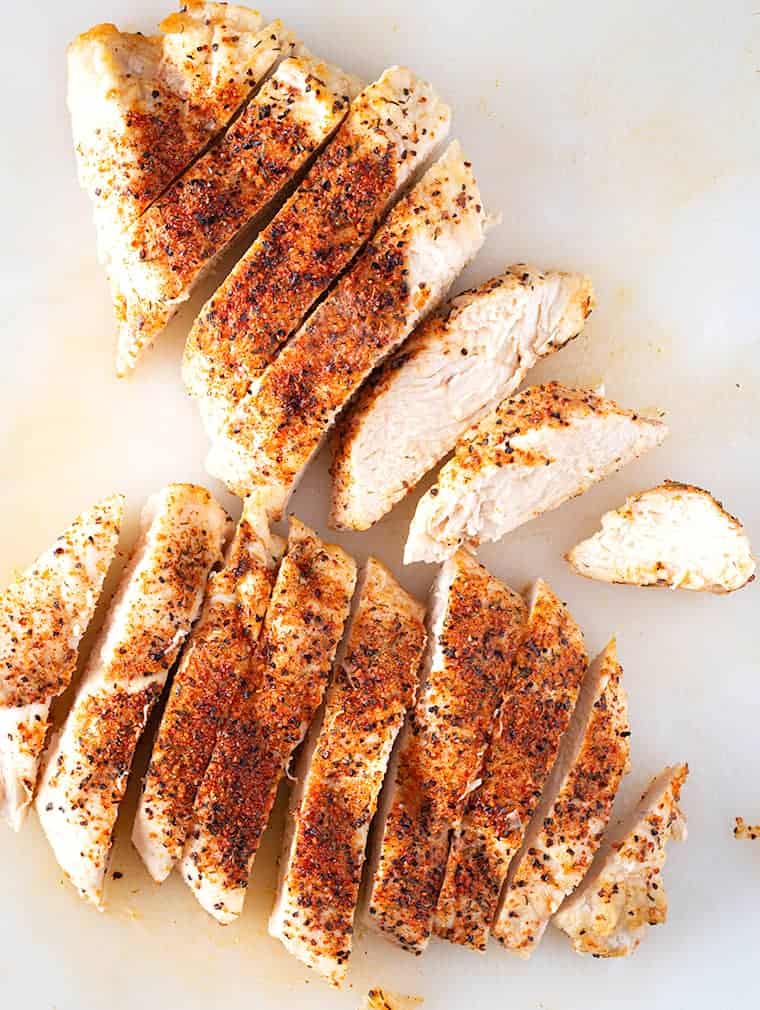 How to Make Boneless Chicken Breast in the Air Fryer
Pat the chicken breast dry. This prevents it from steaming as it cooks. 
Preheat the Air Fryer. A quick 3-minute preheat ensures that the chicken breast cooks quickly and evenly.
Pound the Chicken Breast (optional). Chicken breasts are thicker at the top than they are at the bottom. This means that when you cook them, the end tends to dry out before the entire breast is cooked. To help the chicken breast cook evenly, cover it with plastic wrap and pound it with the smooth side of a meat mallet or rolling pin. If your chicken breast isn't too thick, you can skip this step.
Sprinkle on seasonings. You can go as simple as salt and pepper or use something with more flavor, like Penzey's Northwoods Seasoning or Mitchell Street both of which contain a blend of spices that are perfect on chicken breast.
How Long to Cook Chicken Breast in the Air Fryer
It depends on the size and thickness of your chicken breast.
Here's a general guide:
6-ounce boneless chicken breast about 10 minutes
8-ounce boneless chicken breast about 14 minutes
10-ounce boneless chicken breast about 16 minutes
The above list is just a guide. The best way to tell if your chicken breast is thoroughly cooked is to take its temperature using an instant-read thermometer. The chicken should be cooked to 165 degrees F.
How to Season Air Fryer Chicken Breast
It depends on how you're planning on using the chicken breast. If you're making it to toss in pasta, Italian herbs and a little salt and pepper do the trick. For a Greek salad, I like oregano with a light sprinkle of salt and pepper. And for serving as the main course, Penzey's Mitchell Street is my favorite.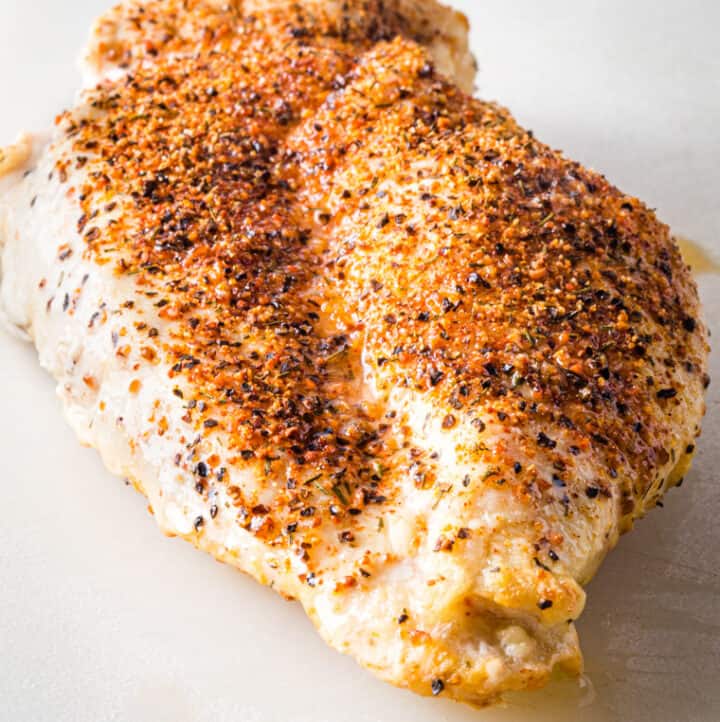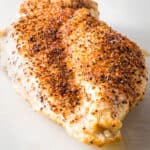 Air Fryer Chicken Breast
Chicken breast cooked in the Air Fryer comes out moist and juicy!
Ingredients
1 to 4

boneless, skinless chicken breasts, about 6 ounces each

seasoning, such as Penzey's Mitchell Street or Northwoods

salt, omit if seasoning blend contains salt

freshly ground black pepper, optional
Instructions
Heat Air Fryer and Prep Chicken. Preheat Air Fryer to 375° F. for three minutes. Pat chicken breasts dry on each side. Sprinkle seasoning blend (and salt and pepper, if using) on each side of the chicken breast.

Cook the Chicken. Spray the Air Fryer pan with nonstick cooking spray. Place seasoned chicken into the Air Fryer. Cook until chicken breast reaches 165°F, about 10 minutes for a 6-ounce breast.

While it's fine for the chicken breasts to touch, don't stack them on top of each other. Cook in one layer. Repeat as needed. If cooking more than one batch of chicken, wipe out the pan between batches with a paper towel. This prevents smoking. Spray pan after wiping.

Rest and Serve. Remove the chicken breasts from the Air Fryer. Allow to rest for five minutes before serving.