Beer Can Chicken Bowls make for a quick and easy weeknight meal that's loaded with flavor. No grill or slow cooker needed! Instant Pot (or electric pressure cooker) recipe.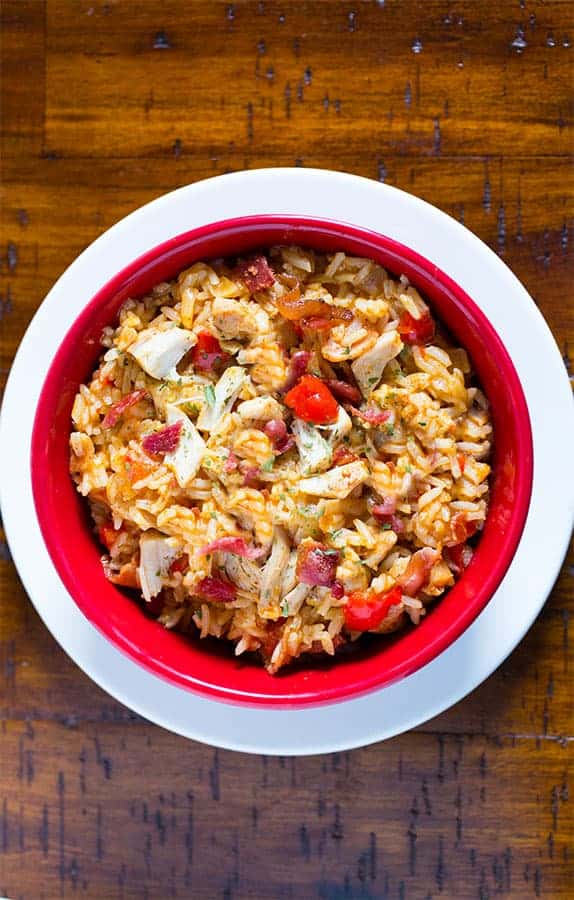 When I told my friend that I'd made beer can chicken in my Instant Pot, she squinted her eyes at me and said, "You put a beer can in a pressure cooker? No, you didn't." she paused and leaned in a little. "Wait…did you?"
I did not. (Honestly, that sounds terribly unsafe but I love that she thinks I'm someone who would try something like that.)
What I did was make beer chicken rice bowls. The taste reminded me of grilled beer can chicken; so that's what I called it.
The best part? You don't have to fire up the grill to make this recipe. Nor does the recipe require you to shove a beer can into the nether regions cavity of a whole, raw chicken. (And, btw, did you know that roasted beer can chicken can be unsafe? Yes! Meat expert Meathead Goldwyn breaks it down on his site. Basically, a can of beer in the center of the chicken keeps the inside of the chicken too cold during cooking.)
This recipe avoids any potential food safety issues and makes a one-bowl meal that's full of flavor.
The Bacon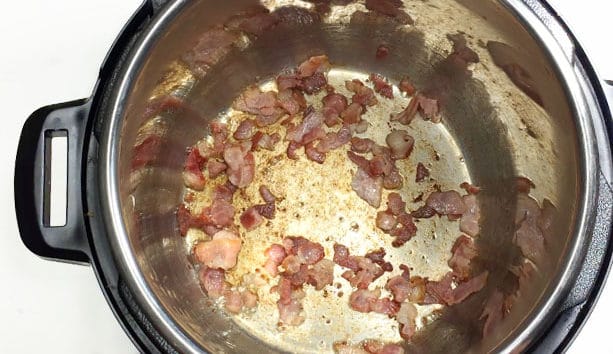 I wanted this meal to have a rich, smoky flavor. So the first thing I did was cook a few slices of chopped bacon in the Instant Pot. If you own a pressure cooker that doesn't have a sauté feature, cook the bacon in a pan before adding it to the recipe.
The Vegetables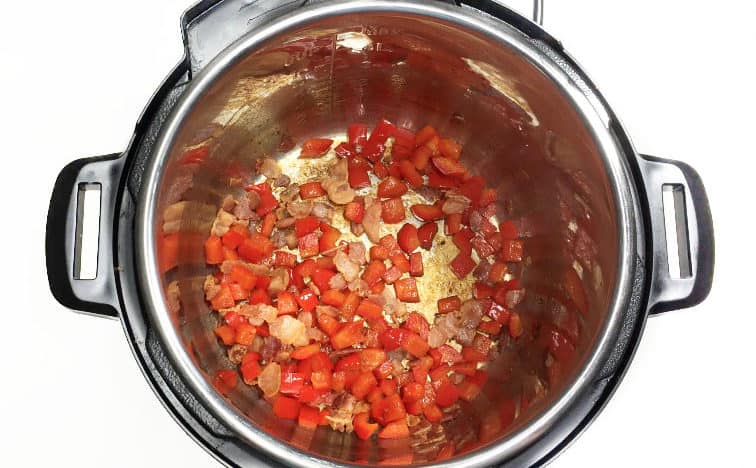 Once the bacon was cooked, I threw a chopped red pepper into the pot. The bacon I used didn't give off too much grease, only about a tablespoon or so. If it looks like there's too much grease in your pot, go ahead and spoon some of it off.
Cooking the vegetables accounts for the longest part of making this quick recipe. And the time it takes is worth it, I promise. Cooking the peppers adds a mild sweetness to the dish that you don't get from cooking raw peppers under pressure.
Then add the onion and garlic and cook until soft and golden brown. See the hints of brown on the bottom of the pot? That's flavor! Since the onions and garlic cook so much faster than the peppers, I added them later. If you cook everything together, the flavor isn't as good. Like I said, this step takes the longest but is worth it.
The Seasonings
After cooking the vegetables, add a little smoked paprika and, if you like a little spicy kick, some dried chipotle powder. Both bring the smoky flavor of the grill indoors to the Instant Pot.
The Beer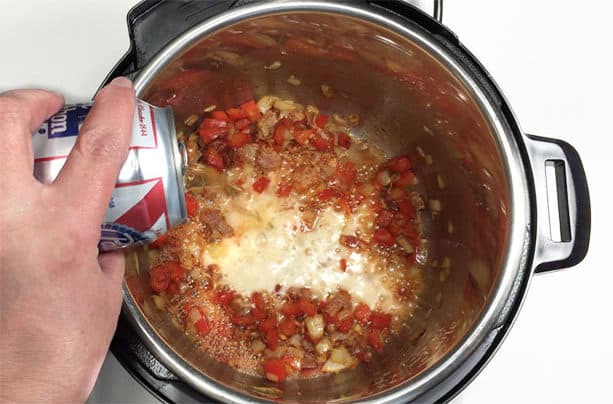 We want to deglaze those tasty bits from the bottom of the pot. Shut off the saute feature and add one can of beer. For this recipe, a pale beer works best. Basically, you don't need anything too fancy or the beer flavor will take over the recipe—and not in a good way. Use whichever mild beer (aka supermarket beer) you enjoy.
If you don't drink, you can still make these bowls. You can either use hard cider (pick something that isn't too sweet) or chicken broth. If you replace the beer in a beer can chicken bowl recipe with something else, the flavor of the dish changes. But, I promise, it will still taste amazing.
The Rice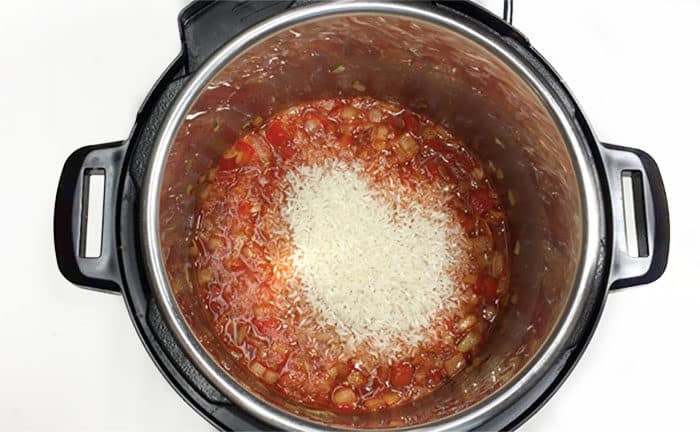 Plain 'ol long grain goes into the pot. Give it a good stir. (By the way, I'm working on a recipe for brown rice bowls but I haven't nailed one yet. Since brown rice takes so darn long to cook, you don't want to use it in this recipe. The chicken would be WAY overcooked by the time the rice is ready.)
The Chicken
If you've made my chicken rice, and black bean burrito bowls, you know that I prefer boneless, skinless thighs to chicken breasts. (And if you haven't made that recipe, you must put it on your list!)
So that's what I used for this recipe. If you prefer chicken breasts, go ahead and use them. You don't even need to adjust the cooking time.
Cut the chicken into bite-size pieces. This takes a little upfront work but saves you from having to shred the chicken once it's cut. When you remove the pot from the pressure cooker, it's time to eat. I love that.
Cook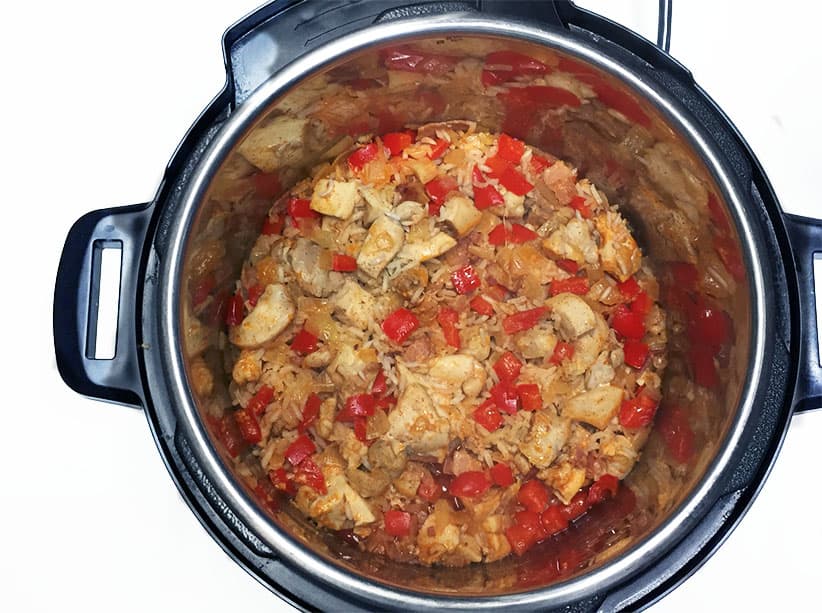 Cook under high pressure for 10 minutes. When the cooking time finishes, release the pressure with the "quick release" method. Stir with a fork (a spoon can make the rice lumpy) and serve.
If you want, top with additional cooked, crumbled bacon.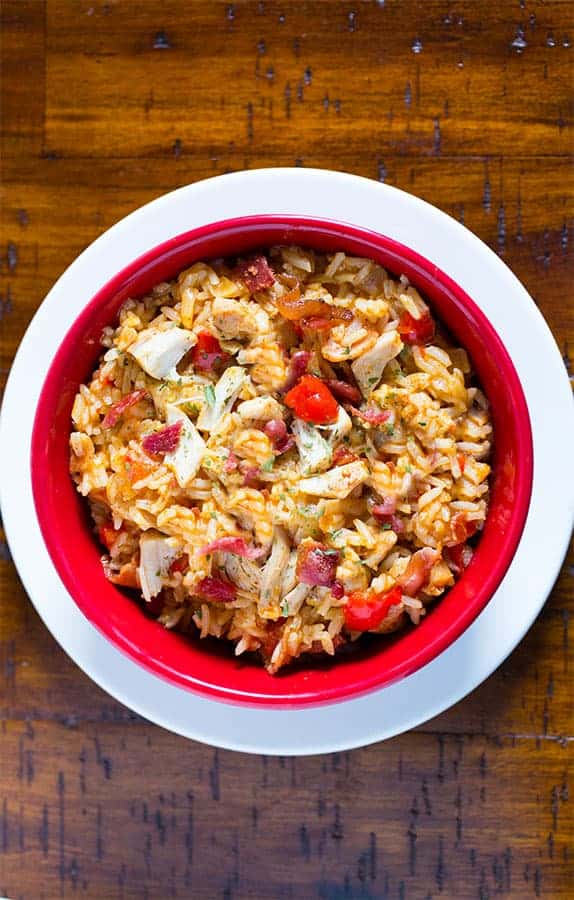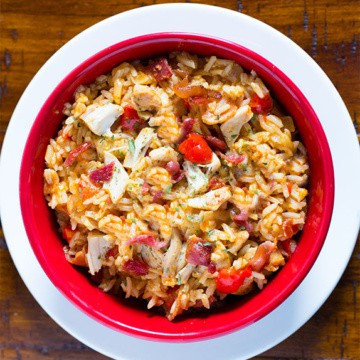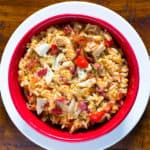 Beer Can Chicken Bowls
Beer Can Chicken Bowls make for a quick and easy weeknight meal that's loaded with flavor. No grill or slow cooker needed! Instant Pot (or electric pressure cooker) recipe.
Ingredients
1

teaspoon

olive oil

3

strips

bacon, chopped

1

small

red bell pepper, cored and chopped

1

small

onion, chopped

2

cloves

garlic, minced or put through a garlic press

1

teaspoon

smoked paprika

1

teaspoon

salt

1/4

teaspoon

ground chipotle pepper, optional

1

(12 ounce) can

beer (see note)

1 1/2

pounds

boneless, skinless thighs or breast, cut into small pieces

1

cup

white rice

2

strips

bacon, cooked and crumbled for topping, optional
Instructions
Cook the Bacon. Heat oil until it shimmers in the insert of an electric pressure cooker set to the sauté setting. Add the bacon. Cook until crisp, stirring occasionally, about three minutes.

Sauté the Vegetables. Add the red bell pepper. Sauté until shiny and soft, about three minutes. Add the onion. Cook until soft, about two minutes. Add the garlic and cook for an additional minute. 

Season and Deglaze. Add the paprika, salt, and chipotle pepper. Stir to combined. Turn off the sauté setting. Add the beer. Stir to deglaze the bottom of the pan. (As you stir, scrape the bottom of the pan. This adds flavor and prevents your rice from burning.) Add the chicken and rice. Stir to combine.

Cook on High Pressure. Select the manual pressure setting and cook for 10 minutes. (Pot will take about 5-8 minutes to reach pressure.) When the cooking time completes, release the pressure by turning the pressure valve. (This is called a "quick release.) Open the lid away from your face.

Serve. Stir. Season to taste. Serve warm. Top with additional bacon, if desired.
Recipe Notes
Replacing the Beer
To replace the beer, use an equal amount of hard cider (select a variety that isn't sweet) or use chicken broth. The flavor of the dish will change when made without beer but it will still be delicious.