This spicy and sweet cornbread is loaded with Cheddar cheese and jalapeno peppers. Top with sliced jalapenos. Easy-to-make.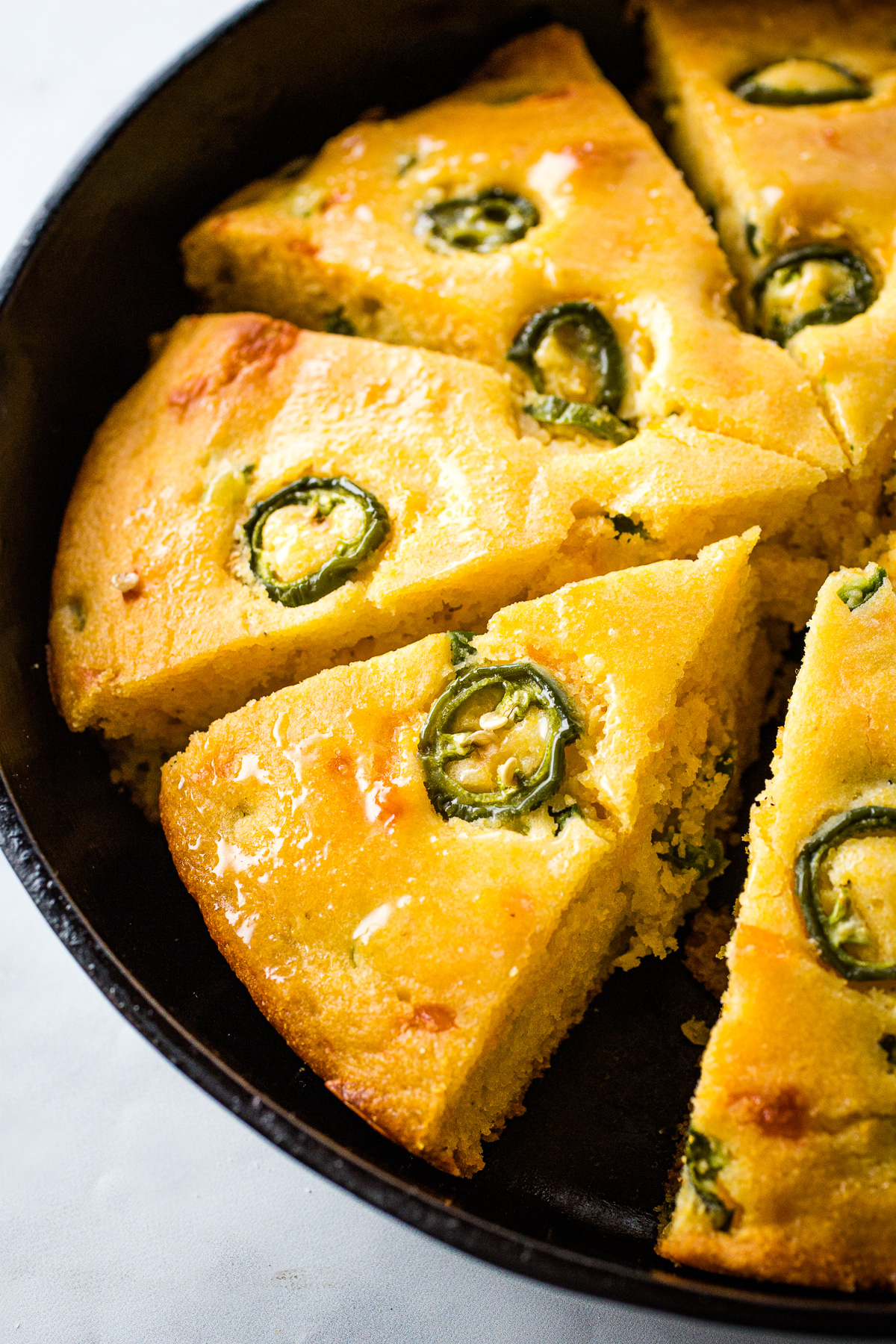 There are countless ways to make a pan of cornbread. I'd say that Cheddar Jalapeno cornbread is one of my favorites but…I've yet to meet a cornbread I don't like.
This easy-to-make recipe combines an equal amount of cornmeal and flour to create a texture that's light and tender.
Key Ingredients for Cheddar Jalapeno Cornbread
Cornmeal. If you like your cornbread to have a soft texture that doesn't crumble, use a finely ground or medium ground cornmeal. If you prefer a cornbread that's a bit dryer and does crumble, use coarse-ground cornmeal.
Cheddar Cheese. Grated sharp Cheddar or grated pepper jack cheese bring a nice cheesy flavor to the cornbread.
Jalapenos. This cornbread isn't too spicy, I promise. You can use either pickled jalapenos or fresh (raw) jalapenos.
Flour. This recipe uses a combination of cornmeal and all-purpose flour for delicate texture.
Sugar. There's a little sugar in this cornbread. It adds a bit of sweetness and helps the cornbread brown. If you prefer your cornbread without sugar, omit it from the recipe.
How to Make Cheddar Jalapeno Cornbread: Steps for Success
Whisk the dry ingredients together. This ensures that the levener (baking powder) is mixed throughout the batter, giving you a cornbread that rises evenly.
Add the wet ingredients. Add the milk, oil, and eggs and stir until the batter is almost smooth. Don't worry about a few lumps here and there.
Stir in the cheese and peppers. After you've mixed the batter, stir in the grated cheese and jalapenos.
Top with more peppers, optional. I like to put a few sliced jalapeno slices on top of the batter before baking.
Brush with butter. After baking, you can brush the top of the cornbread with butter. This step, like adding sliced jalapenos is totally optional but it adds a nice richness to the finished cornbread.
Do you need a skillet for this recipe?
Cornbread baked in a skillet has a lovely texture and crunch. But what if you don't own a skillet? You can still make this recipe! Simply bake the batter in an 8×8-inch square pan.
Cornbread without buttermilk? Are you sure?
Yup! I usually make cornbread at the last minute and since there's not always buttermilk in the fridge, I prefer a recipe that doesn't require it.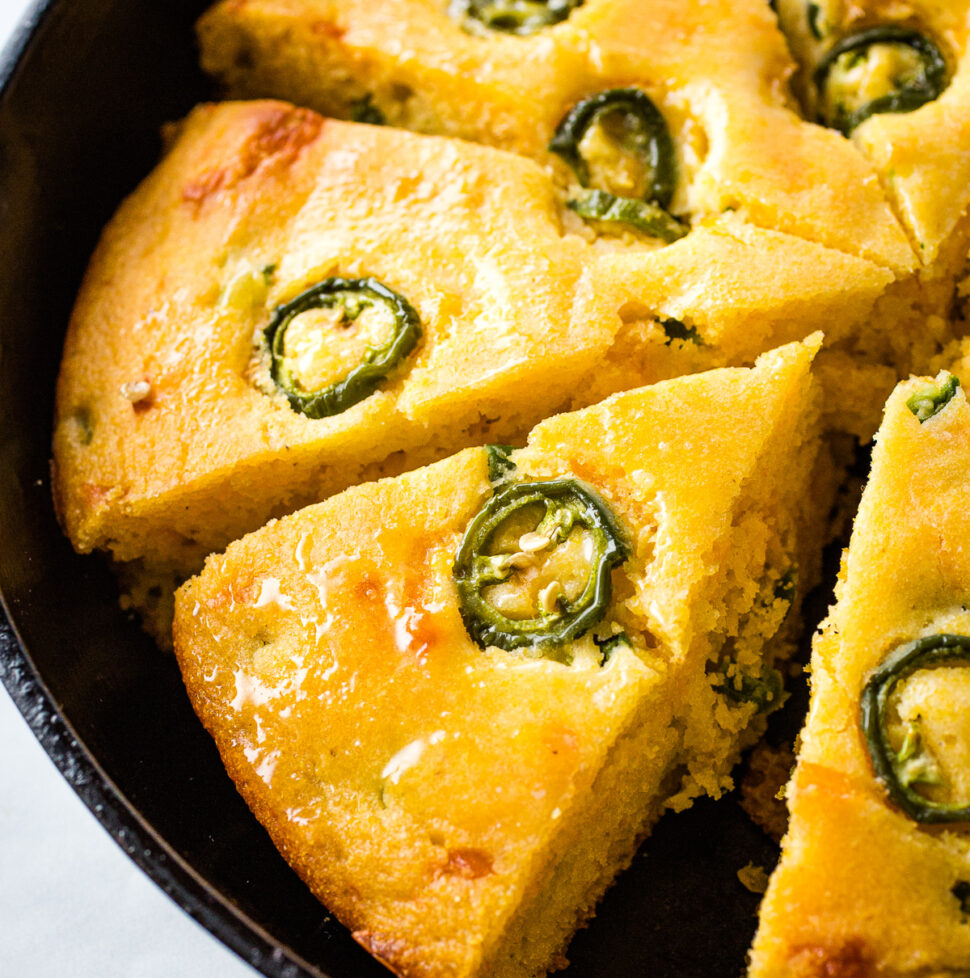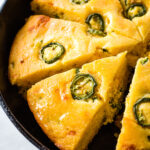 Cheddar Jalapeno Cornbread
This spicy and sweet cornbread is loaded Cheddar cheese and jalapeno peppers. Top with sliced jalapenos. Easy-to-make.
Ingredients
1

cup

cornmeal

1

cup

flour

1/3

cup

granulated sugar

1

tablespoon

baking powder

1/2

teaspoon

salt

1

cup

milk

1/2

cup

oil

2

large eggs

1

cup

chopped pickled or fresh jalapenos

see note

1/2

cup

grated Cheddar cheese

For Topping

optional

Sliced jalapenos

2

teaspoons

butter
Instructions
If using a skillet, place skillet in oven and heat oven to 375 degrees F. For an 8x8-inch cake pan, spray with nonstick cooking spray (don't heat pan) and heat oven to 375 degrees F.

Whisk together cornmeal, flour, sugar, baking powder, and salt. Add milk, oil, and eggs. Stir until the batter is smooth. Add chopped jalapenos and Cheddar cheese. Stir to evenly combine.

If using a skillet: Remove skillet from the oven and add one teaspoon of vegetable oil. Carefully swirl the pan to coat.

Spread batter into prepared pan.

Bake until golden brown and set. A cake tester inserted in the center should come out clean. About 22 minutes for a skillet; 25 minutes for a cake pan.

Allow cornbread to cool for about 5 minutes before slicing.