Fluffy, light, and easy-to-make, Cornmeal Pancakes are a tasty twist on classic pancakes. | One Bowl Recipe. No buttermilk. No need to whip egg whites!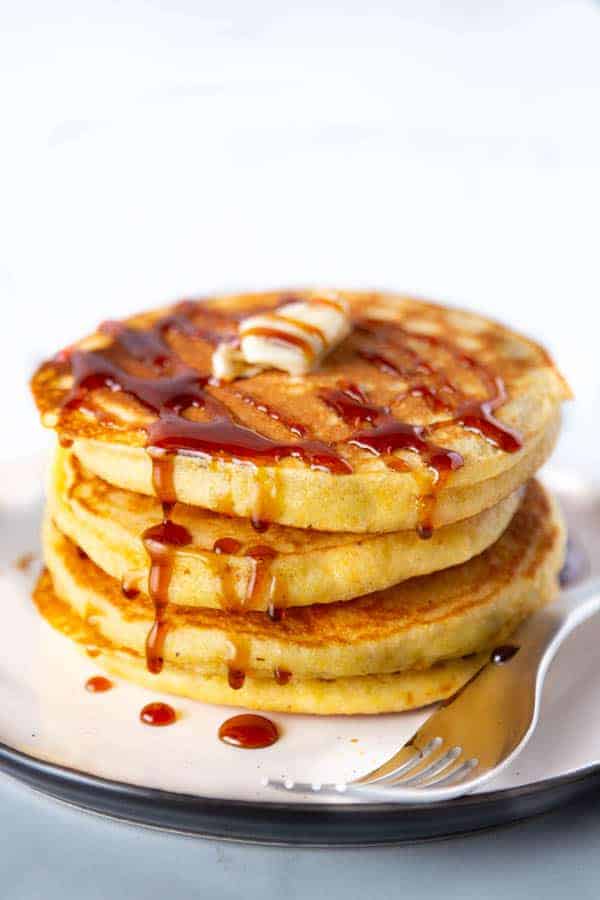 Pancakes don't have a season, of course. But I find myself making cornmeal pancakes more often in the winter than at any other time of year.
What's a Cornmeal Pancake? Is It a Johnnycake?
Maybe. It depends on how you define a johnnycake.
When I think of a johnnycake, I think of something akin to cornbread. (It's thought that the original johnnycake was basically unleavened cornbread.) Some folks, however, think of cornmeal pancakes when they hear the term johnnycake.
But! If you think of johnnycakes as a thin pancake, these won't fit the bill either. Because these pancakes are fluffy. Really fluffy. If that's your thing, these are for you.
How to Make Fluffy Cornmeal Pancakes: Keys to Success
Start with finely ground cornmeal. There are a lot of different cornmeals on the market. And while I love coarse cornmeal for polenta, I prefer finely ground cornmeal in my pancakes. Quaker cornmeal is actually perfect for this recipe. If you want a cornmeal with a more pronounced corn flavor, use Bob's Red Mill cornflour. The name is confusing, but it's basically a finely ground cornmeal.
Use flour. These pancakes aren't 100% cornmeal — they're 50% flour and 50% cornmeal. The split keeps them soft and fluffy.
Use sugar. A little sugar in the batter brings out the flavor of the corn without making the pancakes too sweet.
Skip whipped egg whites. Instead of relying on whipped egg whites to make these pancakes fluffy, the recipe uses baking powder.
Cook on a hot griddle. The temperature of your griddle matters. You want it hot but not screaming-hot. Look for the batter to sizzle gently when it hits the pan. If it sounds like a steak searing, it's too hot; if it makes no sound at all, it's too cool.

Cornmeal Pancake FAQs
Are these sweet or savory?
These are definitely breakfast-style pancakes. While I think anything would go great with my Instant Pot chili, I'd probably recommend a pan of cornbread over these pancakes for a side dish.
Can I make these in advance?
Yes! Heat your oven to 200 degrees F. Place the pancakes on a parchment-lined baking sheet. Keep the pancakes in the warm oven until you're ready to serve. (For up to one hour.)
Can I freeze pancakes?
Yes! Cool the pancakes. Stack with a piece of parchment or wax paper between each pancake and place into a freezer bag. Freeze for up to three months. Thaw at room temperature or at low heat in the microwave.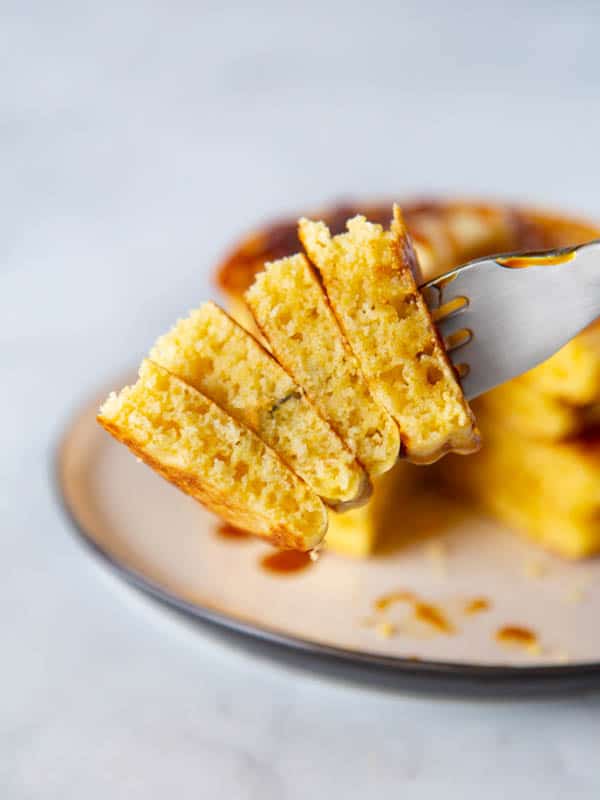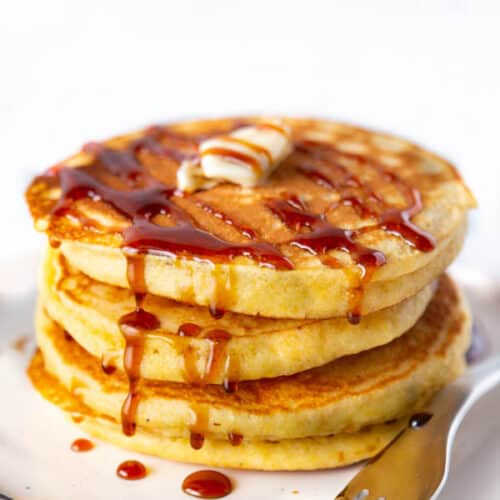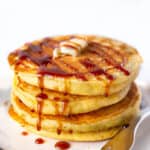 Fluffy Cornmeal Pancakes
Fluffy, light, and easy-to-make, Cornmeal Pancakes are a tasty twist on classic pancakes. | One Bowl Recipe. No buttermilk. No need to whip egg whites!
Ingredients
1

cup

finely ground cornmeal

(5 ounces cornmeal; 142 grams)

1

cup

all-purpose flour

(4 ½ ounces; 127 grams)

3

tablespoons

granulated sugar

(1 ⅓ ounces 38 grams)

1

tablespoon

baking powder

½

teaspoon

salt

2

large

eggs

(out of shell: about 4 ounces; 113 grams)

1

cup

milk

(8 ounces; 226 grams)

¼

cup

vegetable oil

Nonstick cooking spray or vegetable oil for greasing the griddle
Instructions
Make the Batter. Whisk cornmeal, flour, granulated sugar, baking powder, and salt together in a medium mixing bowl. Add the eggs, milk, and vegetable oil. Whisk until smooth.

Heat the Griddle. Lightly oil a nonstick griddle. Heat griddle over medium-high heat. P

Cook the Pancakes. Pour batter, approximately ¼ cup, onto griddle. Batter should sizzle when it hits the pan. Cook for approximately 3 minutes. Flip pancakes when bubbles appear all over the surface of the pancake and begin to pop. The pancake should begin to look almost dry. Flip and cook another 1 to 1 ½ minutes.

Serve. Serve with butter and syrup, if desired.

Keep Pancakes Warm: To keep warm, preheat oven to 200 degrees F. Place cooked pancakes on a parchment-lined baking sheet.