Use your electric pressure cooker to make perfect polenta. No stirring required! Polenta tastes great served creamy or cooled until firm and then grilled.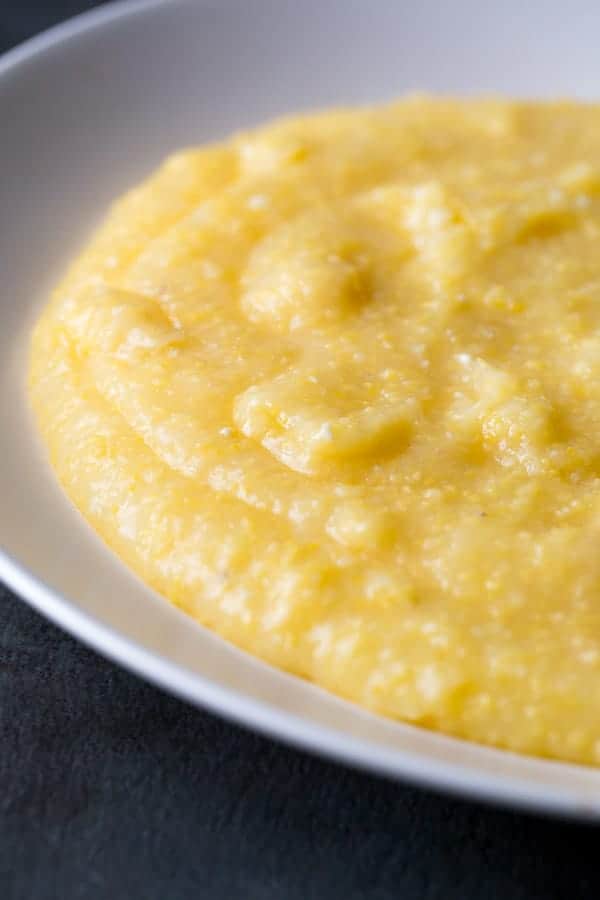 How to Make Perfect Instant Pot Polenta
One of the first recipe failures I experienced in the instant pot was for polenta. A few weeks after getting the machine, I saw a recipe online that promised perfect instant pot polenta.
I wondered if the classic corn porridge, a dish that usually requires some attention, could really be made in the pressure cooker?
The answer for me was no. I followed the directions diligently and got an undercooked porridge that stuck to the bottom of the pot. And, let me tell you, I know polenta. Growing up, I ate it all the time. My mother always served it creamy, just like her mother before her. In fact, I'd never had grilled polenta until adulthood.
Sometimes when recipes flop, I get curious. Other times, I simply say "eh. That sucked" and walk away. When the polenta failed, I did the later. And then I didn't think about it much.
Recently I saw a new recipe for Instant Pot polenta. Turns out, it was basically the same method I'd tried years before. And, again, it flopped.
This time curiosity got me. I decided to see if I could, in fact, make perfect polenta in an electric pressure cooker.
Most recipes for Instant Pot polenta call for the polenta and water to be simmered before the pressure cooker is closed and pressure cooking starts.
Who the heck wants to do this? If I have to bring the polenta to a simmer, I might as well make Marcella Hazen's brillant no stir polenta.
I wanted Instant Pot polenta to meet two criteria: it needed to be hands-off and it needed to be creamy. Notice, I didn't say that it needed to be quick. That wasn't a goal for me.
After countless tests (seriously, I almost got sick of polenta which I did not realize was a thing that could happen!), I finally nailed it. Turns out, success lies in the amount of water you use and the cooking time. That's it. You don't need to simmer or stir. You don't need to toast the cornmeal or add a special amount of fat.
If you're looking for a quick Instant Pot polenta, this isn't the recipe for you. If, however, you're looking for the best Instant Pot polenta, come and sit by me. I've got a recipe for you!
How to Make Perfect Polenta in the Instant Pot
Use a 5:1 ratio of water or broth to coarsely ground cornmeal. Don't use milk. It can scorch.
Allow the pressure to release naturally.
After releasing pressure, tap the pot. (This is really important. More about this below.)
Stir until smooth.
Selecting the Cornmeal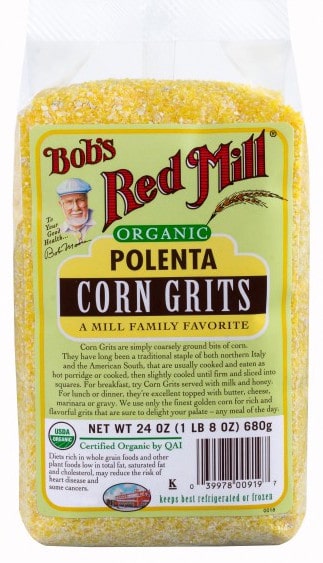 Instant Pot Polenta is like rice: you don't want to use instant.
Polenta is a cornmeal porridge. While the dish's ancient history–it dates back to the Roman times–included other grains, today when someone talks about polenta, they're talking about a cornmeal porridge.
This means at the grocery store, you'll see packages of yellow cornmeal labeled "polenta." Here's a secret: the package doesn't need to say polenta to be used for polenta.
Look for coarsely ground cornmeal–again, no instant stuff here. It doesn't really matter if it's stone ground or not. Stone-ground cornmeal is irregular. Non-stone-ground is uniform. Both work the same.
The easiest brand for me to find is Bob's Red Mill. Pro-tip: Sometimes grocery stores stock this in either the "natural" or "gluten-free" aisle. You might need to hunt to find it.
Use Lots of Water
Most traditional polenta recipes use a ratio of 4 parts water to 1 part cornmeal. I've always found that ratio of water to cornmeal too low. When I read Daniel Gritzer's piece on polenta a few years ago, he said that he recommends a ratio of 5 to 6 parts water to cornmeal. I nodded my head in agreement while reading that because that's what I've always done.
Polenta should be creamy–even if you're going to cool it and grill later. Undercooked grains of cornmeal are crunchy and not very flavorful.
To ensure a creamy polenta, use 5 cups of water or broth to 1 cup cornmeal. This ratio gives you a creamy polenta that's great served either as a porridge or grilled.
Don't Forget the Salt
Make a batch of polenta without salt and it tastes flat. Add salt and you're in business. The salt must be added at the beginning of cooking. Once the porridge cooks, the salt level may be adjusted but you'll get better overall flavor if you add salt at the start.
Cook and Carefully Release the Pressure
Whisk the cornmeal and water together in the insert of your electric pressure cooker. Set the cooking time for 20 minutes and then leave the pressure cooker alone.
After the cook time completes, allow the pressure to release naturally. This step is key for two reasons. First, the polenta continues to cook as the pressure releases. Second, completing a quick release of pressure on thick porridges can be dangerous.
Once the pressure releases manually, turn the valve to release any remaining pressure. Then before removing the lid, lift the instant pot by one the handles and carefully rap it down on the counter a few times.
I read about this technique on Hip Pressure Cooking. Laura, who's been pressure cooking for years, writes: explains that thick porridges and liquids that contain starch or fat can have a bubble of superheated steam under the surface. You might have heard about this phenomenon with microwaves and water. The same thing can occur with a pressure cooker. (For more about this, read here.)
By tapping the pressure cooker on the counter a few times, you'll disrupt any steam bubbles and prevent the hot liquid from "exploding" after you remove the lid.
Stir and Season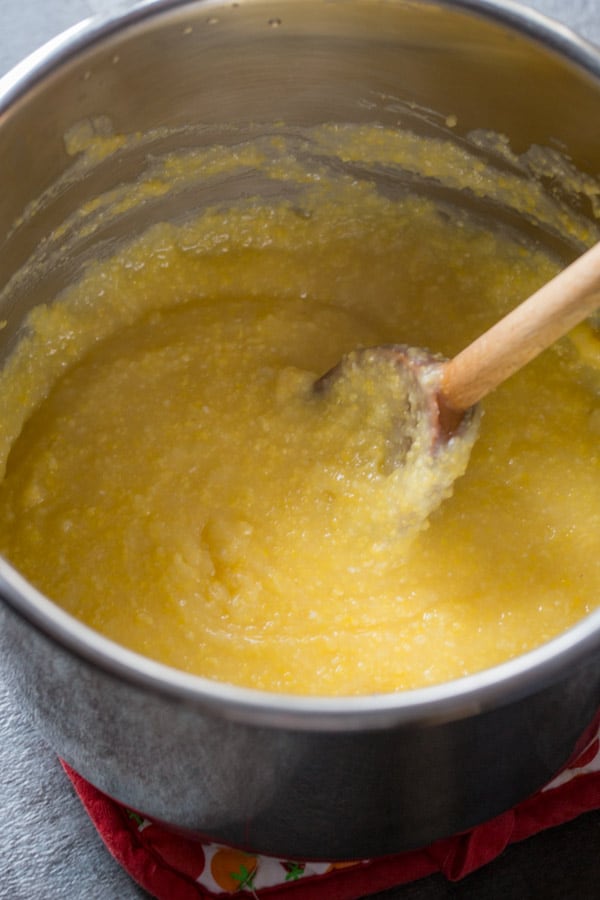 Once you've opened the lid, whisk the polenta until smooth. Then add any additional seasonings or cheese.
For creamy polenta, serve right away.
If you prefer grilled polenta, spread the porridge into a greased 9×13 pan and chill, covered overnight.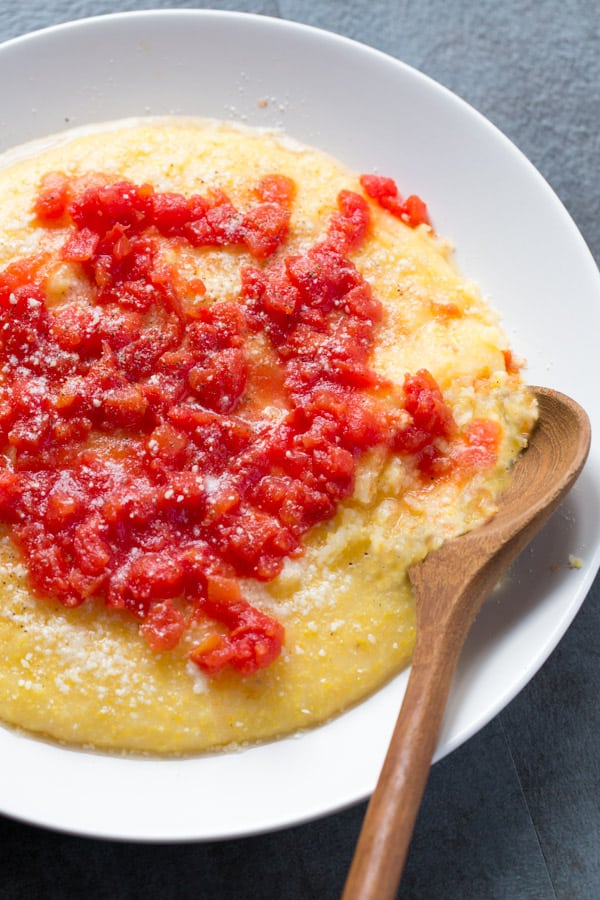 This polenta isn't quick but it sure is easy. As the old adage goes, good things come to those who wait. And, I'm always happy to wait for a bowl of polenta.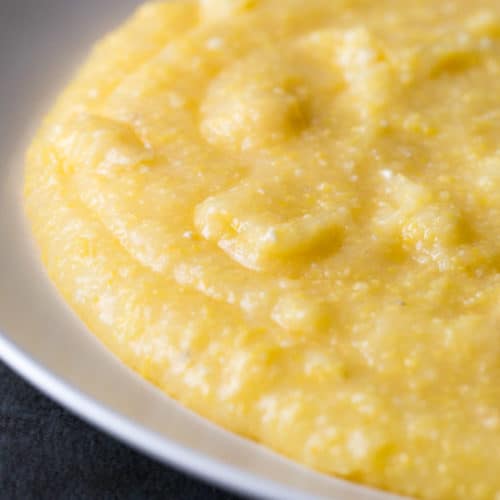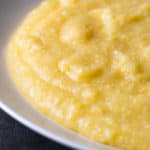 Instant Pot Polenta
Perfect polenta can be made in the electric pressure cooker. Please note: this is not a quick-cooking recipe. From start to finish, the polenta takes about 45 minutes.
Ingredients
5

cups

water or low-sodium chicken broth

1

cup

coarse cornmeal (NOT instant)

(Bob's Red Mill Suggested)

1

teaspoon

salt

2

tablespoons

butter, optional

1/2

cup

grated parmesan cheese, optional
Instructions
Traditional Creamy Polenta
Combine water, polenta, and salt in the insert pot of an electric pressure cooker. Whisk to combine.

Lock lid in place. Set valve to sealing. Select "manual" (high pressure) and set cook time for 20 minutes.

When cooking time completes, allow pressure to release naturally, about 15 minutes. Turn sealing valve to release any remaining pressure. Gently lift the pressure cooker a few inches off the counter by one of the handles and set back down a few times. This removes any steam bubbles that could build up during cooking. Remove lid. Whisk polenta until smooth. Add butter and cheese, if desired.