You only need three ingredients for this easy coleslaw recipe: a bag of coleslaw cabbage, apple cider vinegar, and Thousand Island dressing.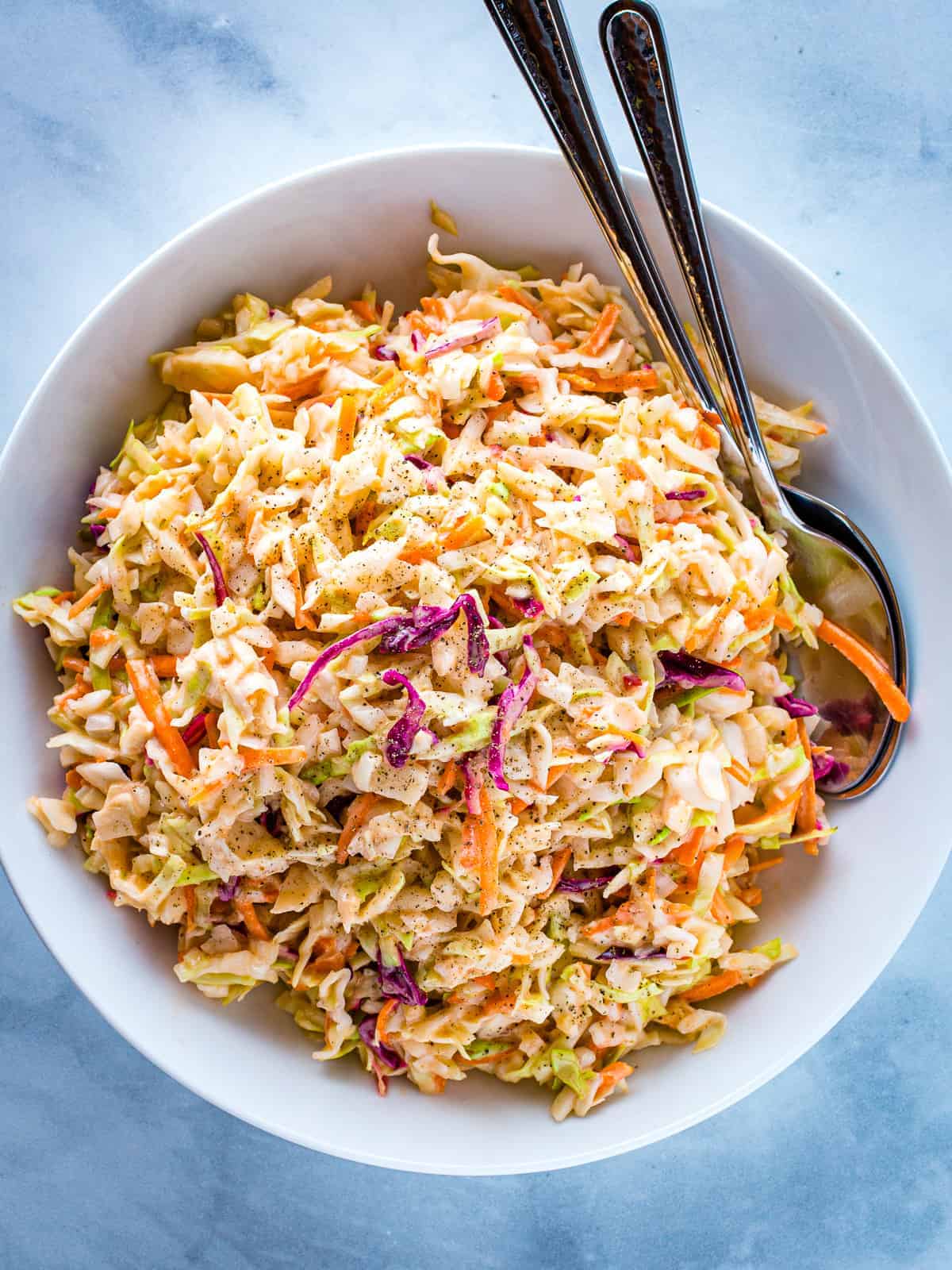 I think of this easy-to-make slaw as "special sauce slaw". The recipe starts with a bag of coleslaw mix (a blend of shredded cabbage and carrots) and adds only two ingredients: apple cider vinegar and thousand island dressing, giving you a sweet and tangy coleslaw that's great with hamburgers, BBQ ribs, or pulled chicken.
Why You'll Love This Recipe for Easy Coleslaw
easy to make. You only need three ingredients!
Tangy and sweet.
great summer side dish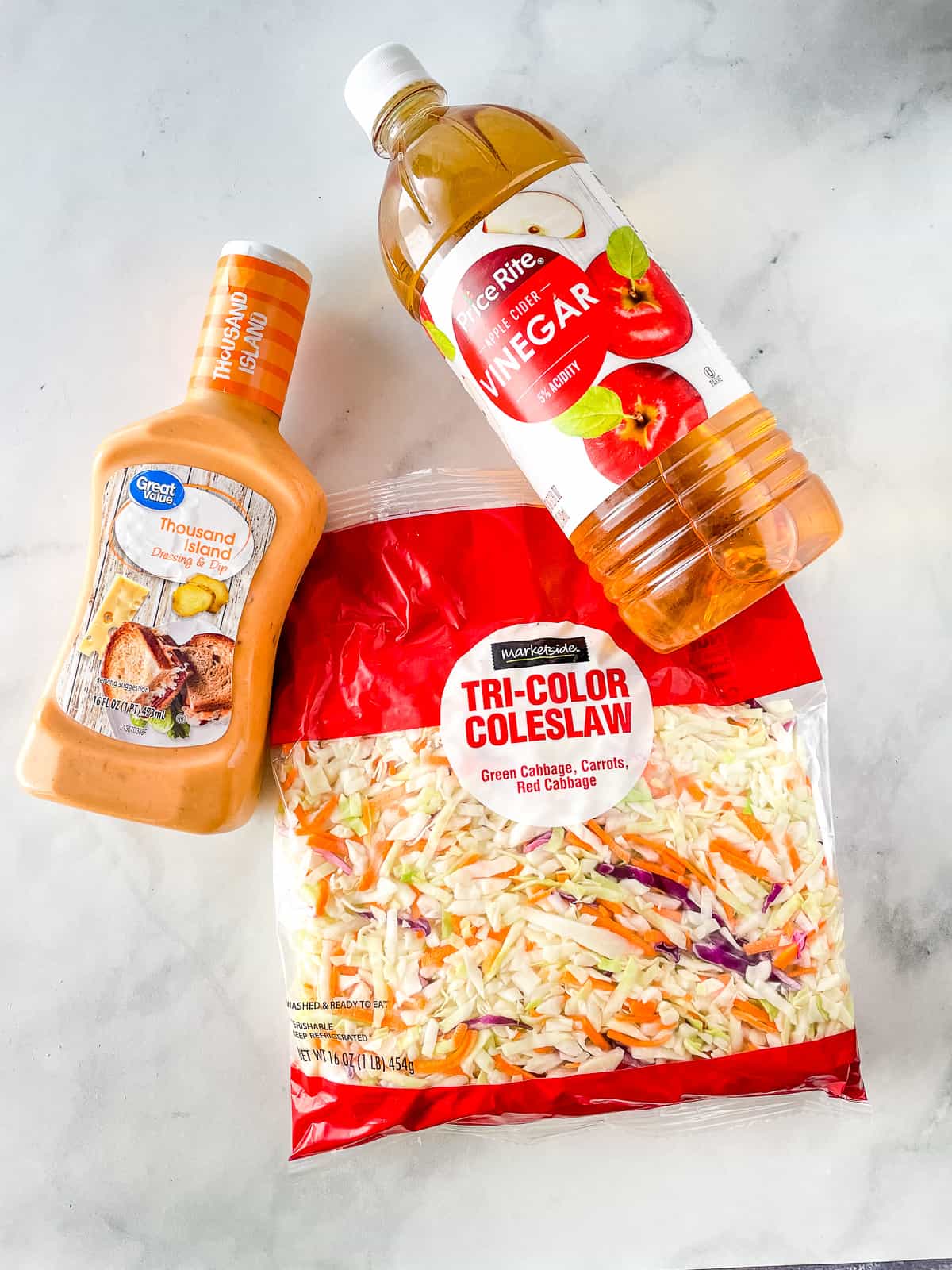 Step One: Buy Coleslaw Mix
Coleslaw Mix is usually found in the produce section of the grocery store. It's typically sold in bags near the prewashed lettuce. It does not contain any dressing. Here are the varieties you might see at the store.
Tri-Color Coleslaw: a blend of shredded green cabbage, carrots, and red cabbage. When you think of coleslaw this is probably the blend that comes to mind. It's mostly white cabbage with some shredded carrots and red cabbage thrown in for flavor and color.
Angel Hair Coleslaw: FInely shredded green cabbage. Select this variety if you like a fine texture to your coleslaw. Note that coleslaw made with angel hair mix can get watery after sitting in the refrigerator for a day.
Broccoli Slaw: This mixture is somewhat new to the market. It's a blend of shredded broccoli, cabbage, and carrots. This blend has a great texture but the broccoli flavor can be overwhelming.
Cook's Tip: If you can't find a bagged mix at your grocery store, you can make your own. Combine shredded (very thinly sliced) green and red cabbage and carrots. To replace one 16-ounce bag of coleslaw mix, use about 6 cups of shredded cabbage and one cup of shredded carrots.
Step Two: Add Vinegar
A little apple cider vinegar enhances the flavor of the dressing and helps to keep the coleslaw crisp. This recipe works with either traditional or natural apple cider vinegar. If you don't keep apple cider vinegar in the house, you can use white vinegar. It doesn't bring quite the same flavor but it does add a nice tang to the finished coleslaw.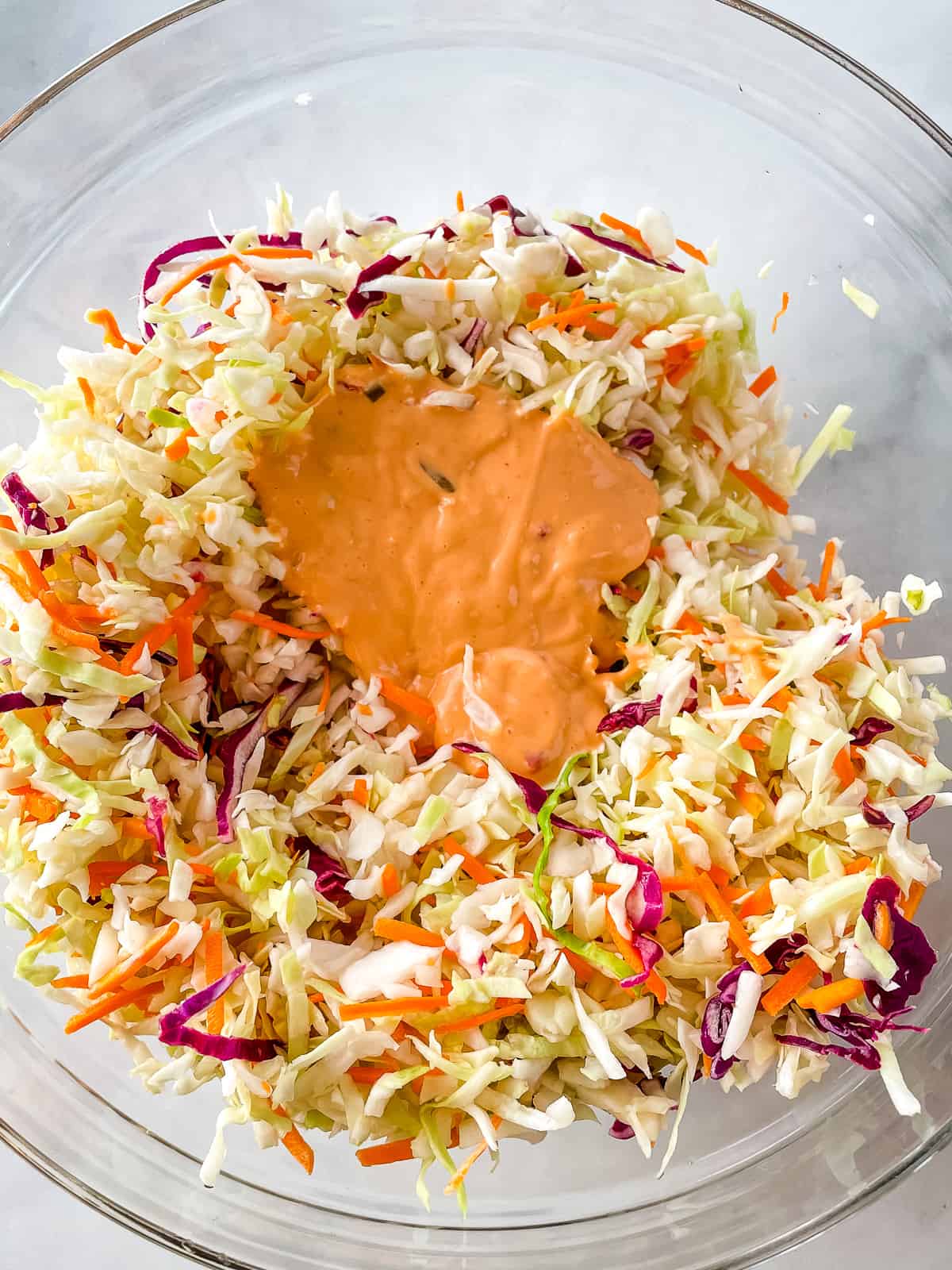 Step Three: Add Thousand Island Dressing
Here's the secret ingredient for this easy coleslaw: thousand island dressing. It's lightly sweet and tangy. If you've ever eaten a Reuben sandwich, you know how good the combination of cabbage (in that case, in the form of sauerkraut) and thousand island tastes. Since this coleslaw relies on the dressing to bring most of the flavor, use a thousand island dressing you love. The flavor of Thousand Island dressing can vary from brand to brand.
Step Four: Season that Slaw
After stirring everything together, give the coleslaw a taste. Add salt and pepper. Depending on the brand of Thousand Island, the dressing might seem thick. Don't add milk at this point to thin. Coleslaw mix releases water as it sits. After it sits for two hours, you can adjust the consistency if it's still too thick.
Step Five: Chill
Coleslaw tastes best if it's allowed to chill for at least two hours before serving. Cover the bowl and refrigerate. Right before serving, taste again and, if needed, add any additional seasonings. If the dressing seems thick at this point, add a splash of milk.
Why Coleslaw Gets Soft and Watery
The salt in coleslaw draws water out of the vegetables. This thins the dressing. If you like very crunchy coleslaw, plan on enjoying it the day you make it. However, it's fine to eat leftovers the next day. (Sometimes I think it even tastes better after sitting for a night.)
Variations: Two Easy Additions
Think of this three-ingredient coleslaw as a starting point. It's great served as is but it's also wonderful with the following additions.
Finely Chopped Onion. Just use a little. Raw onion can overwhelm coleslaw.

Dill Relish. Yes! I said dill relish. This coleslaw reminds me of "special sauce". If you like that flavor, a little dill relish enhances the flavor.
Is this coleslaw sweet?
The answer to this really depends on the brand of Thousand Island dressing you use. Some are sweeter than others. The apple cider vinegar brings a nice tangy flavor. So while this has a hint of sweetness, I don't think of it as a sweet coleslaw.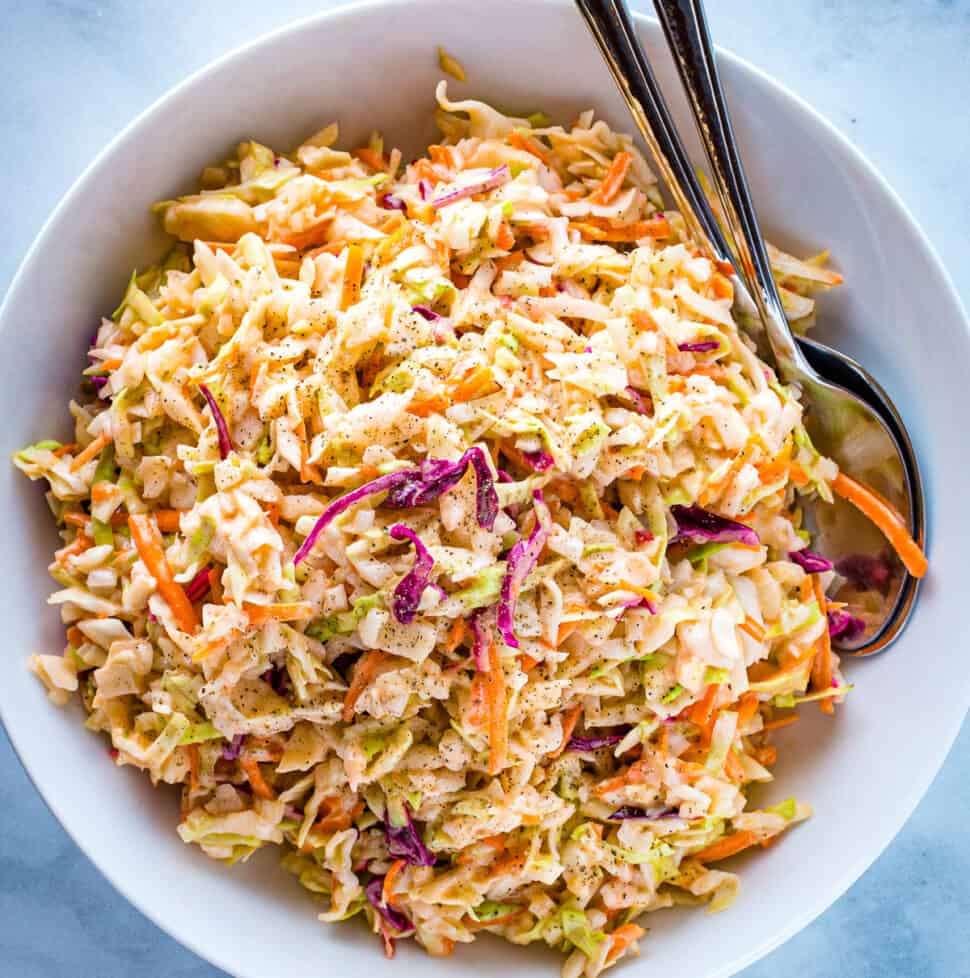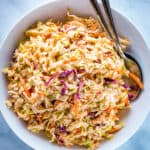 Easy 3 Ingredient Coleslaw
This easy coleslaw recipe only calls for three ingredients: a bag of coleslaw cabbage, apple cider vinegar, and Thousand Island dressing. 
Total Time
2
hours
5
minutes
Ingredients
1

(16 ounce) bag

coleslaw mix (shredded raw cabbage and carrots)

¼

cup

apple cider vinegar

½

cup

Thousand Island Dressing, plus more to taste

salt and pepper, to taste

milk, as needed
Instructions
Combine the coleslaw mix and apple cider vinegar in a medium mixing bowl. Stir to coat.

Add Thousand Island dressing. Stir to evenly combine.

Taste. Add salt and pepper to taste.

Cover and chill coleslaw for two hours.

Stir and taste again. Add more dressing, salt, and pepper if needed. If dressing seems thick, add a little (about two teaspoons) milk.

Store coleslaw covered in the refrigerator. The dressing will thin the longer the coleslaw sits.