Easy baked meatballs make for a quick weeknight meal. 30-minute recipe.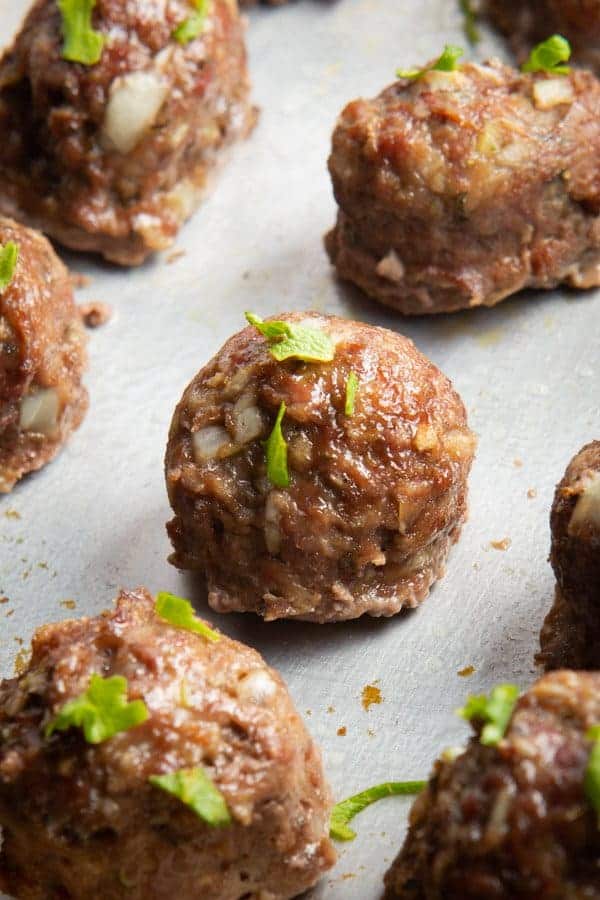 When you think about making meatballs, do you think about a day-long process that involves frying the meatballs and then simmering them for hours and hours in a rich spaghetti sauce? Then I'm about to blow your mind.
You can make a batch of meatballs in under 30 minutes. I know! It still surprises me, and I make them on a regular basis.
My mom's Italian, so she made the type of meatballs that take hours to make.
While that is a wonderful (and delicious!) way to make meatballs, there's another way. (Just like there's a way to make an easy pasta sauce, which, I have to say, goes great with these meatballs.)
You can simply bake them. Yup. No frying pan required, no pot of sauce gently bubbling on the stove needed — just a bowl, a pan, and some ingredients.
How to Make Easy Baked Meatballs
Mix. Combine the dried breadcrumbs and some milk. Let it soak. This mixture makes for moist meatballs. After the breadcrumbs have soaked for about five minutes, add the rest of the ingredients. Mix together with your hands or a wooden spoon.
Scoop. Roll mixture into medium-size balls, about 1 1/2 inches each. To make this easy, use a cookie scoop or tablespoon to measure out the meatball mixture. This ensures they're all ready at the same time. If some meatballs are large and others are small, you can end up with some meatballs that are raw and some meatballs that are burnt. Yuck.
Bake. Preheat the oven. If you're mixing and baking the meatballs at the same time, it's a good idea to preheat the oven when you mix the meatball mixture. Bake the meatballs until they reach 165 degrees F.

The Ingredients
The Meat
Let's start at the beginning, with the meat. While you can use any ground meat you like for meatballs, I prefer to use 90% lean ground beef for this recipe. It contains enough fat to provide flavor and a nice texture, but not so much that the meatballs taste greasy or heavy.
Use whatever type of ground meat you like: beef, pork, or turkey. Or use a mixture of half beef and half pork⁠—you get the point. Just avoid extra-lean turkey, as it can make for dry meatballs.
Onion and Garlic
A finely chopped onion and a minced clove of garlic add a nice flavor to the meatballs. Take the time to finely chop the onions; if the pieces are too big, you'll find yourself chomping through large pieces of onion in the meatball.
Cook's tip: If you buy pre-diced onions, look at them before adding to the meatball mix. Some pre-cut onions contain large pieces. If they look too big, chop them a little with a large knife on a cutting board before using.
The Egg, Breadcrumbs, and Milk
To make meatballs that are moist, flavorful, and hold together, you need to add some breadcrumbs and an egg to the mix. Combine the breadcrumbs with milk. This easy step, called a panade, hydrates the breadcrumbs, so they almost "melt" into the mixture. (Rant from Elizabeth: I know some folks use oats in their meatballs. I really dislike the texture and taste they lend to meatballs. Soaked breadcrumbs fade into the background, while oats … do not.)
Mixing
It's easy to combine the meatball mixture with your hands. However, I understand if this makes you squeamish. It's an odd texture that can be a sensory trigger for some folks. No problem! Plop all the ingredients into a large bowl and grab a wooden spoon. Mix until combined. You don't need to beat the meatball mixture vigorously—a few good stirs and you're good to go.
Baking
Scoop the meatball mixture with either a cookie scoop or tablespoon. While it sounds tedious to measure out the meatballs, there's a good reason for it. This step ensures the meatballs all bake at the same time. If some meatballs are large and others are small, you can have both raw and burnt meatballs on the pan.
Gently round the mixture between your palms (feel free to skip this step if you're using a cookie scoop) and place on a lightly greased baking sheet. You can place meatballs closely together on the pan; they aren't cookies, so you don't need to worry about them spreading during baking. When scooped into 1 1/2-inch balls, the entire batch should fit onto one rimmed baking sheet.
Cook's tip: For easy cleanup, line a rimmed baking sheet with a piece of foil. Spray the foil lightly with nonstick cooking spray.
Serving Suggestions for Baked Meatballs
Serving meatballs with pasta and red sauce is a no-brainer, but there's no need to stop there.
Meatball sub. Cut a sub (hoagie) roll. Place three or four meatballs into it. Top with pasta sauce.
Meatballs and mashed potatoes. Yes, this combination totally works. Make a batch of Instant Pot Mashed Potatoes. Serve with meatballs and tomato sauce or gravy.

Baked Meatball FAQ
What temperature do you cook meatballs?
Bake meatballs until the center reachers 165 degrees F. Take the temperature of the baked meatballs by using an instant-read thermometer inserted into the center of the meatball.
Is it better to freeze cooked or raw meatballs?
It's up to you. I prefer the ease of freezing cooked meatballs. This way, they're ready to eat when I'm ready to eat.
How to freeze cooked meatballs: Cool the meatballs and place on a sheet pan. Freeze for about two hours or until firm. Once firm, transfer the meatballs to a freezer bag or container.
When ready to serve, thaw meatballs in the refrigerator and heat in a 325-degree F oven until warmed through or microwave on low.
How to freeze raw meatballs: Place on a sheet pan and freeze for about two hours or until firm. Once firm, transfer the meatballs to a freezer bag or container. When ready to cook, preheat oven to 425 degrees F. Bake until internal temperature reaches 165 degrees F. Meatballs may be baked from frozen.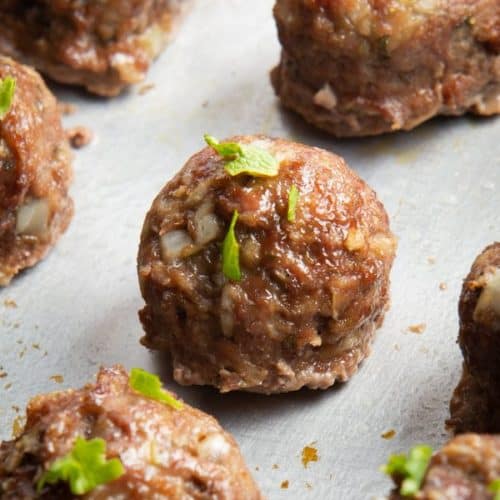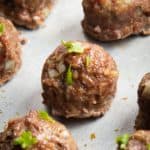 Easy Baked Meatballs
Easy baked meatballs make for a quick weeknight meal. 30-minute recipe.
Ingredients
⅓

cup

dried breadcrumbs

¼

cup

milk

1

pound

lean ground beef

(90% lean)

1

large

egg

1

small

onion, finely diced

1

clove

garlic, minced

1 ½

teaspoons

dried basil

1/2

teaspoon

salt

1/2

teaspoon

dried oregano
Instructions
Heat oven

Preheat oven to 400 degrees F. Spray a rimmed baking sheet with nonstick cooking spray.

Prepare the meatballs.

Combine breadcrumbs and milk in a large mixing bowl. Stir. Allow to sit for five minutes. Add remaining ingredients. Mix together until thoroughly combined with your hands or a wooden spoon.

Roll into 1 ½-inch meatballs, about 2 tablespoons each. Place onto prepared baking sheet.

Bake

Bake until the meatballs are firm and 165 degrees F, about 15 minutes. Serve warm. Store cooled meatballs in the refrigerator for up to three days.