Cooking meatballs in the oven is easy and fast. Simply make the meatball mix, scoop into balls and bake on a parchment-lined baking sheet. A pan of meatballs takes about 15 minutes to cook.
You can enjoy them right away or simmer them for a little while in a pan of homemade pasta sauce. I like to cook the pasta sauce while the meatballs bake.
Making meatballs doesn't need to be a day-long project. Just like cooking sausage in the oven, meatballs made in the oven turn out moist and delicious. And they come together so fast, you can make a pan for an easy weeknight meal.
Ingredients.
Ground Beef. I like to use 90% lean ground beef for this recipe. It contains enough fat to provide flavor and a nice texture, but not so much that the meatballs taste greasy or heavy.
Onion. A finely chopped onion adds a nice flavor to the meatballs. Take the time to finely chop the onions. If the pieces are too big, you'll find yourself chomping through large pieces of onion in the meatball. Or grate the onion. Thin shreds of grated onion mix nicely into the meatball mixture.

If you want to skip prepping onions, use 2 teaspoons of onion powder.
Garlic. How much garlic you use is up to you. One to two cloves of fresh garlic is my preference. Mince the garlic or put it through a garlic press.

If you'd rather use garlic powder, use 1 teaspoon of garlic powder and omit the fresh garlic.
Breadcrumbs: A half cup of dried breadcrumbs helps hold the meatballs together. Use dried breadcrumbs (seasoned or plain) or panko.
Milk. Milk is an important ingredient in this recipe. It's combined with the breadcrumbs to make a panade. Doing this hydrates the breadcrumbs, so they almost "melt" into the mixture. If you're dairy-free, use a dairy-free milk or replace the milk with ketchup or tomato sauce.
Egg. An egg helps hold everything together.
Dried Basil and Oregano. To keep this recipe quick and easy, it calls for dried herbs. If you prefer the flavors of Italian seasoning–use it in place of the basil and oregano.
Parmesan Cheese. The half cup of grated parmesan cheese is optional. If you love parmesan, use it. If not, skip it. The meatballs taste great with or without cheese.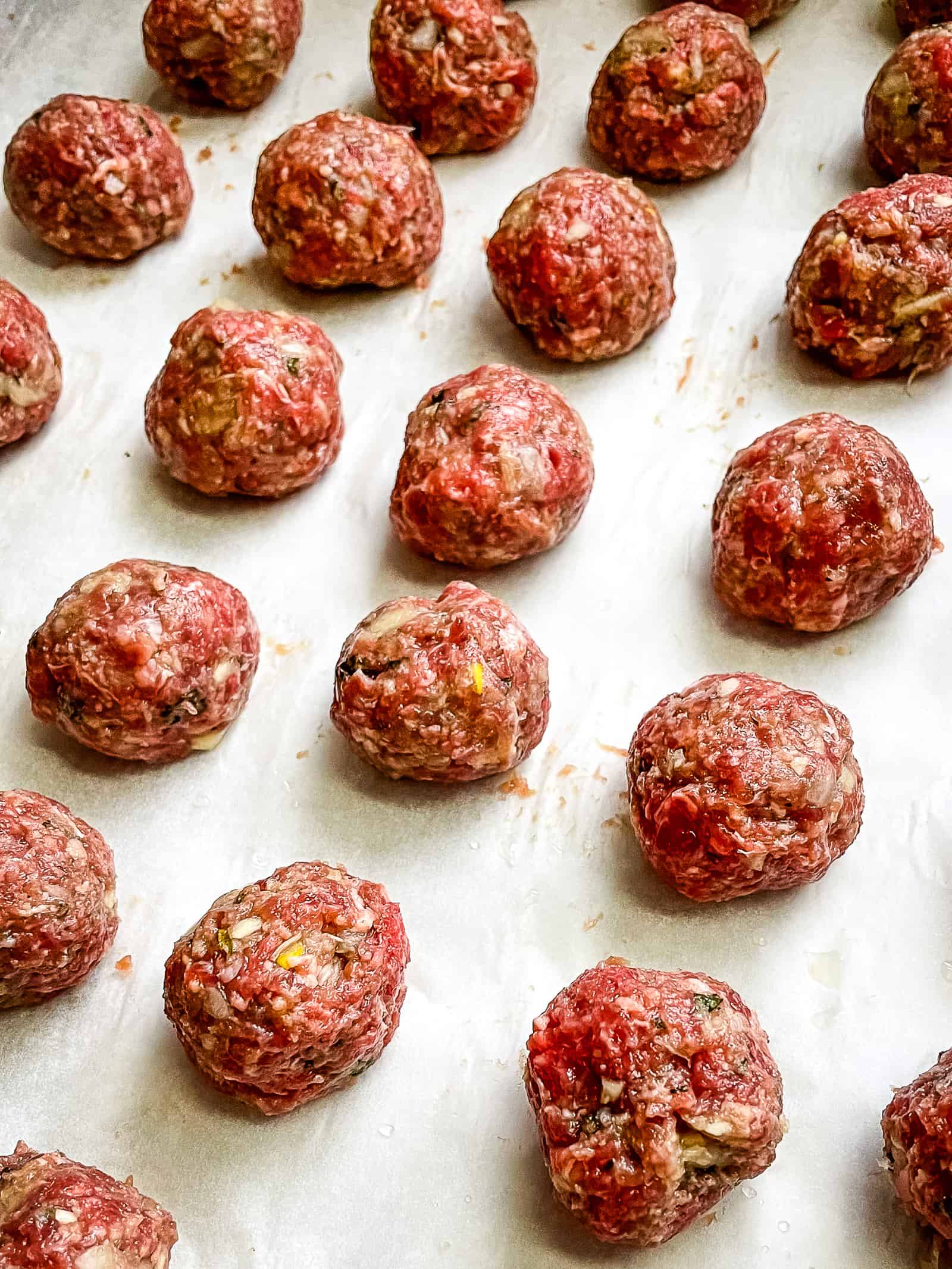 How to Make Baked Meatballs. Step-by-Step.
Step One: Heat the Oven.
Before starting, turn your oven on to 375℉. This way, it's hot and ready to go after you mix and shape the meatballs. If you'd like to cook these in an air fryer, follow my recipe for air fryer meatballs. It has all the steps and directions you need.
Step Two: Mix.
Grab a large mixing bowl. Combine the dried breadcrumbs and the milk. Stir together. Let the mixture sit for about five minutes while the breadcrumbs absorb the milk. This step makes for moist and tender meatballs. After about five minutes, add the rest of the ingredients.
Combine the meatball mixture with your hands or a wooden spoon. Gently mix everything until all the ingredients are combined. If you'd like to use your hands but don't want to touch raw meat, wear disposable gloves and then throw them away after using.
Step Three: Scoop.
Roll the meatball mixture into medium-size balls, about two tablespoons each. To make this easy, use a cookie scoop or tablespoon to measure out the meatball mixture. This ensures they're all the same size. If some meatballs are large and others are small, you can end up with some meatballs that are raw and some meatballs that are burnt. Using a scoop solves this problem.
Step Four: Bake until Brown.
Place the meatballs on a parchment-lined baking sheet. It's fine if they touch. Bake until they're brown and the center is 165℉. It takes about 15 minutes to bake a pan.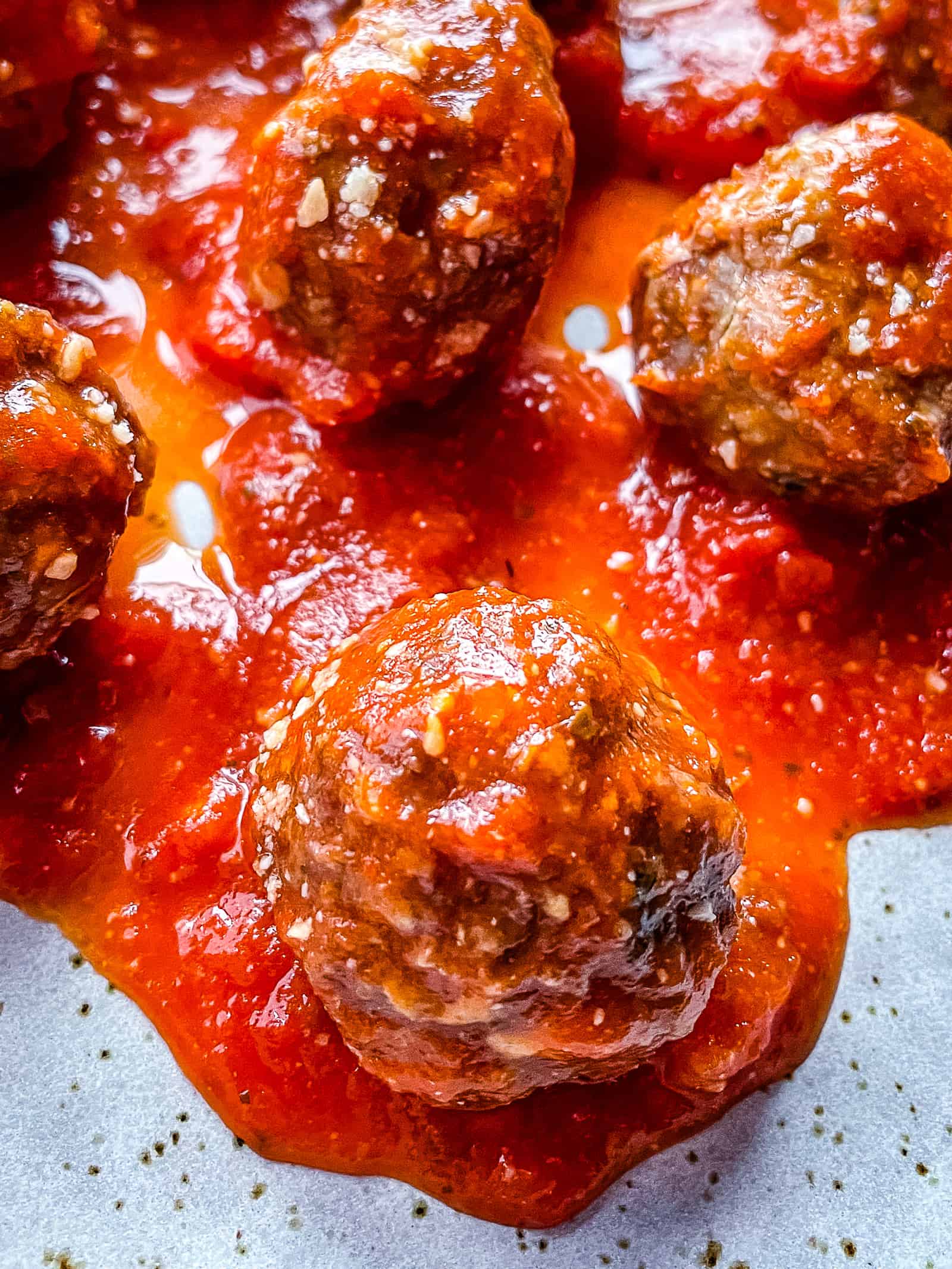 How to Serve.
You can enjoy these right away or simmer them for a little while in a pan of pasta sauce. Use them to make spaghetti and meatballs, a meatball sub or serve them with gravy and mashed potatoes.
How to Store and Freeze Meatballs.
Meatballs keep for three to four days after cooking. Place the cooled meatballs in a refrigerator container. To reheat them, place the meatballs in sauce and gently simmer until heated through. Or place the meatballs on a baking sheet and reheat in a 300 degree oven.
How to Freeze Meatballs
Cool the cooked meatballs. Place them in a single layer into a freezer container. To store them in a freezer bag, place the meatballs in a single layer on a baking sheet. Freeze until set. Transfer the frozen meatballs to a freezer bag.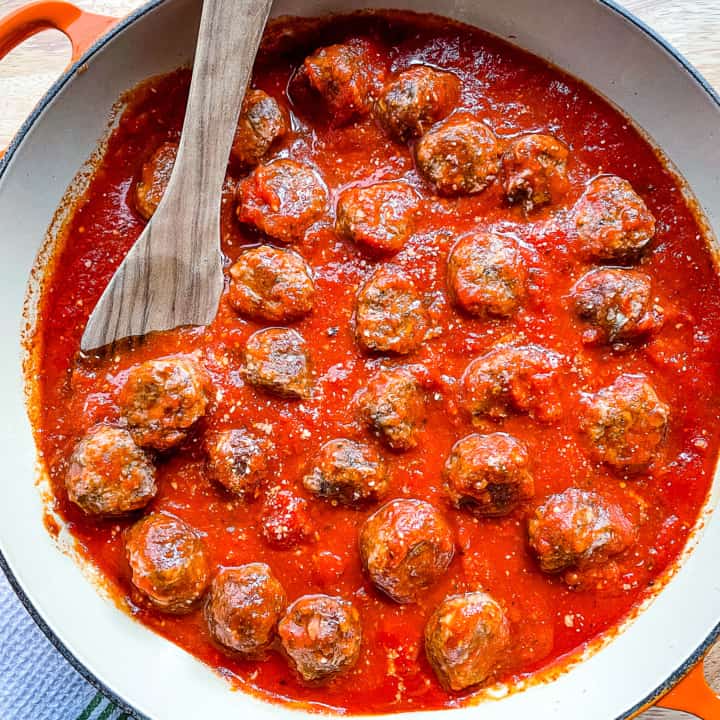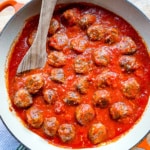 Easy Baked Meatballs
A pan of baked meatballs takes about 30 minutes to make from start to finish. To make a batch, prepare the meatball mixture. Scoop into balls and place on a parchment-lined baking sheet. Bake and enjoy.
Ingredients
½

cup

dried breadcrumbs

¼

cup

milk

1

pound

ground beef (90% lean suggested)

1

large

egg

1

small

onion, finely diced or grated

½

cup

grated Parmesan cheese, optional

2

cloves

garlic, minced

2

teaspoons

dried basil

1

teaspoon

dried oregano

½

teaspoon

salt

½

teaspoon

ground black pepper
Instructions
Preheat oven to 375°F. Line a baking sheet with parchment paper.

Combine breadcrumbs and milk in a large mixing bowl. Stir to combine. Allow to sit for five minutes. Add remaining ingredients. Mix together until thoroughly combined with your hands or a wooden spoon.

Roll into 1 ½-inch meatballs, about 2 tablespoons each. Place onto prepared baking sheet.

Bake until the meatballs are firm and 165°F, about 15 minutes. Serve warm. Store cooled meatballs in the refrigerator for up to three days.