Cooking sausage in the oven is easy: simply preheat your oven, line a baking sheet with parchment or foil, and bake. The sausage comes out juicy and tender each time. And the method is less messy than cooking sausage in a skillet or on the grill.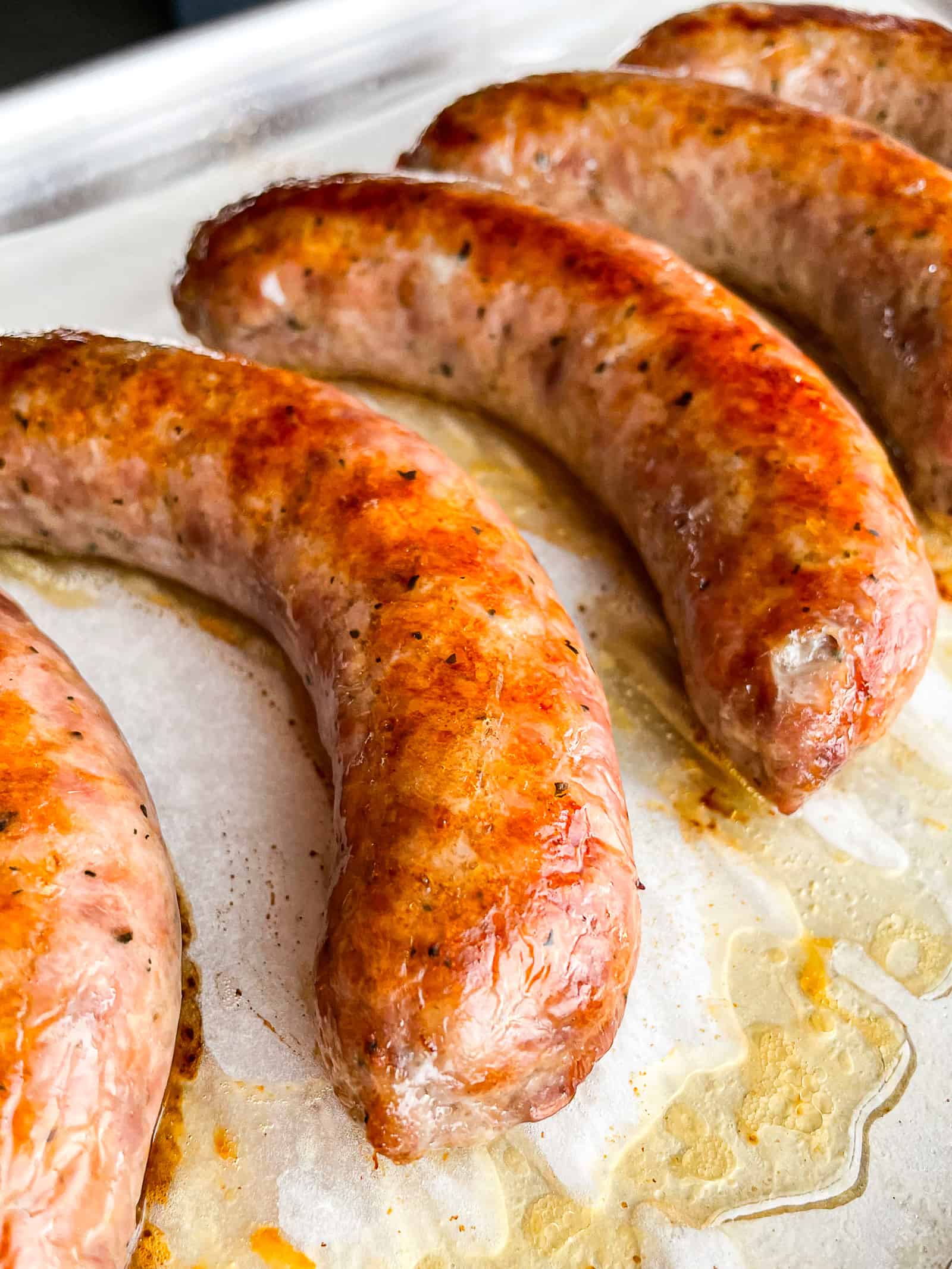 Step One: Select the Sausage.
There are so many options when it comes to sausage. From spicy Italian sausage to Mexican chorizo., here's what to use and what to avoid when cooking in the oven.
Use: Fresh Sausage.
Fresh sausage links contain raw meat and must be cooked before eating. Store fresh sausage in the refrigerator or freezer before cooking.
Types of Fresh Sausage
Breakfast sausage. Patties or links.
Italian Sausage. Hot, mild, or sweet Italian sausages.
Bratwurst.
Mexican Chorizo.
Flavored and Stuffed Sausages.
Avoid: Ground Sausage
Ground sausage. This type of sausage looks like ground beef or ground turkey. It's great for adding to sauces, using in meatloaf, or turning into patties. It can't, however, be baked on its own in the oven. It will turn into one large lump.
A Note about Precooked and Fully Cooked Sausage.
Some sausages come fully cooked and are safe to eat right from the package. Examples of this are chicken sausage and kielbasa. 

Since precooked sausage is fully cooked, you don't need to follow this recipe. If you'd like to heat a precooked sausage before eating, you can. Simply warm the sausage in a hot oven to the temperature you like. Always check the package to ensure the sausage is precooked and does not require cooking.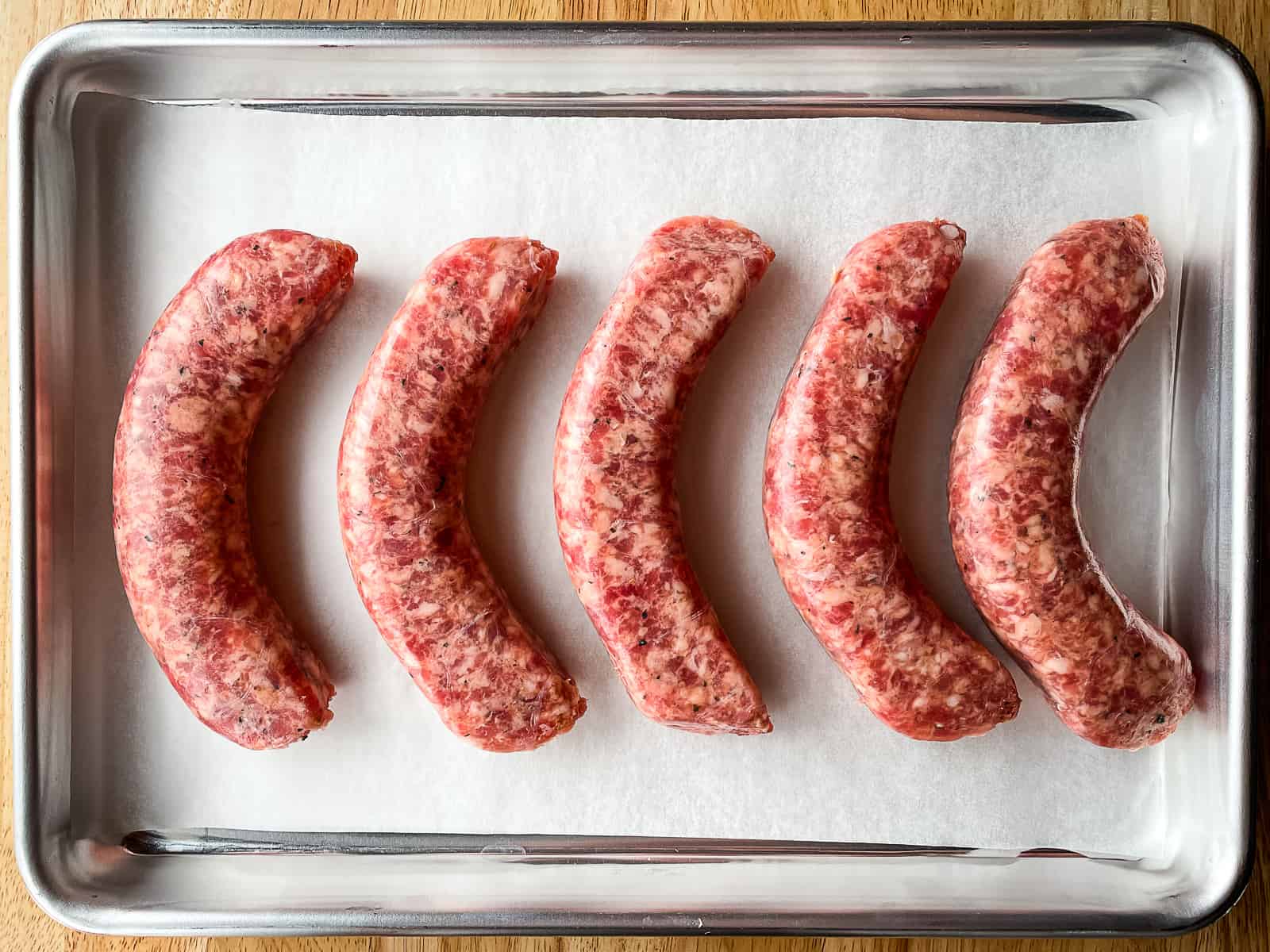 Step Two: Preheat Your Oven and Prep the Pan.
Cooking sausage in the oven is so easy: simply preheat your oven, line a baking sheet with parchment or foil, and bake. That's really it. There's no need to oil the sausage or do any special preparation.
Best Oven Temperature for Sausage.
The best temperature to cook sausage in the oven is 400℉ (200℃). At this temperature, they come out crispy on the outside and juicy in the center.
If you're cooking other food in the oven and need to cook them at a lower or higher temperature, it's no problem. You can cook sausage in an oven set to between 350℉ to 425℉ (177℃ to 219℃). As long as you select a temperature within this range, the sausage turns out great.
Most ovens take about 15 minutes to reach the correct temperature. If you're using a tabletop or toaster oven, the preheat time is much shorter, usually about five minutes.
The Best Pan to Use.
Sausage releases juices as it cooks. Use a rimmed pan, like a sheet pan, to keep the juices from running off the pan.
To make clean-up a snap, line the pan with parchment paper or aluminum foil. The parchment or foil catches the juices and grease and prevents the sausage from sticking. If you don't have either in the house, lightly spray the pan with nonstick cooking spray or brush lightly with oil.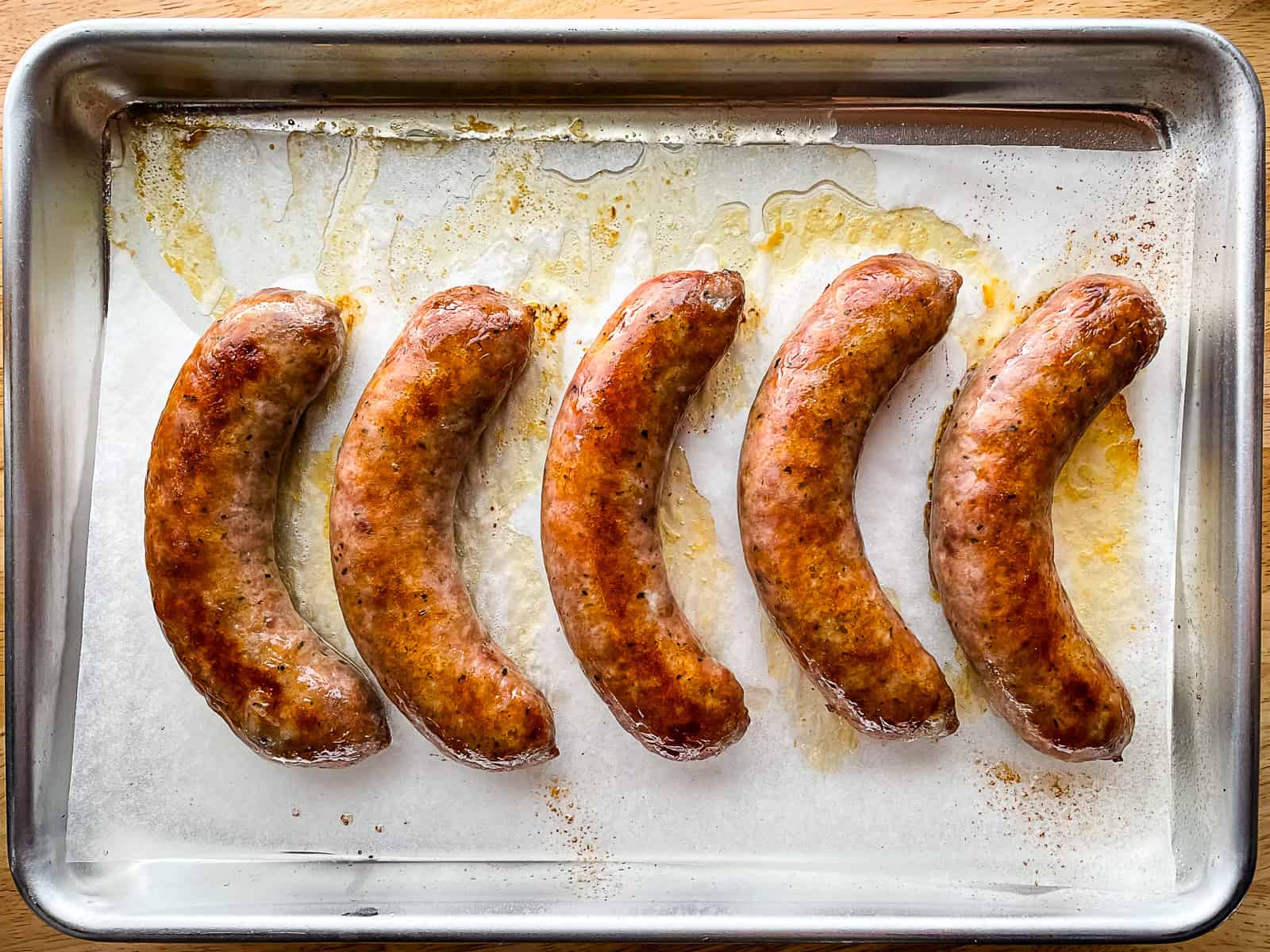 Step Three: Cook the Sausage.
Place the sausage onto the prepared pan. You can cook as many or as few sausages as you'd like. To help them brown, leave a little space between each link.
Flip (optional).
If you want the sausages golden brown on each side, flip them once during cooking. When sausages are in direct contact with the pan, they brown nicely. If you're going to serve them with something like pasta sauce and don't care about browning, you can skip this step. 
How Long Does it Take to Cook Sausage in the Oven?
Cooking time varies depending on what type of sausage you're cooking. Always take the temperature of the sausage before serving. Most fresh sausage needs to be cooked to 165℉ (74℃). Check the package for the required safe cooking temperature.
Small breakfast sausage links and patties take about 15 to 20 minutes to cook in a 400℉ (200℃) oven.
Link sausage, like Italian sausage or bratwurst take about 30 minutes to cook in a 400℉ (200℃) oven.
Fresh ring sausage take at least 45 minutes to cook in a 400℉ (200℃) oven.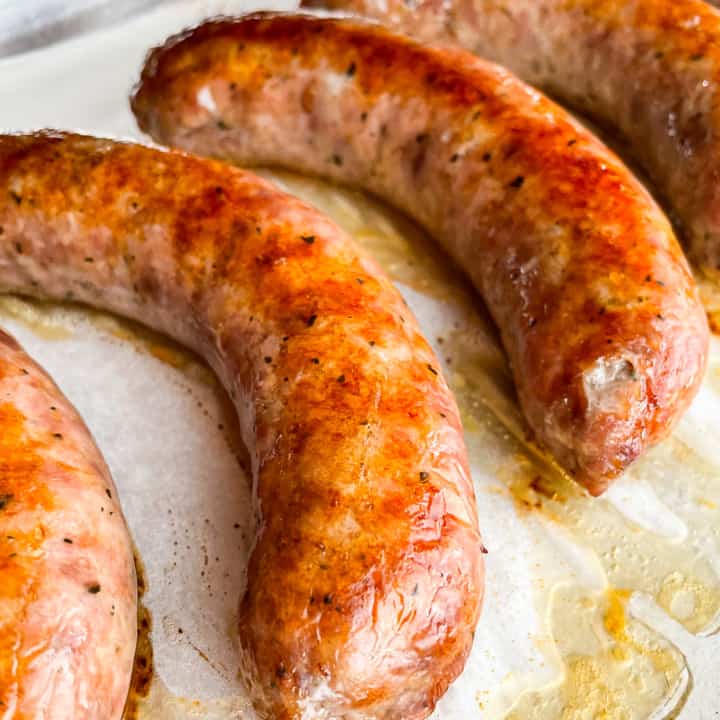 Oven Baked Sausage
Cooking sausage in the oven is easy. Simply preheat your oven, line a baking sheet with parchment or foil, and bake. The sausage comes out juicy and tender each time.
Ingredients
1

pound

sausage, see note

Serve hot.
Instructions
Preheat oven to 400℉.

Line a rimmed baking sheet with parchment paper or foil.

Cook until sausage is brown and cooked through. The internal temperature should be 165℉.

For even browning, flip sausages halfway through cooking.

Cook small sausages and patties for about 20 minutes.

Cook large sausages for about 30 minutes.

Serve warm. Store leftovers covered in the refrigerator for up to three days.
Recipe Notes
Ingredients Notes
Any type of fresh (raw) sausage may be used. Links or sausage patties both work with this recipe.
Cook as many or as few sausages as you need.
Small sausages and patties cook faster than larger sausages. 
400℉ is a suggested temperature. Sausage may be cooked in an oven set to 350℉ to 425℉