Making homemade pasta sauce and some baked meatballs? Serve it with bread and dipping oil. This recipe is also great when you're enjoying salad and bread for dinner.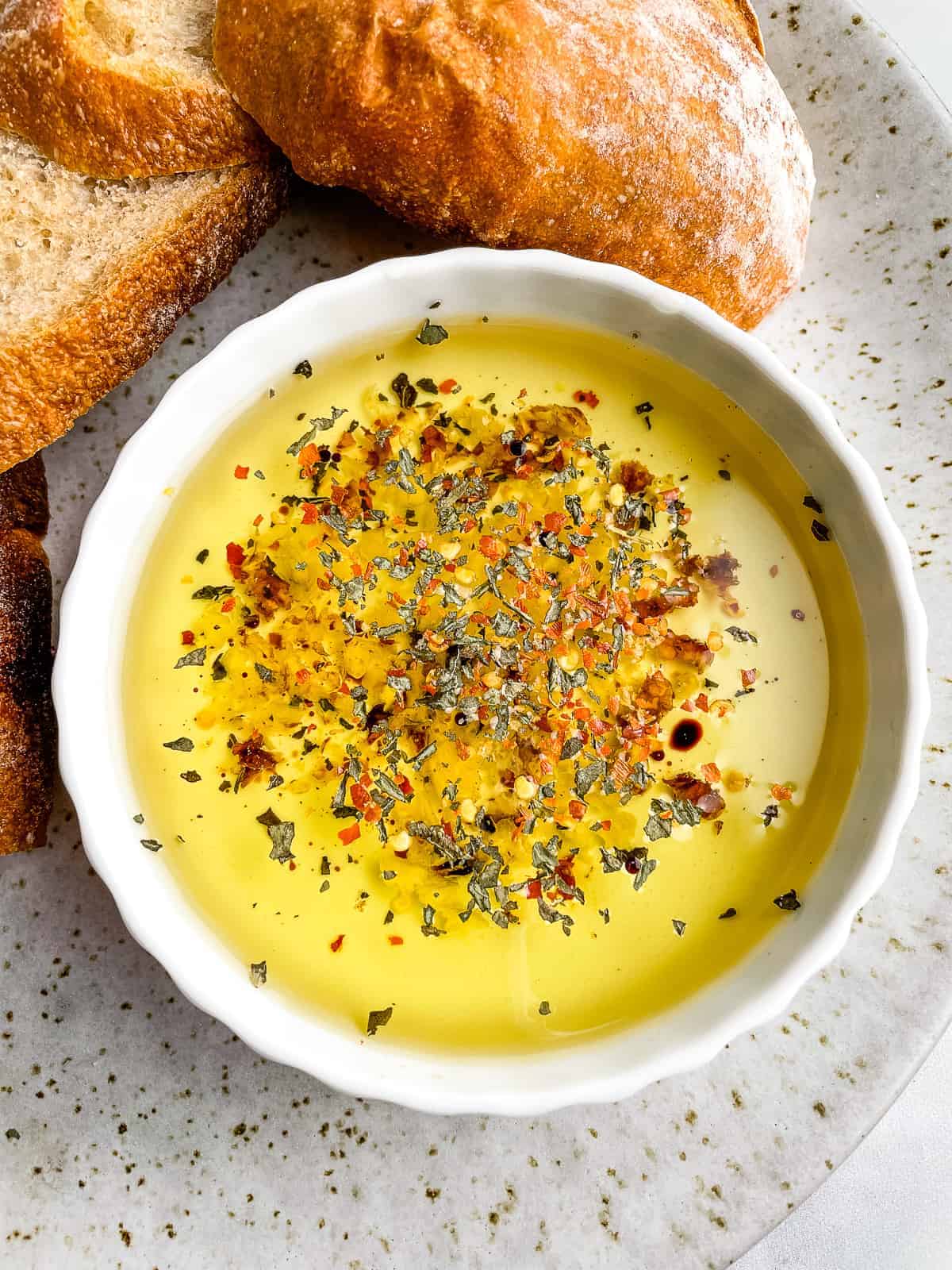 Of all the things I make, I think my friends love my garlic bread dipping oil the most. This cracks me up because it's so easy. (I'm sure there's a lesson in simplicity there somewhere.)
Essential Ingredients
Olive Oil. Use any extra-virgin olive oil that you like. Since there's a lot of raw garlic in the recipe, the subtle flavors of expensive oil get lost.
Fresh Garlic. The nickname for this oil could be "garlic lover's" bread dipping oil. The recipe calls for two cloves of raw, minced garlic but feel free to use more or less.
Red Pepper Flakes. Gives the oil a little kick. If you don't have crushed red pepper in the house, you can use freshly ground black pepper.
Dried Basil or Oregano. This oil doesn't need freshly chopped herbs, which makes it really quick to make. An Italian blend of herbs also works great.
Salt. Kosher or flaky salt works best.
Optional Ingredients
The following ingredients are optional for dipping oil. You can use one or use them all.
Balsamic Vinegar: After putting the oil into the serving dish, drizzle with balsamic vinegar.
Fresh Herbs. Chopped fresh basil or rosemary tastes great.
Parmesan Cheese. Add some freshly grated parmesan cheese to the oil after mixing.
How to Prepare the Garlic.
Did you know the finer you chop garlic, the stronger the flavor? This is because of the pungent chemical compounds garlic contains. As you chop or mince garlic, the cell walls of the clove break, releasing more of these flavorful compounds.
For a light garlic flavor, slice or roughly mince the garlic. 
For a more intense, almost spicy garlic flavor, finely mince it or use a garlic press.
How do I store this oil?
Do not store this oil. Raw garlic and olive oil should be eaten right away and not stored. The combination of raw garlic and olive oil can harbor botulism. Throw away this oil if left at room temperature for more than two hours. If refrigerated, throw away after a day.
Can I cook the garlic?
For a milder garlic flavor, cook the garlic in the olive oil. Allow the oil to cool to room temperature and then add the remaining ingredients.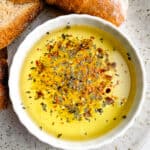 Easy Bread Dipping Oil
This garlicky dipping oil goes great with slices of crusty bread.
Ingredients
½

cup

extra-virgin olive oil

2

cloves

garlic, minced

minced

Red pepper flakes

Dried basil

Salt

Sliced Bread
Optional
balsamic vinegar

freshly chopped herbs

freshly grated parmesan cheese
Instructions
Mix the olive oil and garlic in a small bowl. Whisk to combine. Add a pinch of red pepper flakes and dried basil. Transfer to a small serving bowl(s). Sprinkle generously with Kosher salt. Add additional red pepper flakes, if desired.

Optional: Drizzle the oil with balsamic vinegar, about 1 teaspoon. And/or top with freshly chopped herbs and grated parmesan cheese.

Serve with sliced bread. Dipping oil should be served right away. Throw away oil if it's left at room temperature for more than two hours.

Store leftover oil in the refrigerator for no longer than overnight. Raw garlic and olive oil can harbor botulism and should be thrown away after a day.
Recipe Notes
Storage Note:
This oil is unsafe to bottle and store. Raw garlic and oil can harbor botulism. Make this oil, enjoy it, and then throw it away.