If you love cheesecake but don't want to make a whole one, make a pan of cheesecake cupcakes. They're rich and creamy and so easy to make. Plus, you only need five ingredients to make a batch.
Why This Recipe Works.
Cream cheese gives the cupcakes a dense, creamy texture.
Bringing the ingredients to room temperature makes for a lump-free batter.
Baking in a muffin pan eliminates the need for a water bath.
Ingredients.
Cream cheese. Similar to a New York-style cheesecake, these cupcakes are made with only cream cheese. It gives the cupcakes a dense and creamy texture. Use traditional cream cheese, not whipped cream cheese.
Granulated sugar. A little granulated sugar adds sweetness.
Eggs. Add the eggs one at a time. This allows the eggs to fully mix into the batter.
Vanilla extract. Substitute vanilla extract with any extract you like. For a lemon-y flavor, add two teaspoons of lemon juice and the zest of one lemon.
Vanilla Wafers. Makes a small crust. Substitute the vanilla wafers with a graham cracker crust, if you'd like. Or omit the cookies. The recipe works without them.
How to Make Cheesecake Cupcakes.
Start with room temperature cream cheese and eggs. If there's one "secret" to making smooth and creamy cheesecake cupcakes, it's temperature. If the cream or eggs are cold, the batter can be lumpy. It's worth taking the time to warm the ingredients before mixing.
How to quickly bring cream cheese to room temperature.
Fast. Cut cream cheese into small pieces. Place on a cutting board. Make sure the pieces aren't touching. Let sit out for 30 minutes to one hour.

Faster. Cut the cream cheese into small pieces. Fill a small bowl with warm water. Let the water sit in the bowl for about three minutes to warm the bowl. Drain the water and quickly dry the bowl. Place the cubes of cream cheese into the bowl. Cover the bowl with plastic wrap or a towel to keep the warmth in. After five minutes, stir the cream cheese.

Fastest. Remove the cream cheese from the foil wrapping. Place the block on a plate. Microwave on low in 20-second bursts until soft.
How to quickly bring eggs to room temperature.
Place eggs in a bowl of warm, not hot, water for three minutes. The water should be about 90 degrees. Warmer than that and the eggs might cook.

Mix the batter gently. Keep the mixer speed low when making the batter. If you beat air into cheesecake batter, the cupcakes might sink a lot when they cool.

Use Vanilla Wafers for the crust. Vanilla wafers are a quick and tasty crust for cheesecake cupcakes. The cookies are a little smaller than a standard-size cupcake pan. But it's enough to give the cupcakes a little flavor and texture.

Bake until set. The cupcakes take about 18 minutes to bake. Look for the tops to look set and not shiny. Near the end of baking, they puff slightly. As the cupcakes cool, the filling settles. If the cupcake batter was overmixed or the cupcakes were overbaked, the filling can crack or sink. This does not change the flavor.
Chill before serving. For the best flavor and texture, chill the cupcakes for at least two hours before serving.
Topping Suggestions
Do cheesecake cupcakes need a topping? That's up to you. I think they taste great with or without a topping.
Whipped cream.
Dollop of either sour cream or full-fat plain Greek yogurt.
Fresh berries.
Jam or marmalade.
How to Store and Freeze.
Store: Keep the cupcakes in the refrigerator for up to four days.
To freeze: Place cooled cupcakes into a freezer container and freeze for up to three months.
To thaw: Remove the cupcakes from the freezer and place them in the refrigerator. Let thaw overnight.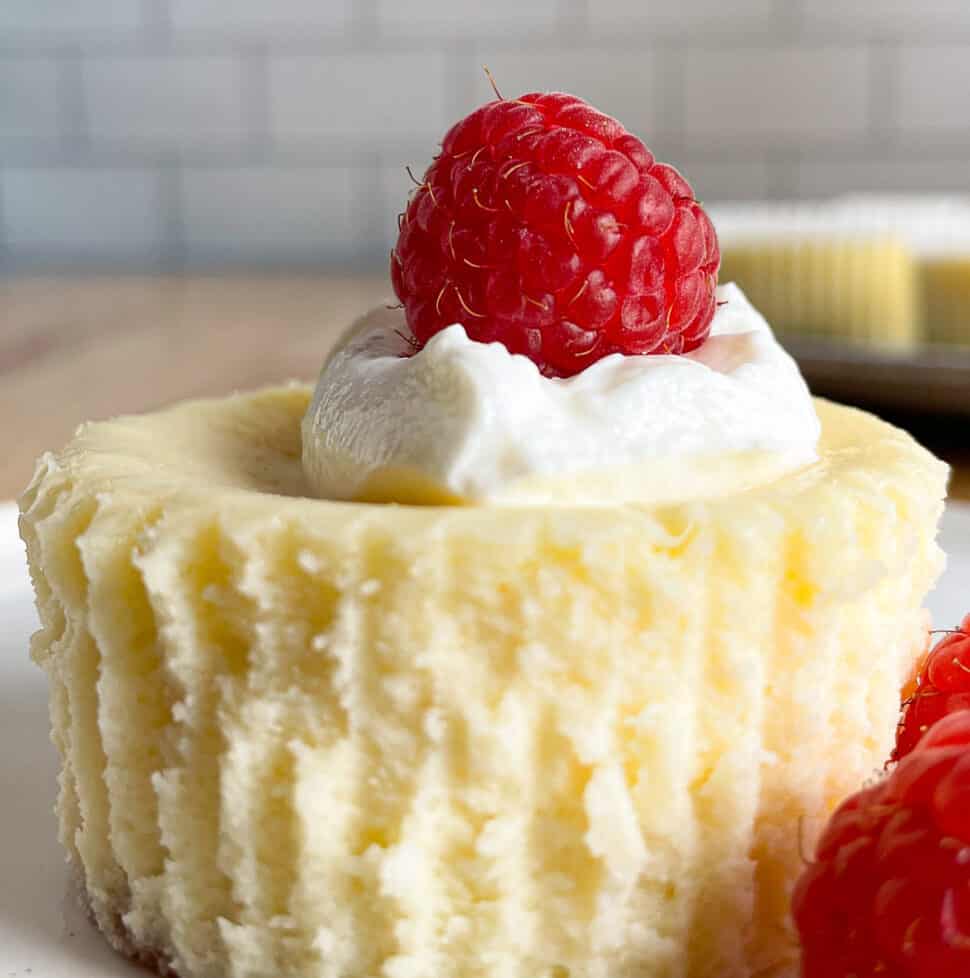 Easy Cheesecake Cupcakes
Cheesecake cupcakes are rich and creamy and really easy-to-make. Use softened cream cheese and room temperature eggs for a silky smooth batter.
Total Time
2
hours
23
minutes
Ingredients
12

Nilla (vanilla) wafer cookies

16

ounces

cream cheese, softened (453 grams)

¾

cup

granulated sugar (5 ¼ ounces; 148 grams)

2

large

eggs, room temperature (4 ounces; 113 grams out of shell)

1

teaspoon

vanilla extract
Instructions
Preheat oven to 350°F. Line a 12-cup muffin pan with paper liners. Place one Nilla wafer cookie in the bottom of each cupcake cup.

Beat 16 ounces of softened cream cheese in a medium bowl on low speed until smooth. Add ¾ cup granulated sugar. Mix on medium speed until sugar is combined, about one minute.

Stop the mixer and scrape the bottom and sides of the bowl. Mix for an additional 15-seconds.

Add 1 egg and mix on low speed until smooth. Scrape the bowl. Add 1 egg and 1 teaspoon vanilla extract. Mix until smooth.

Scoop mixture into prepared muffin pan, filling each cup about ¾ full.

Bake until set, about 18 minutes. Remove pan from the oven. Let cupcakes cool in the pan. Then place the pan in the refrigerator to cool for at least 2 hours.

Store the cupcakes in the refrigerator for four days. Freeze for up to two months. Thaw cupcakes in the refrigerator overnight before serving.
Recipe Notes
Ingredient Notes.
Cream cheese. Use block (regular) cream cheese, not whipped. Full fat cream cheese gives the best flavor and texture but low-fat cream cheese can be used. Avoid fat-free cream cheese, it makes the cupcakes gummy.
Lemon cheesecake variation. Add the zest of one lemon and two teaspoons of fresh lemon juice.