Easy weeknight chicken tortilla soup. Spicy tomato broth with black beans, chicken, and green peppers. Great topped with tortilla chips and sour cream.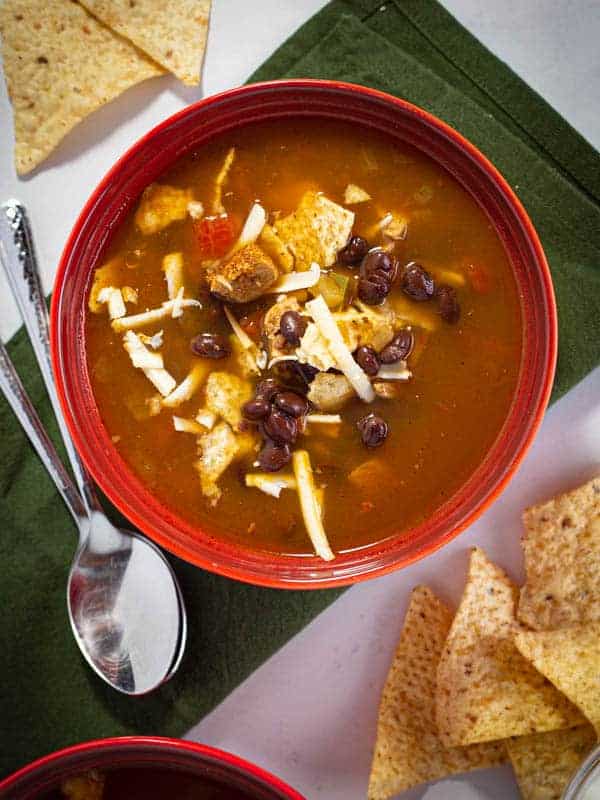 This flavorful soup, with its silky and spicy tomato broth, bits of peppers and onions and black beans, and lots of chicken is one of my favorite soups to make. The fact that I load it up with crushed tortilla chips and sour cream doesn't hurt either. And since it's one of my favorite soups, I think it'll soon be one of your favorite recipes too.
But before we talk about how to make the soup, let's get something out of the way up front: the ingredient list for this soup looks long. Really long. But there's good news! This is a weeknight recipe. Why? There are two types of ingredients in the soup:
ingredients you need to cut and ingredients you need to remove from packages.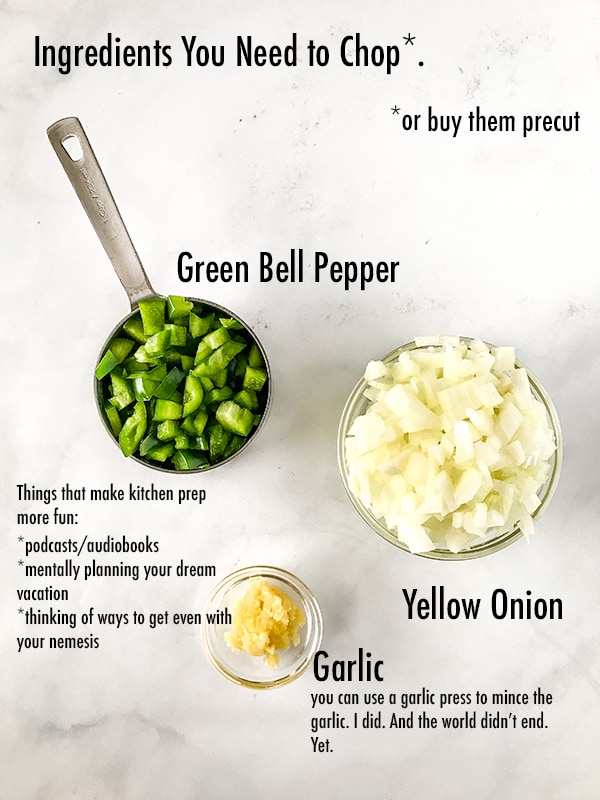 The ingredients you need to cut take a few minutes to prepare. You're chopping an onion and green pepper and mincing some garlic. You can either do this the night before and store them in the fridge or you can buy them pre-cut. Do whatever works for you and your food budget.
The ingredients that come from packages just need to be measured (or simply plopped into the soup, like the chicken broth and canned tomatoes.) They hardly take any time at all to prep.
So while the ingredient list might look impossibly long, this soup doesn't take all that long to make. I'd plan on about an hour from start to finish for this recipe. And some of that time is unattended cooking time while the soup simmers on the stove, giving you a chance to read the mail or, you know, scroll on your phone.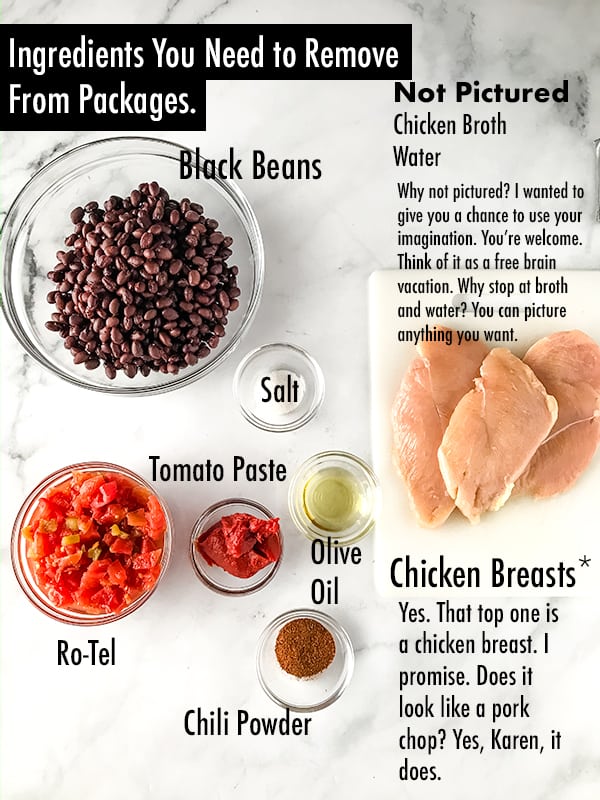 Broth and Water
(not pictured) I like to use a combo of low-sodium chicken broth and water because the tomatoes and other ingredients bring enough flavor. But if you want to use all chicken broth go for it! This is your soup, my friend.
Chicken
The chicken isn't cooked in the soup. It's cooked separately with a generous sprinkle of chili powder. I know. I know. This seems like a useless, extra step. And who wants more kitchen work? Not me! But, it's worth it. Cooking the chicken on the side, with a generous amount of chili powder, brings great flavor to the soup.
Once the chicken is cooked, cut it into bite-size pieces, or shred it, and stir it into the soup.
You've got some choices on how to prepare the chicken. Use whatever works for you.
How to Cook the Chicken for Tortilla Soup or NOT
Cook it in an Air Fryer. I LOVE MY AIR FRYER. (ahem) Sorry for the yelling but I do. If you love your Air Fryer too, cook the chicken breasts in it.
Cook it in a Skillet. Don't own an Air Fryer? No Problem! Heat a few teaspoons of oil in a nonstick skillet and cook the chicken. This takes less than 10 minutes.
Use Leftover Chicken. Got some rotisserie chicken in the fridge? Chop it up, toss it together with the chili powder and you're good to go.
Green Pepper, Onions, and Garlic
If I was Guy Fieri, this is where I'd shout, "We're going to flavortown!!!" or something. But, alas, I'm not Guy. (I wish I was. Having that kind of money looks fun.) Anyway. Where were we? Right. Right. Flavor.
The main flavor drivers of this soup, in addition to the chili powder, are a green pepper, an onion, and garlic cloves. These, coincidentally, are the three ingredients that you need to chop. (Ok. You need to mince the garlic cloves.) If you're chopping the pepper and onion, remember you're making soup. Cut them small enough to fit on a soup spoon.
Tomatoes and Green Chilis
One can of tomatoes and green chilis goes into the soup. My favorite brand to use is Ro-Tel. (You might know Ro-Tel from its work in queso.) If you can't find Ro-Tell, you've got two options: replace it with one can of diced tomatoes and one can of green chilies or replace it with a cup of salsa. Both work well and aren't worth stressing over.
Chili Powder
This soup is flavorful but not spicy-hot. (This is news to some people. Things can be spicy but not mouth-burning. Woot!) So if spice isn't your thing, you'll still love this soup.
But what if you love heat? I'm with you. And as you probably know, because you travel with your own bottle of hot sauce, it's easy to increase the heat level of soup. Add a little chipotle powder or cayenne to taste. Or, at the table, add a squeeze of hot sauce or sriracha.
By the way, not that you asked, but my favorite chili powder is Penzey's regular chili. It brings lots of flavor with a little smoky hint.
Black Beans
Since I like to control the amount of salt when cooking, I use no-salt-added canned black beans. Sometimes the store is out of them. I simply grumble in the aisle and use regular black beans. (I realize that if you're on a salt-restricted diet this won't work for you. Check out the freezer section of the store. They sometimes have frozen black beans. Or you could soak your own black beans if you've got that type of time on your hands.)
How to Make Easy Chicken Tortilla Soup
Cook the Vegetables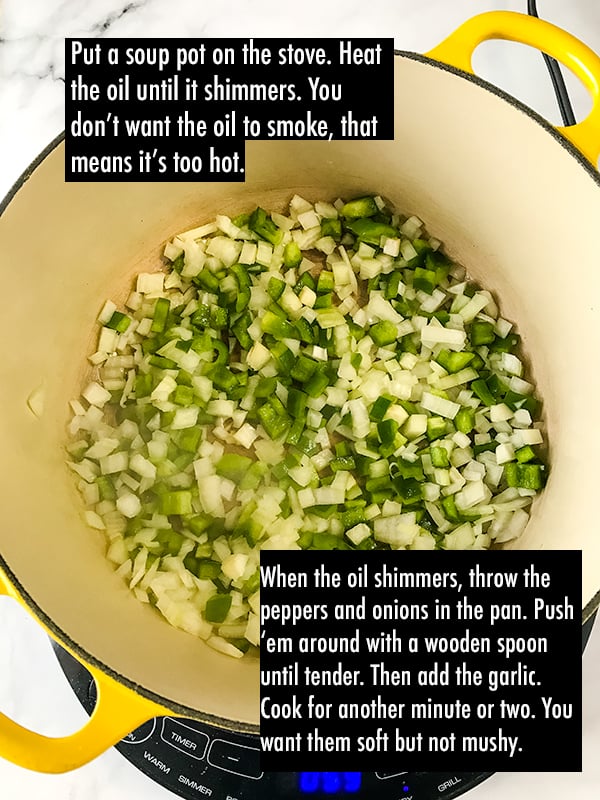 And the Other Ingredients
(including the broth and water, not pictured.)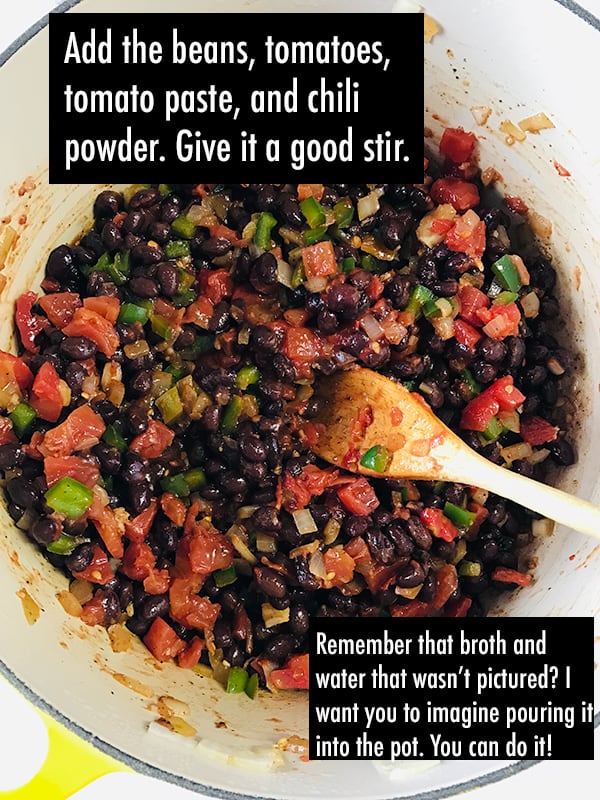 Cook the chicken (Or cut up some leftover rotisserie chicken)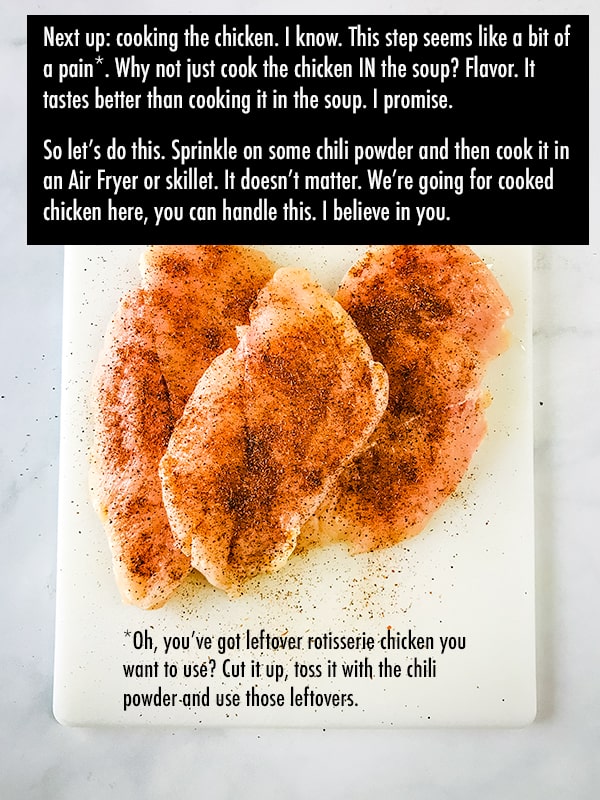 Cut up the chicken and add it to the soup.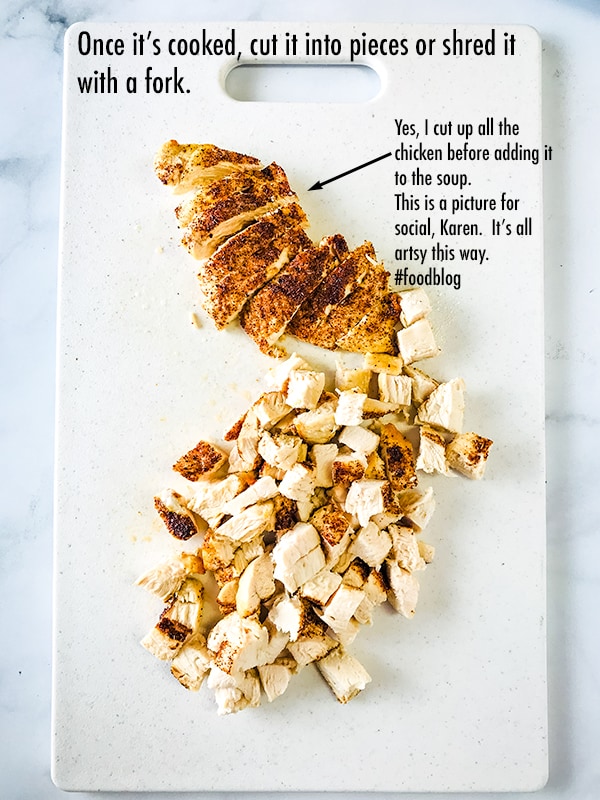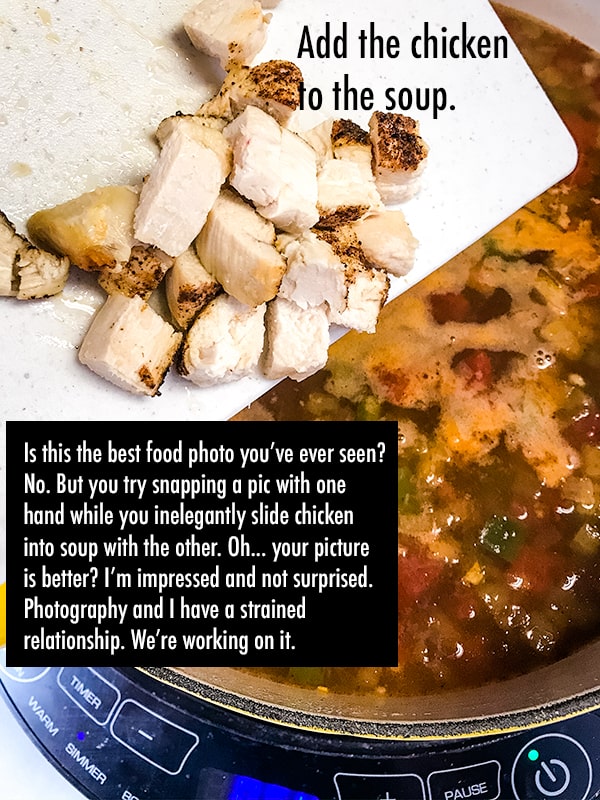 The Toppings
Are the toppings the best part of this soup? Perhaps! Before serving, I crush a handful of tortilla chips and put them in the bottom of each bowl. (Some recipes ask you to fry your own tortillas. While I'm sure this is fun and tasty, I am not about to fry tortillas only to cut them up and put them into soup to get all soggy. I have priorities). After crushing the tortillas into the bowl, I ladle in some soup, add a dollop of sour cream or a little Cheddar cheese and dig in. The crushed tortilla chips quickly soften and thicken the soup (a little) and the sour cream or Cheddar adds a touch of creaminess.
Are either needed? Not really. The soup tastes delicious without them. But they're kind of like toppings on a burger: you don't need them but they sure taste yummy.
You don't need to stop at tortilla chips and sour cream. Guac, chopped cilantro, red onions, and shredded Cheddar cheese are all fabulous toppings.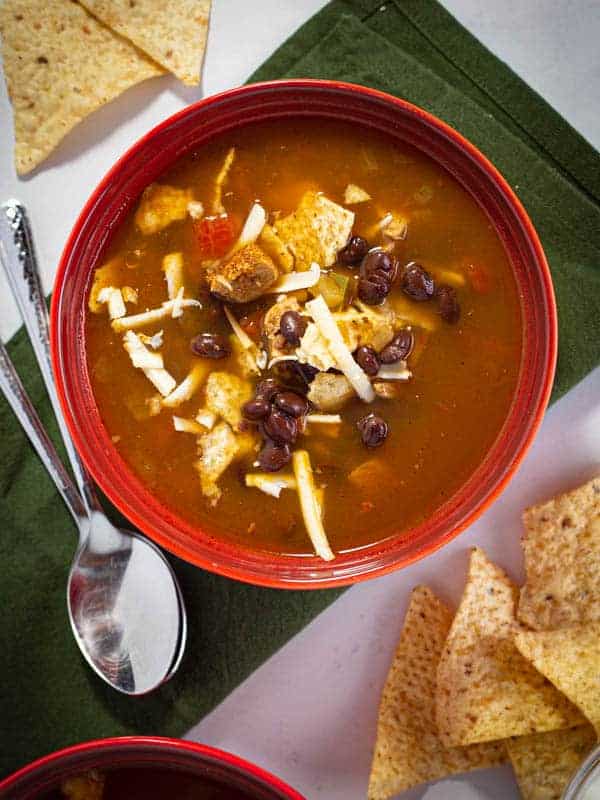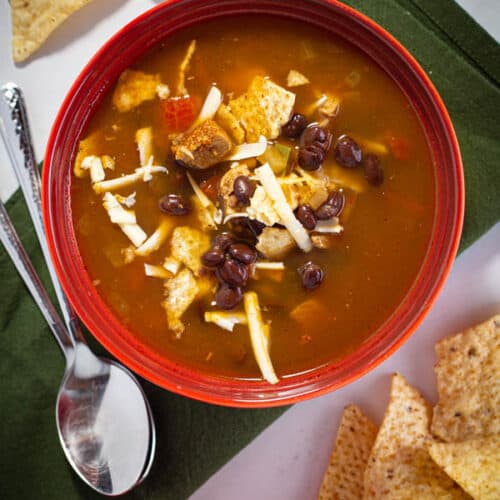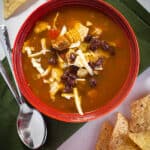 Easy Chicken Tortilla Soup
Easy weeknight chicken tortilla soup. Spicy tomato broth with black beans, chicken, and green peppers.
Ingredients
1

tablespoon

olive oil

1

large

onion diced, about one cup

(diced: 6 ounces/ 168 grams)

1

large

green bell pepper

(diced, about one cup (diced: 4 1/2 ounces/ 126 grams)

3

cloves

garlic, minced or put through a garlic press

(about one tablespoon)

3

teaspoon

chili powder, divided

1/2

teaspoon

salt

2

(15 ounces each) cans

low sodium black beans, rinsed and drained

1

(10 ounce can)

tomatoes and green chilies

(Ro Tel original suggested)

1/4

cup

tomato paste

2 ounces/ 60 grams

4

cups

(32 ounce carton) low sodium chicken stock

4

cups

water

(32 ounces; 907 grams)

3

boneless, skinless chicken breasts

(about 12 ounces; 340 grams

2

teaspoons

olive oil, optional
Toppings
tortilla chips

sour cream

chopped red onions

chopped cilantro
Instructions
Prepare the Soup: Heat 1 tablespoon olive oil in a large dutch oven or soup pot over high heat until the oil shimmers but doesn't smoke. Add the green peppers and onions. Cook, stirring frequently, until green peppers are tender, about three minutes.

Add the garlic and 2 teaspoons chili powder. Stir and cook for an additional minute.

Add the tomatoes, black beans, and tomato paste. Stir to combine. Add the chicken broth and water.

Bring soup to a boil and then reduce heat and allow soup to simmer (bubbling occasionally) for 30 minutes.

While the soup simmers, prepare the chicken.

Cook the Chicken Breast: Dry the chicken breasts and sprinkle each side evenly with the remaining one teaspoon chili powder.

To Cook in an Air Fryer: Set Air Fryer to 375 degrees F. Preheat for three minutes. Place chicken breasts in the basket. Cook until internal temperature reaches 165 degrees F, about 6 minutes. (Cook time varies depending on thickness of chicken breast.)

To Cook in a Skillet: Heat 2 teaspoons olive oil in a large nonstick skillet over medium-high heat. Oil should shimmer, not smoke. Add chicken breasts to pan. Cook until internal temperature reaches 165 degrees F, about four minutes per side.

Place chicken on a plate and set aside and allow to cool for 5 minutes. Cut or shred the chicken and stir into soup. Cook for an additional five minutes.

Serve and Top. Ladle soup into bowls. Serve with a dollop (about one tablespoon) of sour cream and a handful of crushed tortilla chips.