Easy one-bowl chocolate cake. Recipe makes a dense, moist cake. Frost with chocolate buttercream or your favorite frosting.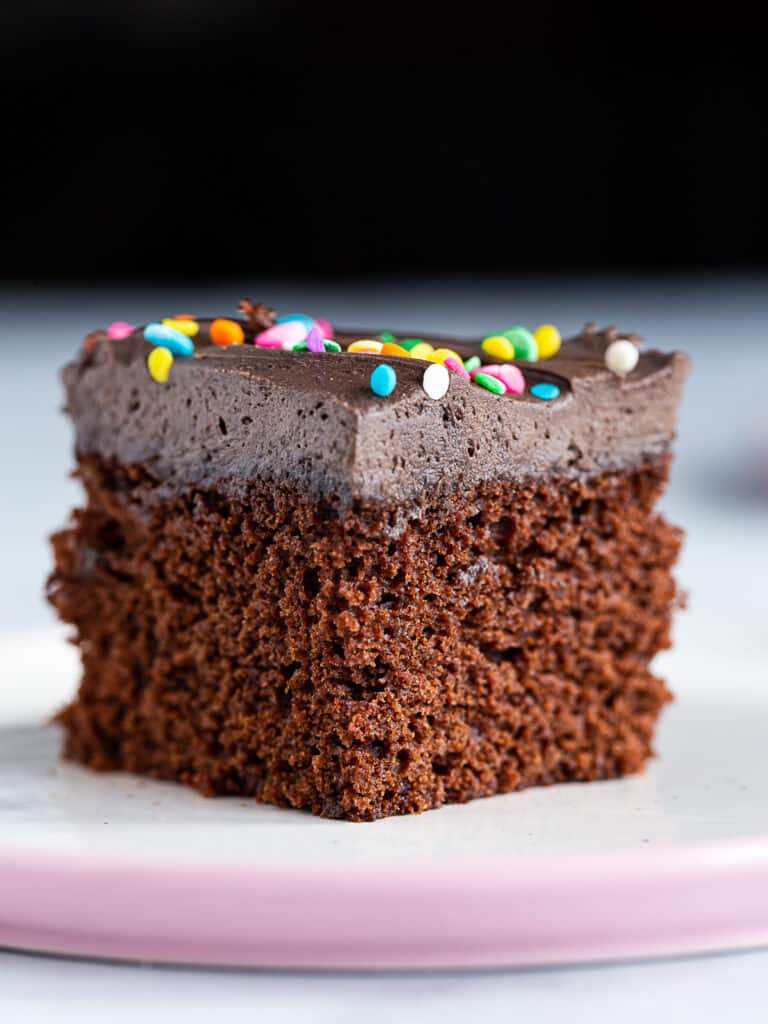 What Makes This Chocolate Cake Recipe Easy?
One Bowl. All you need is a large bowl and a whisk (or handheld mixer) to make this batter.
No Butter. This recipe uses oil. That means there's no need to wait for butter to soften. And oil gives the cake a delicate and moist crumb. It's a win-win.
No Boiling Water. Some chocolate cake recipes call for boiling water. I didn't find that boiling water made a difference in the flavor or texture of this cake. Room temperature liquids work great.
How to Make an Easy Chocolate Cake. Four Steps For Success.
Preheat your oven. Cakes bake best in a hot oven. Turn the oven on before you measure your ingredients and mix the batter.
Use a large bowl. Mix this cake batter in a large mixing bowl. Start by whisking together the dry ingredients. If you notice the cocoa powder is lumpy when you measure it, sift it before adding it to the bowl. Then add the eggs, water, and oil. Mix until the batter is smooth. This takes about a minute.
Spread into a pan. I like to bake this cake in a 9×13-inch pan. But you can also make two 8-inch rounds or about 24 cupcakes with the batter. To keep the cake from sticking to the pan(s), grease with nonstick cooking spray or line the cupcake pans with paper liners.
Bake until set. Bake until the cake is set. When you test it with a cake tester, no crumbs should climb to the tester.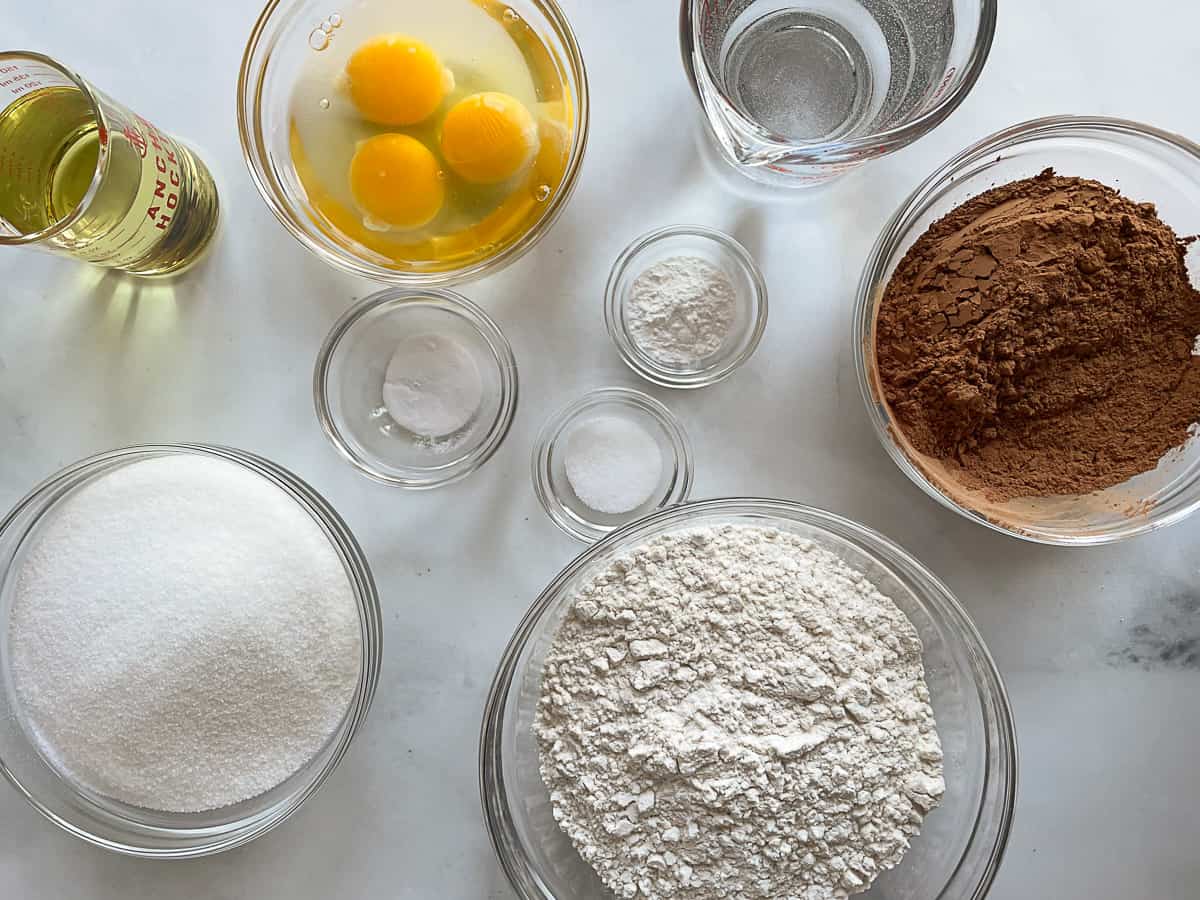 Important Ingredients
Flour. All-purpose flour works great for this chocolate cake. Since the recipe contains cocoa powder, there's less gluten in the recipe. (Gluten is what gives baked goods body and structure.) All-purpose flour provides enough structure that the cake doesn't sink. If you use cake flour, expect a more delicate texture and a cake that might sink a little in the center.
Cocoa Powder. You'll see two types of cocoa powder on the shelf at the grocery store: natural cocoa powder and Dutch-process. Natural cocoa powder is acidic. It reacts with the baking soda in the recipe to help the cake rise. Substituting Dutch-process cocoa powder for Natural cocoa powder will give you a denser cake.
Oil. Using oil instead of butter serves two purposes: it's easy and it gives the cake a moist, delicate crumb.
Water, Milk, or Coffee. You have options when adding liquid to this batter. For the strongest chocolate flavor, use water. For a richer cake, use milk. And if you like a very light mocha flavor, use cooled coffee. My favorite is water because it lets the flavor of the cocoa powder come through.
How to Tell When a Chocolate Cake is Done.
Using a toothpick or a cake tester is the easiest way to tell if a chocolate cake is done. When baked in a 9×13-inch pan, this cake takes about 35 minutes to bake. Since ovens vary, set a timer for 35 minutes. Then insert a toothpick into the center of the cake. If a few moist crumbs cling to the toothpick, the cake is done. If you see wet batter, return the cake to the oven for five minute minutes. 
How to Store and Freeze the Cake.
Store the cake on the counter at room temperature for up to five days. If you'd like to freeze the cake, place it in a freezer container and freeze for up to three months. Frosted cakes freeze beautifully.
Thaw a frozen cake covered on the counter for several hours or place in the refrigerator overnight.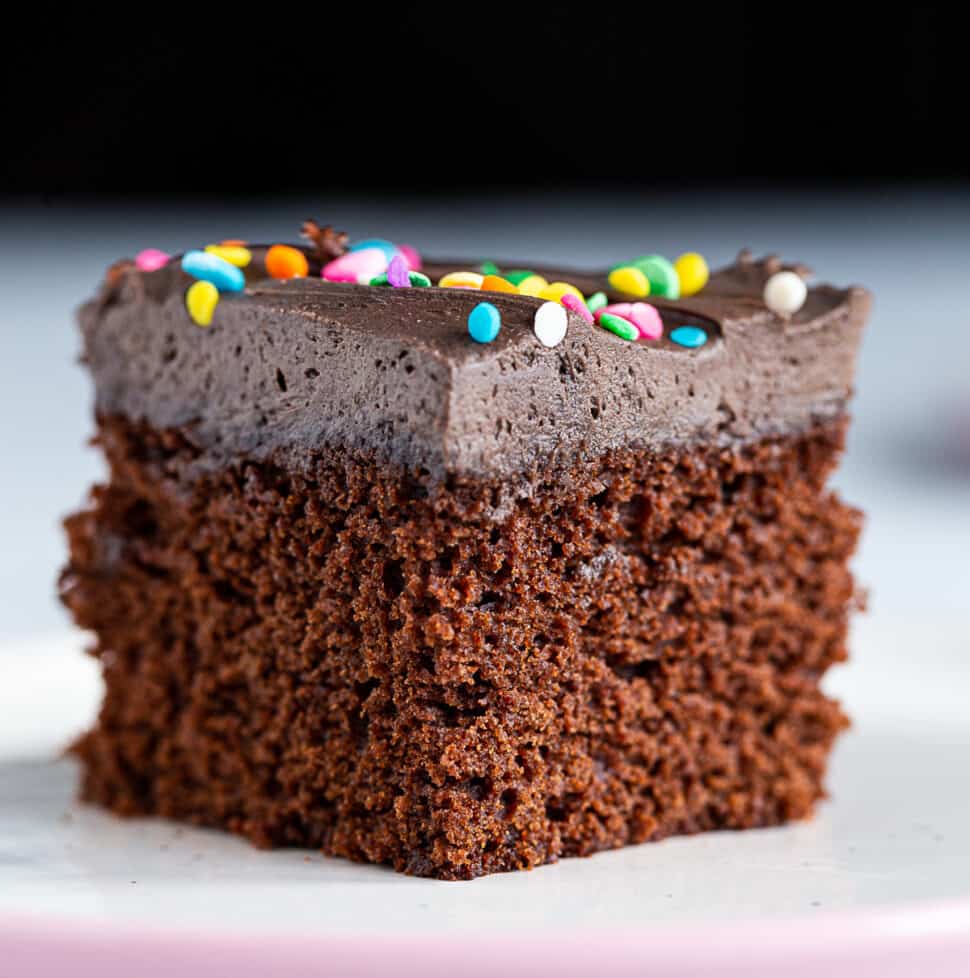 Easy Chocolate Cake Recipe
Easy one-bowl chocolate cake. Recipe makes a dense, moist cake.
Ingredients
2

cups

all-purpose flour

(9 ounces; 255 grams)

2

cups

granulated sugar

(14 ounces; 396 grams)

¾

cup

natural cocoa powder, sift if lumpy

(2 ¼ ounces; 62 grams)

1 ½

teaspoons

baking powder

1

teaspoon

salt

½

teaspoon

baking soda

3

large

eggs

1

cup

water, milk, or cooled coffee

(8 ounces; 226 grams)

½

cup

vegetable or canola oil

(3 ½ ounces; 100 grams)
For the Frosting
2

sticks

softened butter

(8 ounces; 226 grams)

⅓

cup

cocoa powder, sifted

(1 ounce; 28 grams)

4

cups

powdered sugar, sifted

(16 ounces; 453 grams)

4

tablespoons

milk, more as needed

(2 ounces; 56 grams)
Instructions
For the Cake. Preheat oven to 350 degrees F. Spray a 9×13-inch cake pan with nonstick cooking spray or grease with solid shortening and dust lightly with cocoa powder. (See note for round and cupcake baking instructions.)

In a large bowl, whisk together 2 cups flour, 2 cups granulated sugar, ¾ cup cocoa powder, 1 ½ teaspoons baking powder, 1 teaspoon salt, and ½ teaspoon baking soda. Add 3 large eggs, 1 cup water, and ½ cup oil. Whisk until smooth. Use a rubber spatula to scrape the bottom of the bowl and mix in any flour that was clinging to the bowl.

Pour batter into prepared pan. Bake until a cake tester inserted into the center of the cake comes out clean, about 35 minutes. Remove cake from oven. Cool 9×13-inch cake in pan.

For the Frosting. In a large bowl, beat 2 stick butter until light. Add the ⅓ cup cocoa powder and mix until combined. Stop the mixer. Add the 4 cups powdered sugar and 3 tablespoons milk. Mix on low speed. Increase speed to medium and beat until fluffy. If frosting is thick add an additional tablespoon milk.

Frost chocolate frosting or your favorite frosting.
Recipe Notes
For a round cake. Grease two 8 or 9-inch round cake pans with nonstick cooking spray or grease with solid shortening and dust with cocoa powder. Check cakes for doneness after 25 minutes. Allow cake to cool in the pan for about 10 minutes and then remove cake from oven and let cake cool completely on a wire rack.
For cupcakes. Line 24 muffin cups with paper liners. Fill cupcake cups about 2/3 full. Check for doneness after about 18 minutes. Allow cupcakes to cool in the pan for about 5 minutes and then remove cupcakes from pan. Cool completely on a wire rack.