Thick and chewy, these coconut macaroons only require four ingredients to make. They taste like an Almond Joy candy bar—only better. Egg-free recipe.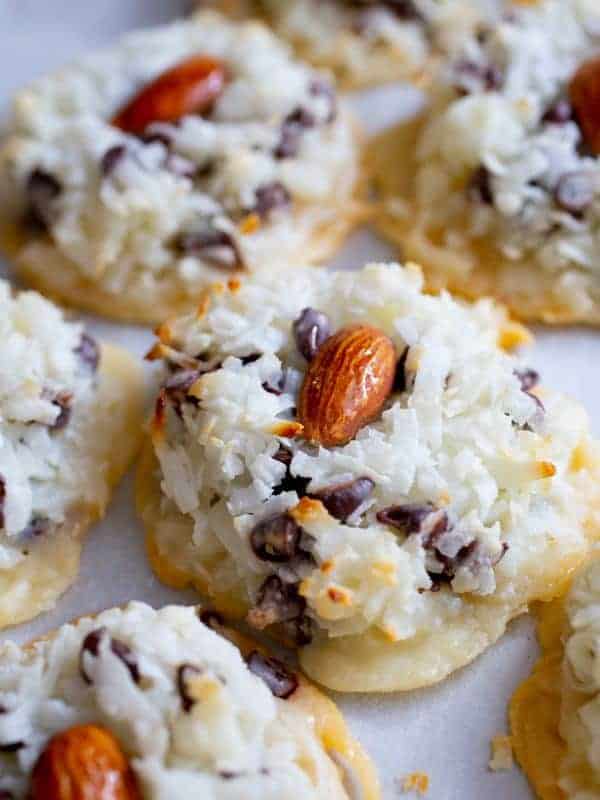 Who else loves easy cookie recipes? If you've made my three ingredient peanut butter cookies, you know that I'm a fan of two things: cookies and easy recipes.
And, woah, do these fit the bill.
These cookies, inspired by Almond Joy candy bars, only require four ingredients: coconut, sweetened condensed milk, almonds, and chocolate chips. They're perfect on nights when you want "a little something sweet" and they're also great to serve for Easter and Christmas. Basically, it's always a good time for these cookies! 
If you've lived in the United States, you probably know these cookies. It's a slight twist on the classic "back of the can" recipe popularized by Nestle. They're large mounds of chewy coconut baked until the edges and tops just begin to turn golden brown. The reason they're so popular? They're darn easy to make! Unlike many recipes for macaroons, this one doesn't include whipped egg whites, making them an easy last-minute treat. 
How to Make Easy Coconut-Almond Macaroons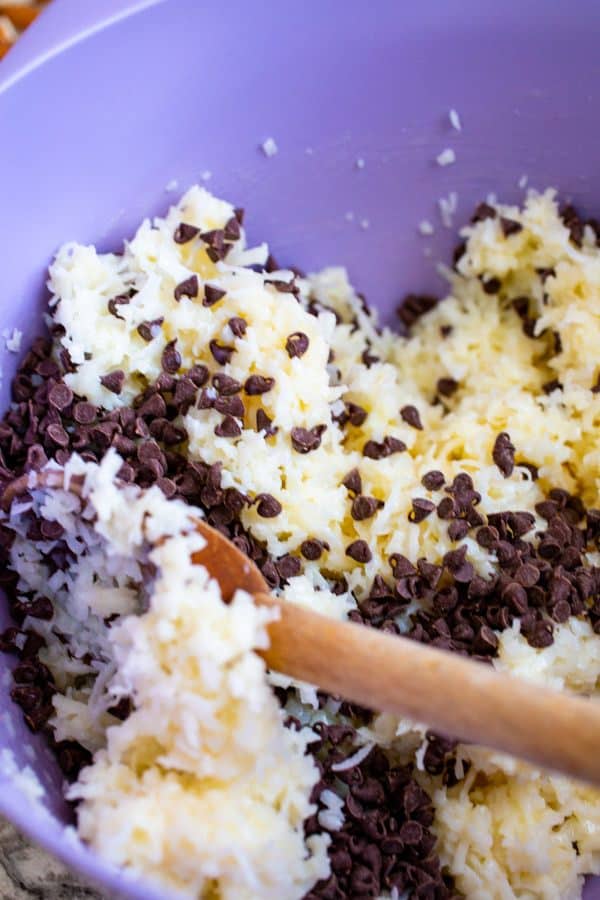 To make the cookies, combine shredded coconut with one can of sweetened condensed milk. Be sure to use sweetened condensed milk and not evaporated milk. If you use evaporated milk, the cookies won't turn out.
Once you've stirred together the coconut and milk, add the chocolate chips and drop the mixture onto a parchment-lined baking sheet. (If you have a cookie scoop, use it for this recipe. It makes scooping the cookies so easy!)
Flatten the cookie mixture with the back of a spoon and press one almond into the top of each cookie. If you'd prefer almonds in each bite, chop about a 1/2 cup of almonds and stir them into the mixture along with the chocolate chips.
Bake until the edges are golden brown, about 12 minutes. Sometimes the bottoms of these cookies spread a bit. This is normal and makes for a tasty "skirt" around the edge of the cookies.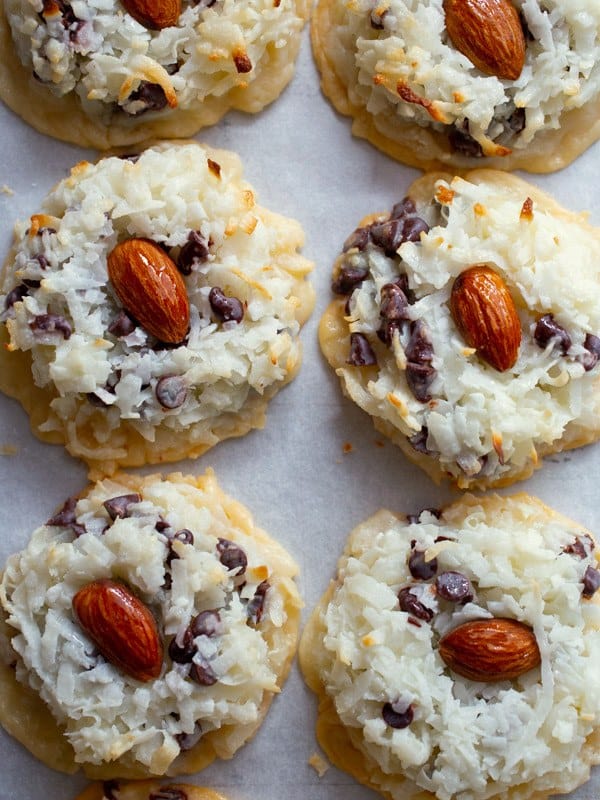 FAQ
Are these coconut macaroons chewy?
Yes! They're crispy on the edges and chewy in the center.
What's the difference between evaporated milk and sweetened condensed milk?
Evaporated milk is canned milk that's had about 60% of its water removed. It has the consistency of whipping cream. Sweetened condensed milk is evaporated milk with added sugar. The two cannot be used interchangeably.
What's the difference between a macaroon and a macron?
One letter! Kidding.
A macaroon is a thick and chewy cookie usually made with coconut. A macron is an almond-meringue cookie that's piped into circles. After baking, macarons are usually sandwiched together with a filling, like ganache. 
Are coconut macaroons gluten-free?
Yes. As always, read ingredient labels before using. As written, the cookies are gluten-free. However, the gluten-free status depends on the ingredients you use.
Can I make these without sweetened condensed milk?
No. This recipe requires sweetened condensed milk to work.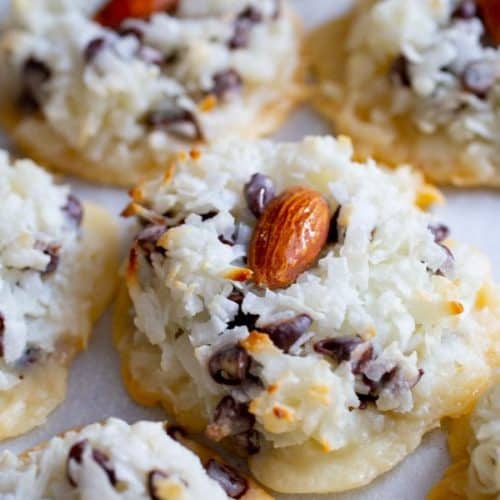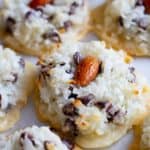 4 Ingredient Coconut Macaroons with Chocolate and Almonds
Easy one-bowl recipe for chewy coconut macaroons with chocolate chips and almonds.
Ingredients
1

(14 ounce) bag

sweetened coconut

1

(14 ounce) can

sweetened condensed milk, regular or fat-free

1/2

cup

mini chocolate chips

24

whole almonds
Instructions
Preheat oven to 350 degrees F. Line two baking sheets with parchment paper.

Stir together coconut and condensed milk in a large bowl. Add chocolate chips. Spoon mixture onto prepared baking sheets, about 2 teaspoons each. Lightly press mixture down with the back of a spoon. Press one almond into the top of each cookie.

Bake until edges and tops are lightly golden brown, about 12 minutes. Remove pan from oven. Allow cookies to cool on the pan.

Store cookies in a covered container on the counter for up to four days.