3 Ingredient Peanut Butter Cookies use only peanut butter, brown sugar, and an egg. That's it. Chocolate chips are a great addition but are totally optional.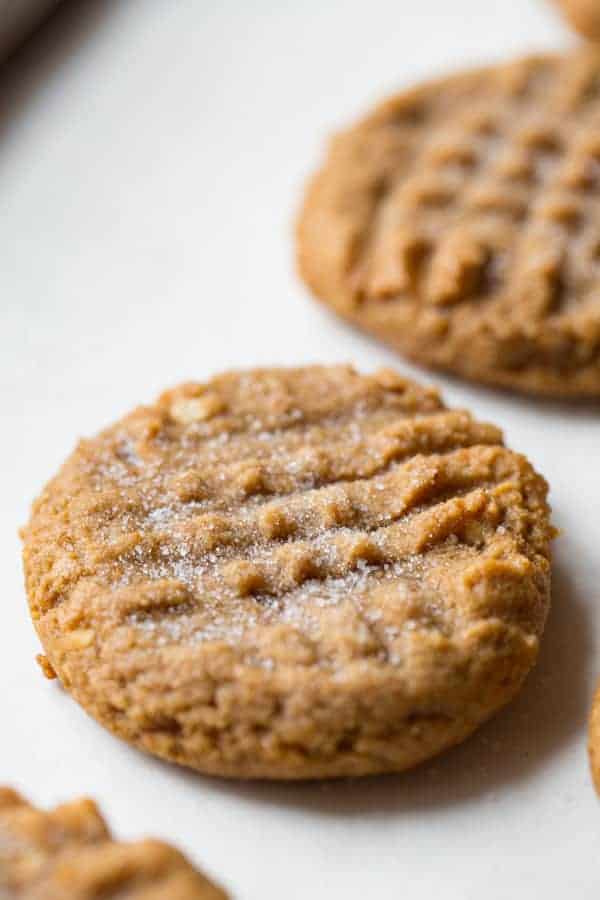 You know how some recipes just seem wrong? Your friend jots down a recipe and you look at it and think, "Really, Mary? I know you forgot something, girl." Or you hit up a blog and wonder why chicken isn't listed in the chicken noodle soup*."
*This one is probably just an oversight. Send the blogger a nice note. They will die when they read it and then correct the recipe asap.
That's how I felt when I first saw a recipe for flourless peanut butter cookies. If you're not familiar with it, the recipe goes like this: combine peanut butter, an egg, and some sugar. That's it.
Looks wrong, right?
The first time I made it, I was pretty sure the recipe wouldn't work. In fact, I think I made the recipe with that attitude. "Let's see what all this ruckus is about!" I mean, c'mon, peanut butter, an egg, and some sugar? My baker's sense told me that the peanut butter brings fat, the egg gives us structure. but the sugar stumped me. In baking, sugar is a liquefier. That means that when it gets hot, it turns to liquid. Too much sugar in a recipe and cookies can spread all over the place.
Without a little flour to hold the sugar in check, I really thought I'd have puddles of peanut butter on my baking sheet.
I grabbed my bowl, stirred everything together, and, well, the first surprise hit. The dough looked like…dough. It was maybe a little softer than regular cookie dough but it scooped out well and held the traditional fork imprints nicely.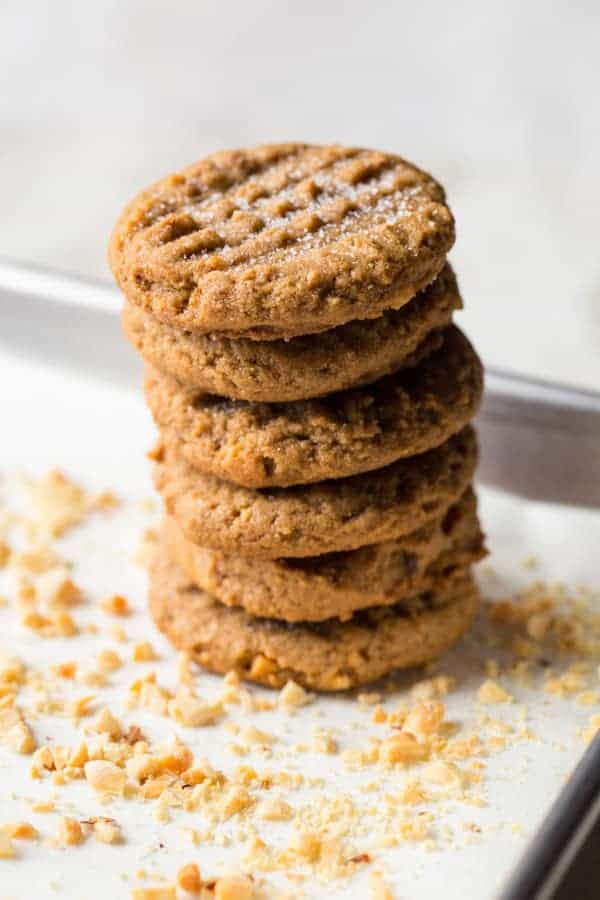 As the first pan baked, I switched on the oven light–fully expecting to see puddles. That never happened. The egg did it's thing, lifting the dough ever so slightly, and holding everything together.
After the cookies cooled, they looked perfect. I took a bite. Oh my! They tasted like the most peanut buttery-peanut butter cookies I'd ever eaten. They were soft with just enough crunch on the edge to make you feel like you were eating a cookie and not a power bar.
But…I wasn't happy.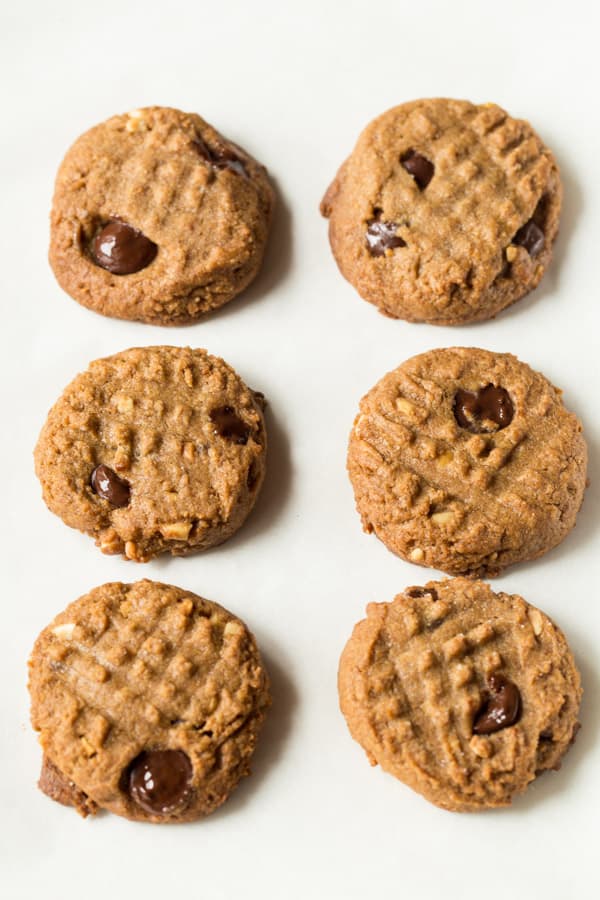 As much as I liked the cookies, I wanted to love them. The recipe I followed used a full cup of granulated sugar. This made for really sweet peanut butter cookies. Since granulated sugar only brings sweetness and not flavor, I decided to swap it for dark brown sugar. I figured a little molasses flavor would pair nicely with the peanut butter.
Then, since I like crunch, I used natural crunchy peanut butter instead of creamy. Because to me crunchy > creamy. Obviously this one is just a preference. But I do encourage you to use natural peanut butter. The fat in traditional peanut butter, usually a shortening-type fat, gives the cookies an oddly greasy and almost plastic texture. For fun, I stirred chocolate chips into half the batch. I don't think I need to explain to you that peanut butter and chocolate are awesome together. I mean, you're reading a food blog. You know this.
The cookies were exactly what I wanted. Deeply flavorful, crunchy, and full of peanut flavor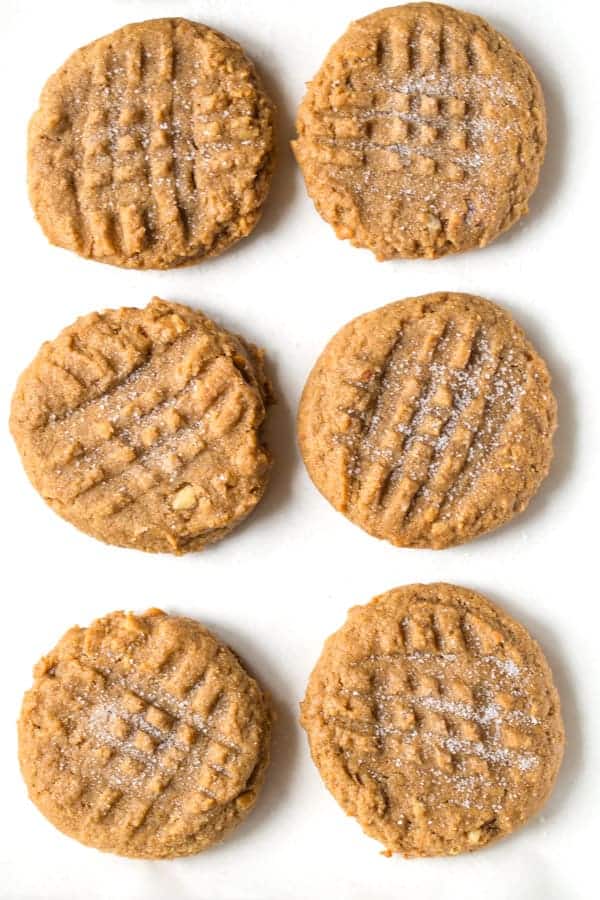 If you love peanut butter, add this recipe to your must-try list. It's that good. And don't I wish that finding out you were wrong always tasted this good.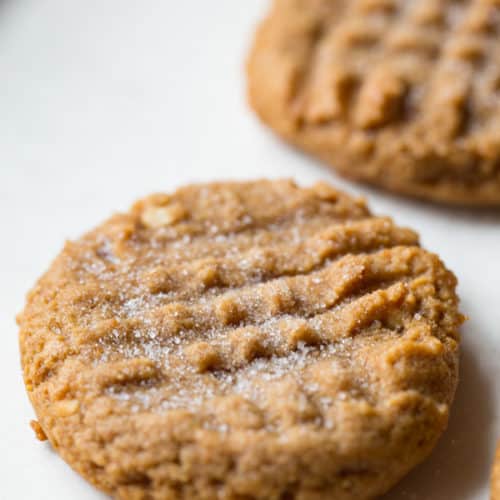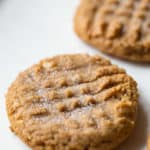 3-Ingredient Peanut Butter Cookies
3 Ingredients Peanut Butter Cookies are so easy-to-make! Use crunchy natural peanut butter and brown sugar for the best results.
Ingredients
1

cup

natural peanut butter, crunchy or creamy

(see note)

3/4

cup

dark brown sugar

1

large

egg

1/2

cup

chocolate chips, optional

granulated sugar, optional
Instructions
Adjust oven rack to middle position. Preheat oven to 350 degrees F. Line two rimmed baking sheets with parchment paper.  (See oven note)

Stir together peanut butter, sugar, and egg in a medium mixing bowl. Stir in chocolate chips if using. Allow dough to stand for 10 minutes. (This step is important. Don't skip it.) 

Drop dough, about one tablespoon each, onto prepared baking sheets. Lightly press tops of cookies with tines of a fork, making a crosshatch pattern. Sprinkle lightly with granulated sugar, optional.

Bake cookies, until golden brown, about 12 minutes. Allow cookies to cool on the pan for five minutes. Then transfer to a wire rack to cool fully. Store, wrapped, on the counter, for up to four days.
Recipe Notes
Peanut Butter Note
Before measuring natural peanut butter, stir it to incorporate the oil. 
If your natural peanut butter does not contain salt, add 1/4 teaspoon to the recipe for the best flavor. 
Oven Note
When these cookies were tested in a Breville tabletop oven, the bottoms of the cookies turned very dark when the oven rack was in the "bake" position. When tested with the rack in the "toast" position, they baked as intended. Keep your eye on the cookies if using a tabletop oven.