This easy stromboli starts with store-bought pizza dough. The crispy loaf is stuffed with ground beef, Cheddar cheese, mushrooms, and olives.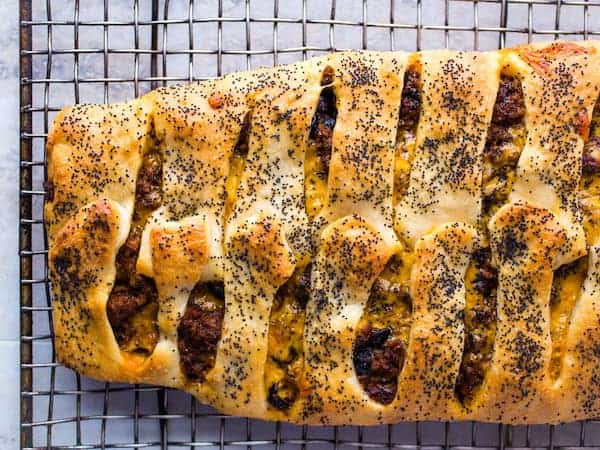 Growing up my mom would occasionally make something she'd call "pizza loaf". I was a weird kid and had only a few favorite meals. This was one of them. On a busy night, she'd buy a ball of pizza dough at the store and fill it with a cooked ground beef filling made with mushrooms, black olives, and tomato sauce. Then she'd add a generous amount of Cheddar cheese.
I don't know about you but that sounds nothing like pizza. It's amazing, don't get me wrong but it's not pizza.
For years, I thought it she named the bread. Nope. Turns out, the recipe came from her beloved Pillsbury Bake Off Cookbook.

While we still call the recipe "pizza loaf", it doesn't seem like the right name when sharing the recipe with you. I almost called it a "Cheeseburger Stromboli" but the recipe contains nary a pickle or drop of ketchup or mustard. So that was out. Then I thought of my Instant Pot Sloppy Joes. Maybe it's a Sloppy Joe roll? No..because it doesn't have the characteristic sweetness of a sloppy joe. Then, grasping at straws, I wonder if I should call it a Taco Roll. I mean, we've got ground beef, Cheddar, and black olives. But that's not right because there are no spices in it.
I concluded that it's best to think of this as a simple ground beef and cheese stromboli. Sexy name? Nah. But it sure is delicious, whatever you call it.
I hope you love this "pizza loaf"/stromboli as much as I do. This recipe is
Crunchy on the outside
Easy to Make
Perfect for Parties
Hearty
Satisfying
& so yummy!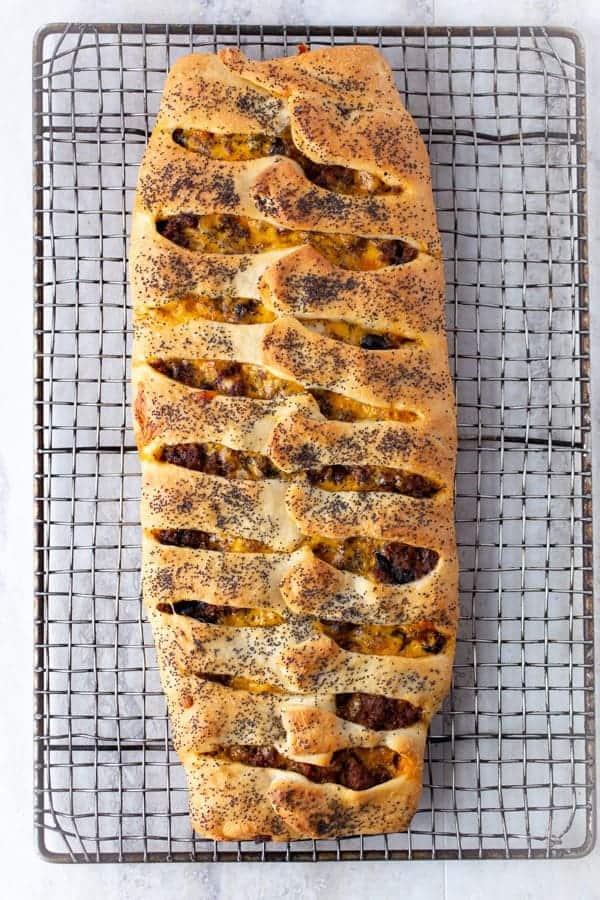 How to Make Easy Stromboli
Start with Store Bough Pizza Dough. Look for this in the bakery or freezer section of the grocery store. (If frozen, the dough needs to thaw and rise before it's ready to use. So be sure to allow time for that.) After rolling out the pizza dough, cover it with a piece of plastic wrap. If you don't, the surface of the dough will dry out and it won't rise.
Make the Filling. The recipe uses ground beef. You can replace this with ground turkey or a 50/50 mix of ground beef and ground turkey. I wouldn't recommend using ground chicken in this recipe.
Cook's Note: Be sure to allow the filling to cool for at least 10 minutes before spreading it on the pizza dough.
Fill and Bake. Spoon the filling down the center of the prepared dough. Cut the dough into strips and fold the strips over the dough. Not only does this look nice, but it also allows steam to escape so the loaf gets nice and crisp.
Easy Stromboli FAQs
Can I Make Stromboli in Advance?
Yes! You can prep the filling the day before you plan on making and bake right before serving. If you'd like to bake the loaf, allow it to cool completely. Then, when you're ready to serve, preheat the oven to 350 degrees F. Reheat for about 15 minutes. During reheating, the crust should get crisp.
How Can I Prevent Stromboli Crust from Getting Soggy?
As the stromboli cools, the crust goes from crisp to soggy. This is normal. There's really not a way to prevent it. If you have leftover stromboli, reheating it in the oven will crisp the crust.
What Can I Serve with Stromboli?
Salad. A big salad and a slice of this stromboli is a quick–and delicious meal.
Other Quick Ground Beef Recipes You'll Love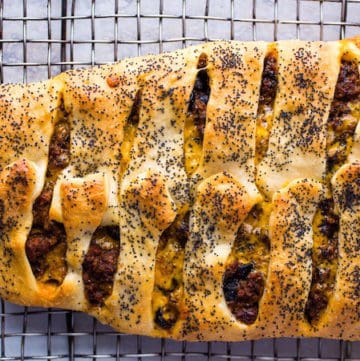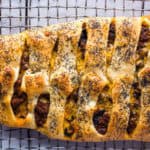 Easy Ground Beef and Cheese Stromboli
This easy stromboli starts with store-bought pizza dough. The crispy loaf is stuffed with ground beef, Cheddar cheese, mushrooms, and olives.

Ingredients
1

pound

pizza dough (thawed if frozen)

2

teaspoons

olive oil

1

pound

lean ground beef

1

small

onion, finely diced

2

tablespoons

flour

1 1/4

cups

thick tomato sauce

such as Classico

1

(4 ounce) can

sliced mushrooms, drained

1

(2.25 ounce) can

sliced black olives, drained

1/2

teaspoon

hot pepper flakes

optional

1/4

teaspoon

freshly ground black pepper

1

cup

shredded Cheddar cheese
For the Topping
milk, for brushing

poppy seeds, about one teaspoon
Instructions
Generously oil a large rimmed baking sheet. Stretch the pizza dough out into a 12x14-inch rectangle on the baking sheet. Cover the pizza dough with plastic wrap and let rise for 45 minutes.

Preheat oven to 400 degrees F.

Heat olive oil in a large skillet over medium-high heat until it shimmers. Cook ground beef, breaking it up as you cook, until no pink spots remain. Drain any excess fat into a small heatproof bowl. (Don't put grease down the drain.) Add onions. Cook, stirring frequently, until onions are tender, about two minutes.

Add flour. Stir to combine. Add tomato sauce, mushrooms, black olives, pepper flakes, and black pepper. Stir to combine. Reduce heat to low. Cook, stirring occasionally, for five minutes.

Remove filling from heat and allow to cool for 10 minutes.

Sprinkle half the cheese down the center of the dough, creating a strip of cheese that's about 3 1/2 inches wide and 12 inches long.

Spoon filling over the cheese. Top with remaining cheese.

Use a clean pair of scissors or a sharp knife to cut 2-inch-wide strips on either side of the filling. Fold the ends onto the filling. Then fold the dough, alternating sides, over the filling, crossing in the center.

Brush the dough with milk and sprinkle poppy seeds over the top.

Bake until golden brown, about 18 minutes. Allow stromboli to cool for five to 10 minutes before serving.