Irish Soda Bread made with caraway seeds, buttermilk, and a little sugar comes together in only minutes. Make it for St. Patrick's Day or all year round.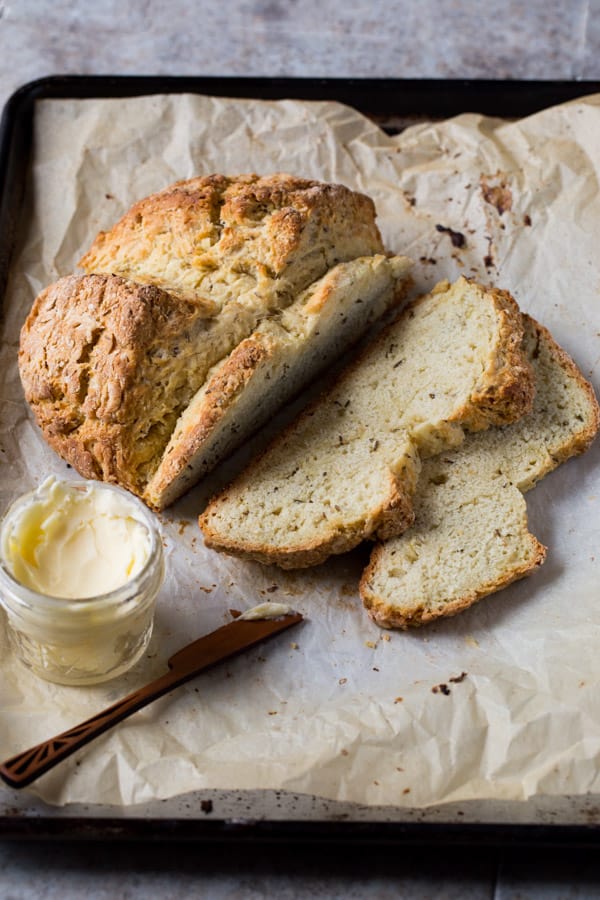 Irish soda bread wasn't a recipe I planned on posting. In fact, it wasn't a recipe I planned on making. However, my mother got the bug to make Irish soda bread and, well, here we are.
My mom loves Irish soda bread. Loves it. But she's never happy with the loaves sold in stores because they never contain enough caraway seeds. So when the local paper ran an Irish soda bread recipe, it caught her eye. "Irish soda bread doesn't contain yeast," she said to me out-of-the-blue.
Me, a baker and a pain-in-the-ass daughter replied, "Uh. No. That's why the call it soda bread."
Mom (ignoring me.) "Well, I can make that. I thought it had yeast. You know I don't like working with yeast. We don't get along."
I might have rolled my eyes at this point. I can't remember. "You can totally make Irish soda bread. It's easy! I'll get you a recipe."
And here's why I'm posting a recipe. Because I know my mother and I know what she likes. All the recipes I found for Irish soda bread weren't right. Well, they were right but they weren't right for her. Some contained eggs. I knew she wasn't looking for a rich bread. Some contained lots of sugar. I knew she didn't want a bread that tasted like a scone. Some didn't contain any butter or dairy. That would make a loaf that was too dry for the Mom.
So I did some research, pulled out a piece of paper, scribbled down a recipe and said, "Here. Try this."
Turns out, that recipe made a damn fine Irish soda bread.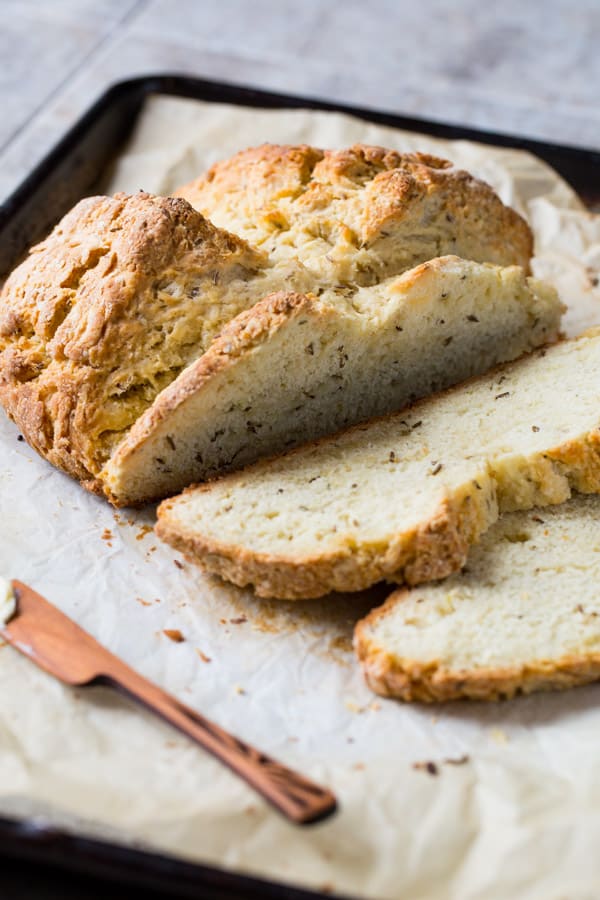 How to Make Irish Soda Bread
Classic Irish soda bread doesn't contain butter, eggs, sugar, raisins, or even her beloved caraway seeds. This one has three out of the five. So we're not making a classic loaf here. This loaf comes out dense and sweet with a mild caraway flavor that's reminiscent of rye but, thanks to the sugar, isn't too much.
To make this bread, start by whisking together flour with a little sugar, salt, baking soda, and caraway seeds. If you keep whole wheat flour in the house, you can use it in this recipe. The resulting loaf will turn out a little denser than one made with all-purpose flour but the deeper flavor will make up for that. (Want the best of both worlds? A tender loaf with a whole wheat flavor? Use half all-purpose flour and half whole wheat.).
Then cut cool, not cold, butter into the mixture. If you've ever made a pie crust, biscuits, or scones, the technique is the same. If you haven't made any of those things, this is a great recipe to learn the cutting technique. Add the cool butter to the bowl and then use a pastry cutter or your fingers to rub the butter into the flour. At first it seems like nothing.is.happening. The pieces of butter tend to clump and not do much. If you're using a pastry cutter, the butter always seems to get stuck between the tines of the cutter.
What you need to do is keep going. Keep working the pastry cutter through the flour. Or, if using your hands, keep rubbing the flour and butter between your fingers. All of a sudden, the butter mixes in and you'll only see tiny pebbles of it. That's when to stop. I'm not going to lie to you, this step takes a few minutes.
After you've worked the butter into the flour, stir in some buttermilk. While some recipes tell you that you can "make your own buttermilk" by simply adding lemon or vinegar to milk, I don't buy it. First, that's not buttermilk. That's soured milk. It's too acidic and not thick enough for a recipe like this. (If you want to read about why buttermilk subs don't really work, hit up this piece by Stella Parks.) So, please, if you're going to do the work, be sure to pick up some buttermilk for this recipe. It's important.
Once the flour absorbs the buttermilk, turn the dough out onto a lightly floured work surface. Knead it a few times. Seriously. Just a few. If you overwork the dough, it gets tough.
Then place it onto a parchment-lined baking sheet. Slash a cross into the top–this helps the center of the loaf bake evenly. And bake until golden brown.
Since this loaf does contain a little sugar, it's best enjoyed on its own, with a schmear of butter.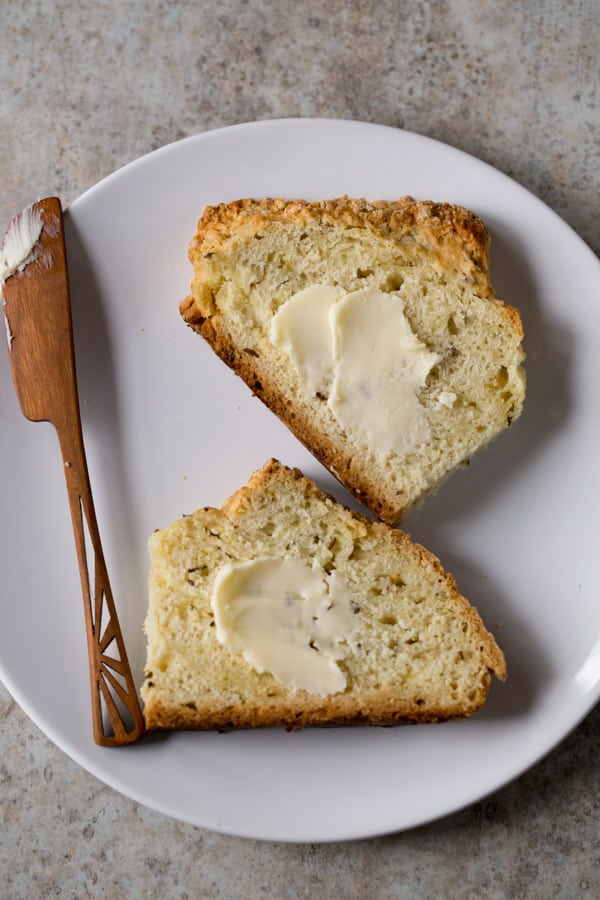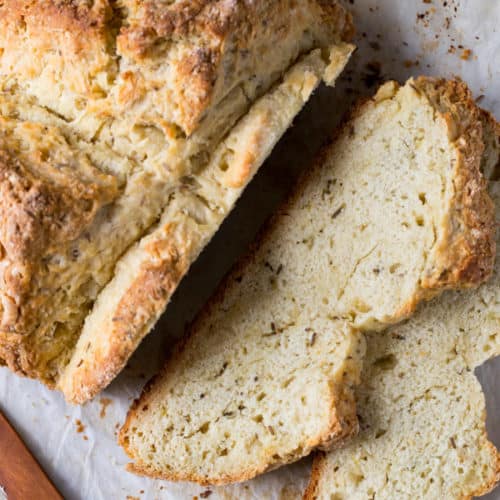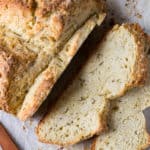 Irish Soda Bread with Caraway Seeds Recipe
Easy Irish Soda Bread with Caraway Seeds. This loaf is made with buttermilk, butter, and a little sugar, which makes for a tender and sweet loaf.
Ingredients
3 ½

cups

all-purpose flour

⅓

cup

granulated sugar

2

teaspoons

caraway seeds

1

teaspoon

salt

1

teaspoon

baking soda

4

tablespoons

cool butter, cut into 8 pieces

(see note)

1 ½

cups

buttermilk, plus more as needed
Instructions
Preheat oven to 400° F. Line a rimmed baking sheet with parchment paper. 

Whisk together 3 ½ cups flour, ⅓ cup sugar, 2 teaspoons caraway seeds, 1 teaspoon salt, and 1 teaspoon baking soda in a large bowl. Cut in 4 tablespoons cool butter with either your fingers or a pastry cutter until no large pieces remain. If you use your fingers, work the butter into the flour in a snapping motion. 

Add 1 ½ cups buttermilk. Gently stir until all the buttermilk is absorbed. 

Dust the counter lightly with flour and turn the dough out onto the counter. Knead until a dough forms. If the dough seems dry, add a tablespoon more buttermilk.

Place dough on baking sheet. Cut a cross, about 1-inch deep, into dough with a sharp knife. This helps the loaf to bake evenly.

Bake until a skewer inserted into the middle of the loaf comes out clean, about 45 minutes. If the loaf browns too quickly before the center is done, cover the loaf with foil and bake until the center is done.

Remove pan from oven. Allow loaf to cool on the pan for 10 minutes before transferring to a wire rack to cool for an additional 15 minutes or so. Serve warm or at room temperature.
Recipe Notes
Butter Temperature for Irish Soda Bread
For this recipe, think of Goldilocks. You don't want the butter too cold, nor do you want it too soft. You want it just right. 
If the weather is cool, which it tends to be in March when I make this bread, I take the butter out of the refrigerator about 45 minutes before I plan on making the dough. This takes the chill off the butter but it doesn't soften. 
To tell if the butter is the correct temperature, poke at it. Your finger should go in with a little pressure. If it sinks right in, the butter is too soft. If the butter feels like a piece of wood, it's too cold.